I first heard about Parc Asterix from a friend who said she had more fun there than when she visited Disneyland Paris. She told me that the adult rides were better and insisted that I go and check it out. As avid roller coaster enthusiasts, Firman, my husband who'll you see pop up randomly in some photos throughout this blog, and I enjoy big rides. The bigger the better! So, we couldn't leave Paris without simply conquering this park first!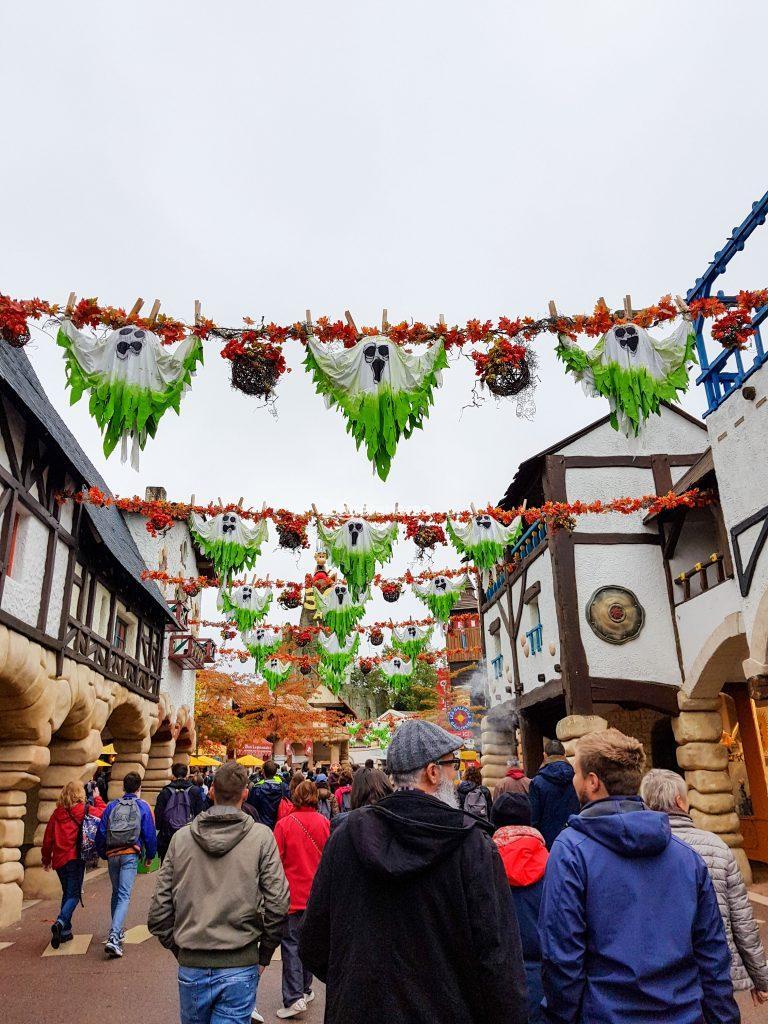 Parc Asterix is a theme park located just outside of Paris that is inspired by the iconic French comics, Asterix. The park follows the adventure of the cheeky inseparable Gauls duo, Asterix and Obelix, as they resist the Roman Empire occupation on their village. That's basically all I know about the comics and the characters as I never really read their comics. Nevertheless, my friend was absolutely right, the park is well known for its large variety of roller-coasters and incorporate them with historic cultures themes, like the Romans and ancient Greek. Apart from its attractions, Parc Asterix also puts on exciting shows throughout the day, from live magic to dolphin shows, there's something for everyone!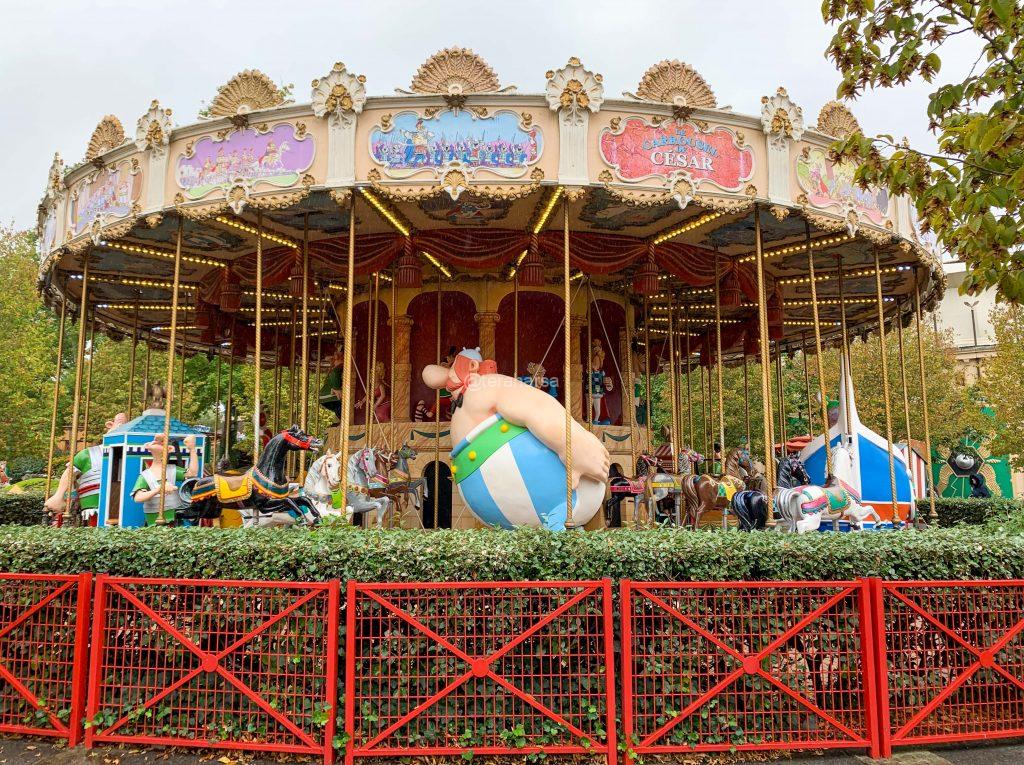 Throughout this guide, I'll talk about tips, recommendations and my overall take on our quest conquering the park's big rides! You'll find info on:
Ticket Prices
When to go
How to get there
Our favourite rides for thrill-seekers – The ones you cannot miss!
Overall Experience
Ticket prices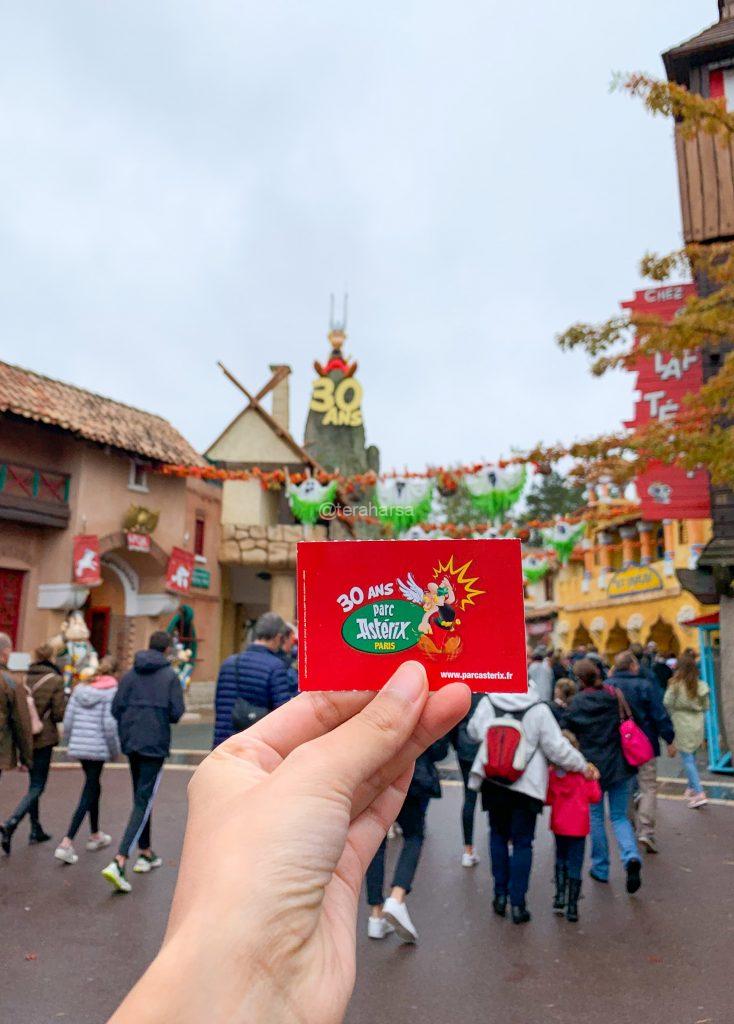 It is best to book your tickets online to save some time at the entrance queue of the park. The price of entrance tickets starts at €40 for a dated ticket for children and €43 for adults. This type of ticket needs to be booked 7 days or more in advance and can only be used on a certain date. The non-dated tickets, which can be used at any time without any date restrictions, costs €43 for children and €51 for adults. They sometimes offer limited discounted tickets and interesting promotions. Check their website to find the latest offers and deals!
Parc Asterix also offers a pass rapidus, a fast-track access to the park's most popular rides. Unlike Disney's Fast Pass, guests need to buy a Rapid Pass ticket, which goes for €30/person for a single access and €79/person for unlimited access. We personally think that the pass is too expensive, maybe it would be more worth it for big rollercoaster fanatics, who would like to have a go over and over again.
When to go
Unlike most theme parks, Parc Asterix isn't open all year round. It's only open seasonal throughout the year. Mark your calendars, because you don't want to miss out on these dates:
April – May: Selected dates, 10:00 – 18:00
June – August (peak dates): Daily, 10:00 – 19:00
September: Weekends only, 10:00-18:00
October – November 1st: Special dates for Peur sur le Parc 10:00 – 18:00 (Parc Asterix's Halloween themed decorations and shows), Journées prolongées (Extended hours) 10:00 – 22:00, Nocturnes Peur sur le Parc (Exclusive additional evening openings) 09:00 – 18:00 and 19:00 – 01:00
December 19th – January 3rd: Special dates for Noël Gaulois (Parc Asterix's Christmas themed decorations and shows) 11:00 – 19:00
As the opening dates and times vary according to the season, it is best to check their website for details before visiting. If you visit during their special dates, you are in for a treat! They put in extra effort into decorating the park following a specific festive theme. They also perform limited and exclusive themed shows during that period. Since the park usually closes before sunset, the extra night openings would surely be another different experience for visitors, especially during Halloween! Except for the exclusive additional evening openings, the rest of the special dates have the same ticket prices as normal dates. So, if you're looking for a unique experience at the park, be sure to go on their festive dates!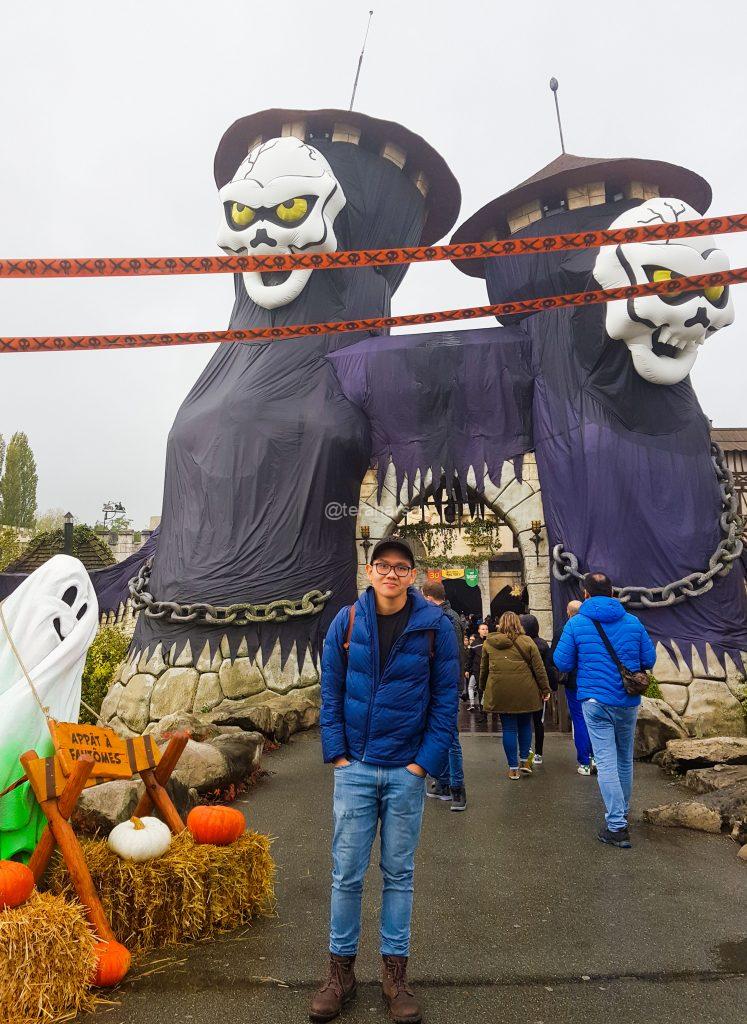 We happen to visit the park early October last year (2019), during their Halloween Peur sur le Parc theme. They had all kinds of spooky decorations going on, such as ghosts, skulls, creepy crawlies, scary pumpkins, you name it! There were also plenty of bloody zombies, monsters, witches roaming around, scaring and surprising people as they walk by. They also did some impromptu shows in the squares and open spaces, which were always fun to watch as you go by to find your next ride.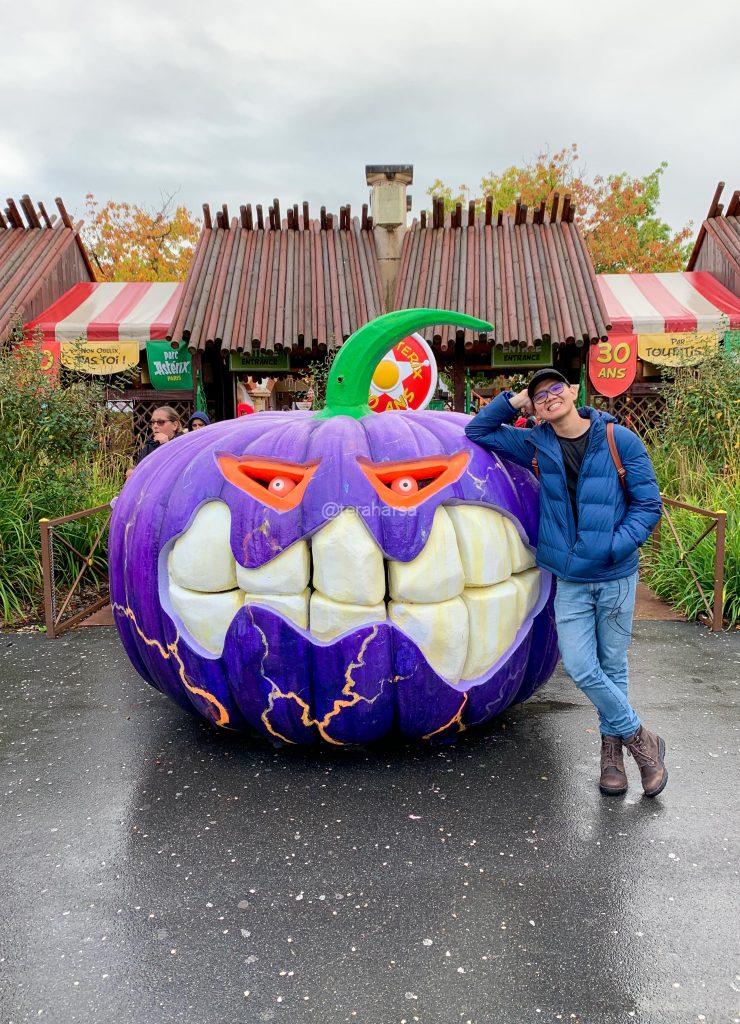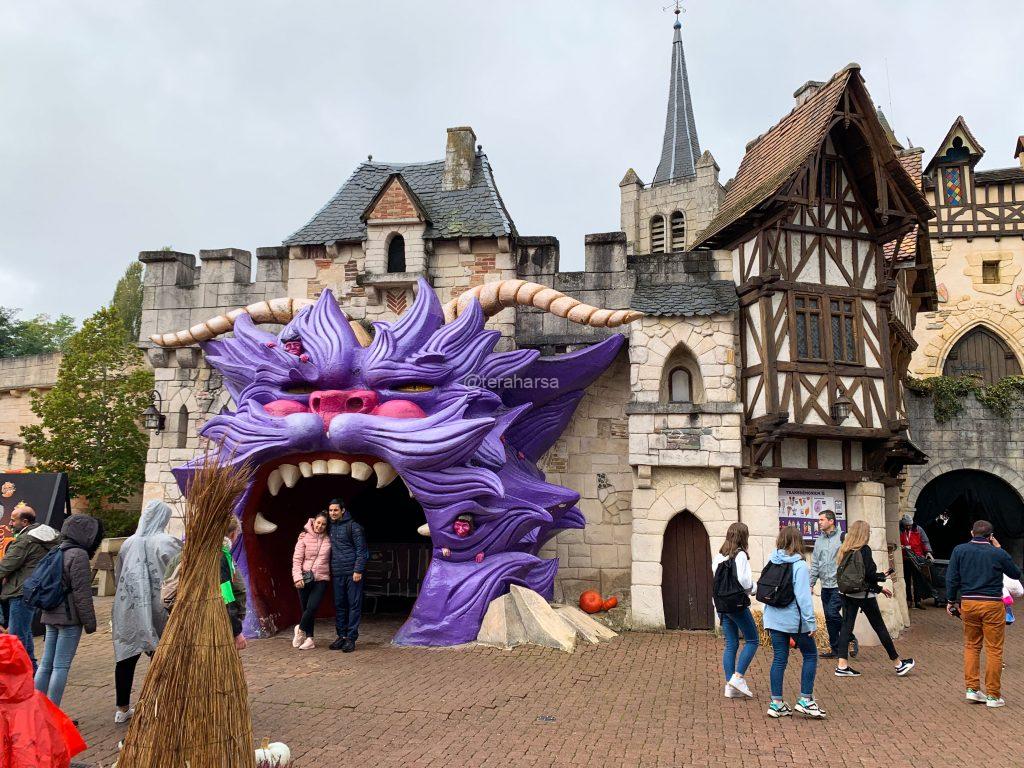 How to get there
Parc Asterix is located at Porte de la Chapelle, 35 km north of Paris, which is actually not that far. There are several ways to get there, however, I've gathered the top 3 best ways to travel from Paris down below:
By car
Travelling by car would be the most flexible and hassle-free option, especially when you're going with your family or a group of friends. It takes about 30 minutes from Paris via the A1 motorway towards Lille. You will then take the direct exit (7 & 8) near the park. The parking fee within Parc Asterix will range around €15 for the whole day.
By shuttle bus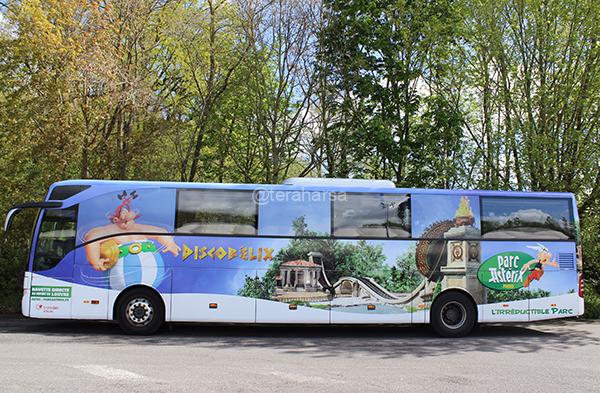 There's a shuttle bus that goes once a day to the park and back to Paris. It has a fixed schedule, it departs at 9:00 and returns at 18:30. This was our chosen mode of transport because it departs from the city's central, it was easier for us to access in general. The downside is that it was not flexible and we had no backup, in case we missed our bus!
We bought our tickets online via the bus company's website, which cost us €20/person for a return ticket, a bit cheaper than if you buy on the spot. The bus leaves from the Carrousel du Louvre, Parking Bus (Level-3) and will leave the park from Parc Astérix Bus Parking. If you choose to travel by this shuttle bus, it is best to buy the tickets online and be sure to arrive early to guarantee your spot on the bus! On the day we went, there was a pretty long line at the ticket office, and I'm not sure if they can accommodate all of the visitors. Plus, if you get there super early, you can experience the Carrousel du Louvre without the huge crowds of tourists!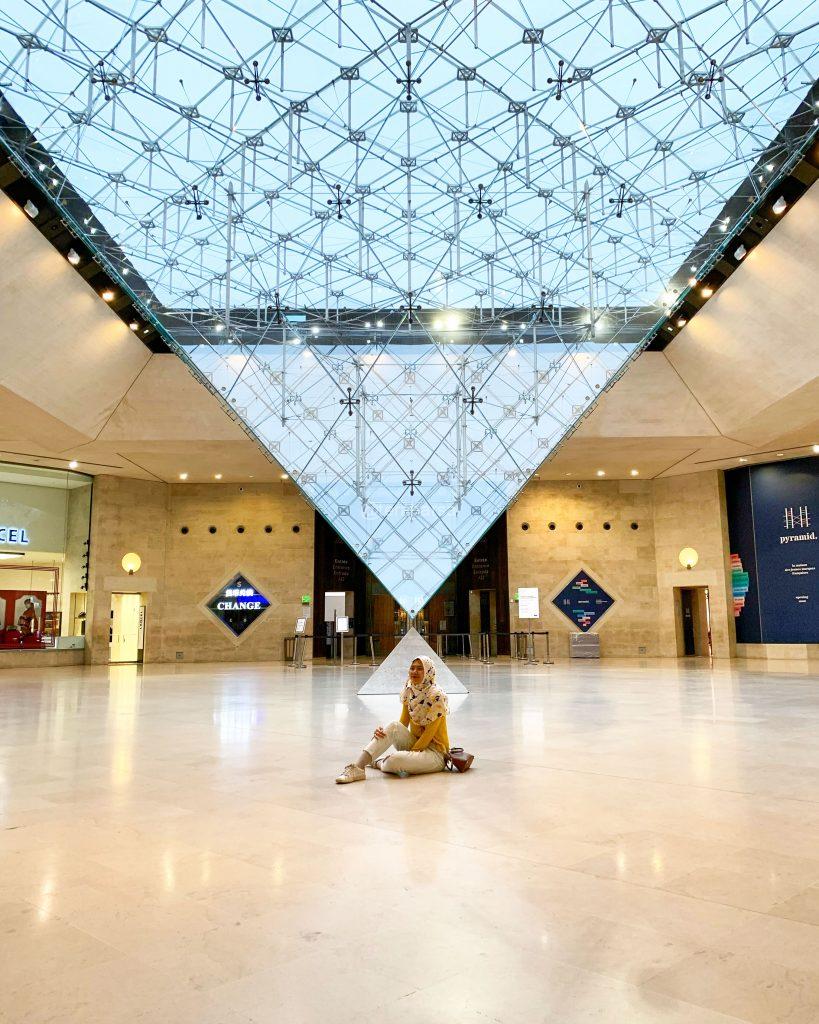 By RER + shuttle bus
Another easy way to get to the park is by taking the RER B to Charles de Gaulle airport (at the Aéroport Charles de Gaulle 1 stop), which costs €10.5/person one way, or free if you've topped up your Navigo pass for your trip. Then head to the "Parc de Loisirs" desk where you will then be directed to the Parc Astérix shuttles. There you will find shuttle buses that leave every 30 minutes (starting from 9:00) and costs €9/person for a return ticket. It takes approximately 20 minutes to get to the park from the bus terminal. The bus also returns every 30 minutes until one hour after the park closes. This is a more flexible option than the previous shuttle bus since it has multiple departures and returns schedules. And since the park is only a stone throw away from the airport, using this shuttle you could plan a visit as soon as you land in Paris if you arrive in the morning, or visit it just before you leave Paris if you have a night flight!
Our favourite rides for thrill-seekers – The ones you cannot miss!
In addition to the Asterix comics, the park also incorporates themes from historic cultures which divides the park into 6 zones. Make your way through the world of Gaul, Egypt, Ancient Greece, the Roman Empire, Vikings, and Travel through Time to discover and explore the wide variety of rides that they offer!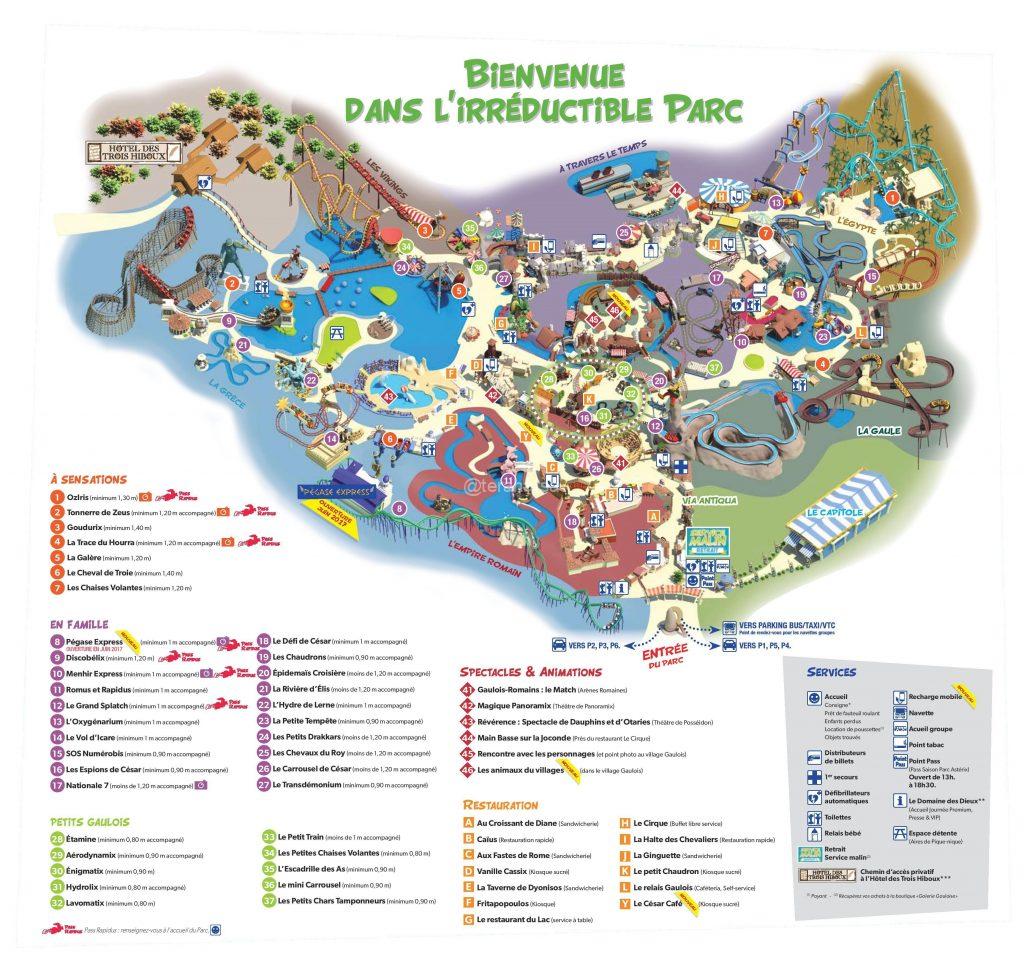 With over 35 rides, you might want to prioritise which of the park's rides to hit up during your visit, especially if you're doing a day trip like us. Since we skipped most of the family and little kid rides, we had more than enough time to experience most of its roller-coaster highlights. Here are our favourite rides that you definitely wouldn't want to miss.
Disclaimer: Bear in mind that although we love rollercoasters, we're not fans of rides that make you nauseous, sick, dizzy and all that jazz. So, on this list, you won't find any of those rides. Yet there are plenty of them throughout the park, so do whatever floats your boat!
Oziris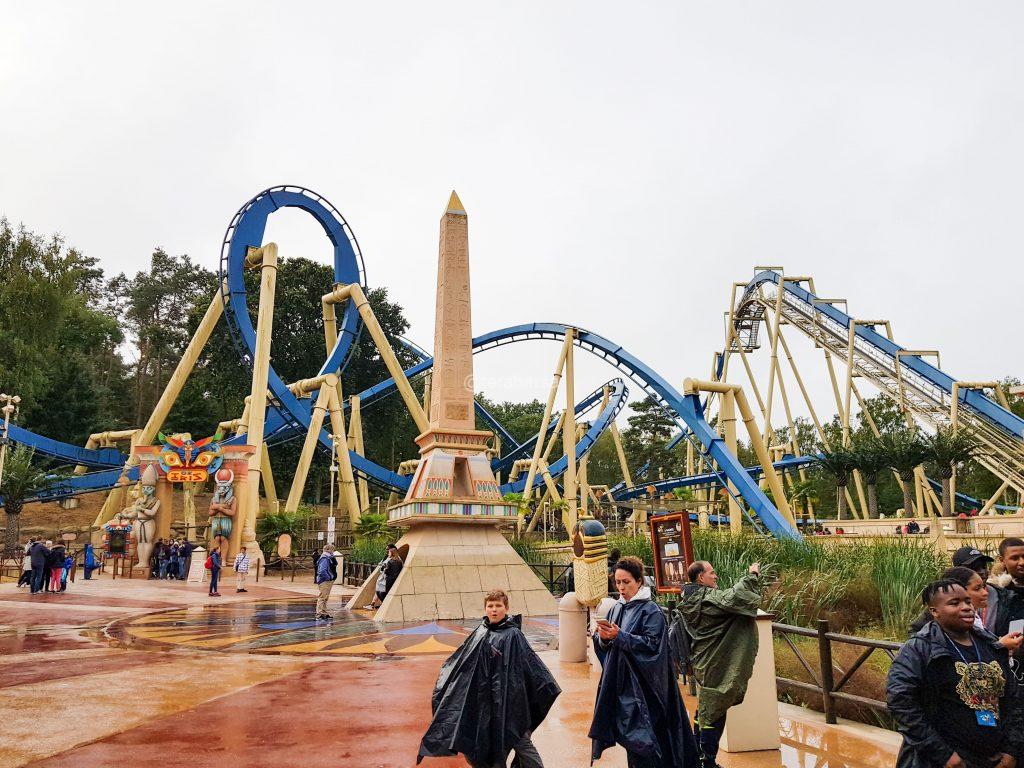 My number one pick would be Oziris, an inverted roller coaster that send you zooming over 90kmph, 40 metres off the ground! I've always thought that these kinds of roller coasters are by far the most thrilling and most terrifying since your feet loosely dangle, giving you less sense of control and reassurance because you can't plant your feet on something solid, well you get what I mean! For me, the sensation of being thrown all over the place amplifies compared to when I'm riding a typical roller coaster. You'll definitely be blown away, literally, with its vertical loops, sidewinders and hairpin turns!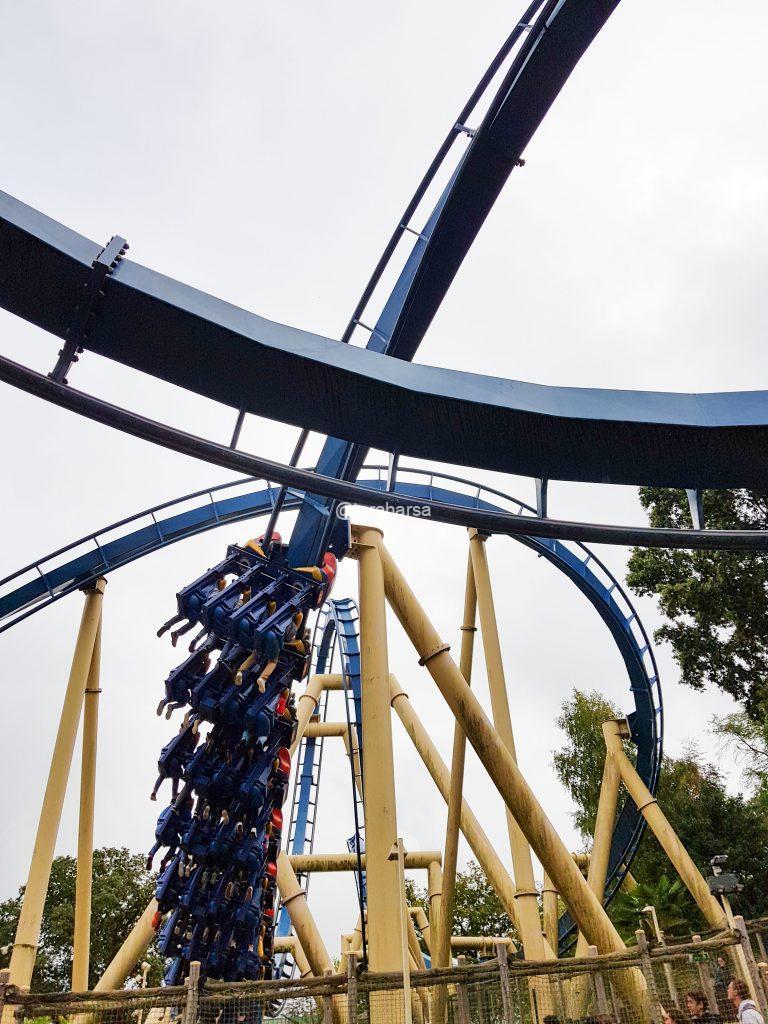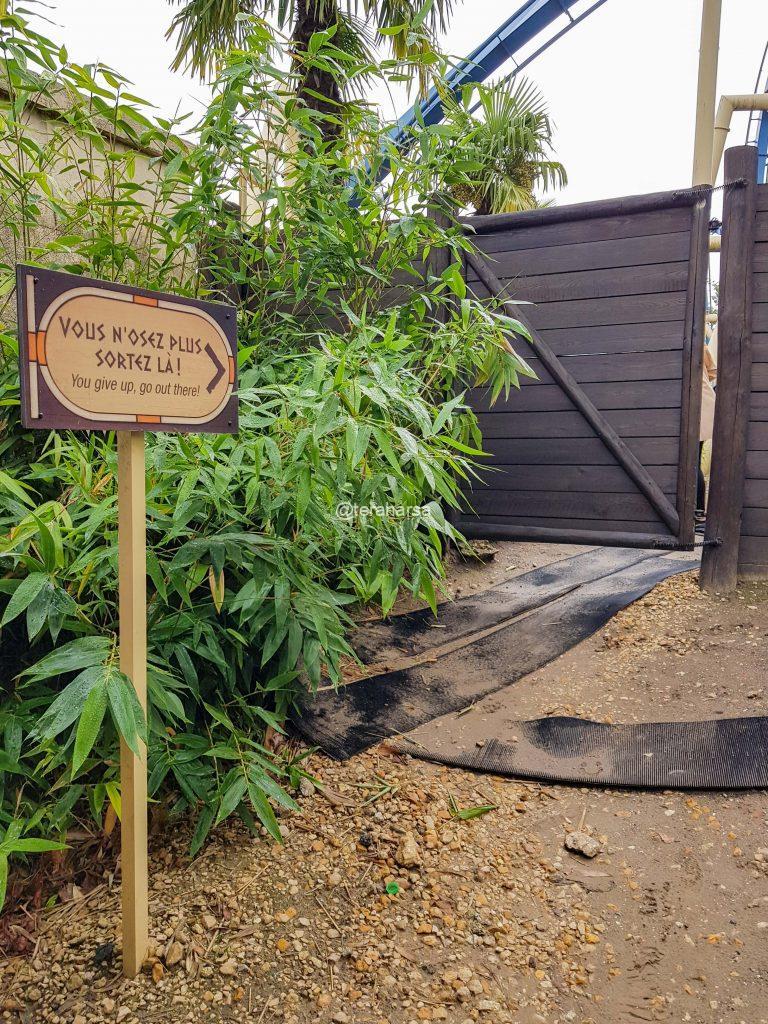 Another fun quirk about this ride is that it has camera's on each line of seats! At the end of the ride, you can stop by the counter to see your absolutely terrified face on a regular photo, which you can print out on a magnet, keychain or get it framed, and also a short video footage! They also sell the footage for you to take home, which I've never seen in a theme park before. Nice gimmick!
The line can get quite long for this ride, so if it checks all your boxes then be sure to make a beeline for it as soon as the park opens to get a head start!
Goudurix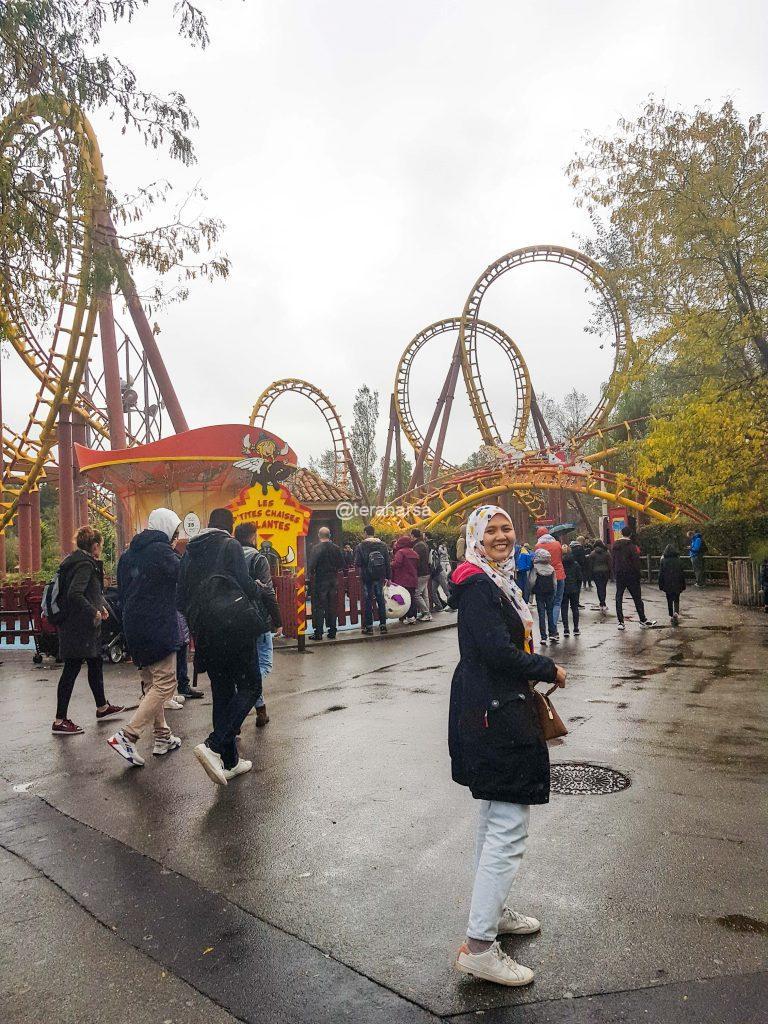 A fan loop the loops? Look no further, Goudurix has seven of them, yes seven! The ride claims as being the most head-spinning coasters in Europe, which I guess could be true, as each loop was crazier than the last! This was absolutely another huge favourite of mine. At one point it goes high enough for you to see a great view of the park, then all of a sudden you'll have no idea which way is up!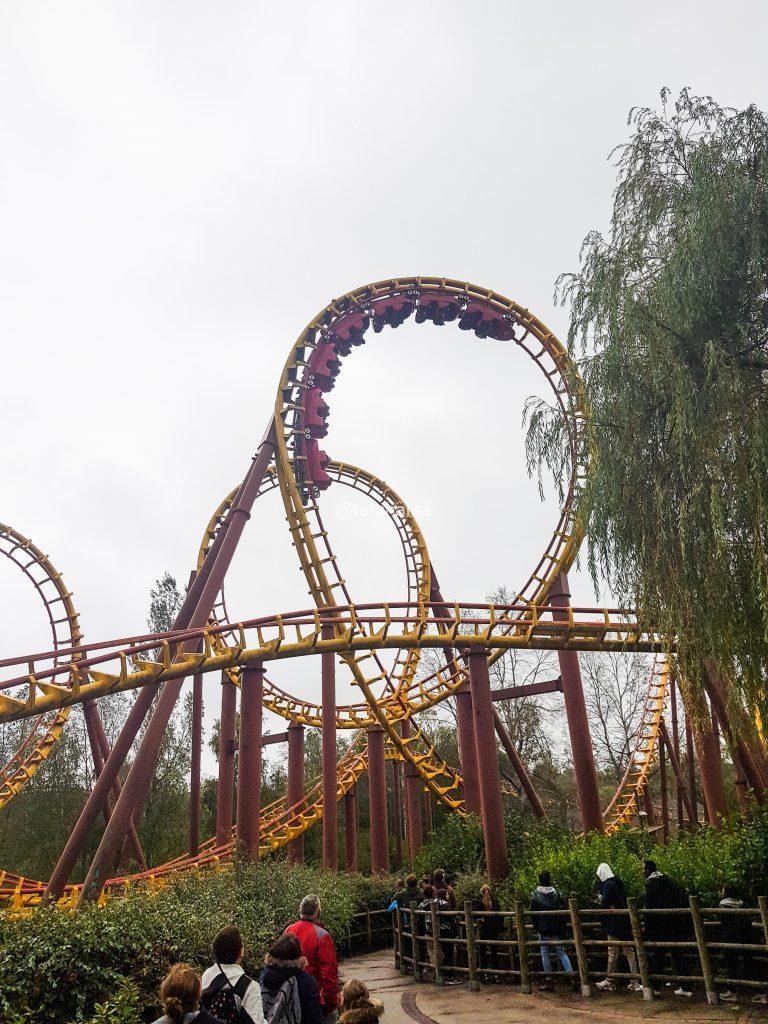 This is also another popular ride among thrill-seekers, so be ready for a longer wait than other rides. Unlike the queues at Disneyland, most of the queue areas at Parc Asterix are bare, no-frills or props to distract you while you're waiting. Some of the visitors I encountered spend their time eating up their packed lunch, usually sandwiches, or snacks to pass the time while queueing.
Tonnerre de Zeus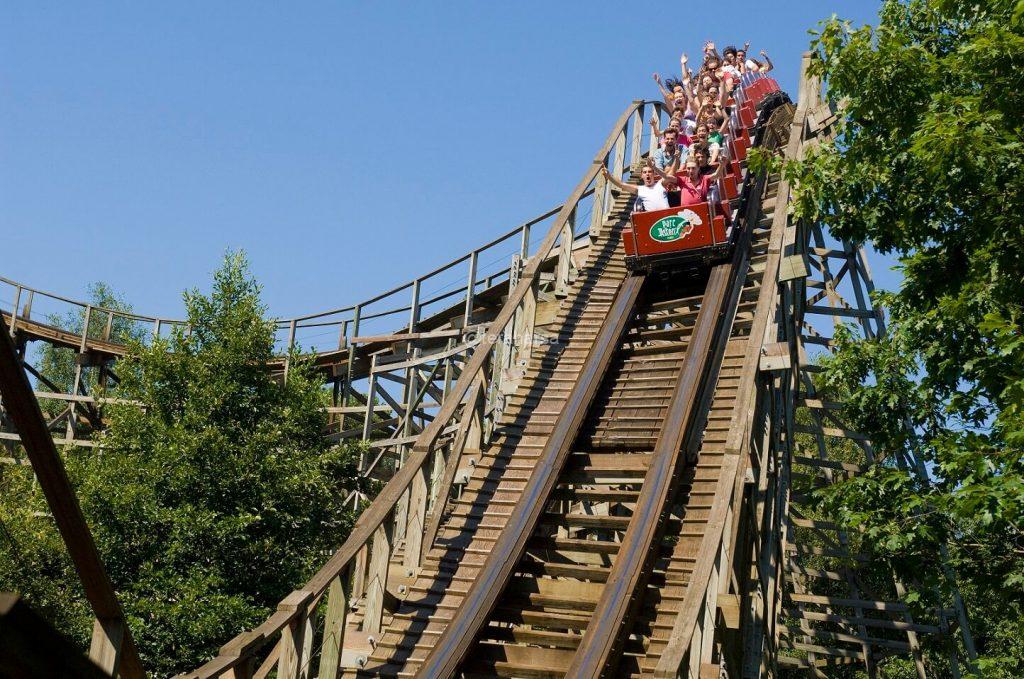 This ride caught my eyes because it was mostly built out of wood, and turns out Tonnerre de Zeus is as of today the 2nd longest wooden coaster in Europe. I've been on a wooden coaster before and from my previous experience, the ride was extremely bumpy and rough, which by the looks of it, this one won't be much different! Yup, I was right, the ride sends you over 80kmph 30 meters high through ups, downs, spirals, and break-neck turns! Another fun and thrilling ride too good too miss!
La Trace du Hourra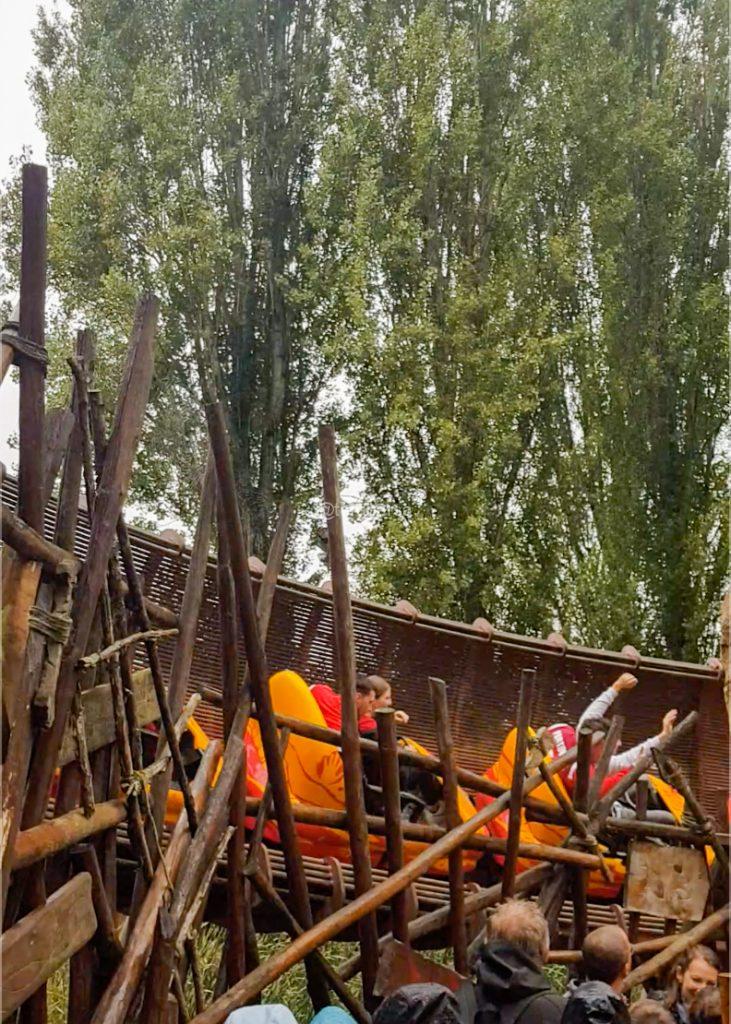 At first, this ride didn't seem so intimidating, then you start to give it a closer look and you can see that the cars are gliding through the course without any tracks! It turns out to be a bobsled type roller coaster that has cars sent down a half pipe in a freewheeling mode. This was something new and exciting for both of us! The ride gives you a somewhat lightness sensation as you slide through the pipe and a feeling as if in any second the car would fly off the course! It's relatively not as big as the other rides mention previously but still as fun!
Le Grand Splatch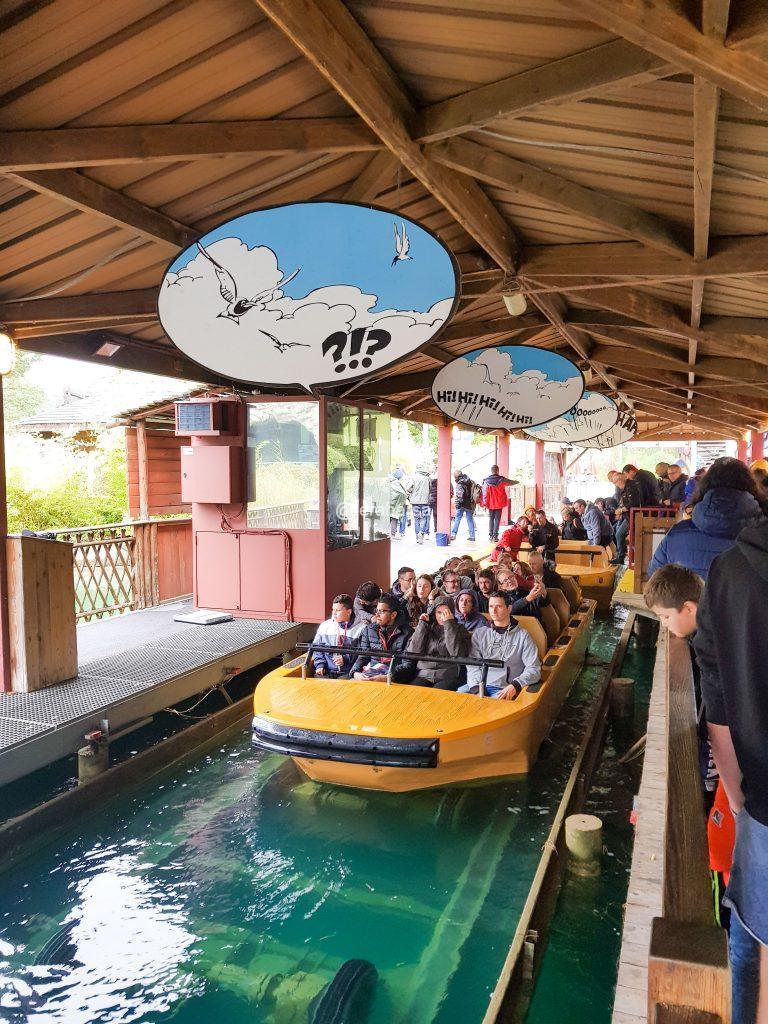 Moving on to a more family ride, Le Grand Splatch is one of the several water rides in the park. It's your typical splash ride, where it first takes you on a journey through a course, the view from this ride was pretty awesome by the way, before leading you to a huge drop! It's the perfect ride for you to unwind after a day full of exciting and heart-pounding rides, or maybe a needed breather in between. Expect to get fairly wet after this ride, but not to worry, we saw a few heating stations near the ride's exit. We saw that they seem to have one near every water ride.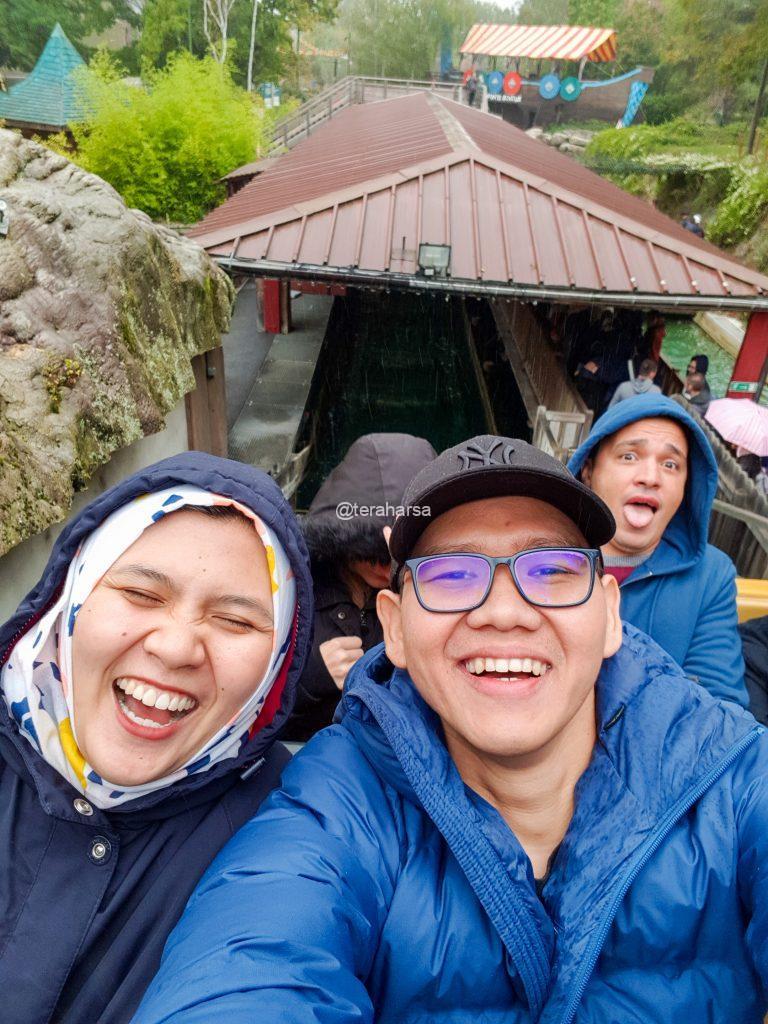 We visited the park on a chilly gloomy October day. After seeing the day's sadly bleak weather forecast, we strategically decided to wear our waterproof winter coats, which in the end kept us reasonably dry on the water rides and also during the light rain that poured down several times throughout the day. We didn't need to purchase plastic ponchos or dry ourselves off after the ride, which gave us more time exploring other rides!
Menhir Express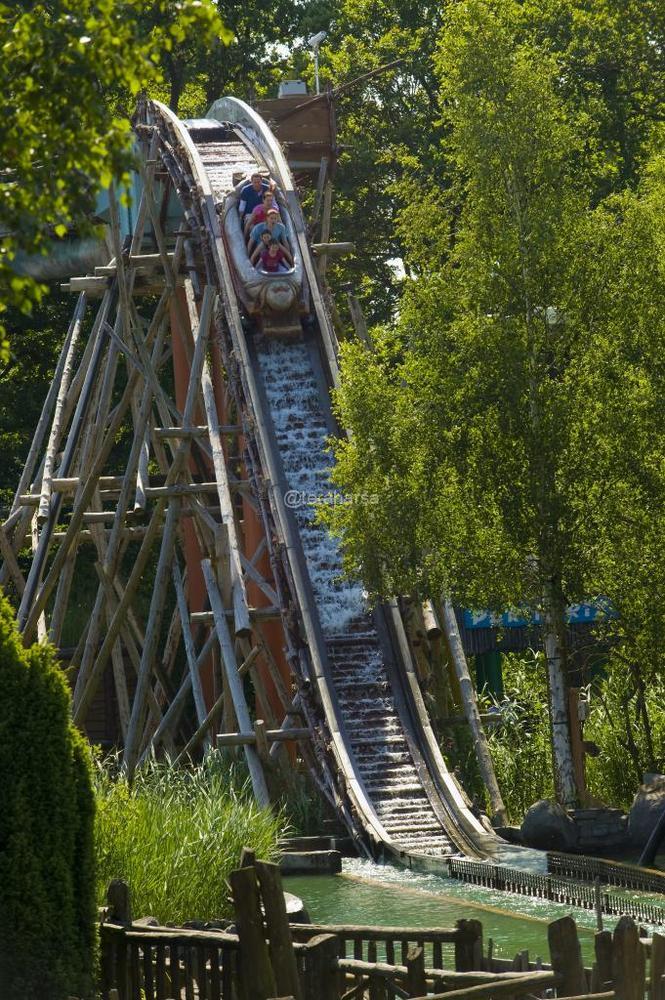 Menhir Express is another water ride at park that includes a high splash dip! Unlike Le Grand Splatch, this ride features a smaller boat in the shape of a menhir, a slightly longer route with more twists and waterworks, and also a higher drop! Don't forget to smile because it has a photo point just on the edge of the plunge! Expect to get even wetter on this ride, we certainly did!
Romus & Rapidus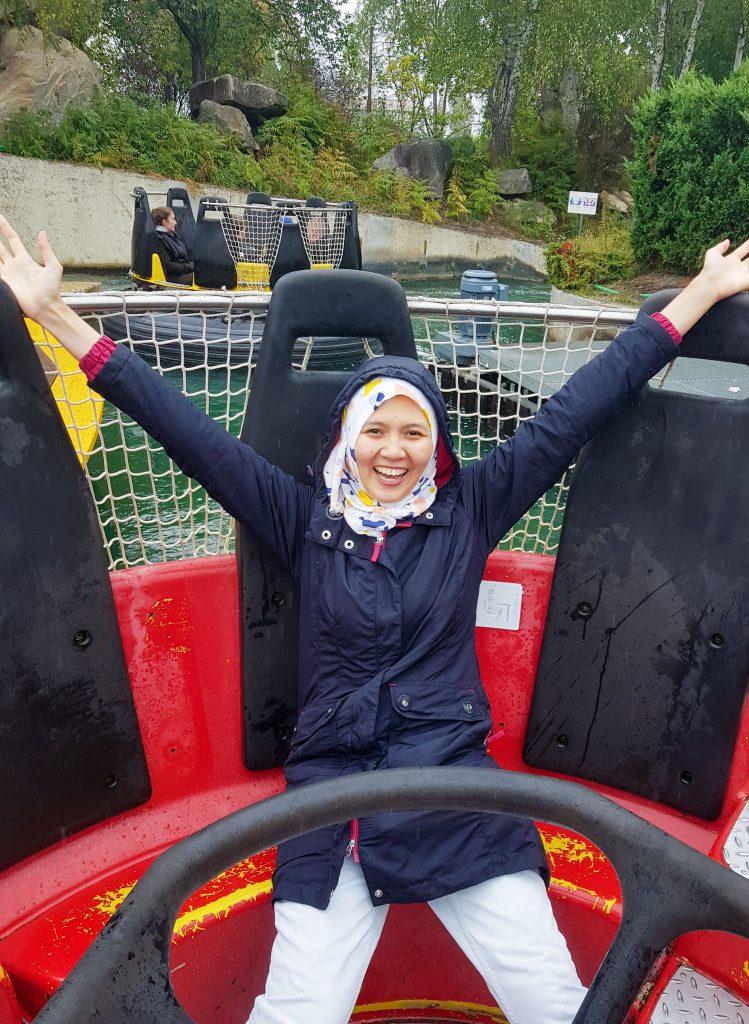 This is a river rapids ride that takes you on a journey on circular rafts through high rocking currents. This family ride is also a nice breather after all the adrenaline rush from the big fast ones. Expect to get wet as the ride goes from a scenic trip into one full of splashes!
There were a few other rides that we manage to catch while we're there, but the ones above were the most memorable. We also went to one of the live shows, which showcased a live magician act. There was one ride that we wanted to try but was closed due to the weather, it rained lightly several times that day, so the ride was on and off. It was called Pégase Express, a mid-size launched roller coaster with no fancy loops or anything, but still looked fun with its twists, turns, ups and downs.
Overall Experience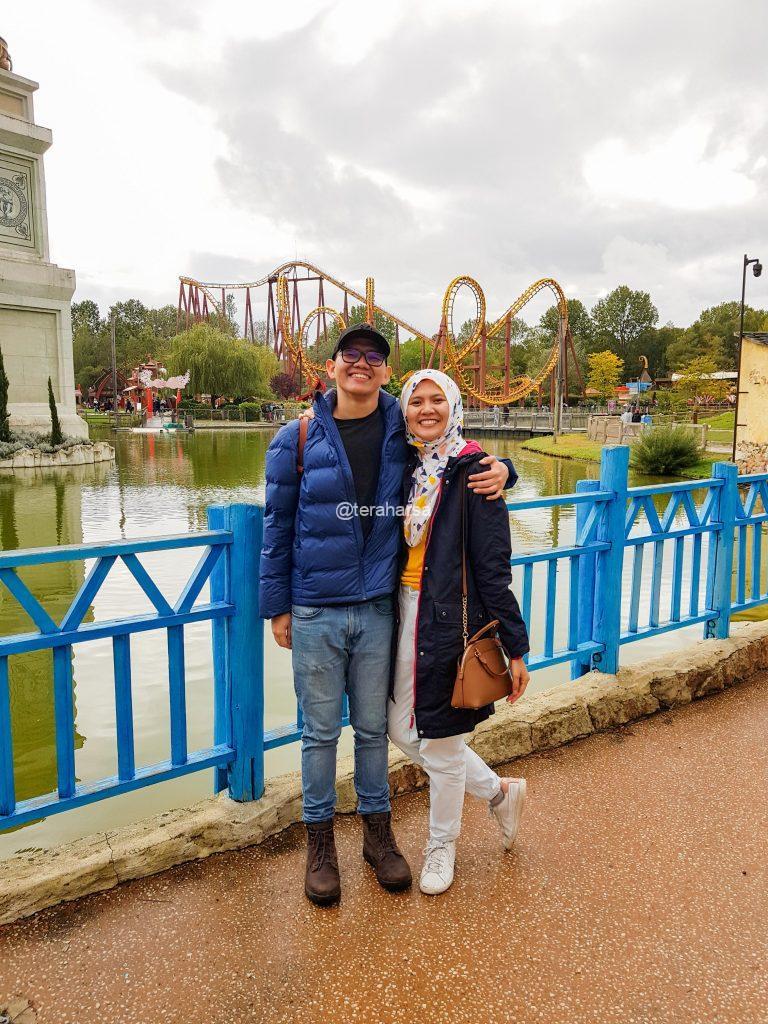 Overall, we immensely enjoyed our time there. The rides were absolutely great, the big roller coasters were definitely better than the ones at Disneyland. We also loved the variety of rides, especially the water ones. The wait times were also reasonable, I think that we never queued more than 50-60 minutes and there were always alternatives with shorter wait times. For comparison, we've once spent almost 2 hours queueing for a ride at Disney. There were also electronic message boards around the park, displaying wait times to help you plan.
Parc Asterix has its own charm within its decor and set designs that you can't compare to other theme parks. However, neither Firman nor I were really familiar with the comic book, story, and characters. I was more a Disney kid myself growing up. So, from a customer engagement point of view, I was not as intrigued and immersed as I was in Disneyland, yet we still appreciate its unique themes, decor elements and the variety and quality of their souvenirs and merchandise. As for its special Halloween theme, Peur sur le Parc, I think the decorations and impersonations of zombies, monsters, etc were too general. It would be probably more fun to see the characters of the comics dress up in scary Halloween costumes and have them more incorporated in the decor. I don't know, maybe an Obelix pumpkin perhaps!
Although we brought our own lunch and snacks, we saw a good variety of food and drinks options at reasonable prices (definitely cheaper than Disneyland) throughout the park. There were also plenty of benches to rest and eat.
So, our overall verdict: Park Asterix is definitely worth the visit, especially if you're adrenaline junkies who love big rides! A day trip from Paris is more than enough to experience the park's best highlights! It's generally a cheaper alternative to Disneyland and considerably less chaotic. Yet, if you're a big fan of Disney and have plenty of time during your trip, I would recommend that you to visit both parks, because, in the end, both Parc Asterix and Disneyland have their own perks, quirks and uncomparable charms!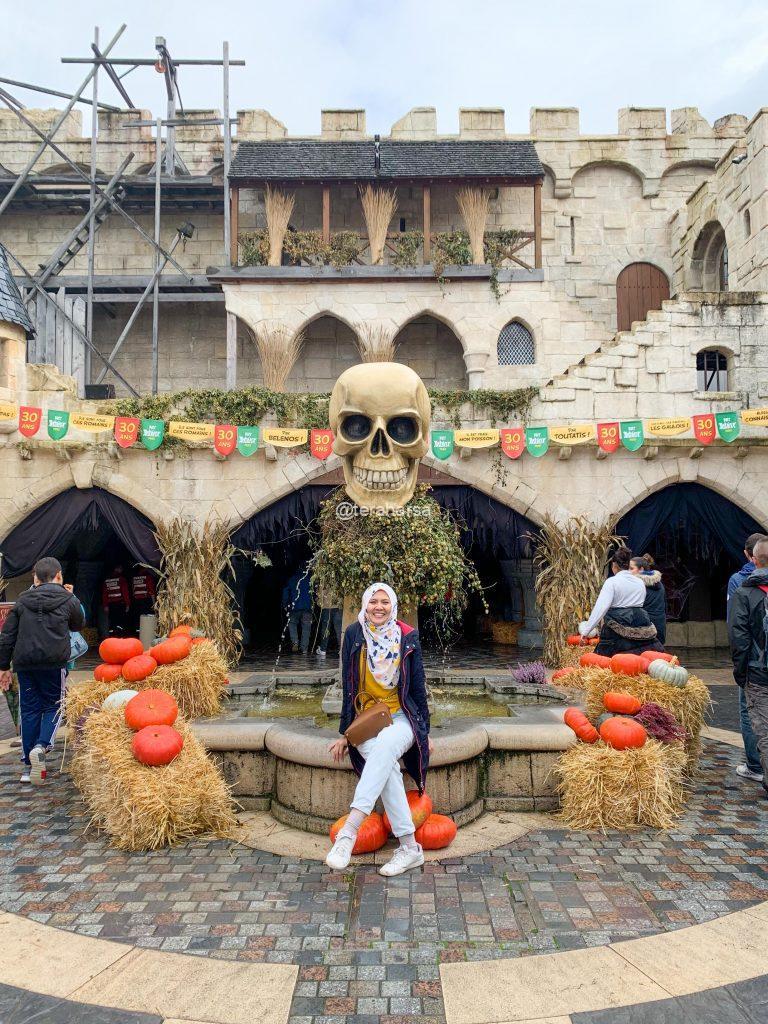 So, there you go, my guide on conquering Parc Asterix in a day! I hope you find it useful. Let me know in the comments if you decided to go and your opinions on the park. Have fun!
Please follow and like us: