Known as the world fashion capital, the first thing that comes to mind when I think of Paris is its well-dressed people. During my two years living there, I began to notice that not only does Parisian ladies have impeccable style but they also have flawless skin! You can tell how they don't rely on heavy makeup but seem to invest and pay more attention to their skincare routine to achieve that perfect healthy glow. From there, I quickly learned another hidden gem of the French, that is their exceptional yet insanely affordable pharmacy skincare products!
As any girl on a budget would be, this became a little obsession of mine: trying the amazing products available out there and finding what works best for my skin. I wasn't at all familiar with French brands, so I did a lot of digging before starting this mission. I then realised that I've been using one French product that is considered a staple on every Parisian girl's dressing table, which is the one and only Bioderma Micellar Water! Honestly, I had no clue it was French! I loved that product to bits. Turns out the price back home was almost triple the price sold at French pharmacies! This got me even more going, I was determined to find my perfect drugstore skincare routine and get that French glow!
From my two years living in Paris, I've somewhat figured out a couple of things on French pharmacies and skincare. I'll share my favourite and must-have products in a separate post, but in the meantime, here you'll find helpful info on:
Where to go, my favourite places to shop
Dos and don'ts
WHERE TO GO
During your visit to Paris, you'll bound to notice stores with a huge green cross light hanging upfront. Yep, those are pharmacies. They are scattered everywhere across the city, you'll find them almost on every street. There were even 3 on the street that I once lived at. I've noticed there are two types of pharmacies in Paris, pharmacies and parapharmacies. So, while pharmacies cater to prescription medication in addition to other health, beauty and skincare products, parapharmacies, however, are developed to specialise in only catering the latter, thus having a wider range of brands and stocks of these products.
Although you might as well be able to spot what you're looking for in one of the pharmacies you find across the street, here are two pharmacies that I find have the cheapest prices, where you can literally save 3-10 euros on 1 product, and have the widest range of brands and products.
Citypharma

Address: 26 Rue du Four, 75006
Opening hours: Monday – Saturday, 08:30 – 21:00
Location:
Citypharma is a pharmacy in Paris that offers a wide range of highly discounted beauty and health products with over 200 brands, including the favourites: La Roche-Posay, Vichy, Avène, Bioderma, Caudalie, Nuxe and many more. In addition, they also carry various vitamins, dietary supplements and cater to prescription medication.
Citypharma is probably the most mentioned pharmacy in every blog post on French beauty hauls. People have been claiming it to be the place where you can buy the cheapest products. Yes, they're definitely not wrong, I've gone through a lot of pharmacies in Paris, and none of them compares to the prices they sell at Citypharma! That being said, always expect a huge crowd of locals and tourists browsing its tight aisles to find their go-to products. This spot is an especially good bet if you are looking to buy favourite products in bulk. Another thing worth mentioning is that you can process your VAT Tax Refund at a special counter at the cashier.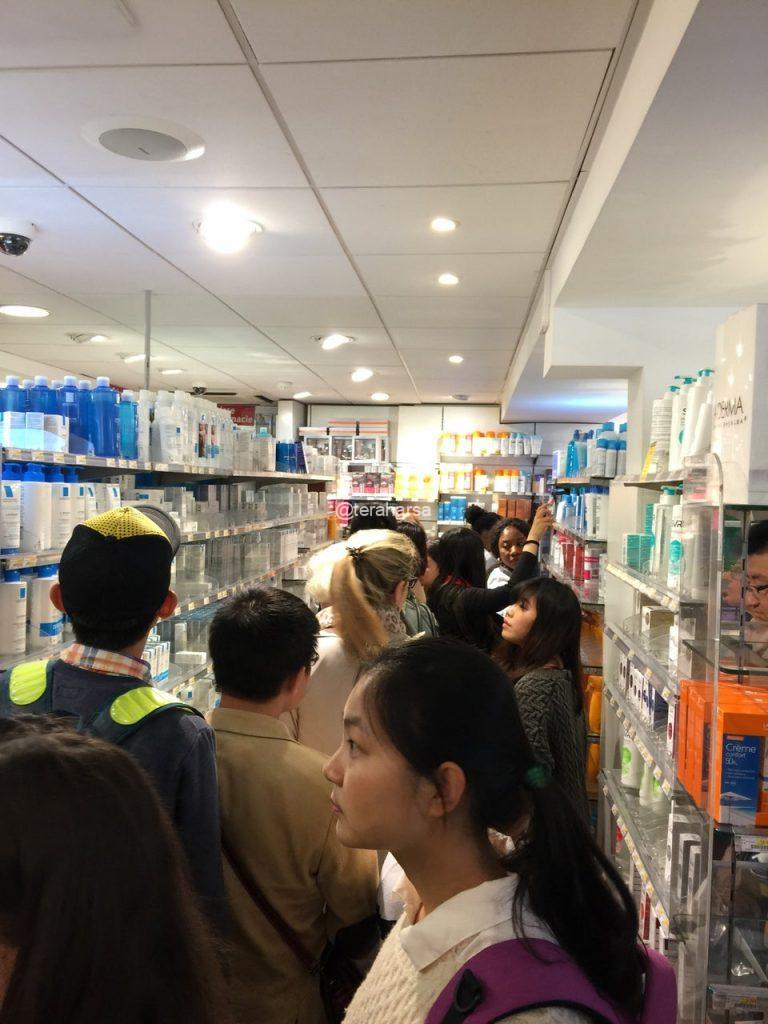 This two stories shop isn't too big, yet you can find almost every French brand and products within its shelves. Its store layout is very tight and narrow, so brush up on your pardon and excusez moi s'il vous plait because you'll likely be squeezing through people a lot or be pushed and shoved at one point (or several points!). As there's not too much space to move around, you better put Citypharma first on your shopping agenda of the day to avoid carrying too much bags into the shop. Make sure to get all the way to the back and visit the upstairs medication, vitamins and dietary section, you wouldn't want to miss out on anything just because it's hard to get to!
Citypharma is my go-to pharmacy during my two years in Paris. It's only a bus ride away from and back to my apartment, very easy and convenient to access. You can also find several metro lines near the shop as well. Moreover, it's strategically located near plenty of cafes, famous bakeries, shops and also the fabulous Le Jardin du Luxemburg.
Pharmacie Monge Notre Dame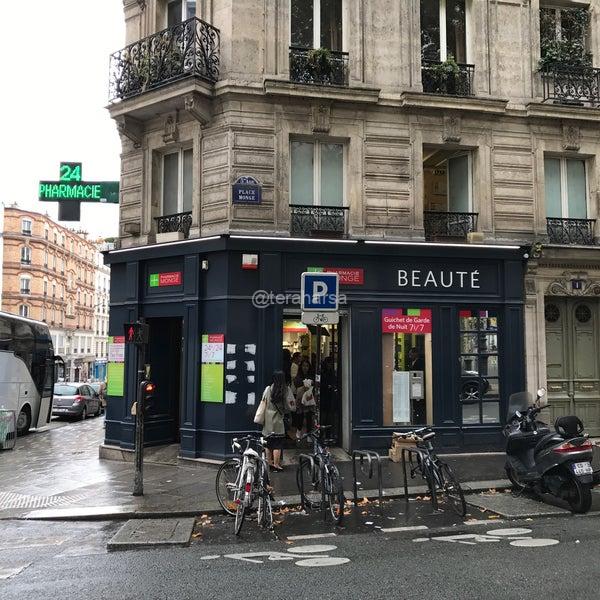 Address: 74 Rue Monge, 75005
Opening hours: Monday – Saturday, 08:00 – 20:00
Location:
Pharmacie Monge Notre Dame is another pharmacy that sells discounted drugstore and beauty products. Similar to Citypharma this pharmacy also sells a wide assortment of products and brands, as well as other medications, vitamins and also prescription drugs. Although their prices don't go as low as Citypharma's, Pharmacie Monge gains its popularity throughout the years because of their instant VAT Tax Refund in-store service, which becomes extremely useful for tourists as you won't need to spend time waiting in line to process it at the airport!
The store layout is a bit wider than Citypharma, with a special dedicated area for luxurious brands, so you have a little more space to move about. The crowd of locals and tourists at peak hours, which are at often at noon and afternoon, seems to be not as busy and as packed as the ones in Citypharma. So, if you want a more relaxed shopping experience, instant tax refund, and don't mind the slight difference in product prices, this pharmacy might be a better destination for you.
Located in the 5th arrondisement, Pharmacie Monge is located slightly less central than Citypharma. You can find 2 metro lines near the store, and a couple of bus stops within walking distance. Yet it is not too far from Paris' fine landmarks, such as the Grande Mosque, the zoo, Jardin des Plantes, and Muséum national d'Histoire naturelle. I've visited Pharmacie Monge once and felt the price difference bothered me too much. It was also further from my apartment and more troublesome transportation wise. So based on my preference, Citypharma would still be my first recommendation.
DOS AND DON'TS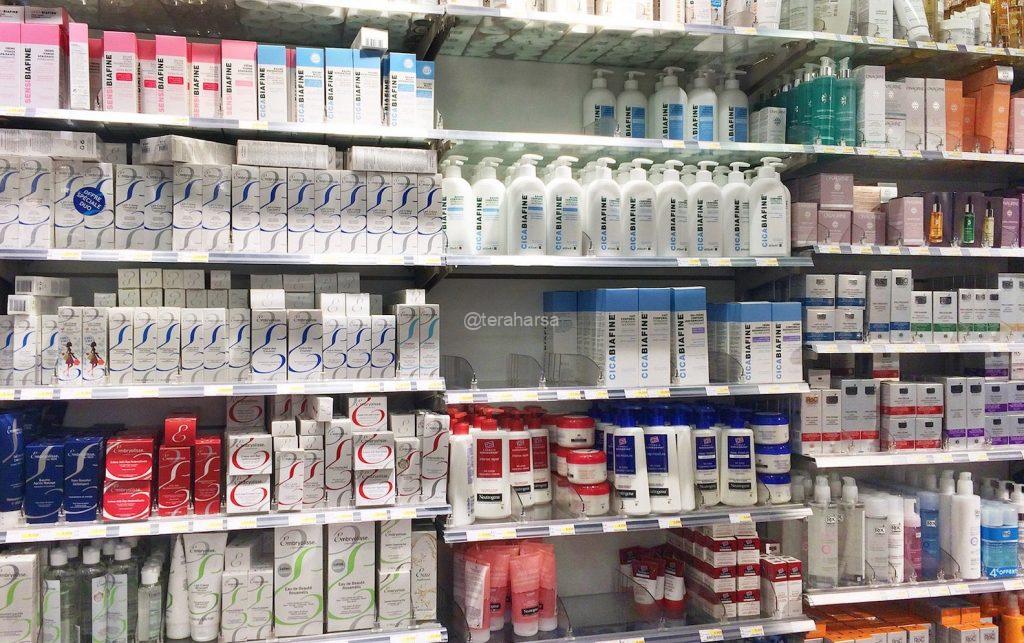 Based on my experience of spending hours navigating through various pharmacies and figuring out the French skincare world, I've gathered some (hopefully) helpful tips in shopping at a French pharmacy, especially at the ones mentioned above!
Get there early (preferably before opening)
The early bird gets the worm or at least a more peaceful and relaxed shopping experience! When the store gets extremely busy, usually later in the day, like at noon or the afternoon, you'll find yourself impossible to move, let alone shop! Arriving as close to opening as possible is the best time to visit. Even then, at times, you would see people already lining up before the store is open. Getting there early also ensures that they won't be sold out of popular items.
Do some research beforehand and make a list
Another crucial tip is to do your research and plan ahead of time. It will also be intensely useful to not only have a list of your desired products but also have their screenshots ready. I even sometimes note how much they cost back home! This is helpful because you can quickly see and calculate the deal you're getting. Since everything is listed in French, having photos will help make sure you grab the right item.
As mentioned before, the number of people and the narrow aisles make it hard to stand in one section for too long to browse. You wouldn't have time to translate everything. So, know exactly what products you need to cut down some time. This is also helpful when you're eyeing on popular items that go out pretty fast.
So, what I like to do is first check off all the items I've listed, only then I would let myself get distracted with other seemingly interesting products and up wandering around the store for hours (if its not too crowded though)! Trust me, you will get distracted, but try to stick to your list first!
Organise your list of products by brand
The products in the store are usually sectioned off by brands, so it'll be easier to tackle one brand at a time then move on to the next one. You wouldn't want to waste your time squeezing your way back and forth.
Grab popular items straight away
At my several Citypharma runs, I'll often find my favourite La Roche Posay's Anti-Shine sunscreen sold out or if I'm lucky I'll be able to grab the last tube, and it was barely noon. The same goes for Caudalie's Beauty Elixir or La Roche Posay's Effaclar Duo. So, yes, cult items move extremely fast, especially when there's a huge crowd. Make sure you go for these popular items right away. If you arrive near the opening time and find that something seems to be sold out, try to check back again before you leave. I've noticed that the staff are often busy dashing around and restocking inventory of multiple shelves throughout the day.
Get the gift set and bundles
Keep an eye out for limited seasonal gift sets, bundles and promotions. You'll find amazing deals and complimentary products within a gift set for the same price as one of the products inside. One of the most popular ones I've come across is Caudalie's full-size Beauty Elixir. If you grab the gift set, which is the same price as a single bottle of elixir, you'll get a complimentary travel size Instant Foaming Cleanser and Instant Detox Mask! Be quick though, ladies (more so tourist) often scramble for these!
You can also find bundles that sell products in twos with a discounted price which are great for stocking up. I'd often buy Bioderma's Micellar Water and La Roche Posay's Lipikar Cleansing Oil in these packs, which saved me a reasonable amount of money. In Citypharma, they'll display interesting deals and bundles of the day or week at the front shelves, which you'll immediately see as soon as you come in. There are also clear bins between the aisles that contain promoted products. These are limited promotions and deals that change every week or so.
These bundle deals are surely appealing, but before giving in to them and stocking up, make sure that you've tried and tested the product beforehand and it works well for you. Don't buy them out of temptation! Also, if you indeed want to stock up, remember to always check the expiration date!
Let the lovely lab-coat ladies help you
Throughout the store you'll see staff in white lab-coats, don't be intimidated because they are there to assist you! And don't worry, most of them speak several languages, including English. You can ask the location of a specific product that you're looking for, or better yet their recommendation! They are professionally trained and probably know more about your face than you do, and they'll also help you translate if you need to. So, let them help, they will not steer you wrong, especially when you're getting overwhelmed by the choices of brands and products they have at the store. I'm pretty sure when you're done with your shopping list and after seeing the various products available, you'll want to know more!
Don't miss out on minis
Another thing to look out for are travel size bits and kits. Similar to Sephora's On-the-Go aisle which is strategically placed within the queue to the cashier, Citypharma also has one. You'll find yourself looking at tiny bottles of products on your way to the register, which I always find entertaining! Sometimes they will also place the gift set here as well. You can also find them inside the clear bins mentioned earlier, that is scattered between the aisles.
For me, these minis are not only perfect for travel or trying out products for the first time, but they are also great for souvenirs to give to your friends and families. Forget about keychains, or a mini Eiffel Tower, give them a taste of the amazing French beauty!
Bring your passport
Last but not least, another very important thing is to have your passport with you! As with any other shopping goods, non-EU citizens have the opportunity to receive a 12% tax refund from your total purchase at pharmacies if you spend over the minimum qualifying amount, which is 175 euros. You will need to show your passport to apply for this, and mention your date of arrival and departure. I'm not sure if all pharmacies will help you apply for it, but in Pharmacie Monge and Citypharma they are more than happy to assist. Just don't forget to mention it at the register when paying, sometimes they will guide you to a special counter that processes the paperwork.
As mentioned before, one of the major advantages of shopping at Pharmacie Monge is that they can process your VAT Tax Refund in-store, avoiding the nuisance of waiting in line to process it at the airport. As for Citypharma, the staff will help you fill out and stamp the tax refund paperwork that needs to be submitted at the airport. So, with all those discounted prices and additional cut from the tax refund, you sure saved a lot of money!
There you go, my petite guide on shopping at a french pharmacy in Paris! Now you know where to start, hope it helps you navigate your way into the French beauty world! I'll share my absolute favourites and must-have French pharmacy skincare products very soon on an upcoming post. So, stay tuned and happy shopping!
Please follow and like us: