You may know Provence for its magical rolling lavender fields, but the region offers much more than just its pretty flowers. It is home to vast vineyards, traditional provincial towns, and crystal blue waters, a diverse landscape that has something for everyone. This time last year, my husband and I got to do a fun road trip to several cities in the region, stopping by at some of the most picturesque views we've seen in France. It was by far our most favourite road trip in the country.
If you plan to seek some lavender fields, I highly recommend spending at least 3-5 days exploring Provence. Our trip was for 4 days, which we spent wandering around and spending the night in different cities.
To make your itinerary planning a little easier, I've summarized our 4-day Provence road trip itinerary with all the unforgettable spots that you definitely don't want to miss!
In this post you'll find info on:
Arriving and getting around
Car hire
Our 4-day itinerary
Other recommended locations to visit
Arriving and getting around
Lavender season is probably the busiest season in Provence, resulting in high transportation tickets and accommodations prices. Early to mid-July would be the peak, when most of the region is in full bloom. Our trip was from July 27th until the 30th, which I guess was after the peak dates. We departed from Paris and the easiest way to get to Provence for us was by train. We chose Marseille for our first and last stop because it had the most travelling options, in terms of car rentals and the best train ticket deals, at the time. Our go-to site for searching cheap tickets is ouigo.com, a low-cost train ticket website. We found pretty good deals available on our dates. We spent 79 euros/person on a Saturday (weekend prices are definitely more expensive, and on peak dates it's usually over 100euros/person) from Paris Gare de Lyon to Marseille St Charles, and got an awesome price for our return tickets, which were 23 euros/person (though it went from Marseille St Charles to the Paris CDG airport station which was much further away from our apartment).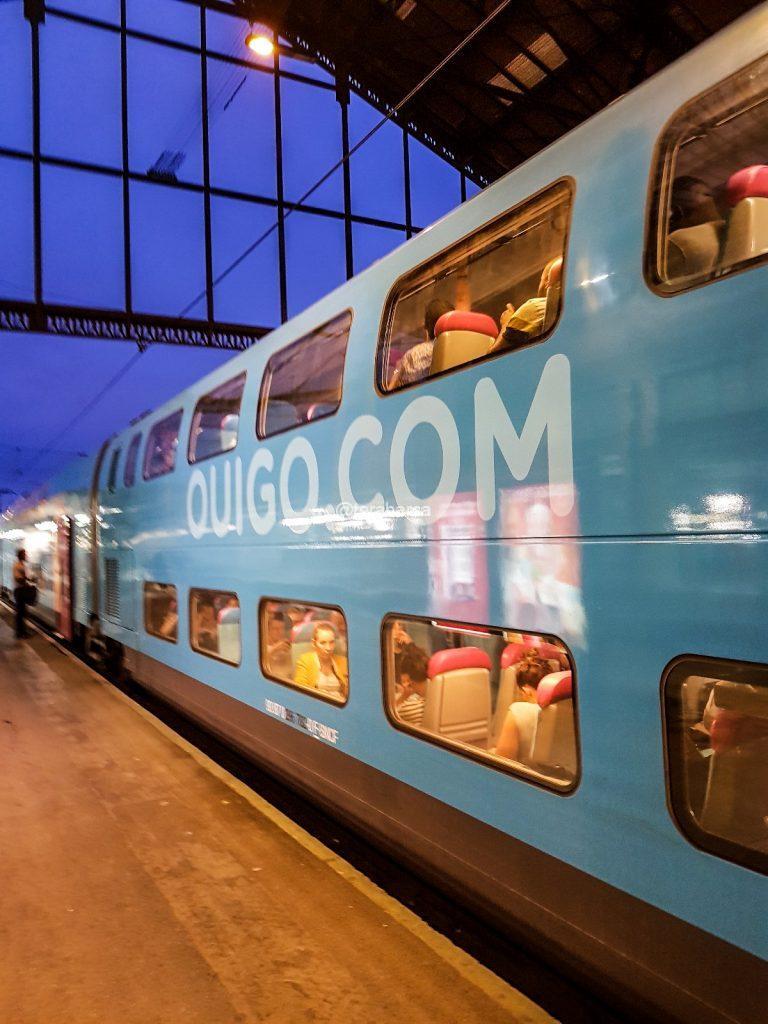 A less expensive option is to travel from Paris by bus. To check cheap bus rates we often go to flixbus.com, a low-cost bus travel website. We often use them to save money travelling between cities in Europe. Their tickets start at 11euros/person and can go up to 60euros/person depending on the date and time. On peak dates, its prices are often a third of train tickets. However, bear in mind it takes way longer to get there, about 11-14 hours. An alternative is to take an overnight bus, so you could sleep your way through those long hours and won't feel as if you wasted your time on the road.
Another option is to travel from Paris by plane. The tickets itself could be slightly cheaper than train tickets and it takes half the time to get there, but don't forget to consider the cost and time to get to and from the airport. You could end up spending the same amount of money, if not more, than buying train tickets. Not to mention, you have to go through a long line of security check, boarding, etc, which adds your travel time.
To compare these transportation options you can go to omio.com, formerly known as goeuro, a website that allows you to check all the options available for your travel and you can filter them according to your needs.
Car Hire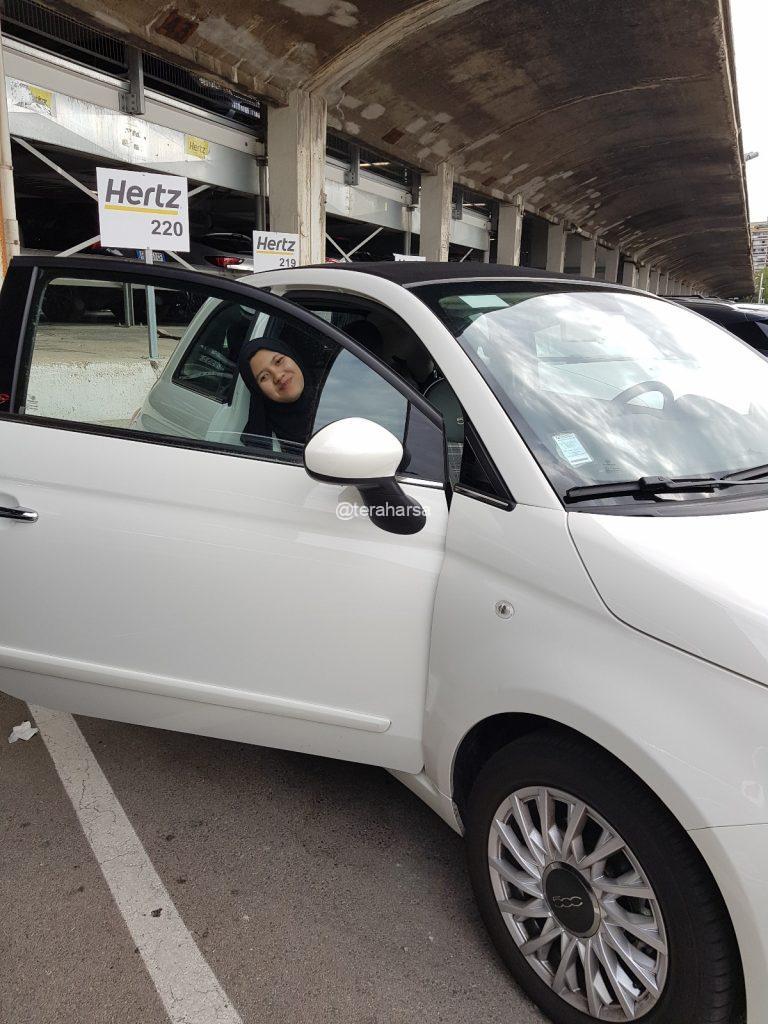 The best way to get around in Provence is to hire a car. It gives you the flexibility to explore different parts of the region on your own pace and time. We usually browse through carrentals.com to get the best available offers from various companies. The site lets us compare prices, car specs and pick up locations, to find the best alternative that suits our needs. We ended up renting a Fiat 500 for our trip from Hertz that was located only minutes away from Marseille St Charles train station, where we first arrived. Our car turns out to be the perfect size to navigate around small roads and limited parking spaces, especially during our visit to Gordes and Saint-Croix-du-Verdon.
For foreigners, the renting process is pretty straightforward. Make sure you have all your documents with you, i.e. your ID, original driving licence and international driving licence for those who require them (we're from Indonesia, so my husband had to apply for one in order to drive in EU countries). A quick heads up, most cars available in rentals are manuals, so if you're not comfortable driving stick shift, you'll need to book an automatic one in advance, and because only a limited number is usually available, it could cost you double.
Our 4-day Provence Itinerary
Day 1 – Arriving, Turquoise Lakes and Lavender Hunting
Marseille
We arrived at Marseille's St Charles station at 9.30 AM. Our plan for the day was to get our car from the rentals then straightly head out to our next destination. We plan to explore and stay over in Marseille later on the very end of our trip, before going back home to Paris. So, after having a quick brunch at the station, we got our car and went off to Sainte-Croix-du-Verdon, which was about a 1 hour 40 minutes drive from Marseille.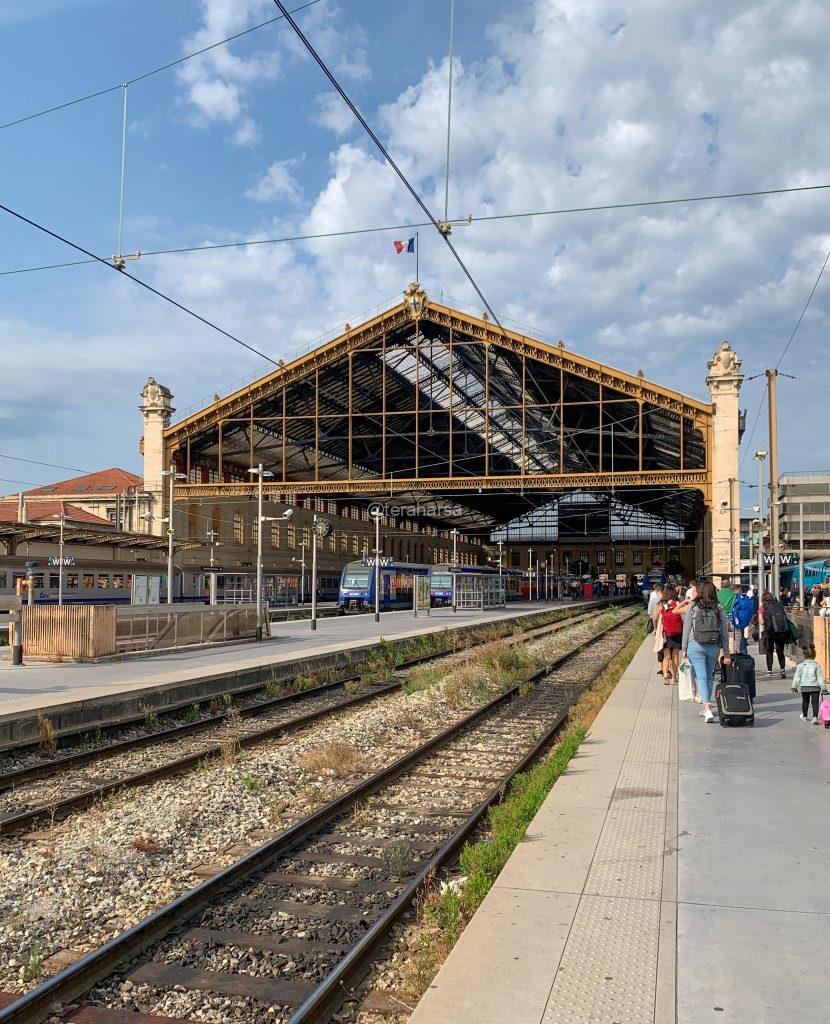 Lac de Sainte-Croix
Just to the east of Valensole, spreading across the heart of Verdon Regional Natural Park, you will find France's 3rd largest lake, the beautiful Lac de Sainte-Croix. This man-made lake, that stretches over a surface of 2200 hectares, has become a popular local and tourist attraction for several nautical activities, such as swimming, boating, windsurfing, and kayaking.
We first drove to the waterfront, just below the village, where we saw numerous parked sailing boats and paddle boats for rent. There were also a few caravans parked near the lake. We were planning to try out kayaking or maybe a paddleboat. But unfortunately, the weather was rather gloomy that day (we hoped it would improve throughout our drive from Marseille, but sadly it didn't), cloudy with a lot of strong wind, perhaps not the ideal weather to go do water activities. In the end, we couldn't rent the paddle boats due to the weather.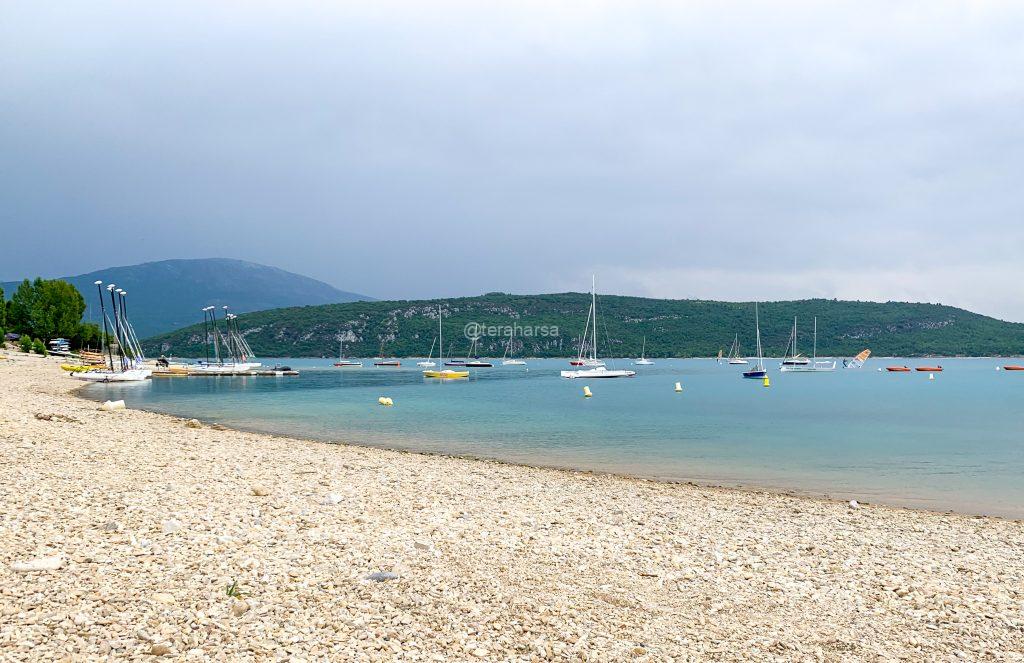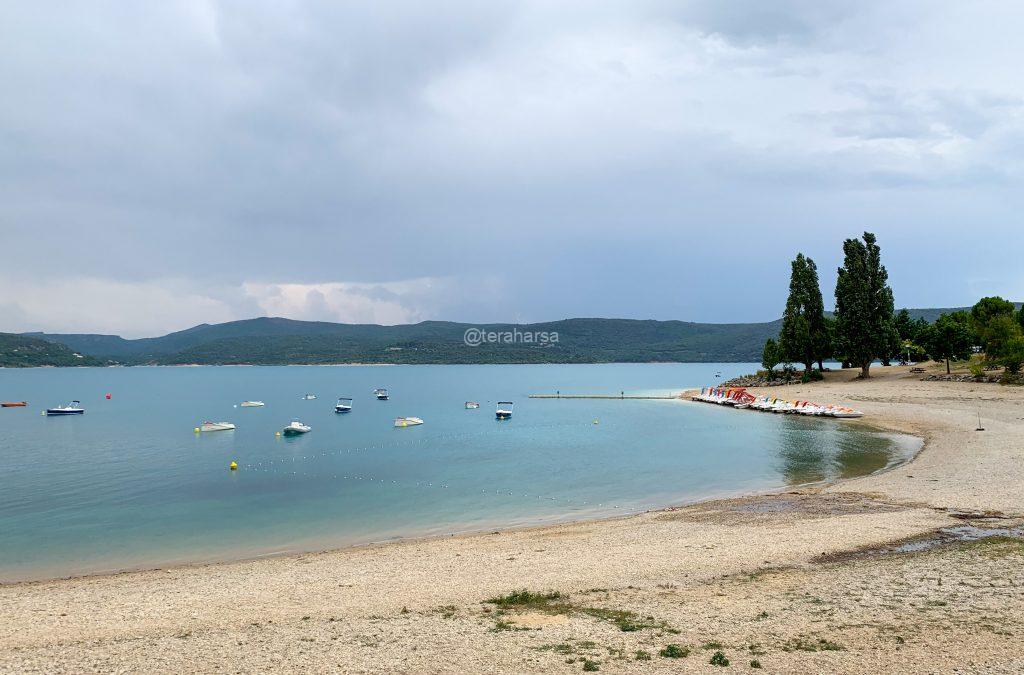 From the lake's shore, we then made our way up to the village to find some lunch. Sainte-Croix-du-Verdon is a charming old village nestled on a hillside overlooking the immense clear blue lake. We drove up the hill, carefully navigating through narrow passageways and one-way streets. We eventually found a parking spot, which was a bit tricky at first as we had to circle the hill twice, and made our way on foot to the restaurants nearby.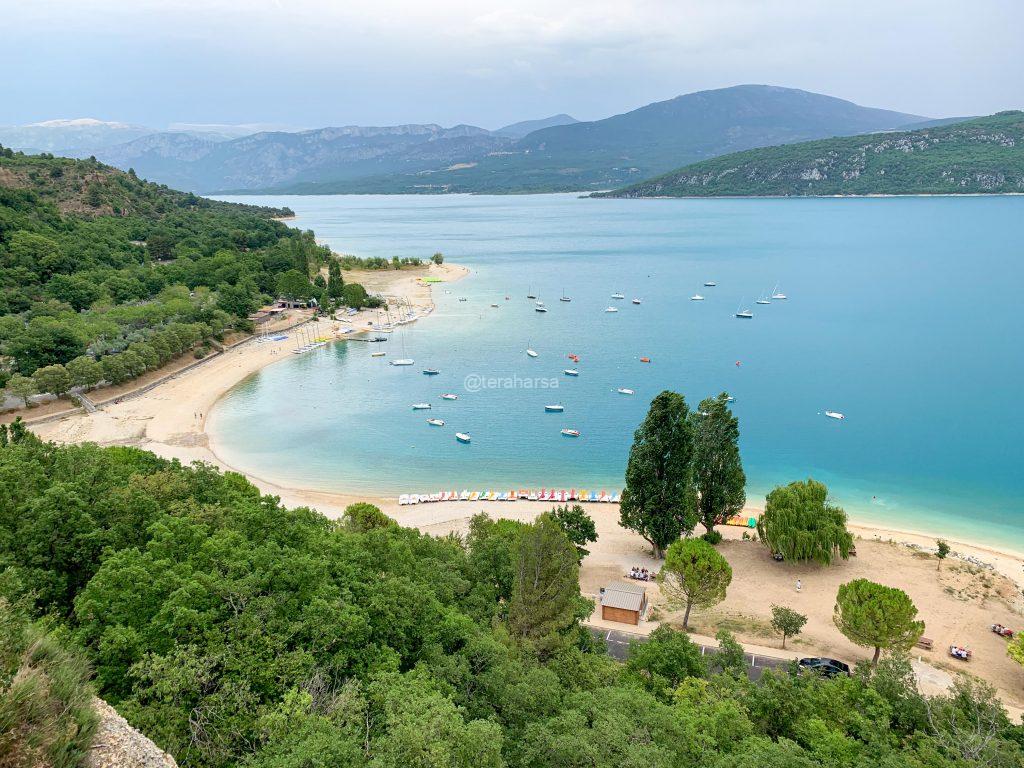 Not far from the car park, we were soon welcomed with an amazing view of the lake that left us completely in awe. You could see the mountains surrounding the water, which you could clearly see the water's beautiful colour gradient as it gets darker towards the middle. We made our way through pass the village's pretty houses to find a restaurant for lunch. I loved how the facades have neutral walls and then have the windows and doors in an accent colour.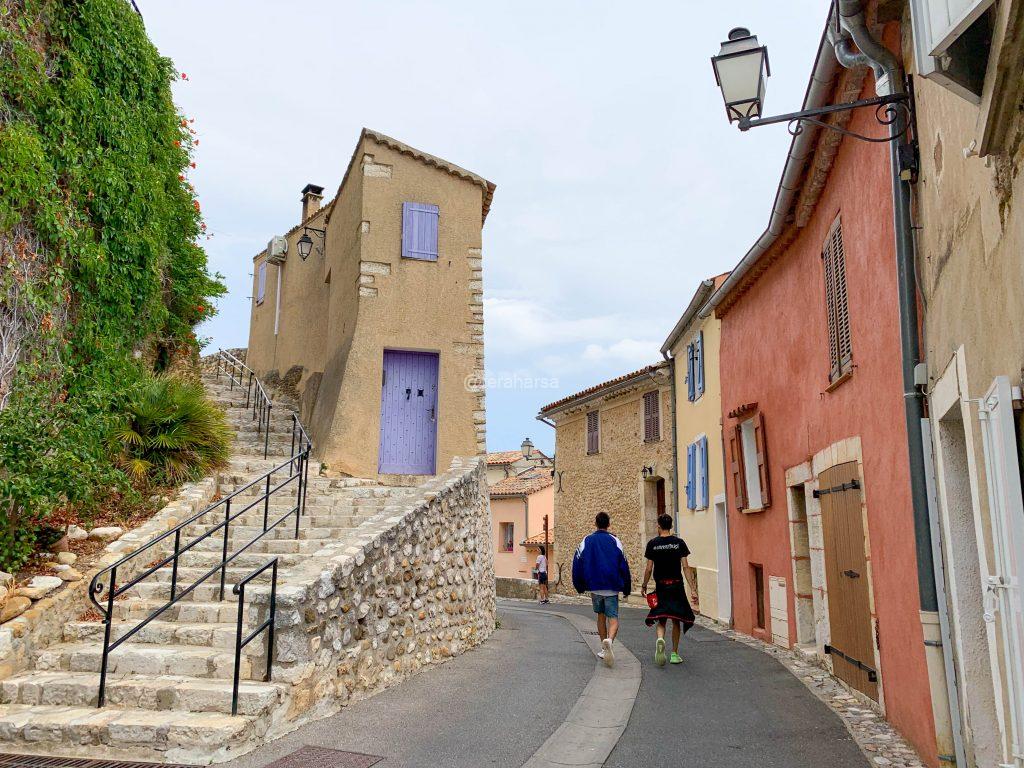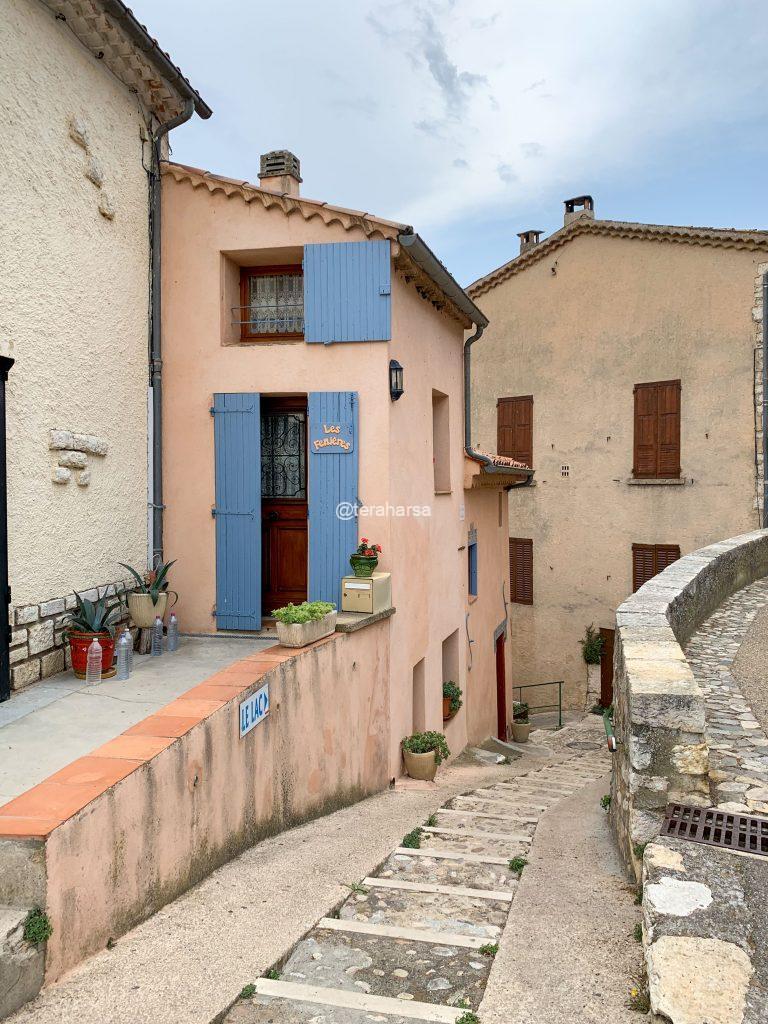 We were lucky, as it was almost passed lunchtime, to find one restaurant that just so happens is taking their last order for the afternoon. We settled down at Le Terrace du Lac, as the name suggested, a restaurant with an open terrace and an incredible view of the lake. The staff were very friendly and accommodating. Our waiter spoke good English and as requested pointed us to halal-friendly menus, which doesn't use meat or alcohol in the cooking process. We tried their pave au saumon, and pizza fruit de mer. Both menus were cooked and seasoned perfectly, we enjoyed them very much!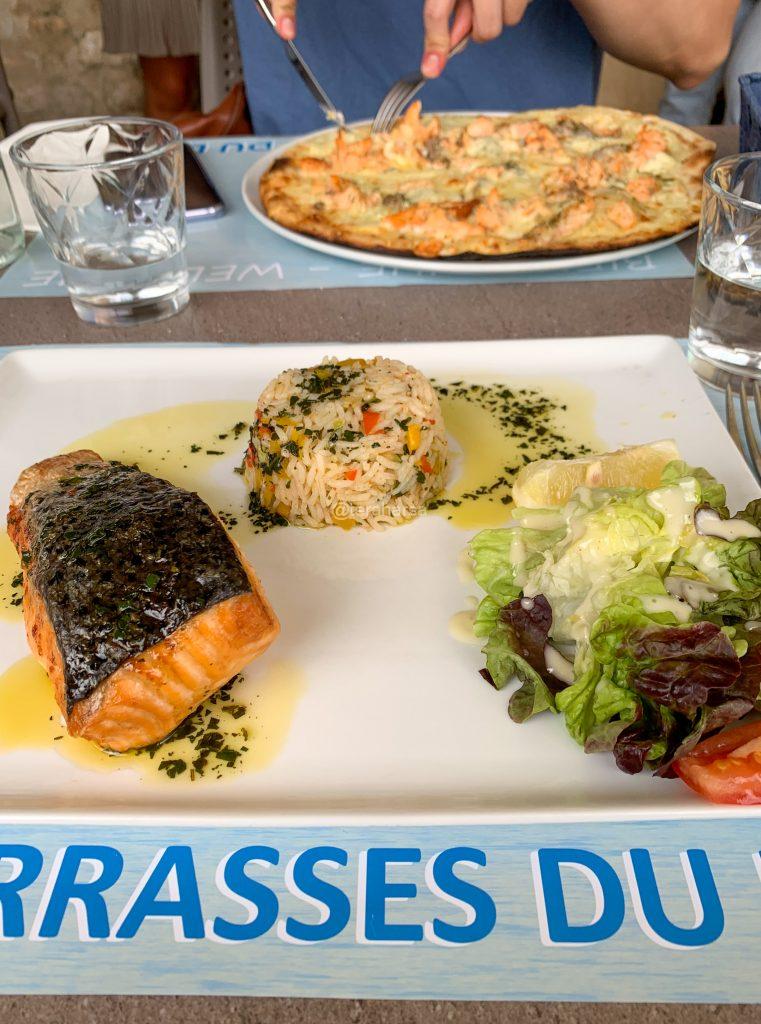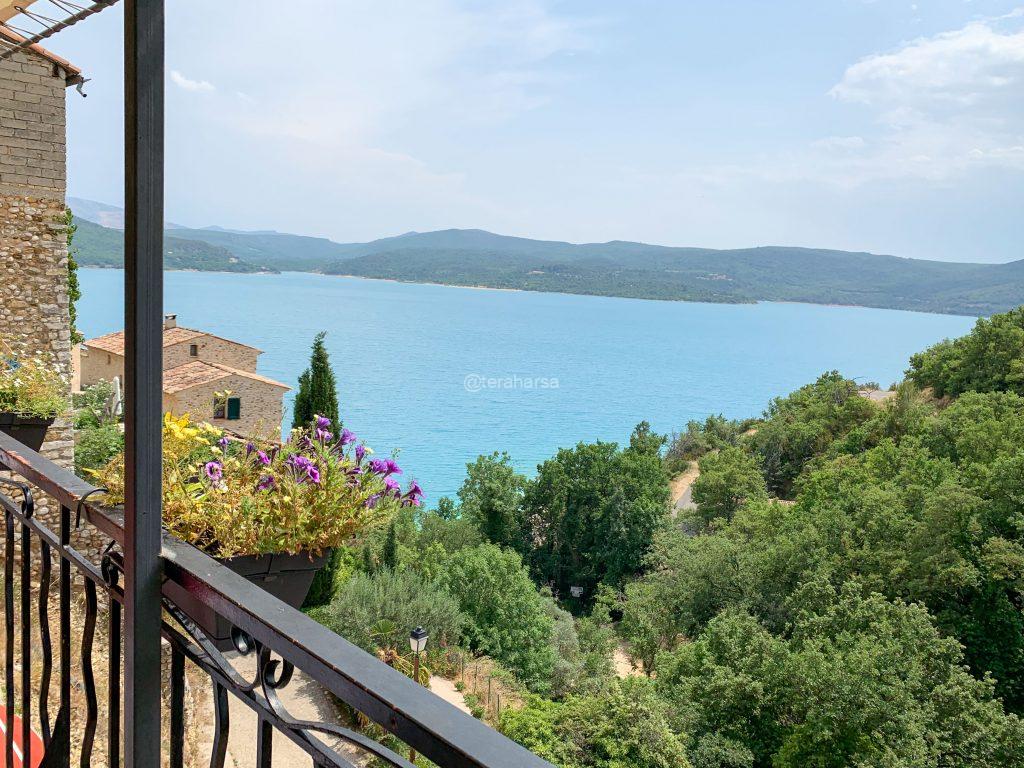 After lunch and a short visit to a random souvenir shop, we made our way back to the car and drove around 30 minutes to Pont du Galetas, a bridge overlooking the famous Gorges du Verdon. Gorges du Verdon, a canyon of limestone cliffs carved by the Verdon river, is one of the most iconic and picturesque places in Provence. As the name literally translates to Gorges of Green in English, Gorges du Verdon is known for its stunning clear turquoise water. The bright blue hue, which is so striking in real life, is said to come from glacial minerals.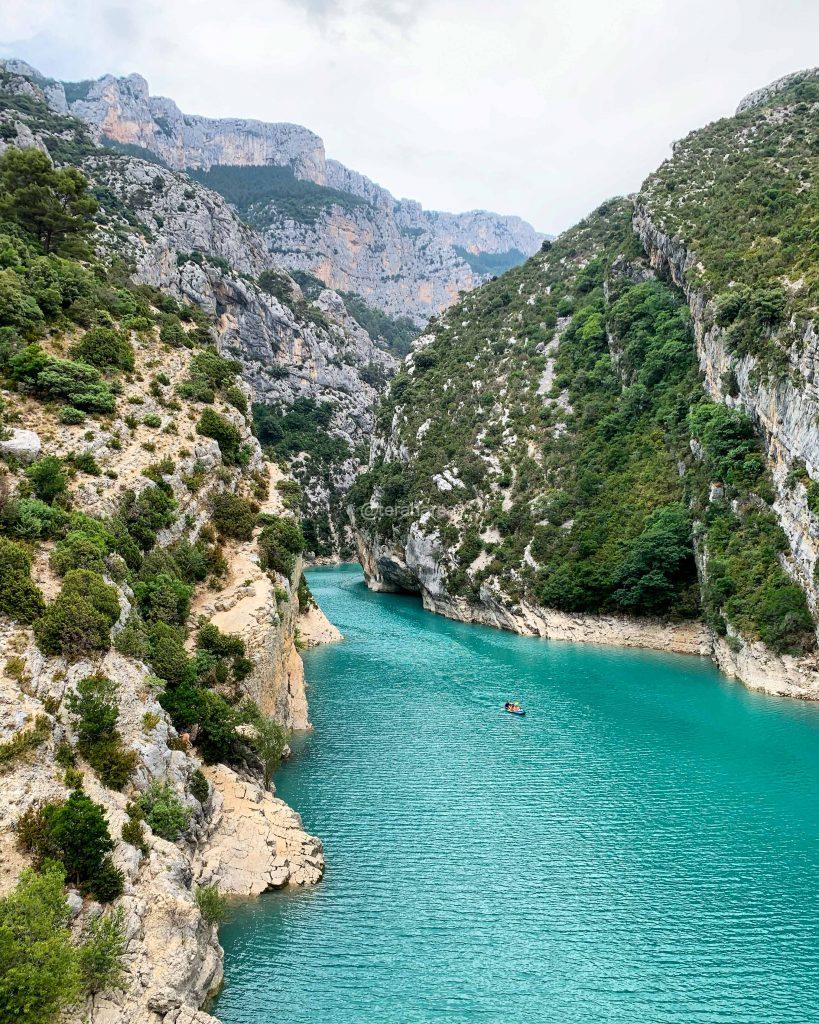 There's plenty of activities to choose from once you get to this spot, from hiking, swimming to kayaking and paddling. As the weather was still grim that day, we sadly still couldn't rent any water activities equipment. You'll surely get a contrasting view if you came during the opposite weather condition, as the waters are usually packed with people!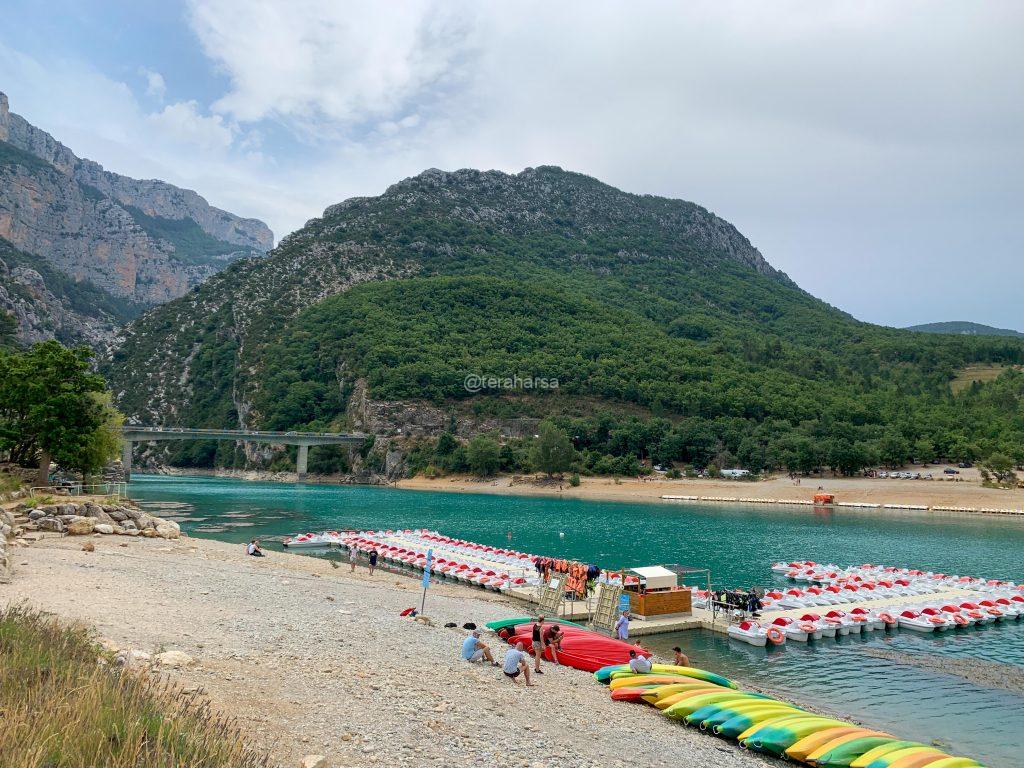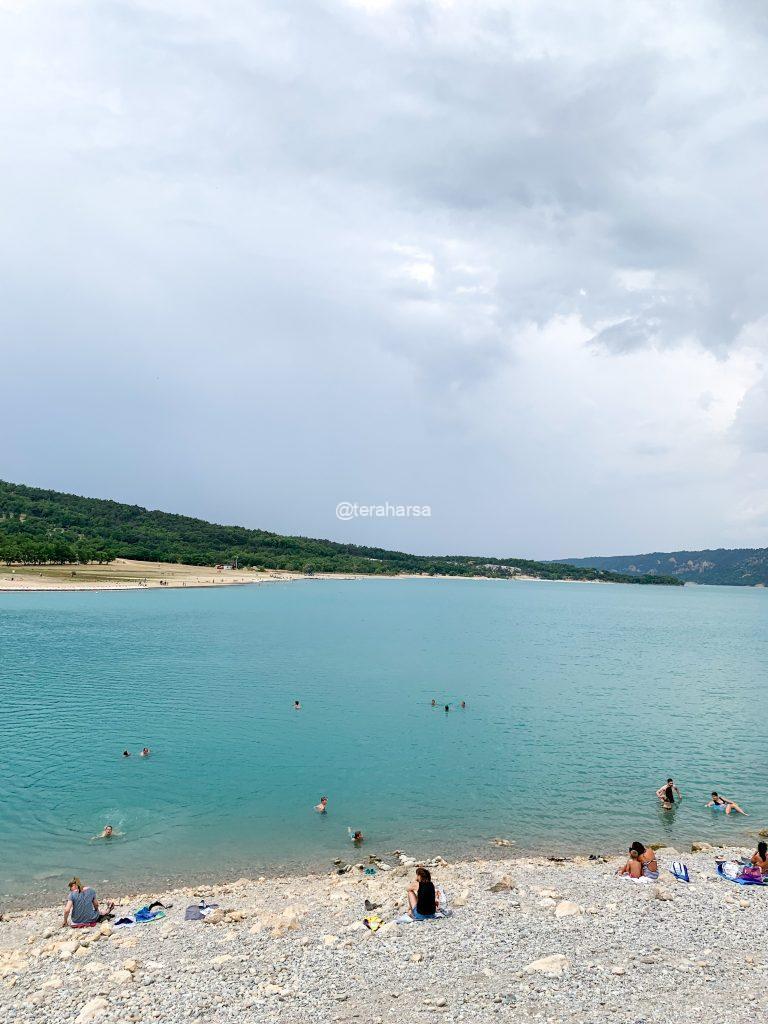 Valensole (Lavender Time!)
After being let down by the unfriendly weather at the gorges, we decided to move on and cheer our selves up with some lavenders. So, we drove to Valensole, which was about a 40 minutes drive from the bridge, to start our lavender hunt.
Valensole is one of the most famous places to find beautiful lavender fields in Provence. We were a bit late to the party, as most fields in Valensole are harvested on the 25th of July, and we got there on the 27th. Yet we were lucky to still manage to find several late blooms, probably the last fields in the area! Find our full experience and guide on exploring lavender fields in Provence here!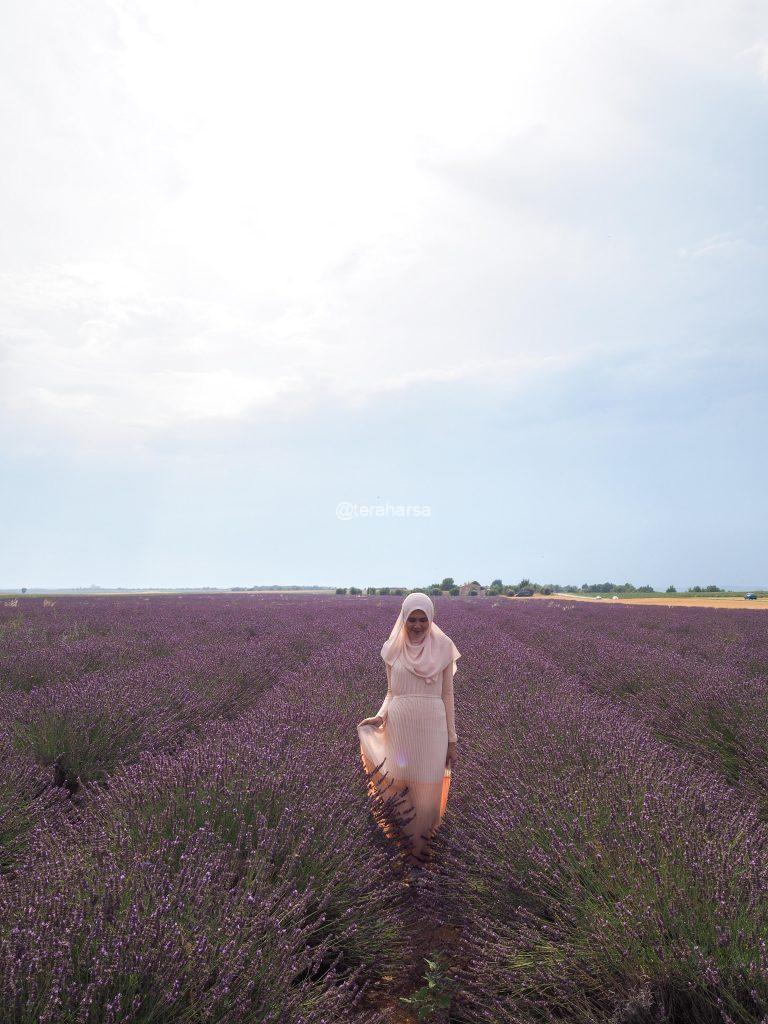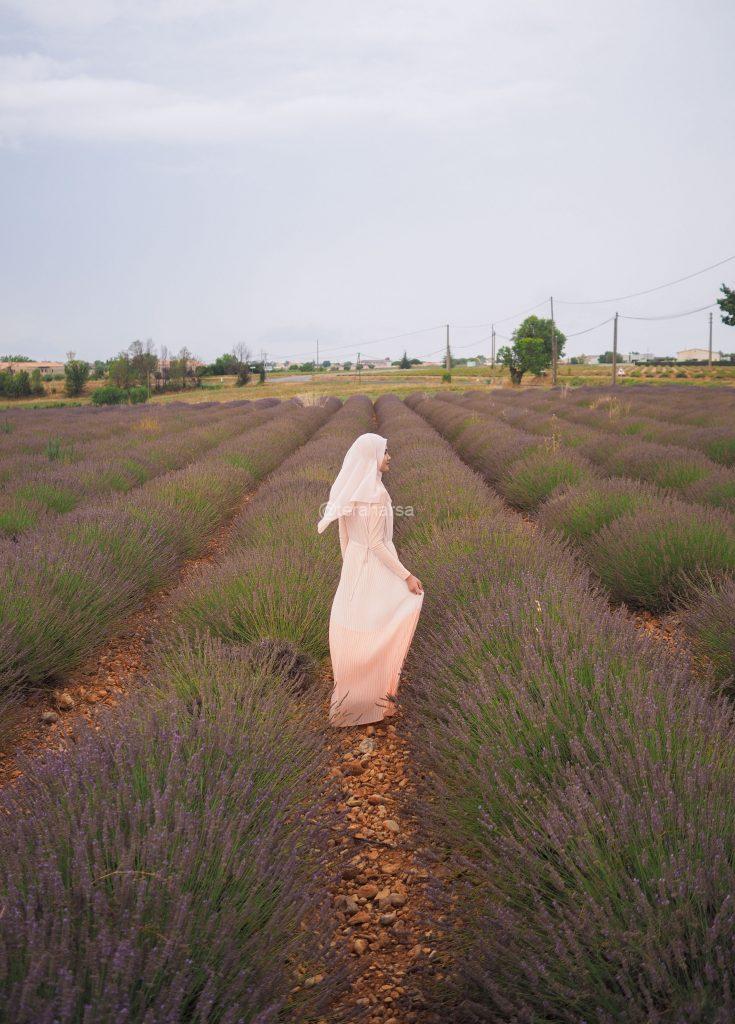 Aix-en-Provence
After spending the afternoon hunting around Valensole for late bloom lavenders, it was getting dark as we headed to our next city stop, Aix-en-Provence. We checked into our hotel, Le Concorde, a nice and comfy 3-star hotel in the heart of the city where we spent the rest of our evening. We were too tired to eat out and decided to get a take-out pizza, watch some tv, relax, and call it day.
Day 2 – Fountains, More Lavenders, Sunflowers, and Picturesque Views
Aix-en-Provence
Aix-en-Provence, or known as Aix, is another hidden gem of the south. It is a beautiful traditional provincial town, with lots of stunning alleyways filled with small cobblestone-paved streets and fountains. The city has this relaxing laid back vibe to it. Our hotel was extremely strategic, it was just 5 minutes away from the famous Cours Mirabeau, a wide thoroughfare lined with cafes and decorated with fabulous fountains.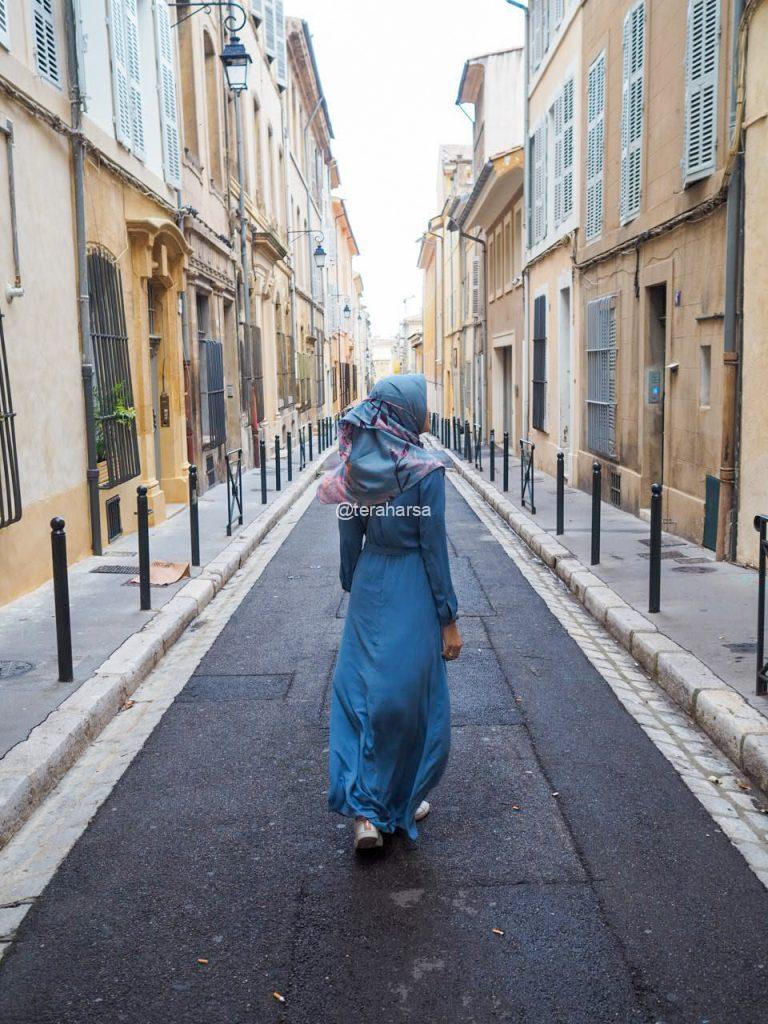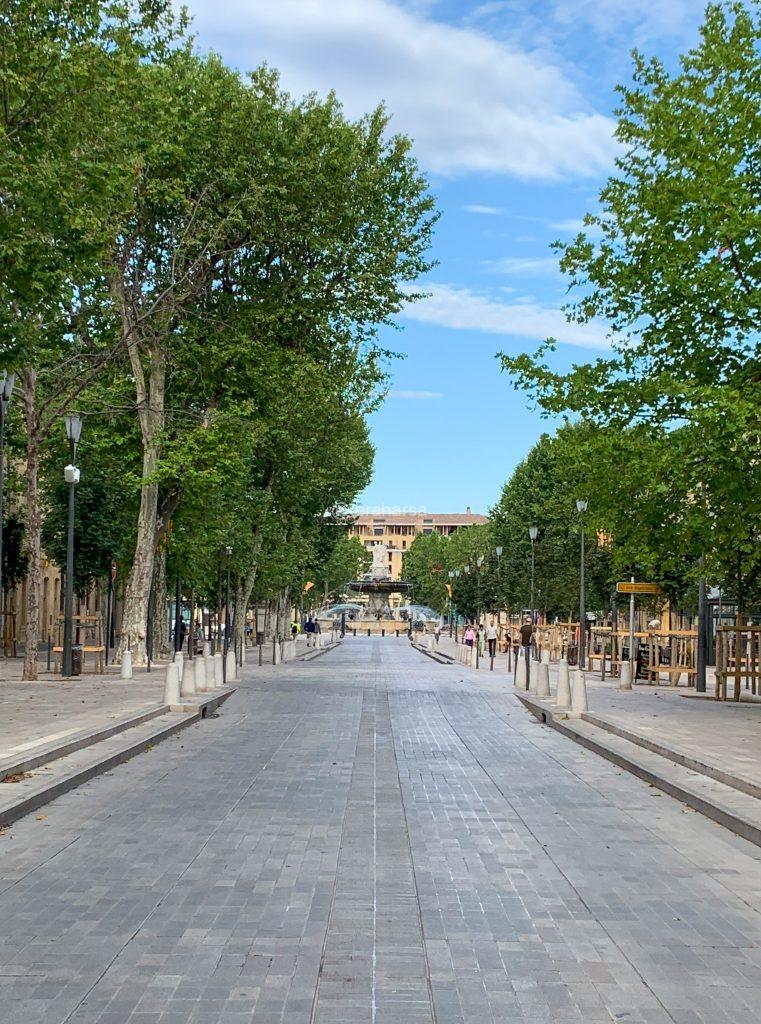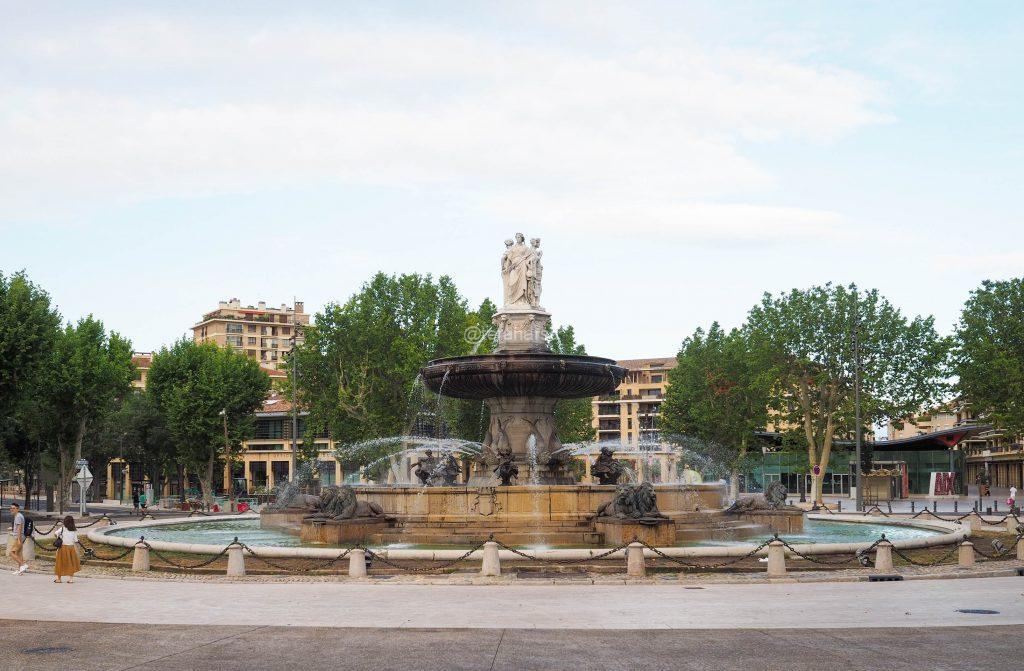 In the morning, we made our way towards Cours Mirabeau. Cours Mirabeau links the Mazarin district to the south with the old market town to the north. We strolled around both areas and ended up at Fontaine de la Rotonde, the most notable fountain in the city that makes up a roundabout. It was a quiet Sunday morning, I guess shops don't open until noon and only a few cafes open early for breakfast. We stopped by a bakery on our way back to the hotel, getting breakfast and stocking up snacks for the road.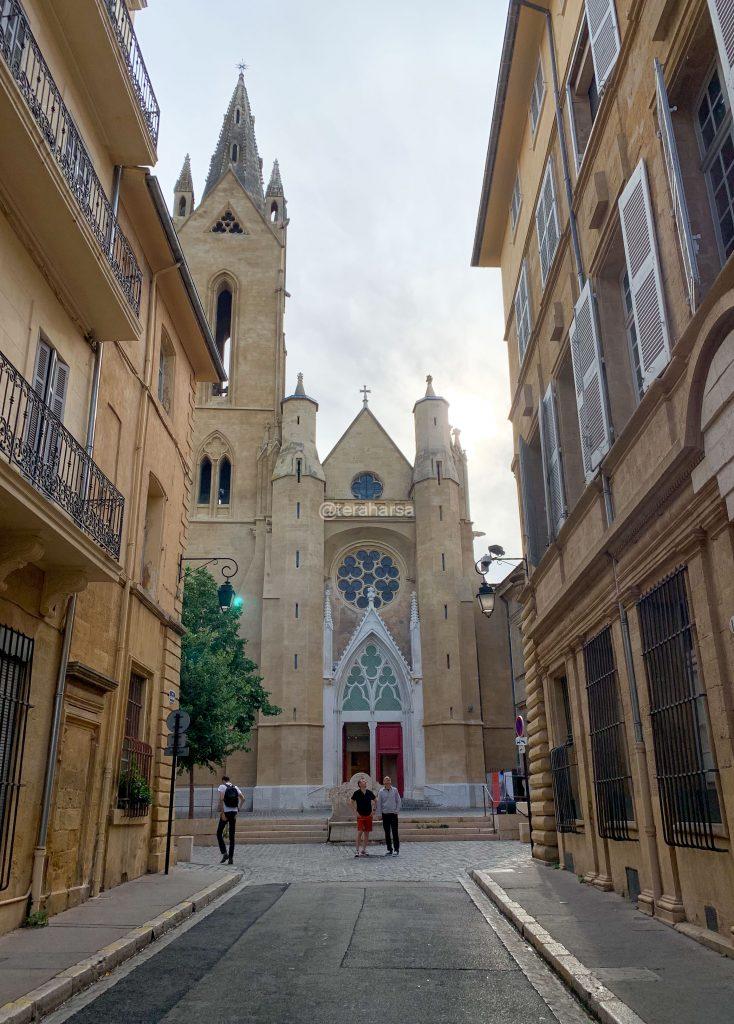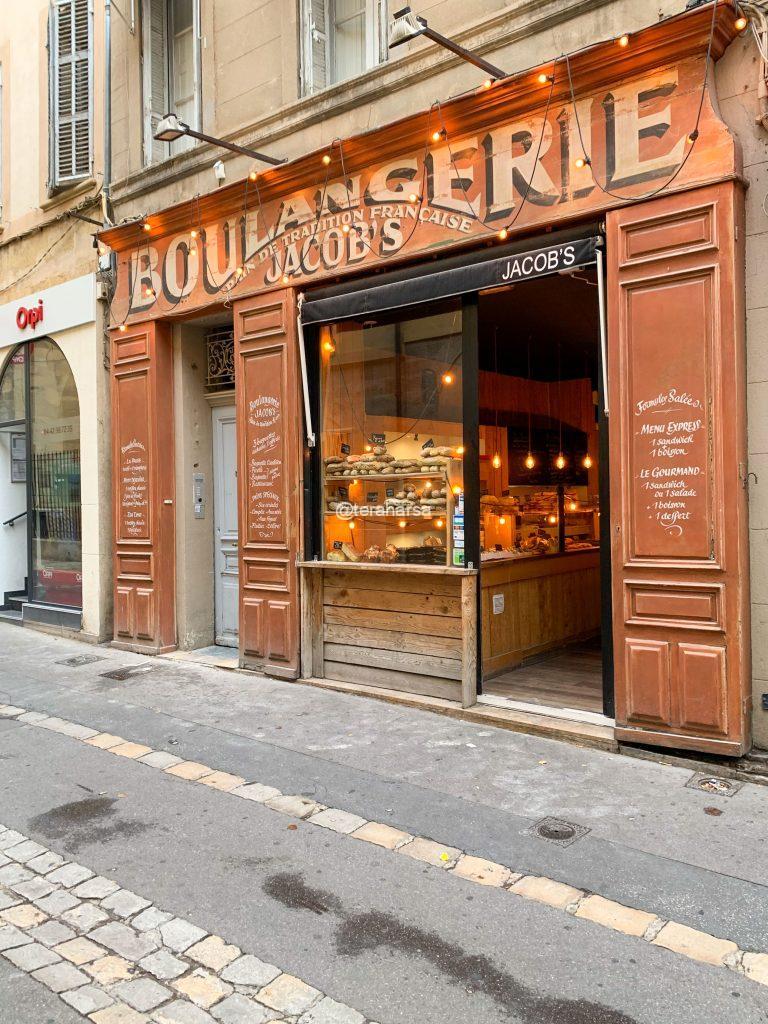 Valensole (again!)
Although we found a few fields in the afternoon the day before, we only managed to take photos at just one field before it was getting too dark and we were also running late to check into our hotel. So, we decided to go back to Valensole to search for more fields! There's no guarantee we would find any more than before, but we took our chance anyway. I guess we were lucky because we did find this gorgeous field on a hill, different from what we saw the day before which was a flat field. And to our surprise, not long after that we also found an enormous sunflower field! I've saved the locations of these late bloom fields in Valensole and full story about our experience on my previous post, here!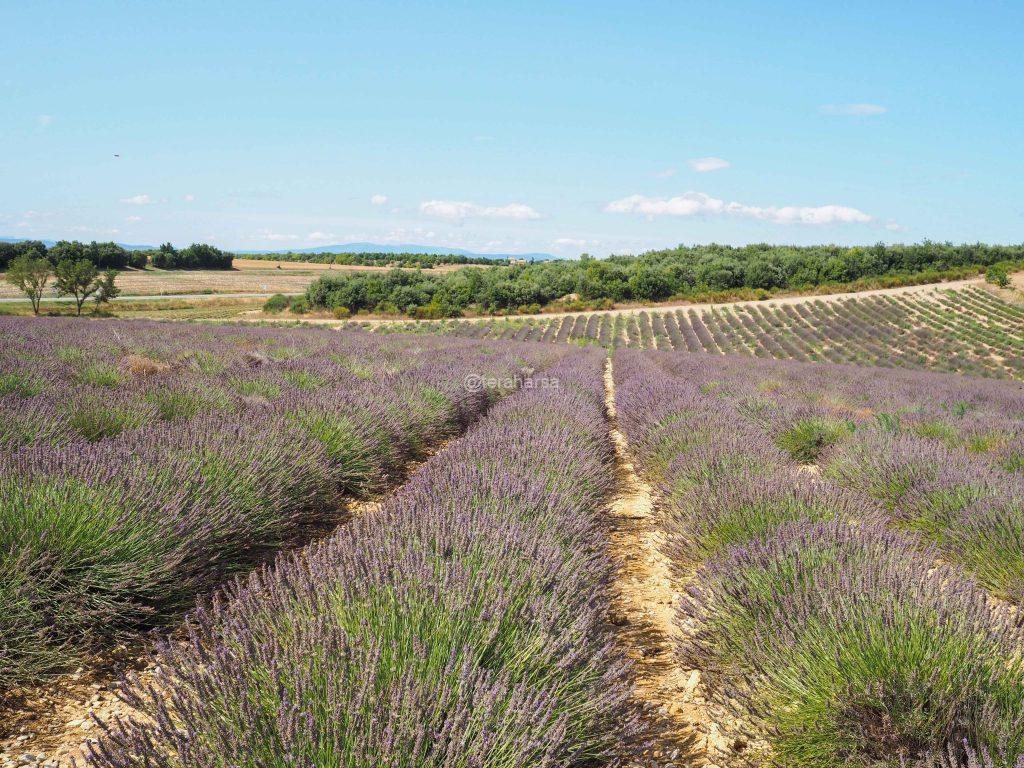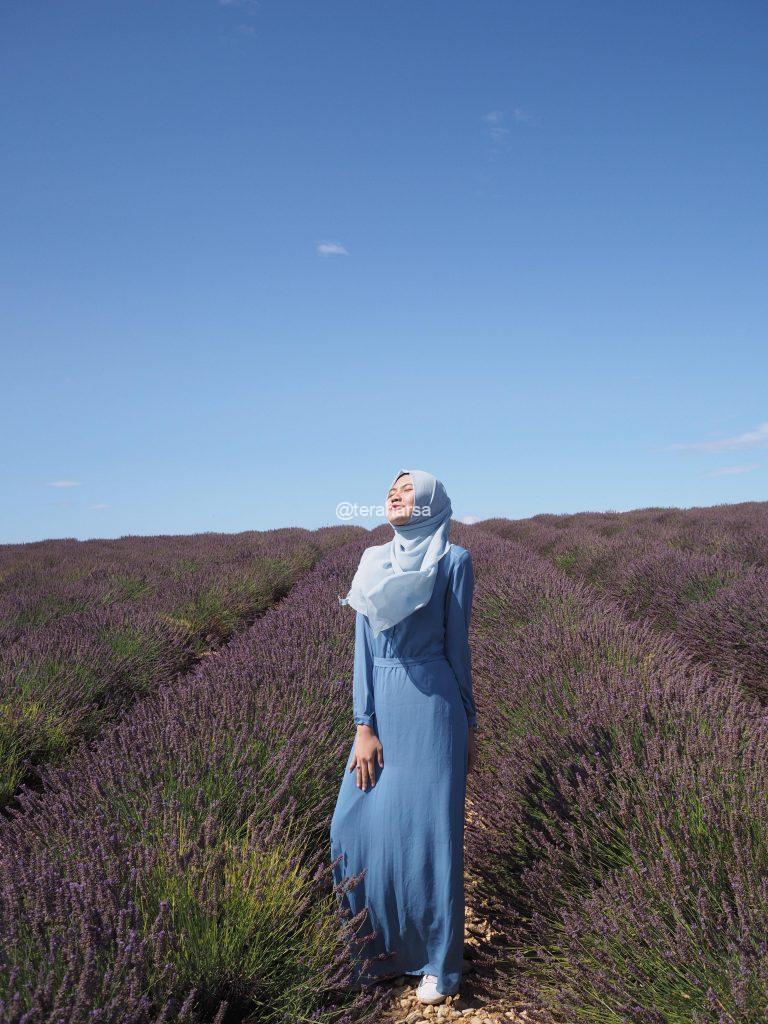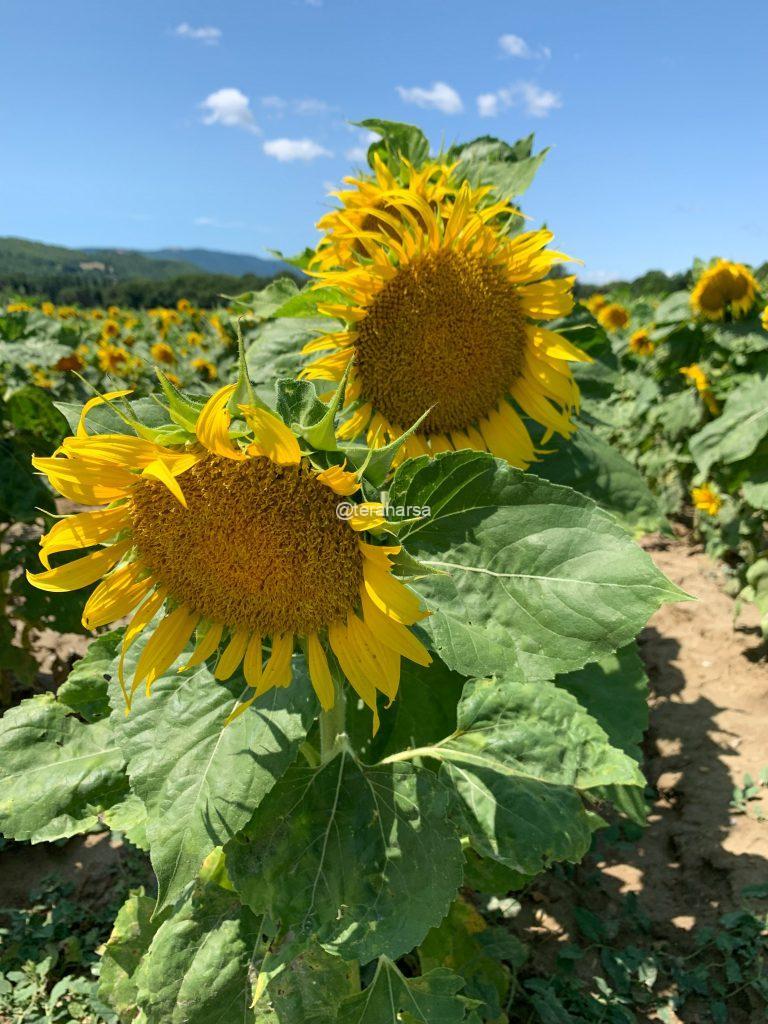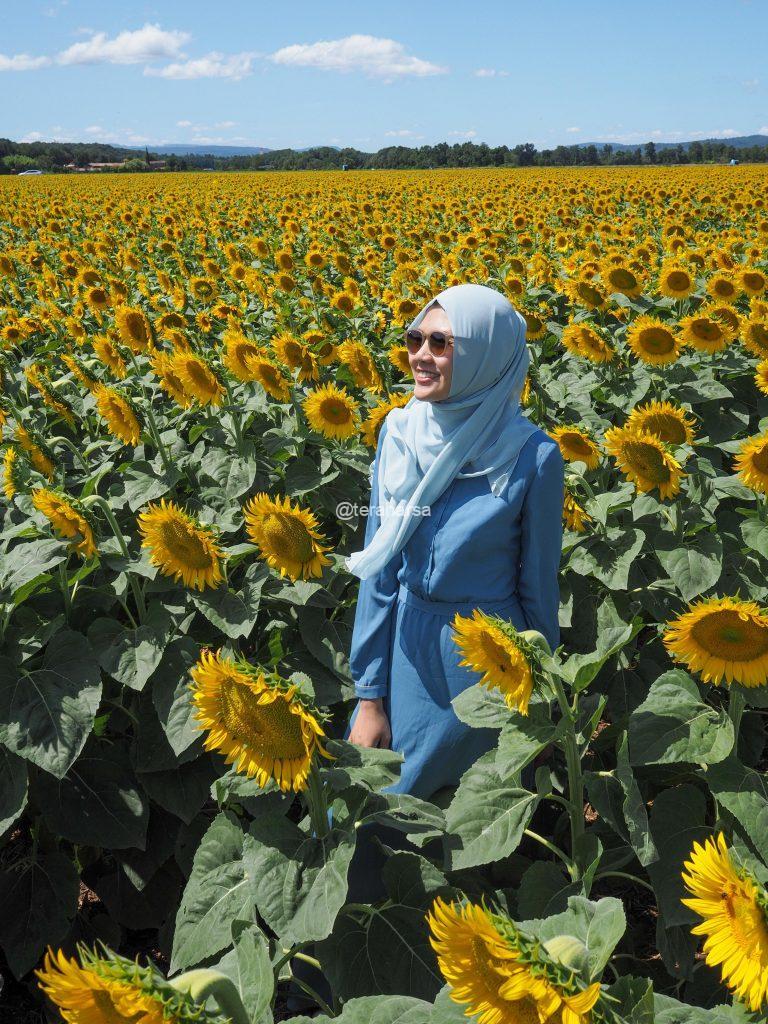 Gordes
After wandering around in fields of flowers, we were off to our next stop, Gordes. Gordes is a small charming old village perched on the foothills of the Monts of Vaucluse, in the Provence-Alpes-Côte d'Azur region. Houses made of stone and terra-cotta roof tiles root themselves following the cliff's contour, creating this amazing picturesque view you'll find nowhere else.
Good thing we rented a small car, it made it easier for us to navigate our way through Gordes' narrow roads. You'll find a huge designated parking space where you could park your car and roam around the village on foot. We spent a relaxing afternoon there, just wandering about, looking through various local shops, getting some lunch and ice cream, before hitting the road again to our next city.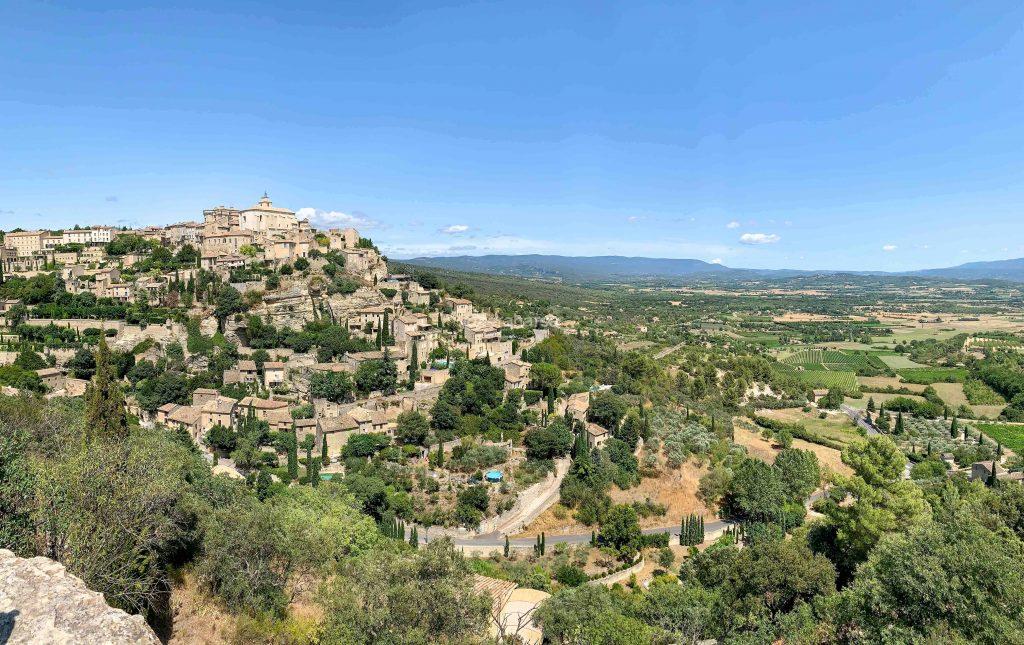 Montpellier
After visiting Gordes, we drove further west for about 2 hours and got to Montpellier, where we spent the night. We checked into our hotel, the Ibis Hotel Montpellier Centre Comedie, located in the heart of the city, just minutes away from Place de la Comedie. Another reason we chose this hotel is because of its easy parking. It is always convenient when you're driving around on these road trips to find hotels that include parking spaces in their charge. Same as before, we got takeaways for dinner from a nearby halal chicken and burger place and spent the rest of the evening chilling in our hotel room.
Day 3 – Beaches, Ports and Fish Soup
Montpellier
Montpellier may be further away from the centre of the region and often overshadowed by neighbouring cities in Provence, but we think this vibrant and lively city is worth a visit. The city is stunning, an architectural treat rich in history. Between its sidewalk cafes, local shops and boutiques, you could find lavish gardens and squares. In addition to its beautiful buildings, Montpellier is also famous for its wonderful beaches. We've even heard a story from a friend that has spent years living in France, that in the summer people line up until the beach's parking lot to wait their turn to go get a spot on the beach!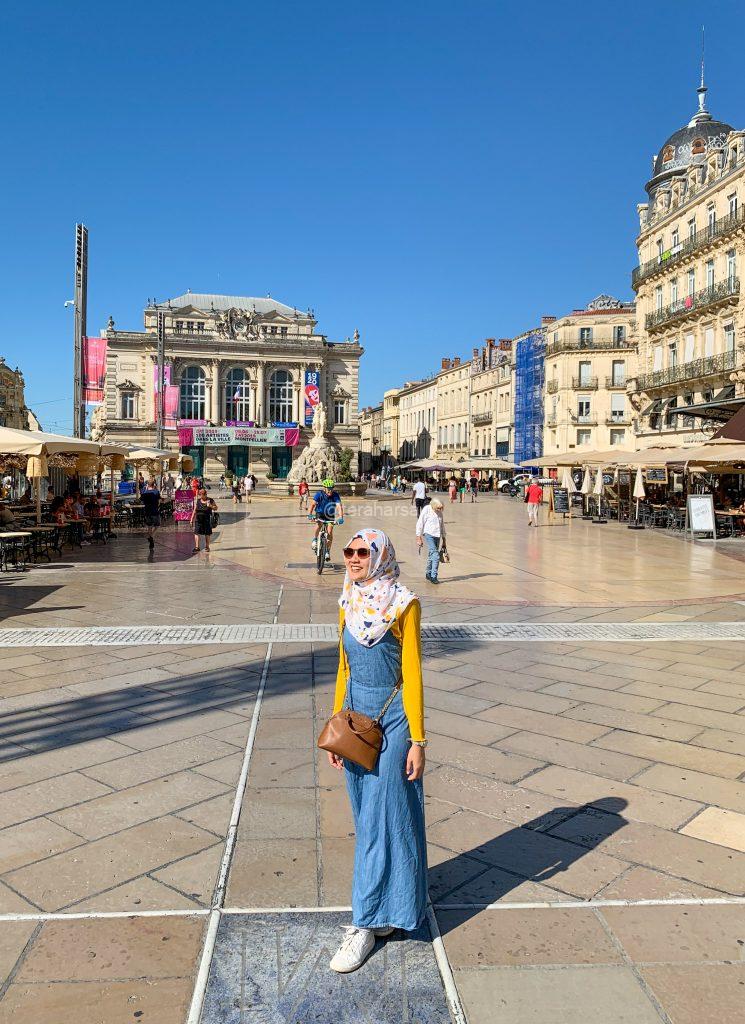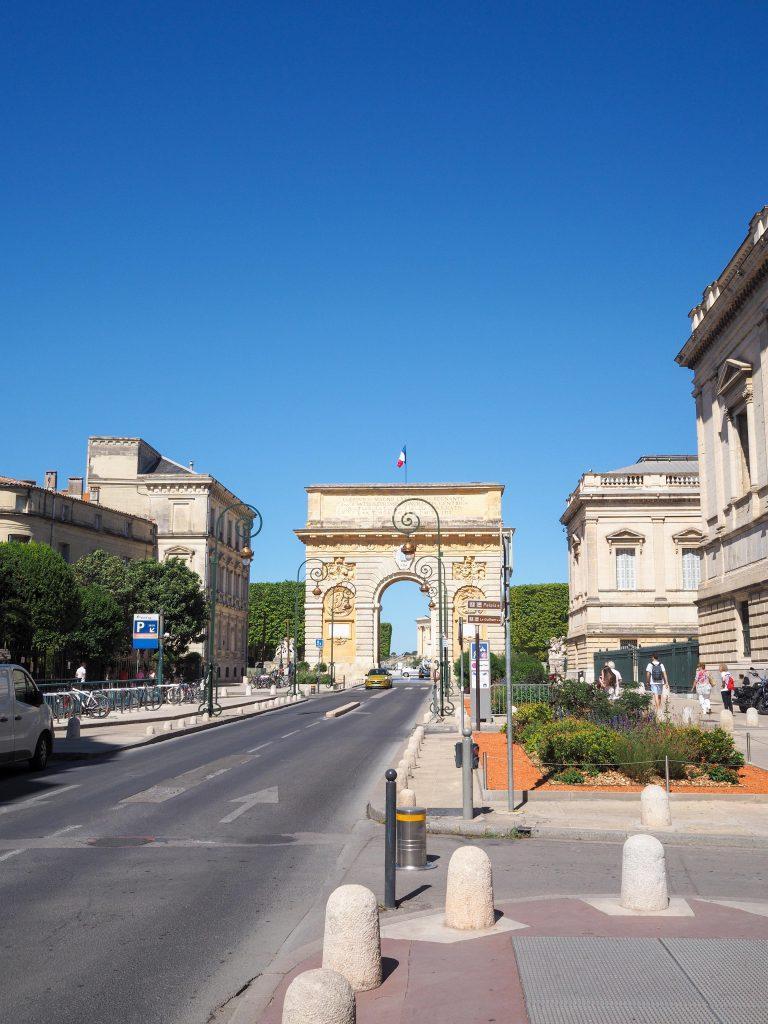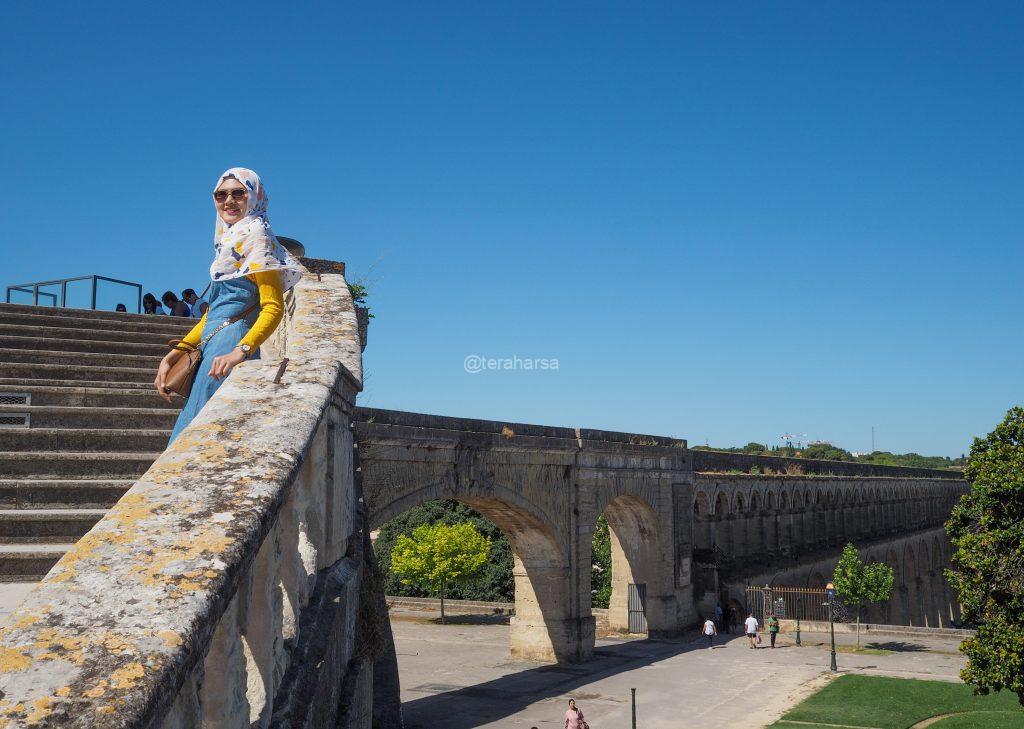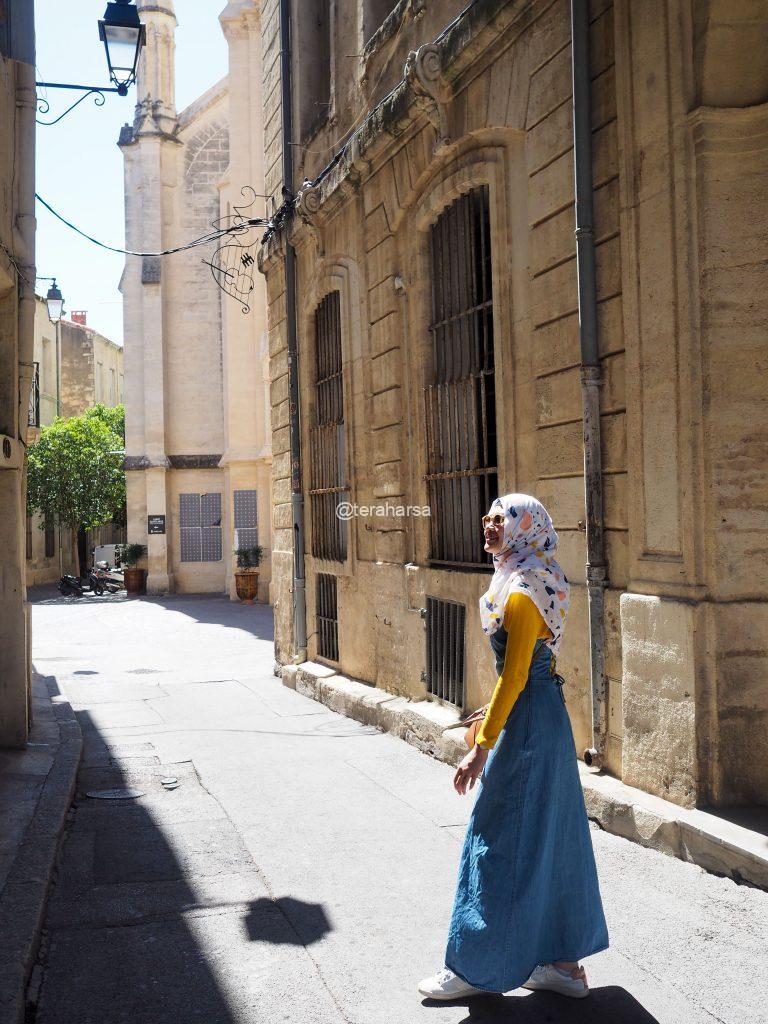 We spent the morning exploring the city. Strolling around some of its highlights, from Place de la Comedie, where I bought that beach hat after browsing through their morning open market, continuing our way through the Old Town, Arc de Triomph, the magnificent Promenade du Peyrou, where you can see a spectacular panoramic view of the city, Saint-Clément Aqueduct, and Montpellier Cathedral.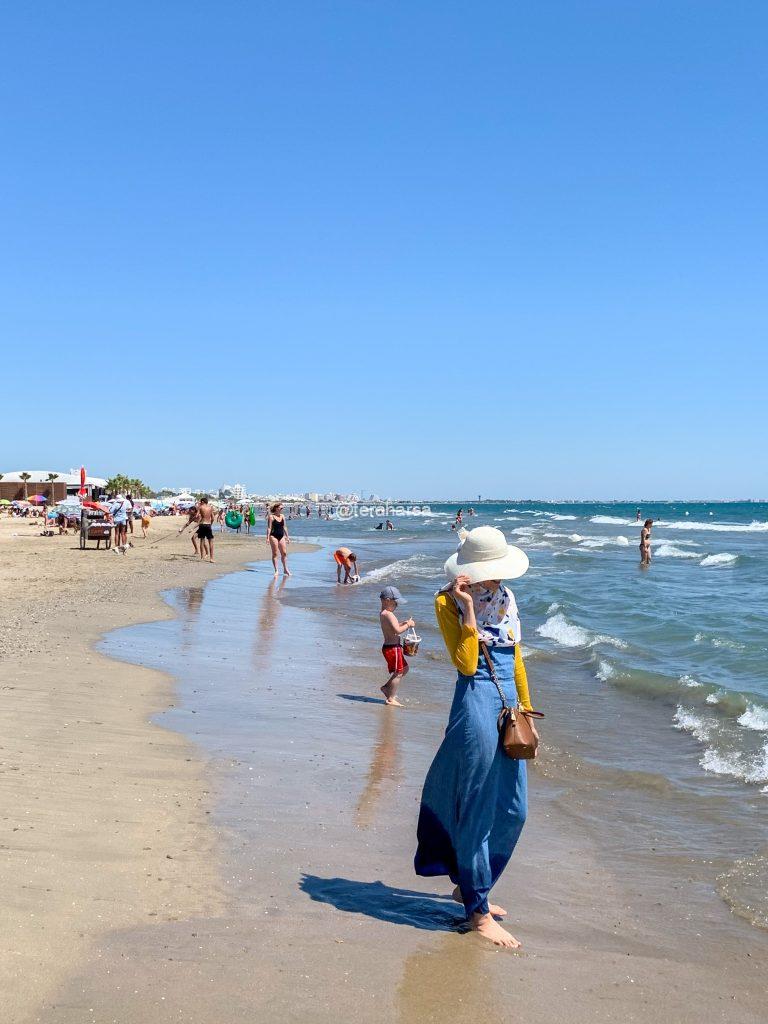 After city strolling, we went back to our hotel, checked out, got some quick lunch, jumped in our car and headed to Montpellier's famous beach. It was a great day to go to the beach and as expected the beach was pretty crowded! There's a lot of designated parking areas not far from the coastline. You could park your car there and walk about 5-10 minutes to the beach. There are also limited parking spaces closer to the coastline if you're lucky you might find one here, so you wouldn't have to walk as far. Just bear in mind its impossible to get one during peak hours, especially with good weather!
(Back to) Marseille
After spending our afternoon on the beach, we drove a long way back to Marseille. It took us about 2 hours and we got there just in time to catch the sunrise at the Old Port. We returned our car at the rentals near the station and made our way on foot to our check into our hotel, Europe Hotel Vieux Port, which was strategically located just a few steps away from the Old Port. After settling into our room, we went on a stroll around the port to catch the sunset. The port was filled with people, probably with the same intention as ours. There were a lot of street vendors, selling various things from food and drinks to toys for kids.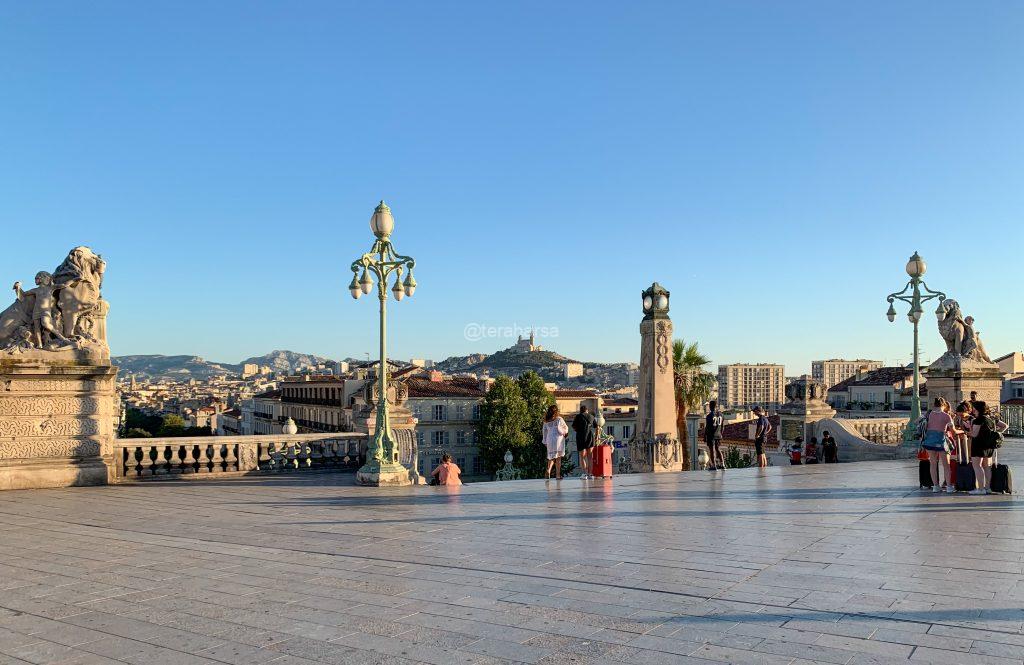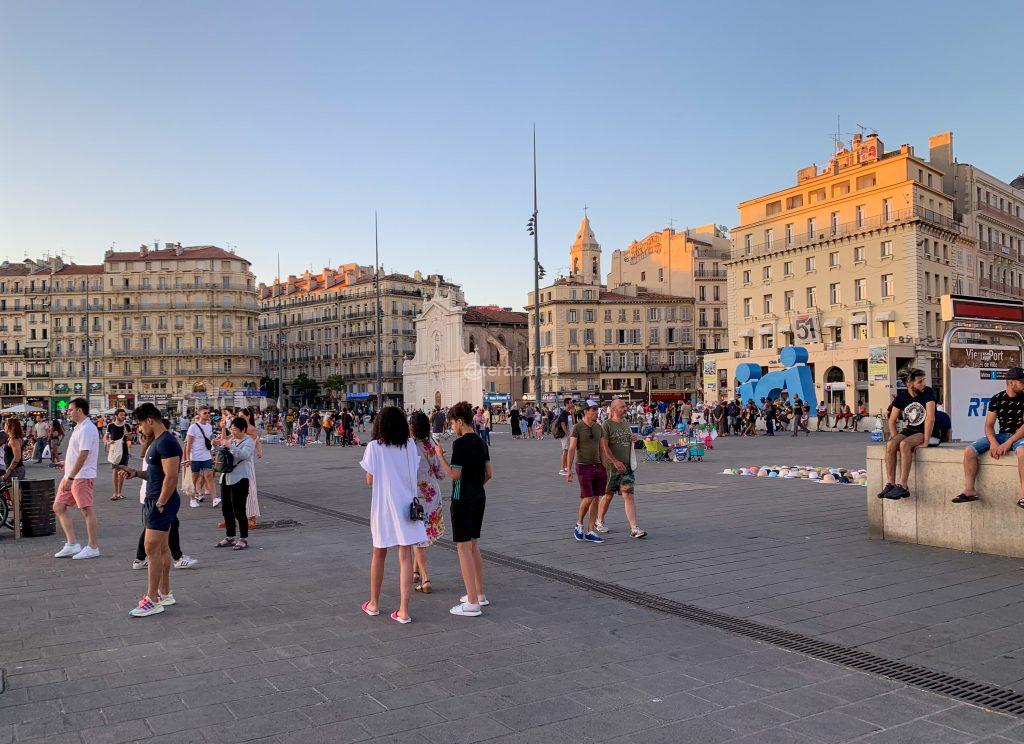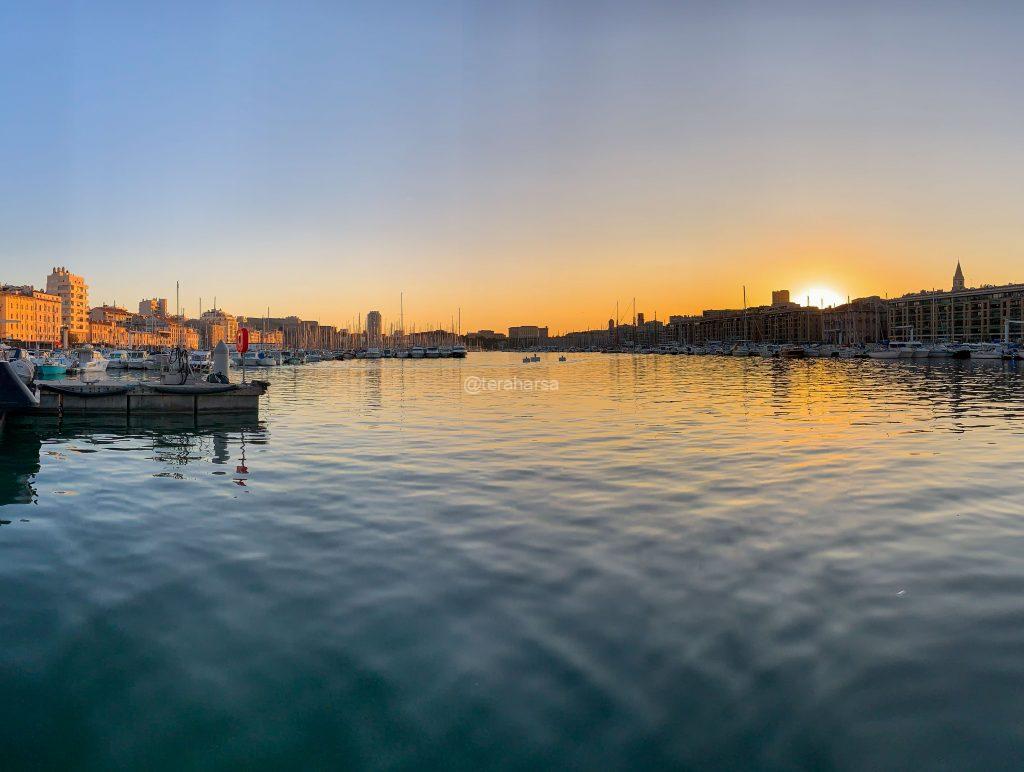 My husband's French teacher happens to be from Marseille and insisted that we try its famous bouillabaisse soup, which is a local traditional Provençal fish stew. She told us that it was different from other fish soups, thanks to its selection of Provençal herbs and spices in the broth and the way it is cooked. She pointed us to her favourite restaurant near the Old Port that's known for their soup, Le Miramar. We tried to go there for dinner, but our luck seemed to have run out by now because the restaurant was unfortunately closed for the day. We already had our minds fixed on soup for the night, so we decided to see what the neighbouring restaurants have to offer.
We settled to dine at L'Hippocampe Vieux Port Marseille that was just next door. We tried a bowl of their bouillabaisse along with a delicious pasta fruit de mer, baked mussels, and apple tart for dessert. The waiters and waitresses spoke good English and were super nice and very accommodating, especially towards our request of no alcohol in the food or the cooking process. They pointed us to some of their recommendations and halal-friendly choices. They also checked several times to the chef to make sure about the contents in the food, and whether or not it could be altered per our request. We enjoyed every dish, they were cooked and seasoned perfectly. Plus, the restaurant had a great view overlooking the port. Definitely highly recommended!
Day 4 – Boat Excursion, City Strolls, Going Home
Marseille
The following morning was our last day in Provence. After having breakfast at the hotel, we headed down to the port. On the evening before, we saw some tour companies that offer trips to nearby islands and other boat excursions. It seemed like a lot of fun, so we decided to come early the next day to buy our ticket. The time we went down from our hotel, the ticket office wasn't opened yet, so we killed some time by browsing through the morning open market along the docks. They sold a lot of lavender theme products, along with other local crafts and food.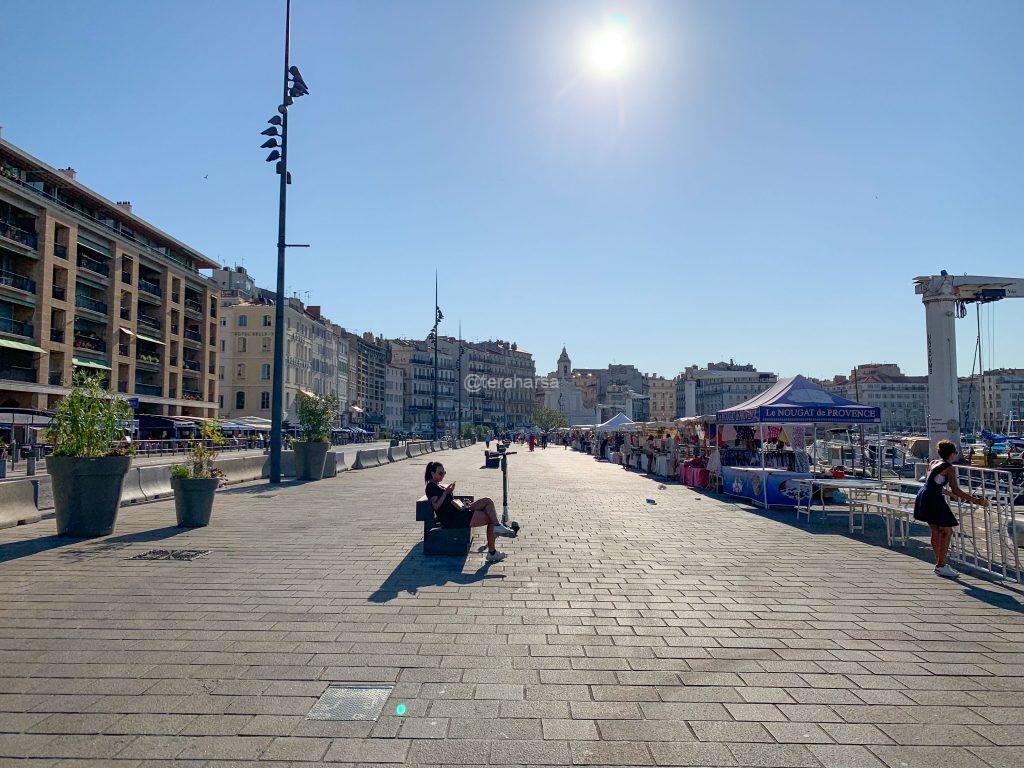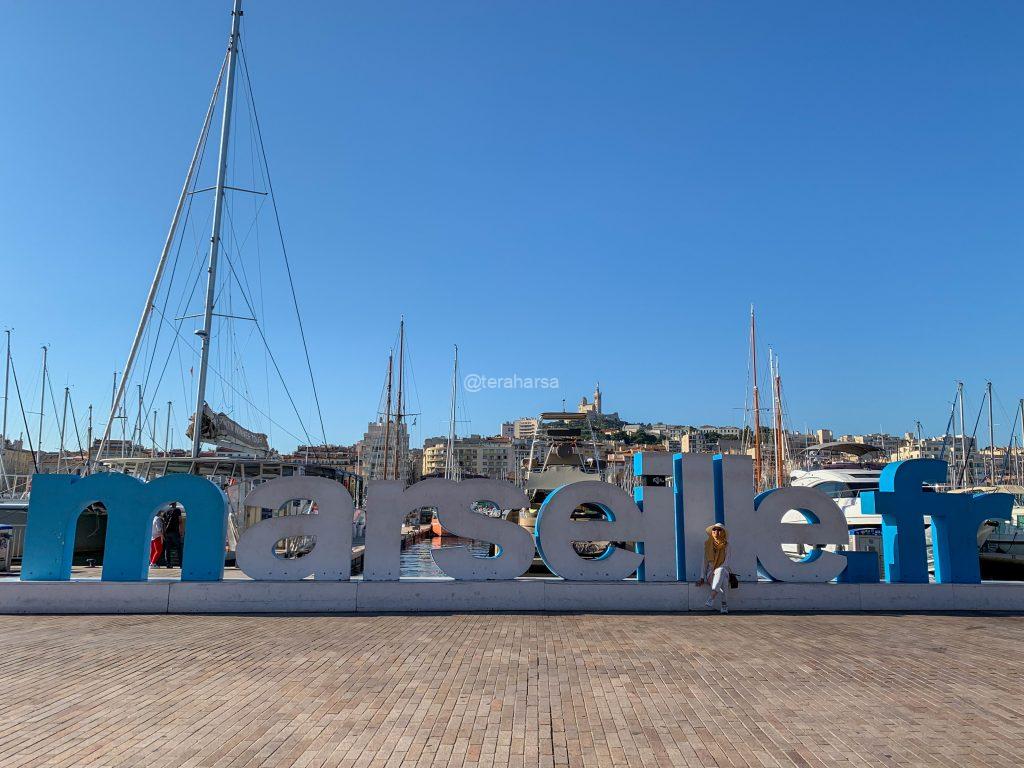 The company that we went with has daily excursions at 9 AM and 5 PM. Make sure to come early because it's one of Marseille's most popular attraction. There's usually already a long line formed at the ticket office by 8.30 AM. We chose to go on the Calanques boat tour, that took us on a journey along Calanques National Park from the Old Port of Marseille to the Bay of Cassis while discovering all the creeks along the way. The trip was about 3.15 hours long, which we visited about 12 creeks in total. The view was absolutely fantastic, exceeded far beyond our expectations!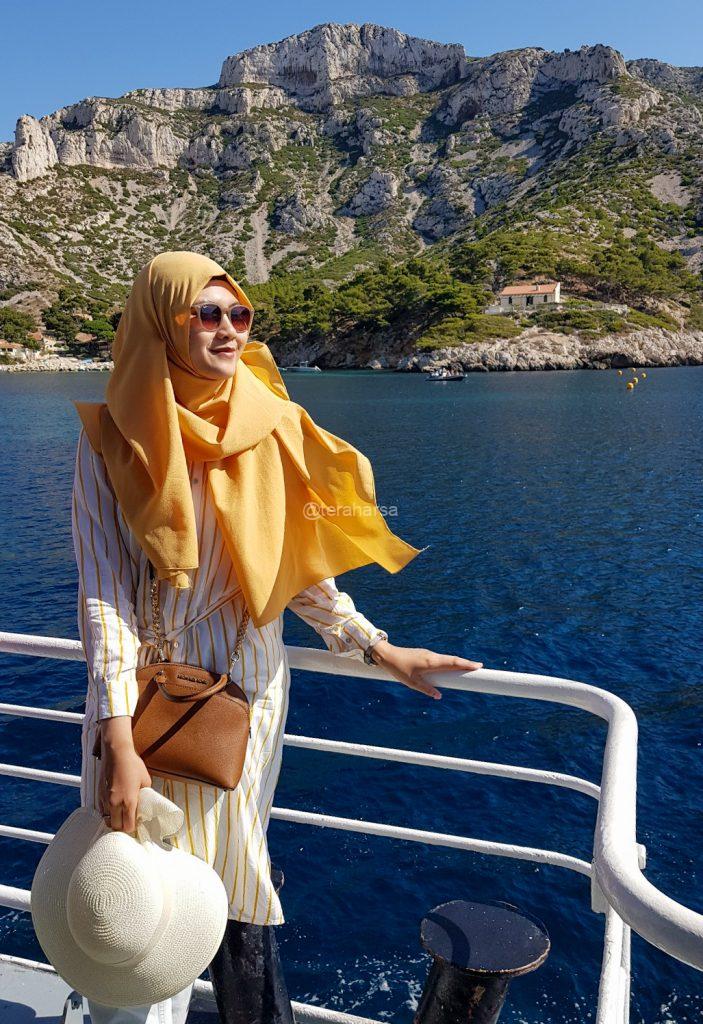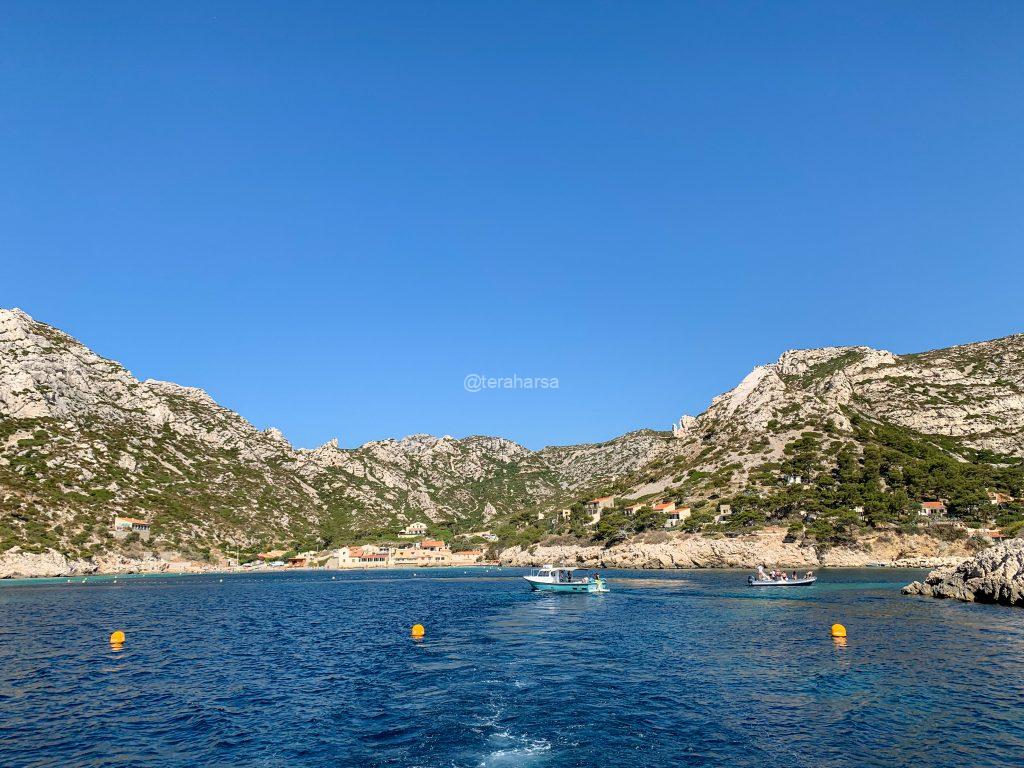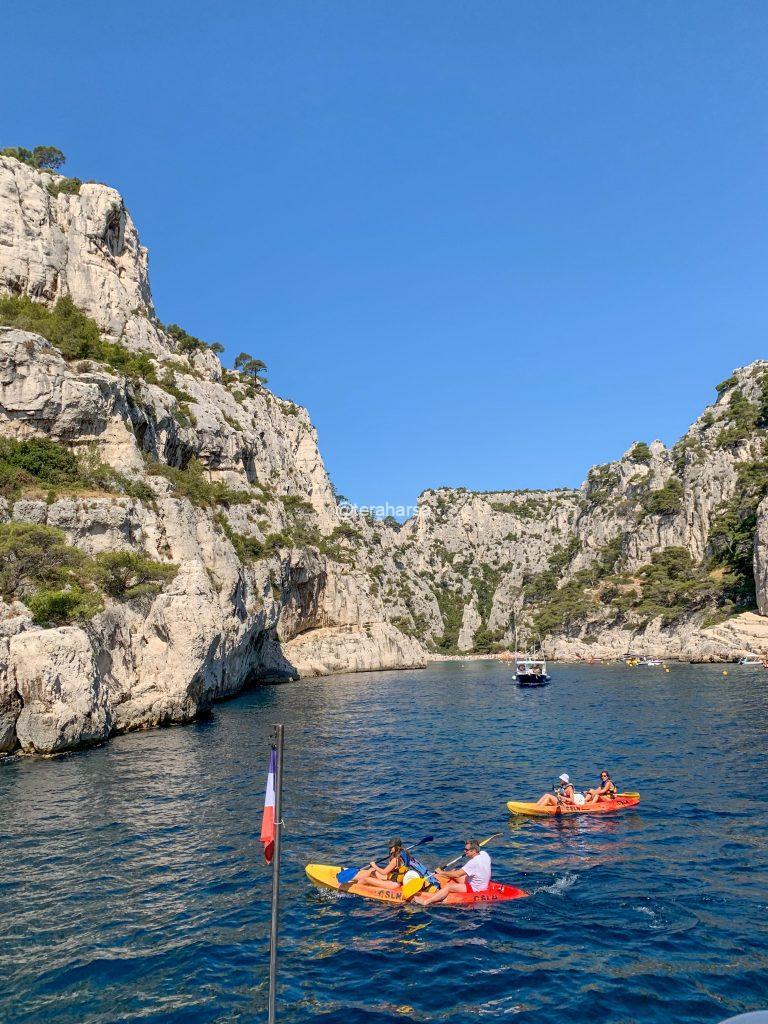 Ok fun fact, during the journey on the way to the Bay of Cassis, we stopped or slow downed at the creeks in between so the boat ride was slow not as bumpy. But on our way back, we went directly to the Old Port, which meant the boat increased its speed, doing no stops, making the ride extremely rough and bumpy. So, just a precaution, if you get seasick often as how I do, prepare yourself for the ride home. Sit somewhere comfortable, and you can ask for a bag if necessary to one of the officers on board.
After the tour, we grabbed some lunch at a halal burger joint that was just a quick walk from Vieux-Port. They offered a wide range of burgers, steaks, and pizza on their menu. The service was fast, the place was clean and most importantly the food was great! We got the Burger XL, and a chicken burger. We really enjoyed the fries too. So, for those who miss (halal) McD joints and are longing for a good burger, you should give this place a try!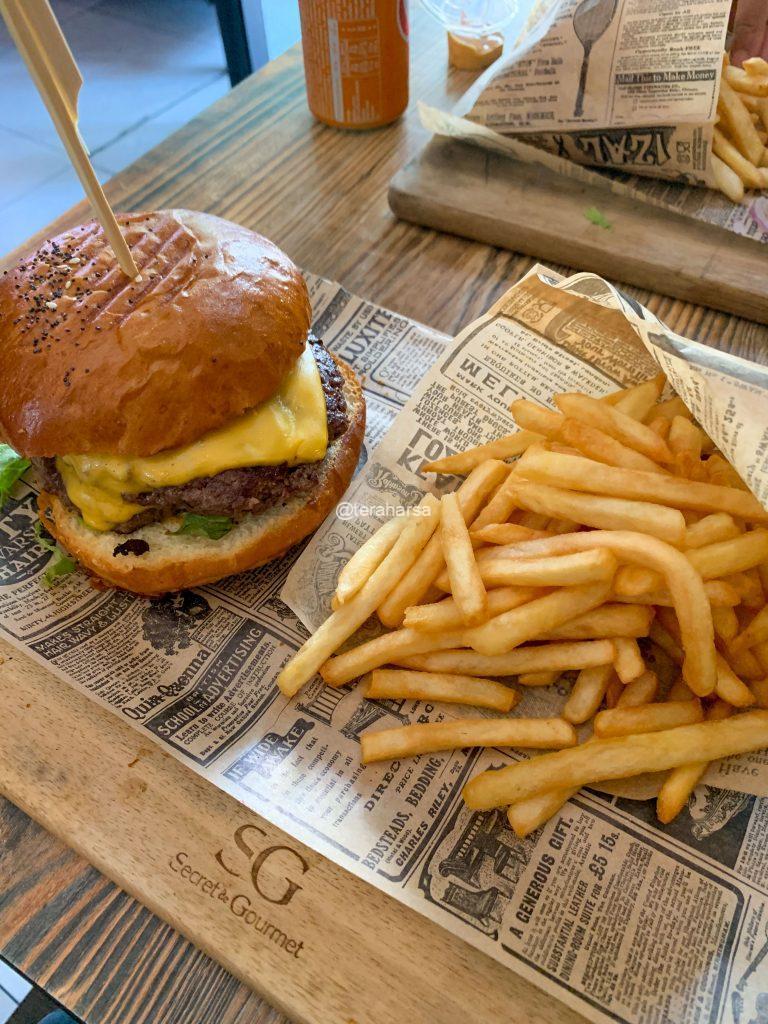 After lunch, we rented an electric scooter and explored the rest of the area, including Le Panier, MuCEM – Museum of Civilizations of Europe and the Mediterranean, Villa Méditerranée, and Cathédrale La Major.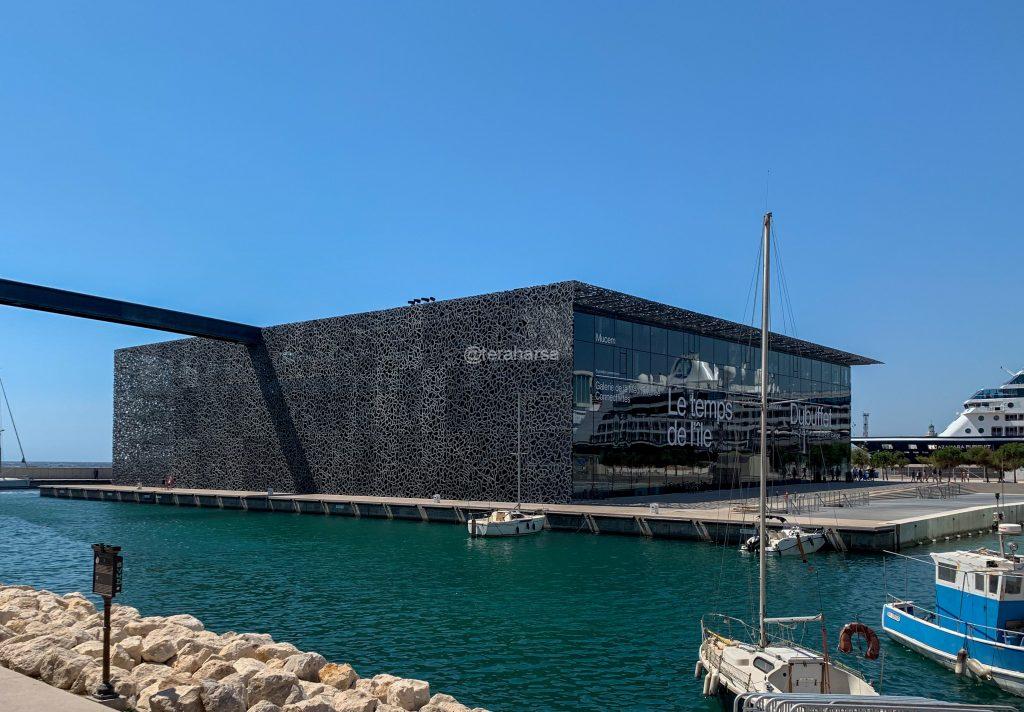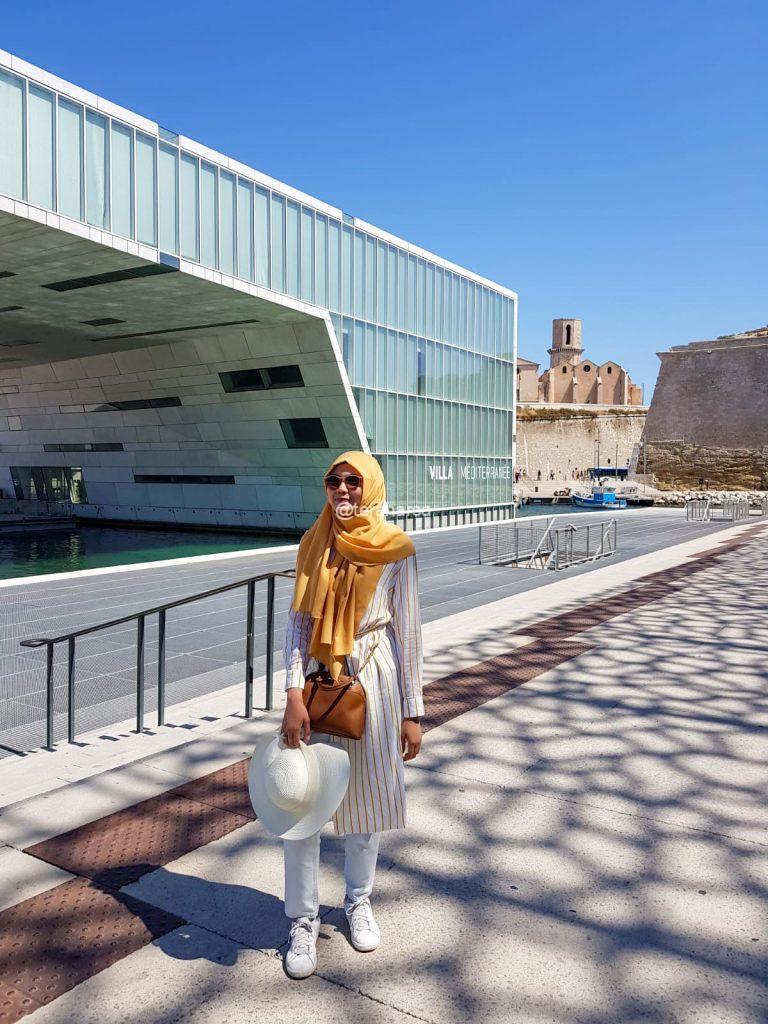 After exploring the rest of the city, it was time so say good bye to Provence. We definitely had an amazing time during our road trip and surely wished we had more time to explore the rest of the region! Who knows, maybe next time!
Other Recommended Destinations
If you have more time on your hands or looking for different destinations than the ones I've mentioned, here are a few other recommended spots to visit:
Avignon: A beautiful medieval city filled with grand architecture and rich history.
Saint Remy de Provence: Visit to see incredible landscapes and Renaissance architecture, where Van Gogh gets his inspiration from.
Les Baux de Provence: A medieval village at a barricaded rocky site.
Orange – Château Neuf du Pape: See charming little villages, Roman ruins, and taste wine in old cellars.
Côte d'Azur ( Antibes, Nice, Cannes, and St Tropez): Famous seaside towns of the French Rivera for sun-soaked days by the sea!
Roaming through Provence was such a memorable experience, it's one of those incredible destinations that offer not only spectacular views but also a rich history. As I mentioned before, it was easily my most favourite road trip in France, and I've been on quite a few while I was there. 4 days in Provence is surely not enough to discover what the whole region has to offer, but it still gives you a chance to get a taste of its best highlights! Hopefully, this post could help you on your next upcoming trip. Since there's so much you can do and see, choose places and activities that appeal to you the most and stay organized with an itinerary! Bon voyage!
Please follow and like us: