As the air gets warmer, tiny purple flowers begin to flourish, announcing the start of the summer months, or as I like to call it, lavender season! These lovely scented flowers thrive in hot sunny weather when most spring blooms have withered away. They're often grown commercially in wide fields, forming endless rows of amazing purple hues that are aesthetically pleasing for the eyes. Having only seen them in photos, I've always dreamed of visiting one someday. I missed my chance during my studies, to visit the one they had in the UK, due to dissertation stress. I've been looking forward to it all year long, but then the anxiety of not finishing on time, sadly, got the better of me! Then an opportunity presented itself when we had to suddenly move across the world to Paris. Although we barely made it just in time, I was fortunate to experience my first lavenders at one of the best fields in the world, Provence!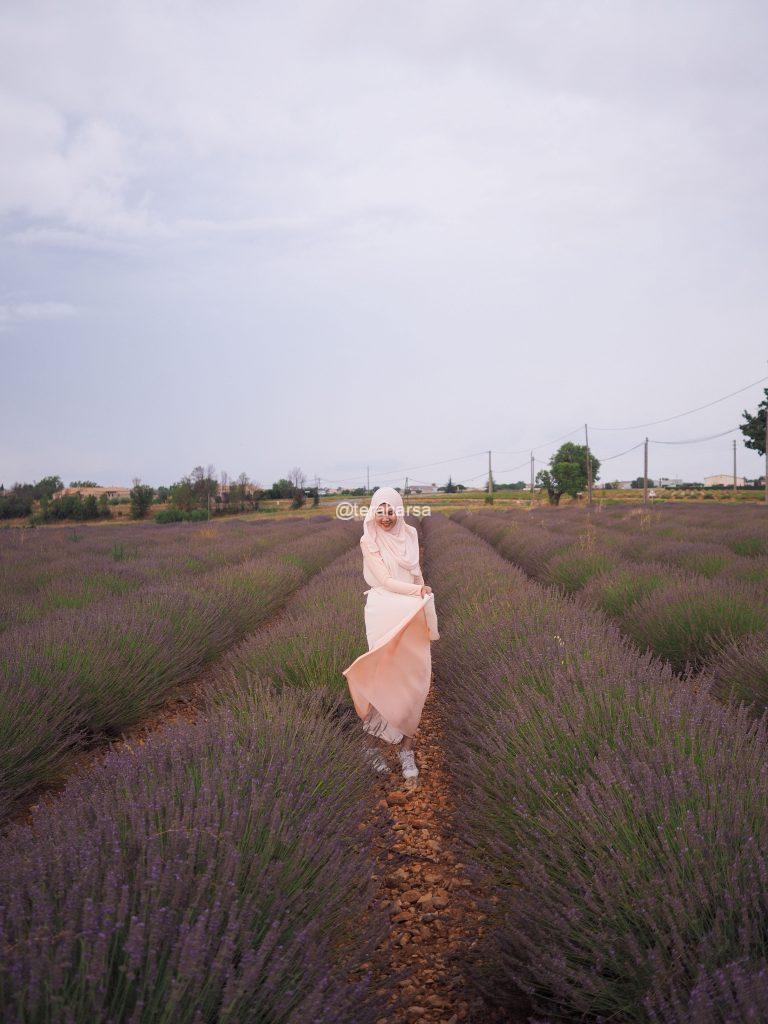 As some of you may know, Provence is famously known for its rolling hills of whimsical lavender fields, the ones you can simply get lost in, and before you know it, you've spent an entire day exploring fields of flowers. As it gets closer to summer, at the time I was writing this post, I figured I would share my last year's experience of exploring full bloom lavender fields in Provence! My husband and I also did a fun road trip, exploring cities in the region, but that deserves a blog post of its own. I'll go down into details about it on my next post!
So, in the mean time I'll be talking about our experience on:
When to visit
Where to stay
Arriving and getting around
Lavender, sunflower and late bloomer fields' locations
When to visit
Let's start with the best time to visit lavender fields in Provence. Well, there's really no exact answer to this as it varies depending on which region you plan to visit (Provence is a huge area with numerous lavender regions), and also the weather, which can change year to year.
Nevertheless, here are some main guidelines on the best time to visit:
Late June: Most of the lavender in Provence will be in bloom by June, especially the ones on low altitudes areas, which are the fields on the west and south of Provence. There are also fewer crowds, as school isn't out yet, which is a huge plus. You wouldn't want your dreamy photos to get interrupted by large masses of people.
Early July: Most people would recommend visiting in early July as it's the best time to see the entire region covered in lavender. However, it can also get extremely crowded. Keep in mind that school holiday's start after the first week of July, so if you can get there before that you'll most likely beat the crowds!
Mid-July: The lavender fields usually get harvested starting from the 15th. So, you might want to hurry before that. Again, it also gets super busy around this time, so getting those early morning shots would be a great solution to getting uninterrupted photos!
Late July: Lavender fields on the lower Luberon region (around Lourmarin), Valensole, Grasse and Sisteron are some of the ones that are harvested later in July, typically around the 25th of July. It's also usually a bit less busy than the middle of the month, and the chances of getting full bloom lavenders are still high, just make sure you get there before the 25th!
Early August: If you're going there in August, you might be cutting it a bit too close as it's the tail end of the season. But not to worry, if you're lucky, you can still find some fields in full bloom. Aim for fields on higher altitude areas, around Sault and Banon, which are usually still in bloom until August 10th. So, don't wait until mid-end of August or you'll be missing out on seeing any lavender fields completely!
As for us, we planned a road trip to hop around cities on the south of Provence, so along the way, we were hoping to come across lavender fields in Valensole, one of the most popular lavender regions. However, we sadly missed its harvesting mark, which is the 25th of July, and got there on the 27th. We couldn't go earlier because I was attending an intensive summer course at the time. We didn't think we would find any fields left, as we drove by numerous green freshly harvested fields (there was even one that was being harvested as we passed by!). But everything turned around when we got lucky and just so happen to find there were still a few around, probably the very last ones in Valensole! Another unexpected thing was that we also discovered some sunflower fields along the way!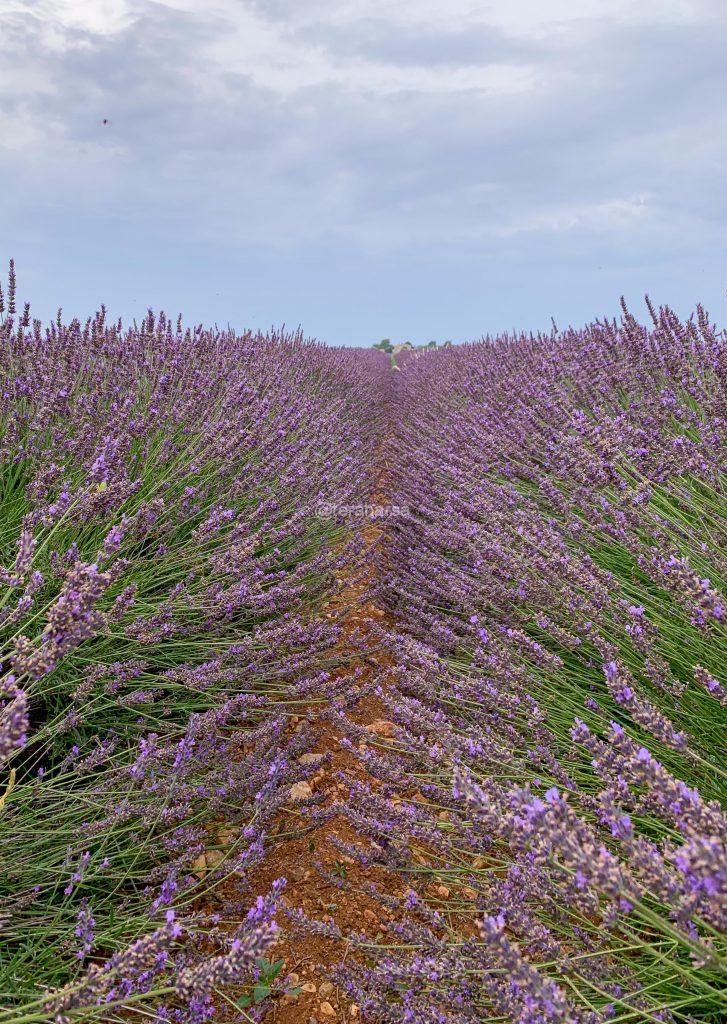 Where to stay
In order to make the most of your experience in Provence, it would be best to stay somewhere in the centre to explore other highlights that the region has to offer. Here are some cities that would perfect to stay in during your trip:
Marseille
Being the capital and the largest city in Provence, we found that Marseille offers more options in terms of transportation alternatives (from Paris), and also car rentals. We initially chose Marseille as our first and last stop solely for those reasons but turns out Marseille might be one of those cities that often gets overlooked! This multicultural port city has the grit of being once an old scruffy port known for its crimes and lacking the glamour of Cannes or St Tropez, but now turning into a vibrant city full of dynamic cultural grandeur. It gives the city its own unique vibe, that you might not experience in any other cities in France.
We had a great time exploring Marseille. We stayed in a hotel near Vieux Port, the old port, and we couldn't have picked a better location as it was on walking distance to most of the popular attractions in Marseille.
You could stay a couple of days in Marseille and do day trips around Provence exploring lavender fields and other cities in the region or take one of the tours that depart from the city. For us, we travelled and stayed in different cities along the course of our trip!
Aix-en-Provence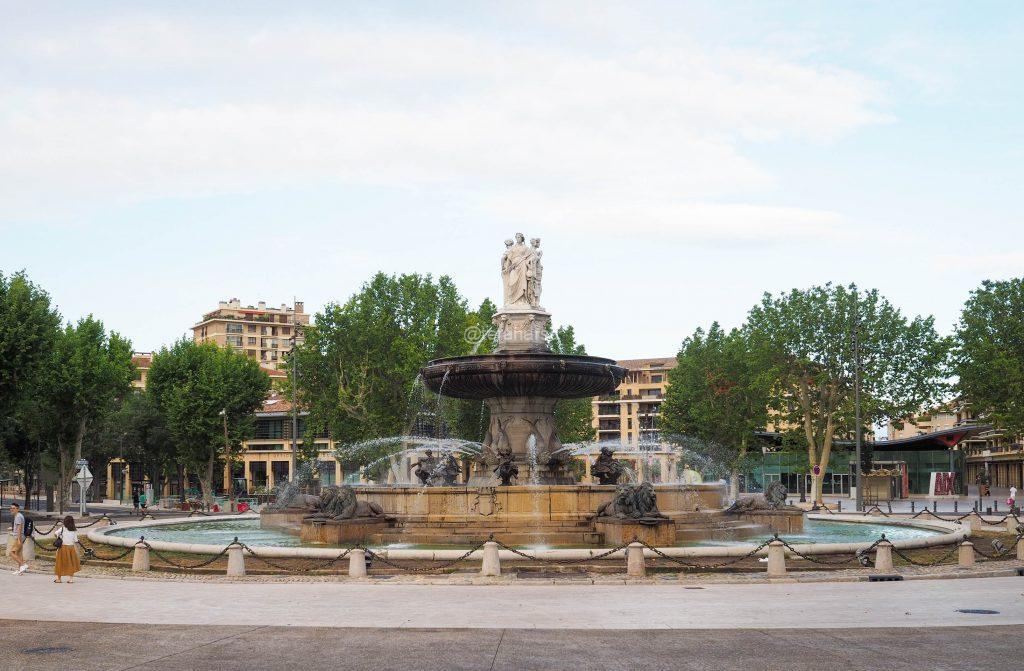 Aix-en-Provence, or known as Aix, is another hidden gem of the south. It was the next city we visited after Marseille. It is a beautiful traditional provincial town, with lots of stunning alleyways filled with small cobblestone-paved streets and fountains. It is a much quieter and calmer city and definitely less busy than Marseille, and it has this relaxing laid back vibe to it. It is also possible to go on multiple day trips from Aix, whether by driving around or joining a tour.
Avignon
If you want to stay somewhere closer to the north, around Sault and Luberon, Avignon would be the best alternative for you. We haven't personally visited it yet, but we've heard it is known for its rich medieval history with an old town that's been named a UNESCO world heritage site. Its location also allows multiple day trips to neighbouring towns and lavender fields. You could also find various tours departing from the city.
Arriving and getting around
As you may have now gathered, lavender season is probably the busiest season in Provence, resulting in high transportation tickets and accommodations prices. Early to mid-July would be the peak, so expect to spend quite a budget on transportation expenses during these dates, even if you plan several months in advance.
For our trip, we departed from Paris and the easiest way to get to Provence for us was by train. Our go-to site for searching cheap tickets is ouigo.com, a low-cost train ticket website. We found pretty good deals available on our dates. We chose Marseille for our first and last stop because it had the most travelling options, in terms of car rentals and the best train ticket deals, at the time.
Car Hire
The most convenient and easiest way to explore Provence is to hire a car. It will give you the flexibility and freedom to wander about and uncover the region at your own pace and time. It's also another way to avoid the crowds when you're not actually going around with them!
We rented a Fiat 500 from Hertz in Marseille, where we first arrived. It turned out to be extremely handy in small roads like Gordes and St Croix du Verdon.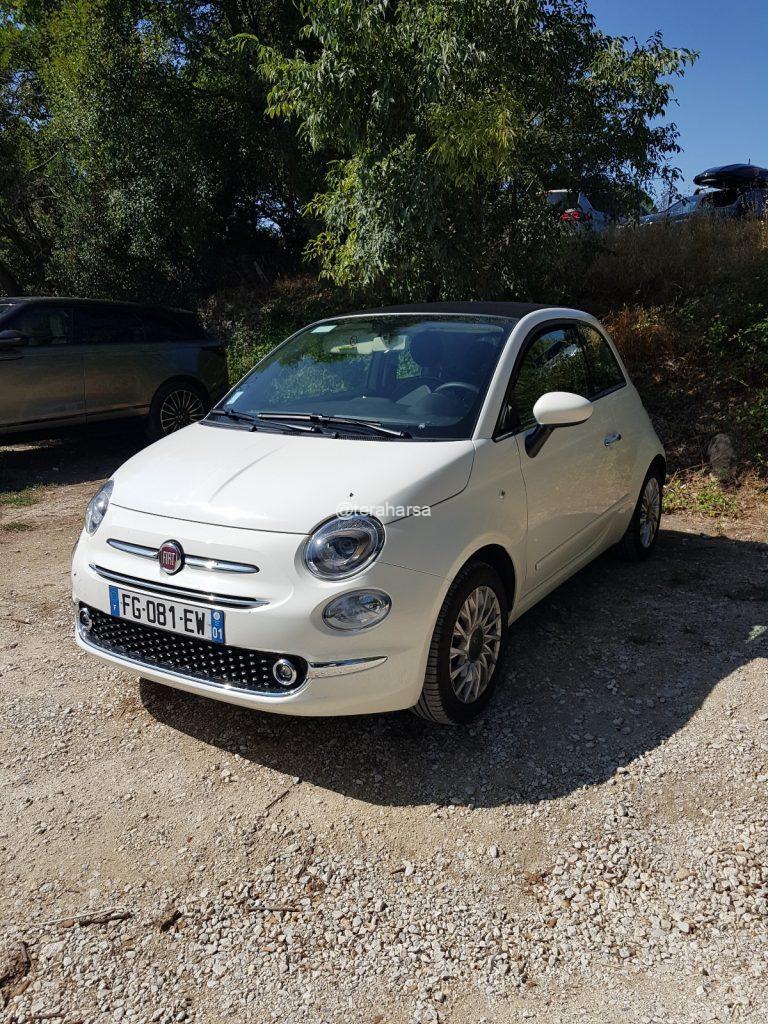 Tours and Travels
If you're not much of a driver or don't have a car to explore the fields on your own, not to worry there are various tours available that depart from cities around the region and offers half or full-day lavender tours. I've listed some options below to help you find the perfect lavender tour for your trip!
Lavender Fields Location
Provence is a huge area with a vast number of lavender fields. Your best bet on to find a great field in full bloom is to check the lavender blossom calendar first. I found a very useful map from suitcaseandwanderlust.com, where she had mapped out areas with lavender fields and colour coded them based on their blooming time. You could use this as a rough guide in finding the best locations based on your date of arrival.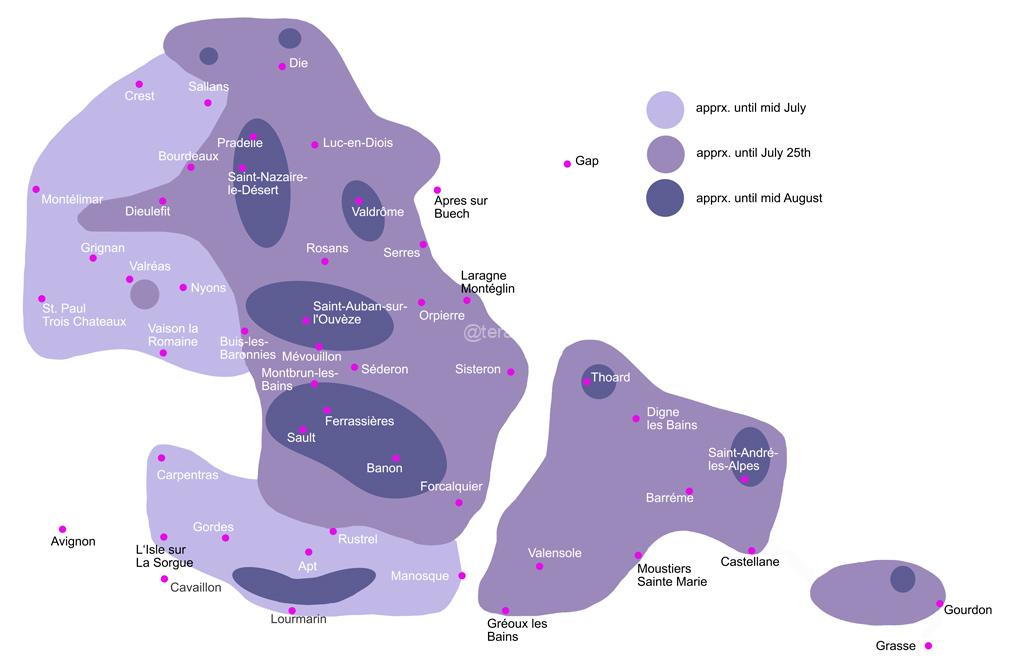 Nevertheless, some of the most well-known lavender fields include:
Valensole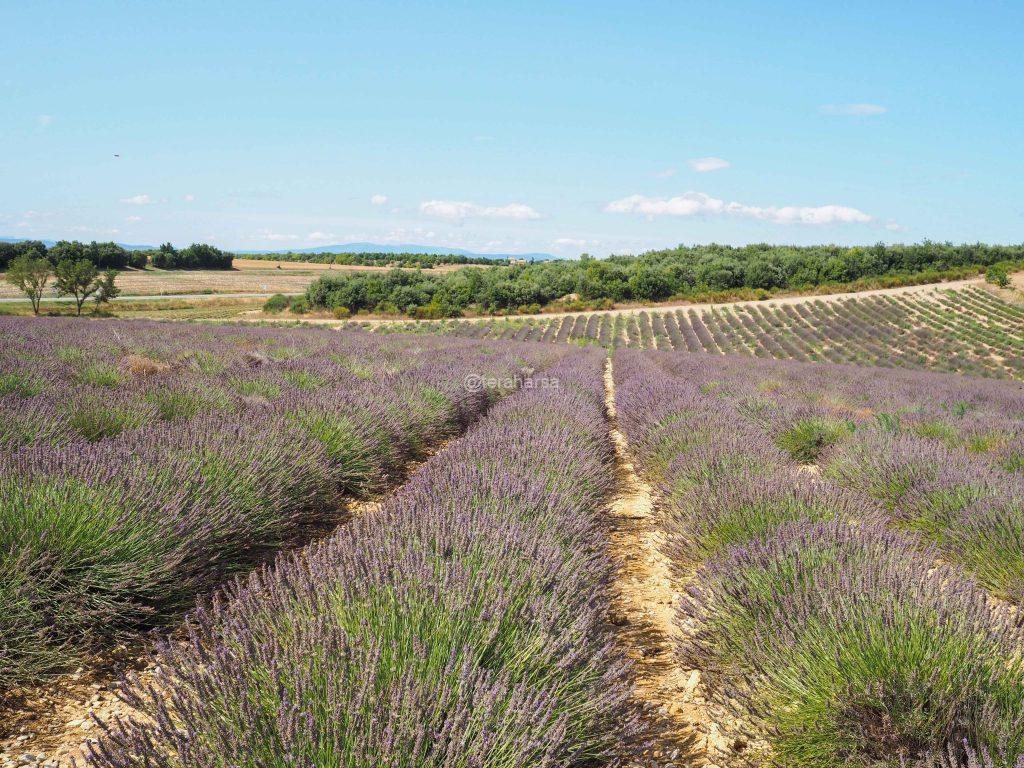 Le Plateau de Valensole is notorious for its scenic landscape of both endless flat and rolling hills of lavender fields. It's one of the most famous destinations in Provence to find breathtaking views of purple hues. In between, you might find charming golden fields of sunflowers and wheat. It is also known for its historical sites, lovely provincial villages and clear turquoise lakes. Be sure to make it there within the blooming period, which is usually until July 25th, or you will most likely only see green harvested fields.
Late bloomers spots in Valensole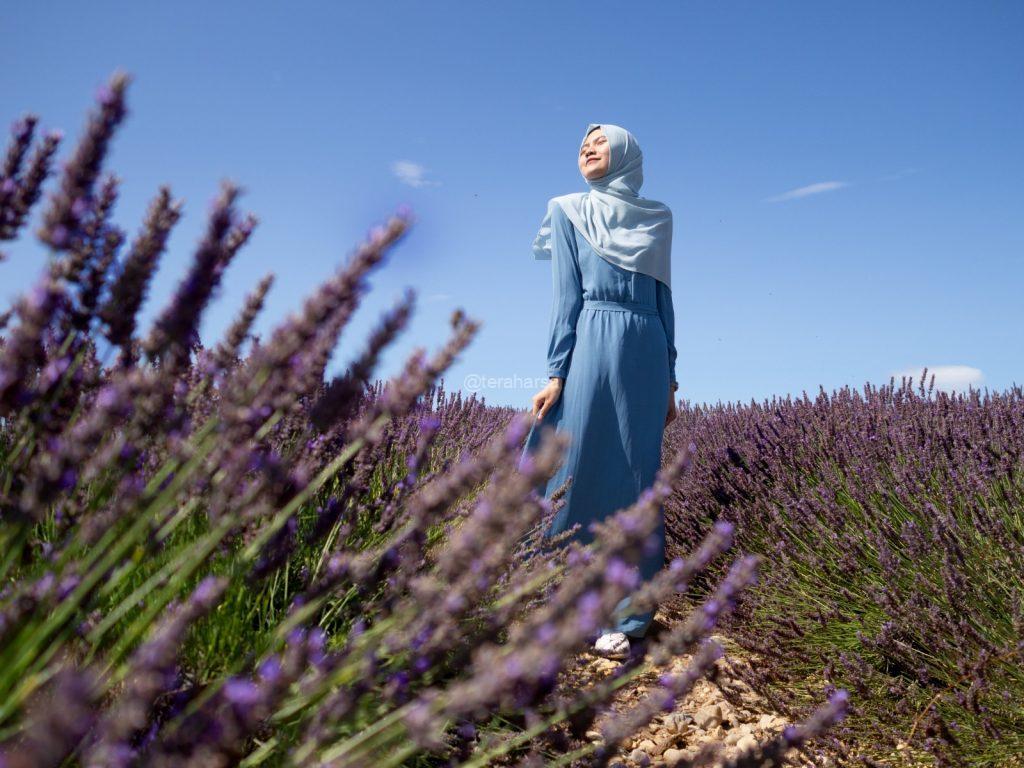 As mentioned earlier, we got to Provence a bit late, July 27th to be exact, when all the fields in Valensole were already supposed to be harvested. But we persevered (we went to Valensole twice!) and eventually got lucky and found some late bloomers! So if you happen to be running late to the party too, try out some of the locations we've passed by or been to down below:
Field #1
We passed by a couple of medium-sized fields on our way back from St Croix du Verdon, but didn't stop for photos, thinking we'll find bigger ones later, which turns out to be not as easy as we thought!
Field #2
This was medium-sized flat field, but sadly the lavenders were a bit sparse.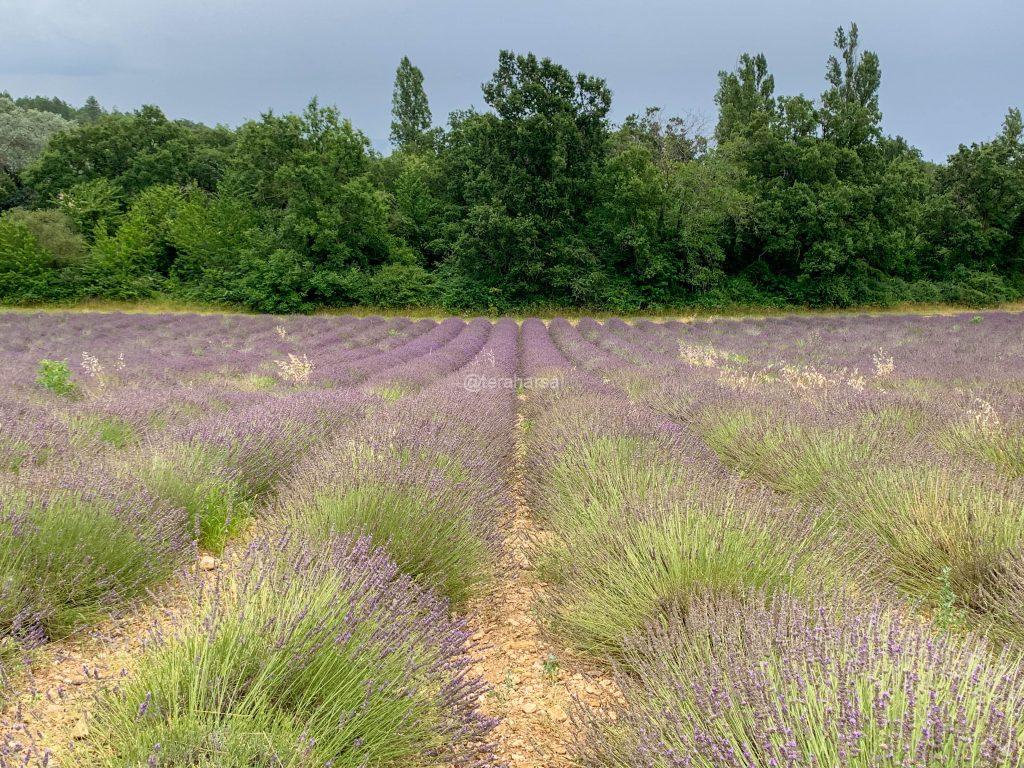 Field #3
As the sun begins to slowly go down, we to some previously saved locations in Valensole to only find they were already harvested. After driving around some more, we finally found this gorgeous field! It was a flat kind with endless rows of lavenders. The sunlight was starting to soften, which made the purple hues look even more purple (hope you get what I mean!) on camera!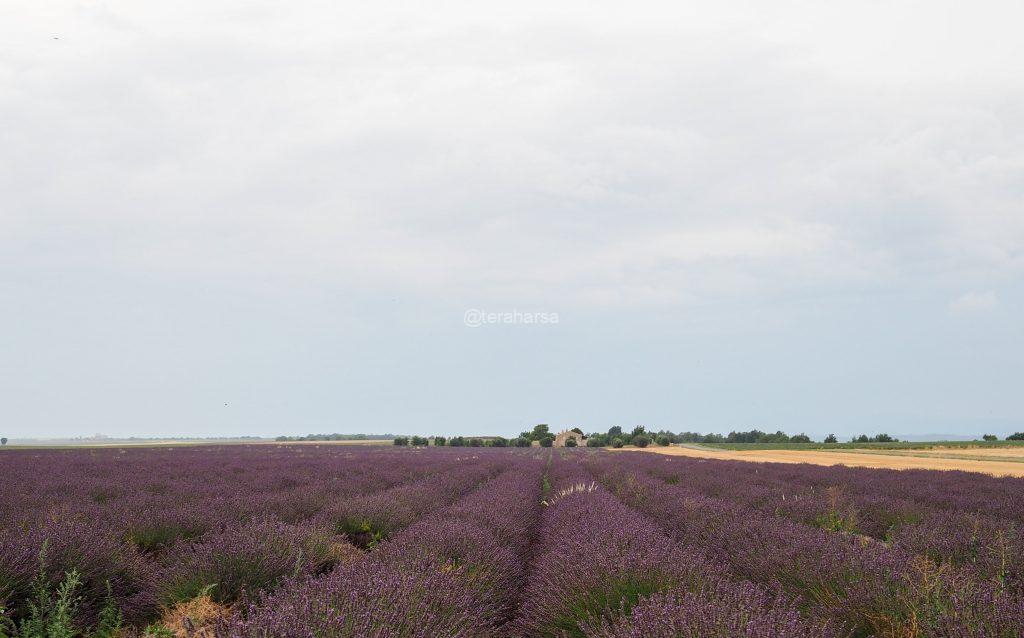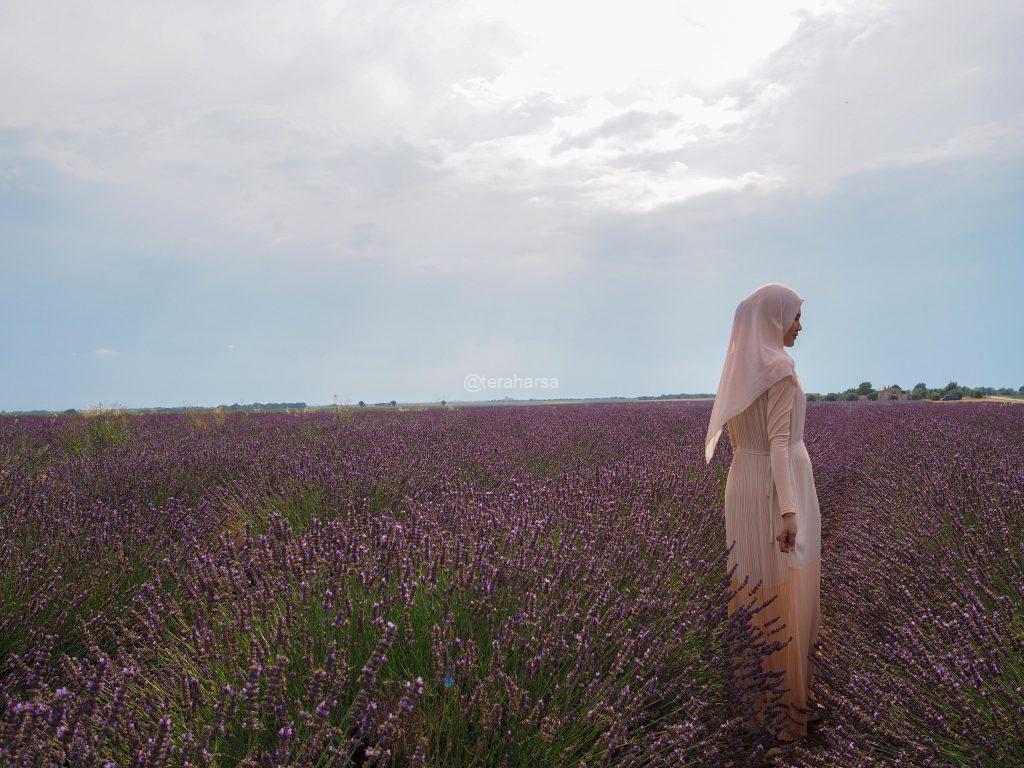 Field #4
We then passed this hilly field when it was just about to get dark. We were running late to check in to our hotel so decided not to stop for photos, but maybe come back the next day if we had time, which sadly we didn't!
Field #5
The next day, we went back to Valensole to search for some more fields, because one afternoon was not enough! We were about to head to the hilly field mentioned above but then suddenly passed another one that was much closer from our direction. It was as stunning as the previous one, if not more! There were two hills side by side, and also a small boutique shop that sells lavender goods near the fields.
We got there at about 11 am, when the sun was already shining brightly over our heads. You can see how the different lighting effects the colour of the lavenders on camera. The one taken here shows more of a duller purple than the ones taken previously on the flat field in the afternoon. However, I liked the vibrant blue skies in photos!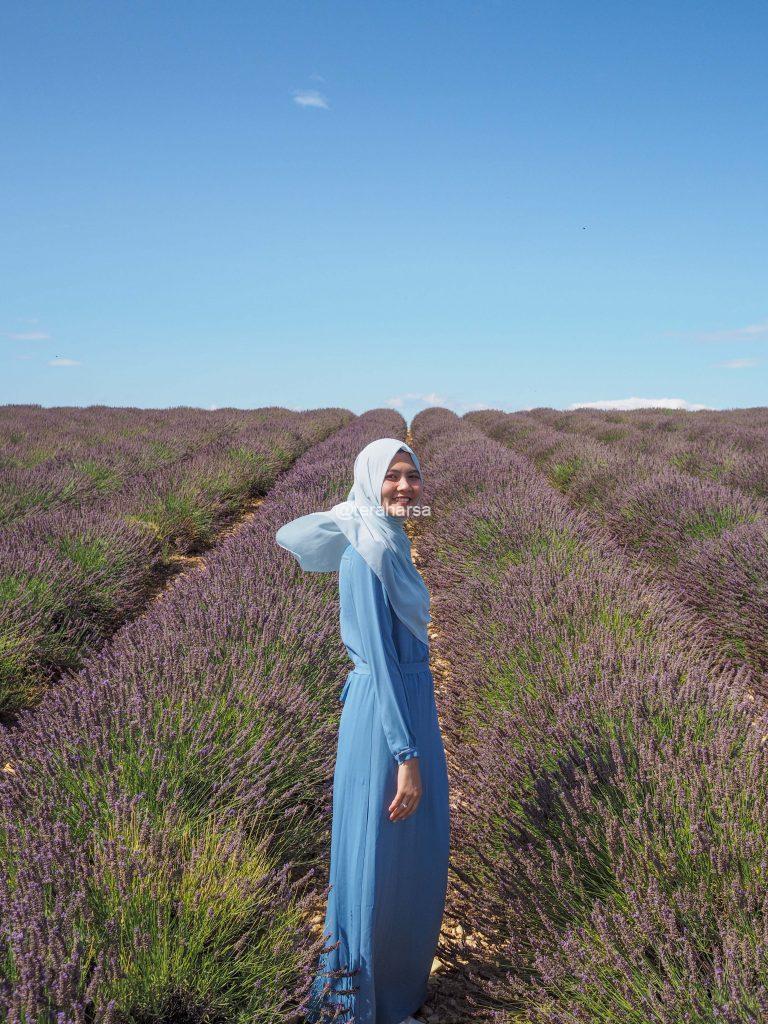 Sunflower late bloom locations!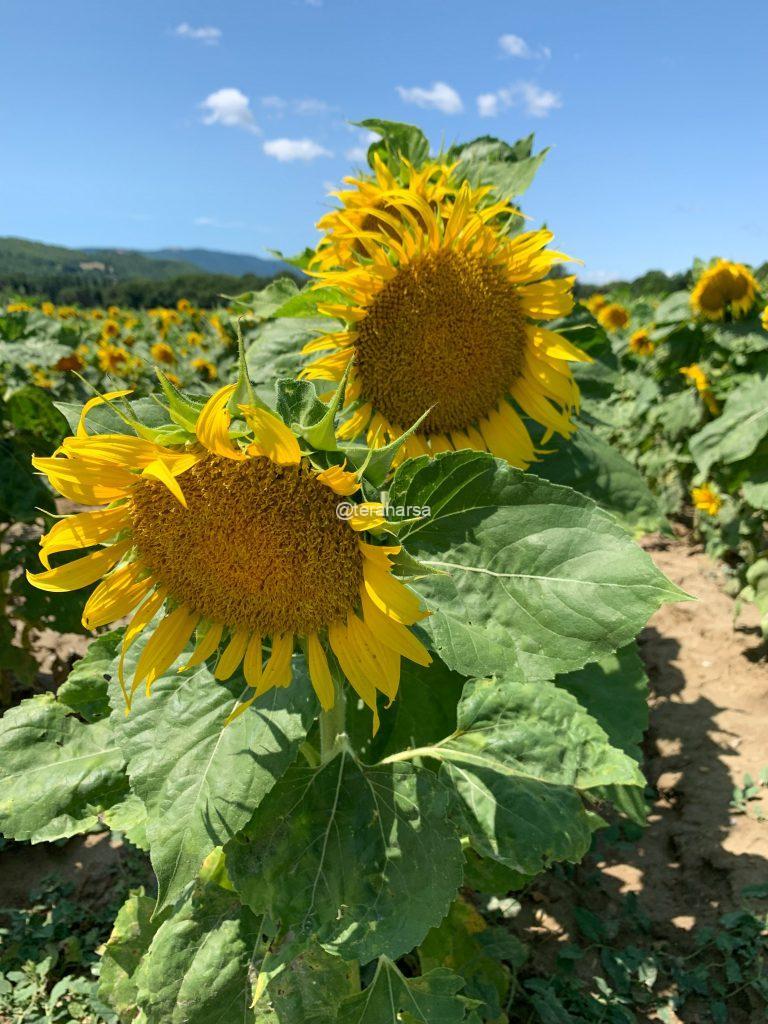 If you're visiting from mid towards the end of July you'll be happy to find most of the sunflower fields in Valensole in full bloom. They are usually harvested at the same time as the lavenders in the area, but again if you happen to be lucky like us, you'll still find a few left along the way. I've saved several field locations that were still gorgeously blooming down below:
Field #1
This was a pretty field we passed by on our way to St Croix du Verdon, but we didn't stop for photos. I was hoping we could go back to take some, but we ran out of time that day.
Field #2
This was a huge field full of stunning golden sunflowers! I'll let the photos speak for itself!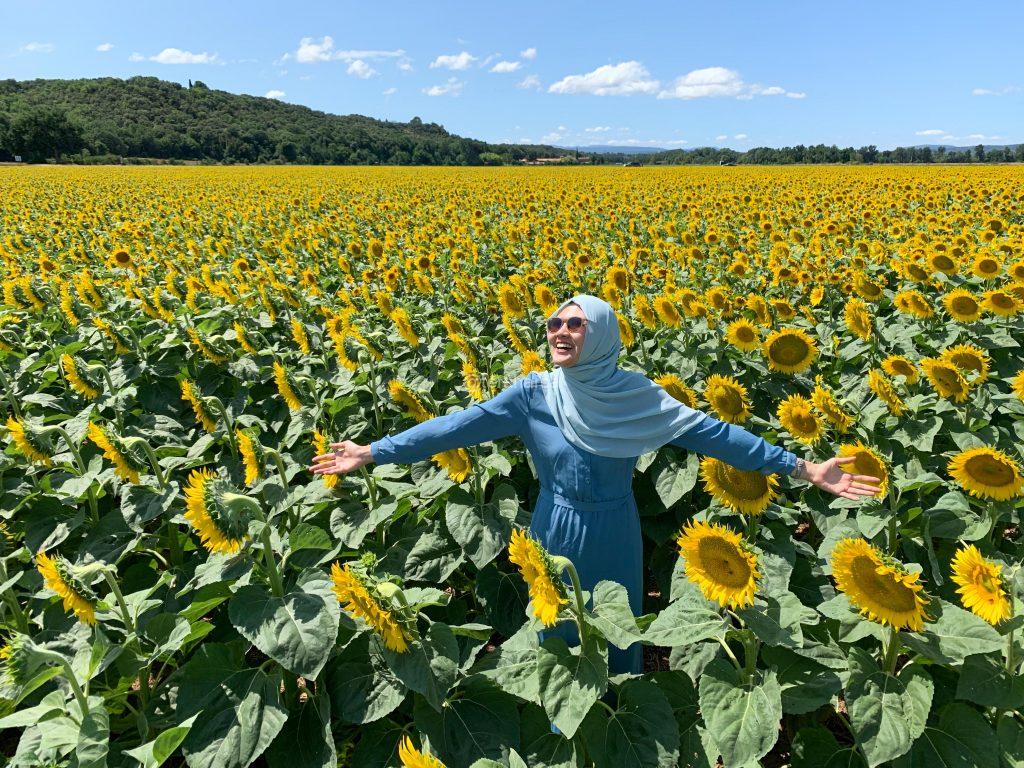 Field #3
We found this one on our way from Valensole to Gordes, our next stop. It was a pretty field just on the side of a big road. There's a small dirt path just beside it, where we stopped and parked our car.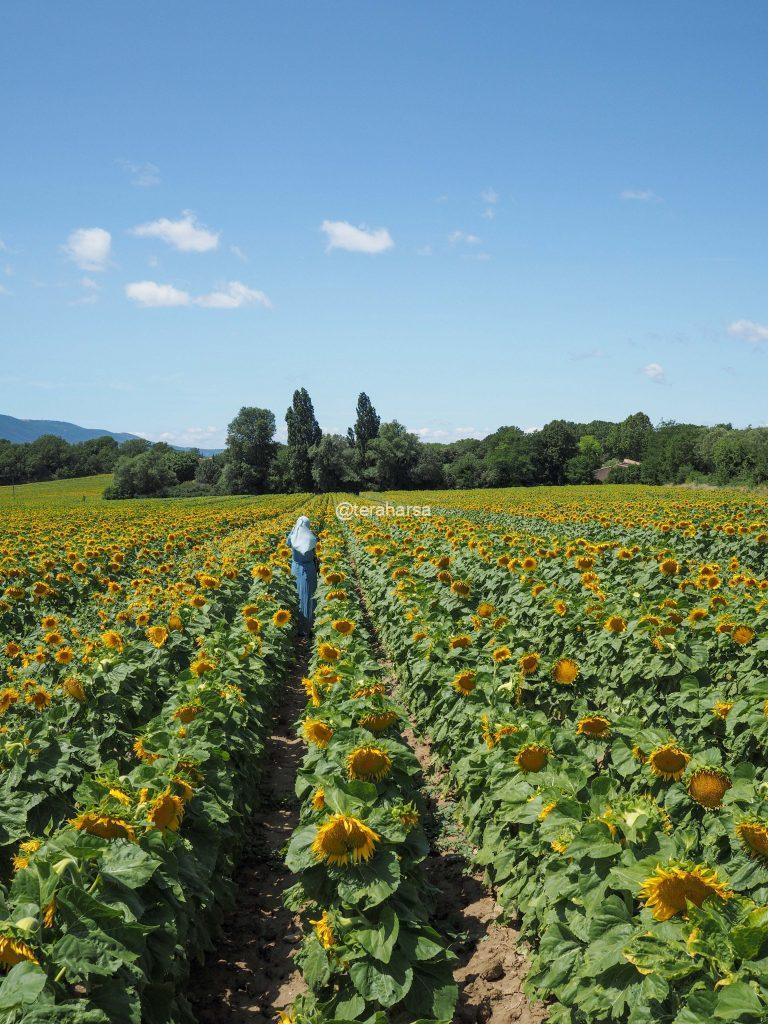 Other lavender locations
We didn't get a chance to visit the fields up north because we were headed to other cities in our itinerary that were in the opposite direction. Northern parts of the region, based on the lavender season map shown previously, should still be in full bloom on the dates we were there. Here are other famously known lavender fields that are recommended to visit:
Sault
The lavenders in Sault aren't harvested until August 10th, so if you're running late, this part of the region would be your best bet in finding full bloom lavenders. Unlike the lavender fields in Valensole, those in Sault are more concentrated. There's a 5 km path you can explore by foot that will take you to some of the finest fields. You could also rent a bike to get around. There's parking available at the public car park just after the Vallon distillery on D164.
Luberon
Luberon is home of Notre-Dame de Sananque Abbey, a monastery famous for its iconic scene of lavender rows lining up outside the building. It gets pretty crowded during peak season, so better come early. To explore the abbey itself, you must pay an entrance fee. But if you just want to get a glimpse of the lavender fields, you can park your car down the road and take photos before the entrance.
Unlike Valensole and Sault, lavender fields in Luberon are nestled between provincial villages, country lanes, vineyards, and olives groves. You'll get a totally unique experience wandering through cobbled lanes in your quest to find never-ending lavender and sunflower fields.
Tips and advice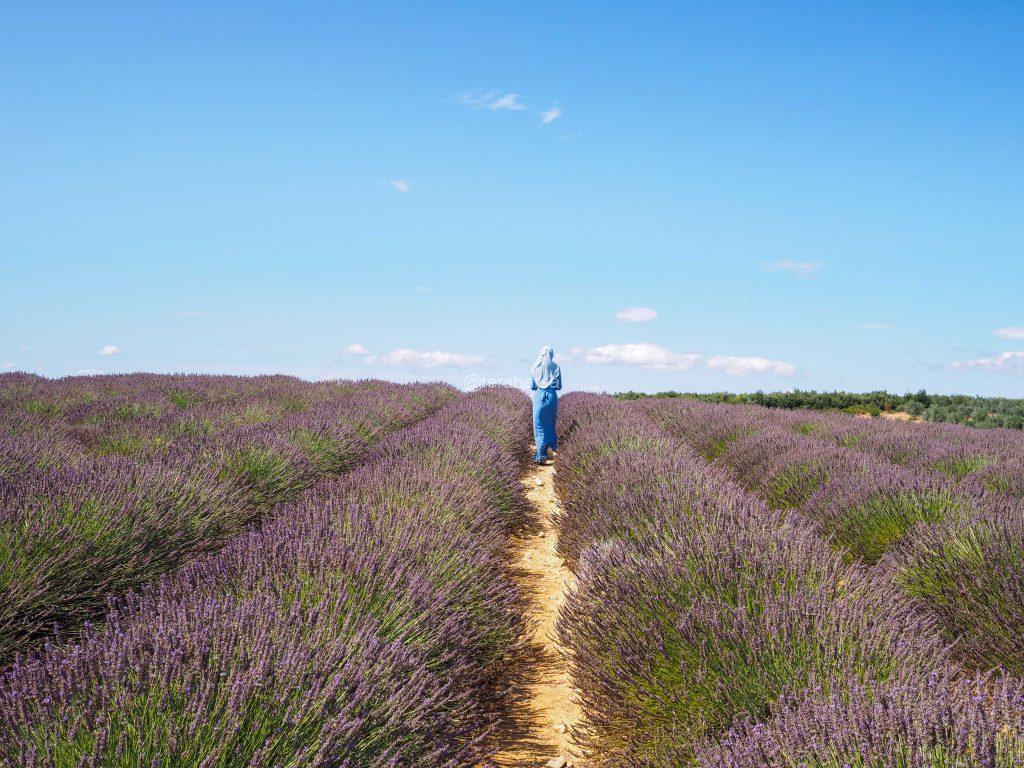 Based on my overall experience of hunting down and exploring lavender and sunflower fields, I've listed some, hopefully, helpful tips, advice and things to expect during your trip:
To avoid the crowd and get uninterrupted photos, go early!
Lavenders look best in morning and afternoon light, during sunrise and sunset when the summer sun is not too harsh. The smooth golden light somehow help makes the purple hues pop even more. The sun sets pretty late in the summer, around 9 pm, so don't worry you have plenty of time to get that perfect shot!
Both the sunflower and lavender fields are all privately owned and like any other crop, will be harvested. Some are even fenced to limit the number of visitors. Make sure to be respectful when you visit these fields. Don't pick the flowers or trample them. Always walk on the designated paths.
Beware of bees and other bugs hovering over the flowers! You can even hear the loud buzzing as soon as you open your car door. Be mindful and cautious when moving about, they generally won't harm you if you don't disturb them. It helps wearing long sleeves, long pants or a maxi dress to avoid stings or bites. Better yet, come prepared by bringing bug bite lotion, in case you do get stung or bitten.
Try to find different kinds of lavender fields to explore in! As mentioned earlier in this post, there are two types of fields in Provence, a flat and a hill slope kind. Though equally gorgeous, each gives different effects to your photos. So, try to find both and see which one you like more!
There you go, my petite guide on lavender exploring in Provence! Roaming around lavender fields in Provence was one of my best road trips experience in France. Hopefully, you got some useful info from this post for your next trip. I highly recommend planning your summer vacation to France, and spare some time travelling around this region, so you can see the flowers in all their glory!
Please follow and like us: