Before I begin my long rave of delicious halal French cuisine in Paris, I would like to give a quick shout out to @halal.noms, my other Instagram account on which I've dedicated my posts to show halal food findings during my travels. Eating halal in a foreign country where Islam is a minority could be daunting. It's an experience on its own looking for hidden halal gems. That's where @halal.noms hopes to help! Make sure to follow us on Instagram for snaps and short descriptions on my halal food journey around the world (I plan to post more detail reviews frequently on this blog)! Click on the link below!
https://www.instagram.com/halal.noms/
Back to our post, Paris is worldly known for its impeccable gastronomic scene. Exploring French cuisine's exquisite taste should definitely be on your list during your visit to this city. And not to worry, I've listed several halal-certified restaurants, which offer these rich and authentic French dishes at it's finest.
Tips and Advice
Before we dive in, I've noticed several useful things to keep in mind while dining out in Paris that could be helpful during your culinary adventure in this city.
Be sure to check the opening days and hours of your chosen restaurant. You can easily find this information on its website or on google maps. Most restaurants usually open at certain times throughout the day, which is only during lunch and dinner, and often until late at night. This means apart from those certain meal times, they are closed, normally between 2.30 pm and 5.30 pm. Some are also closed on certain days of the week. So, make sure to plan your day ahead!
Come early or make reservations beforehand. Some restaurants have limited sitting areas and can fill up quite quickly during peak hours. To avoid waiting in long queues, it's better to arrive at the restaurant when they just open or call in advance to make a reservation. Having a reservation is also better if you are dining with a large group.
If you do make a reservation for a group, be sure your party shows up at the same time. Most busy restaurants won't let you in if you're missing even one person!
Go for lunch instead of dinner for better prices! Most restaurants offer a cheaper lunch menu compared to dinner, so if you're tight on budget, this can be a great option.
Save up by ordering the menu set or la formule. French cuisines are often served in a three-course meal, an entrée, plat and dessert. Restaurants usually offer a meal set that is less expensive than if you order the menu a la carte. Generally, they offer several kinds of sets, entrée – plat, plat – dessert, and entrée – plat – dessert. For my husband and I, typically these three-course meals are always too much for us (or essentially too much for me lol), so what we like to do is to order 2 kinds of sets, entrée – plat and plat – dessert. Then we would share the entrée and dessert. This way we won't be walking out of the restaurant too full!
Tipping isn't obligatory in France since all the prices already include a service charge. Therefore, waiters don't rely on tips to survive, as they do in the US, for example. But there's no harm of sparing 2-5 euros if you feel the service was sublime.
Try out le plat du jour or the dish of the day, which is a special dish prepared by a restaurant on a particular day in addition to the regular menu. Usually, it contains seasonal vegetables or ingredients to create an exclusive dish that only pops up once in a while!
Don't eat too much bread while waiting for your food! Well, this may just happen to me though, I sometimes have zero patience lol! They usually serve a basket of pieces of baguettes and drinks first before anything else comes out. Sometimes while waiting you'll find yourself nibbling on one, two and before you know it three of these and ruin your appetite.
Our Recommendations!
Here are some of the French restaurants that my husband and I tried out and grown to love!
Le Petit Gourmet
Address: 39 rue du Faubourg Montmartre, 75009 Paris France
Notes: Halal-certified, no alcohol drinks available
We've been here a couple of times and it was the first French bistro we ever tried in Paris. Our first visit was during Ramadhan to break our fasting, which was very late at that time, I think about 9 pm. It was also our anniversary that day so wanted to eat something special, and we haven't tried any French restaurants since we got to Paris which was roughly 5-6 before. We enjoyed the food and then, later on, brought our family, when they visited us, to give them little taste of Paris!
Le Petit Gourmet is located on a quiet street and only a few minutes away from the nearest metro station. Although the restaurant wasn't that big, they have a cosy interior, minimalist decor, and an overall relaxing and warm atmosphere. Be sure to reserve a table before because they fill up quite fast during meal hours. The service was quick, and the staff were friendly. One time, I think we were served by the owner who was very nice and spoke English quite well. He made us feel very welcome and comfortable.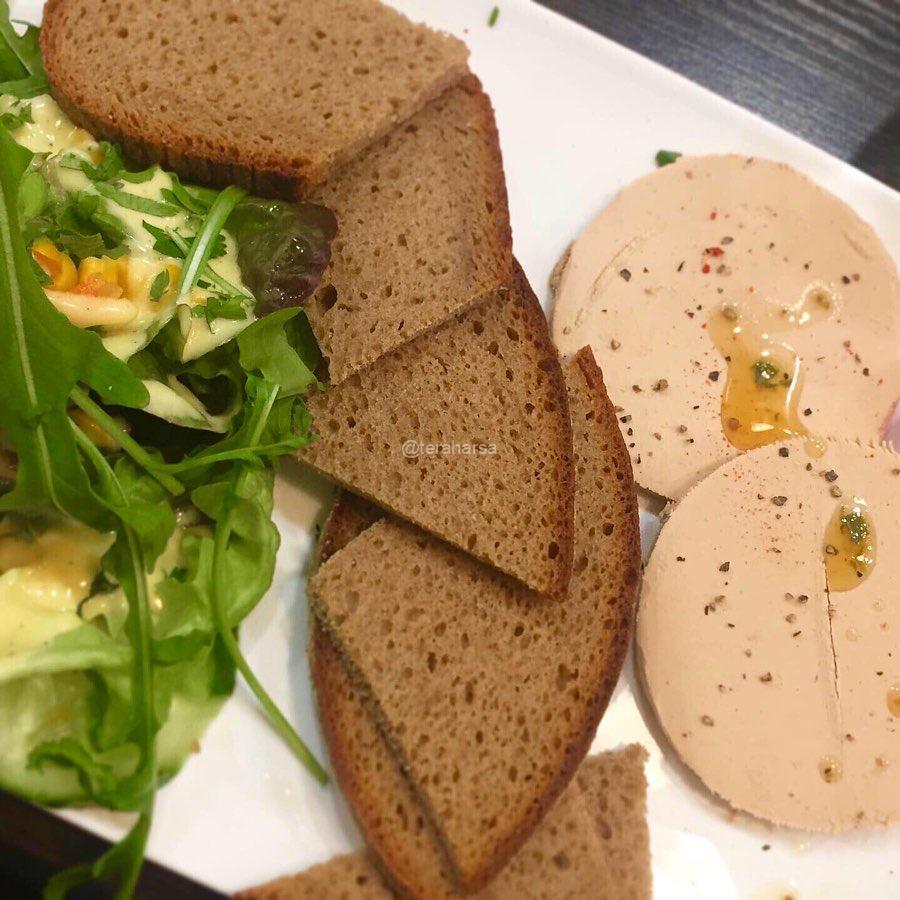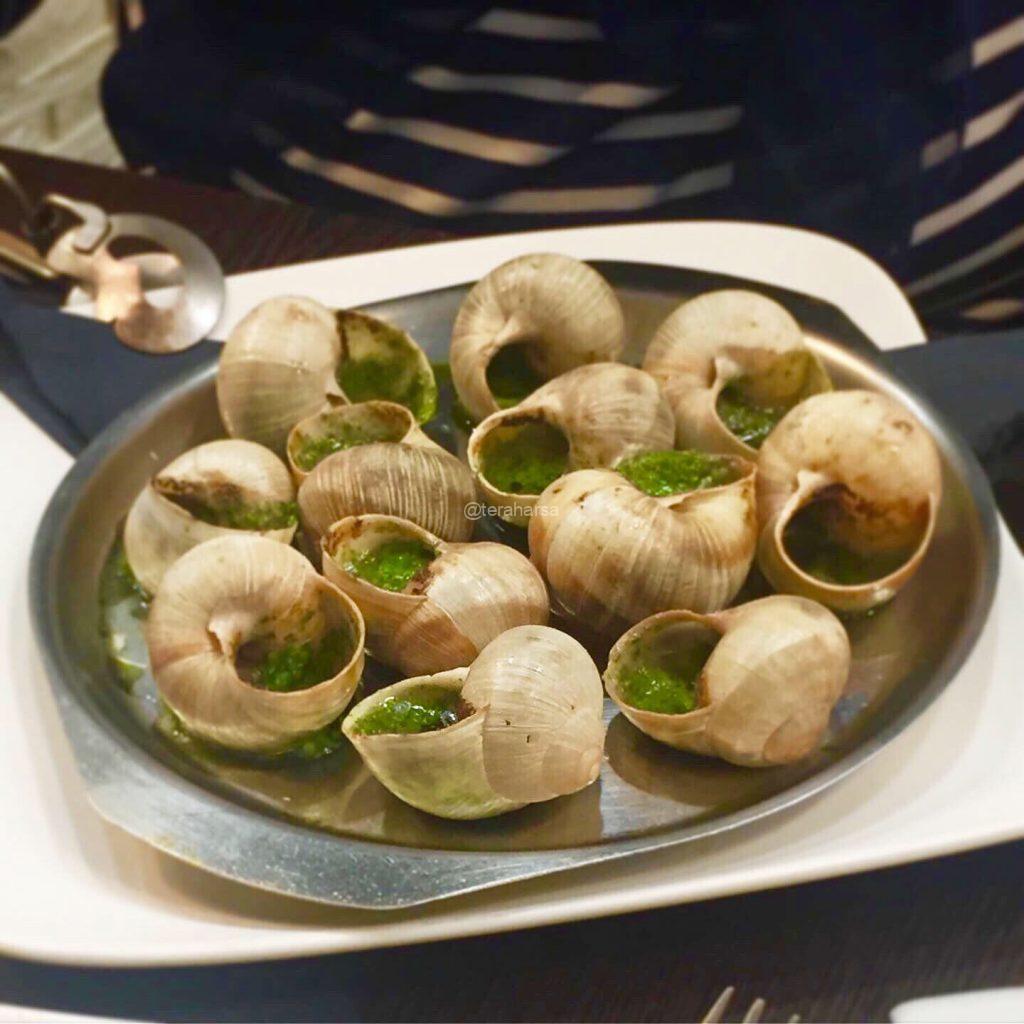 They offer a wide range menu, which stars le confit de canard, la soupe de poison and la salade folle, as their specialities. From our multiple visits, we've tried several menus, for entrée we've tried their escargot (which since it has come to our attention that the creature's halal status is debatable, so try on your own discretion) and their foie gras. The seasoning on the escargot was quite nice, you can get a strong taste of the basil. The foie gras was also good, the jam and the toast tied the dish quite well. We've also tried their baked mussels, which I think was served with the similar basilic seasoning as the escargot.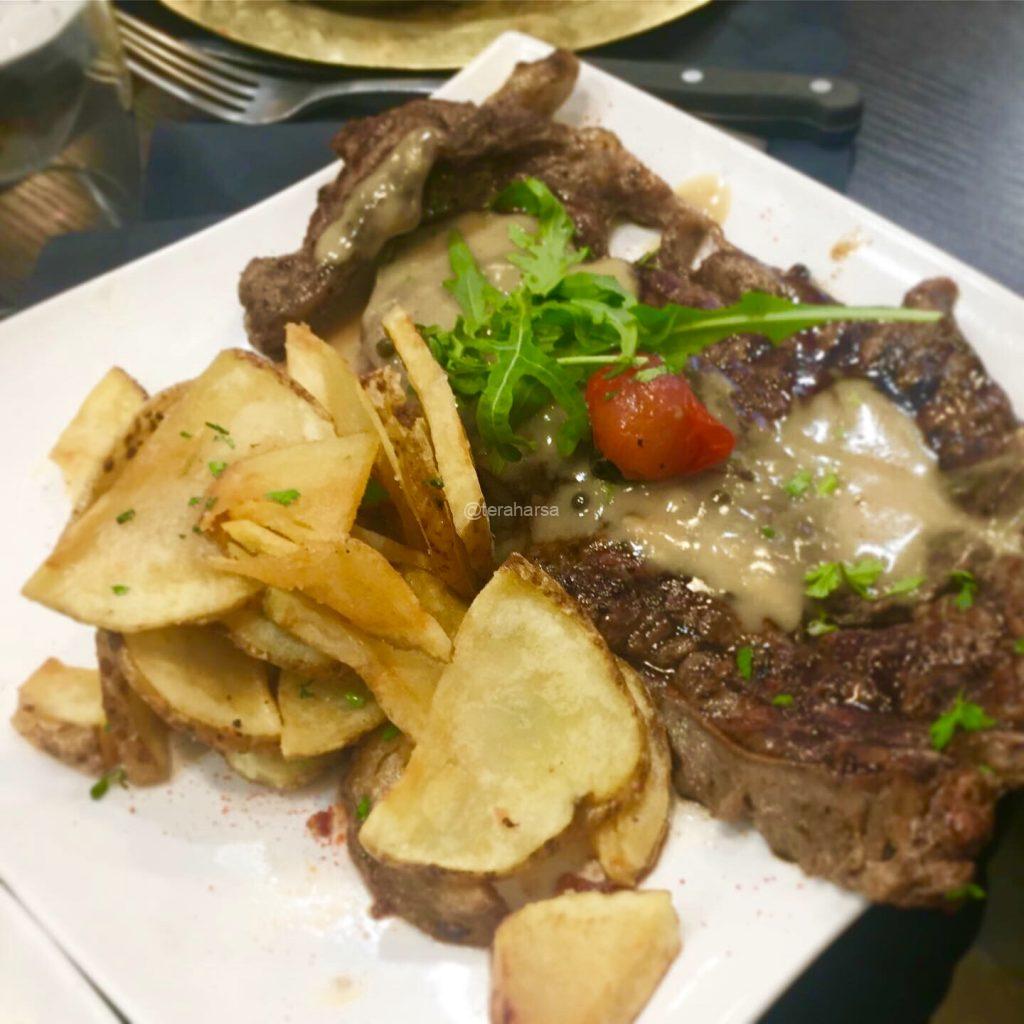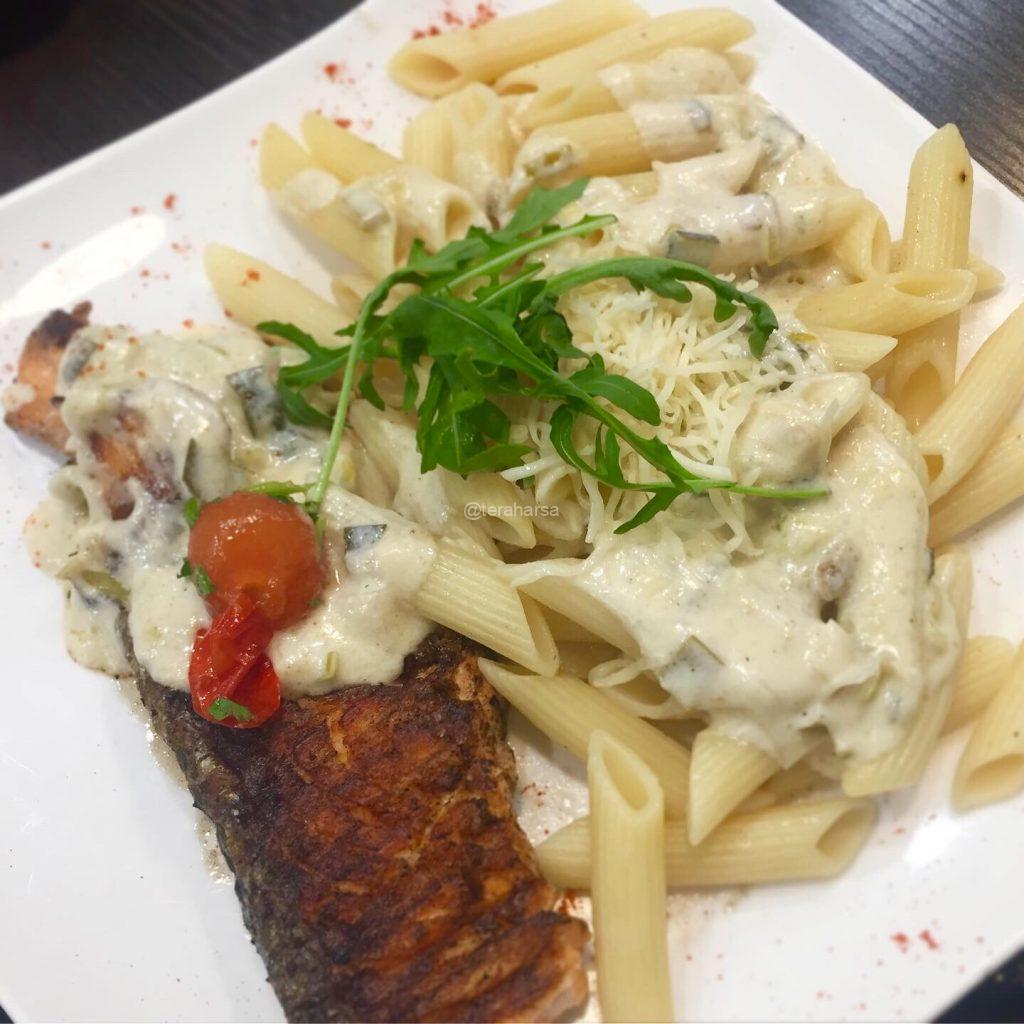 For plat, we've tried their entrecote, a 350gr steak with delicious creamy sauce; and tagliatelle aux saumon, a salmon pasta dish. The steak melted in our mouth, the cook was perfect, the sauce was divine, which we wished we had more of. The salmon was a tiny bit dry though, but again the sauce was the star of the dish.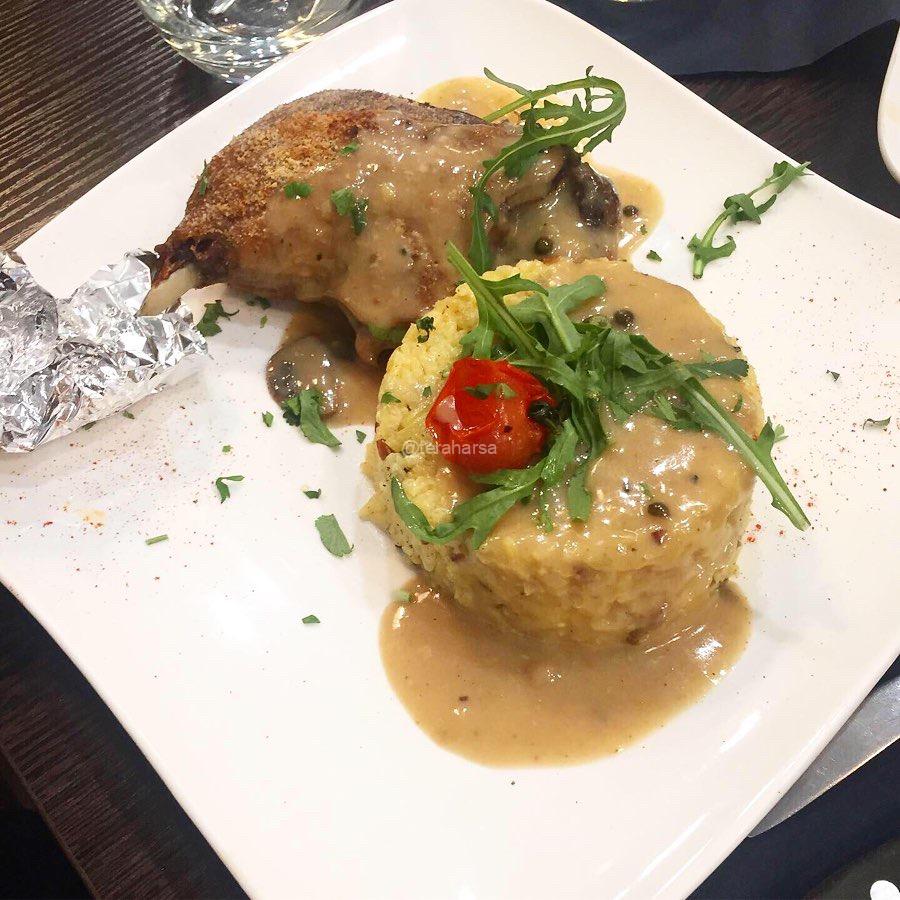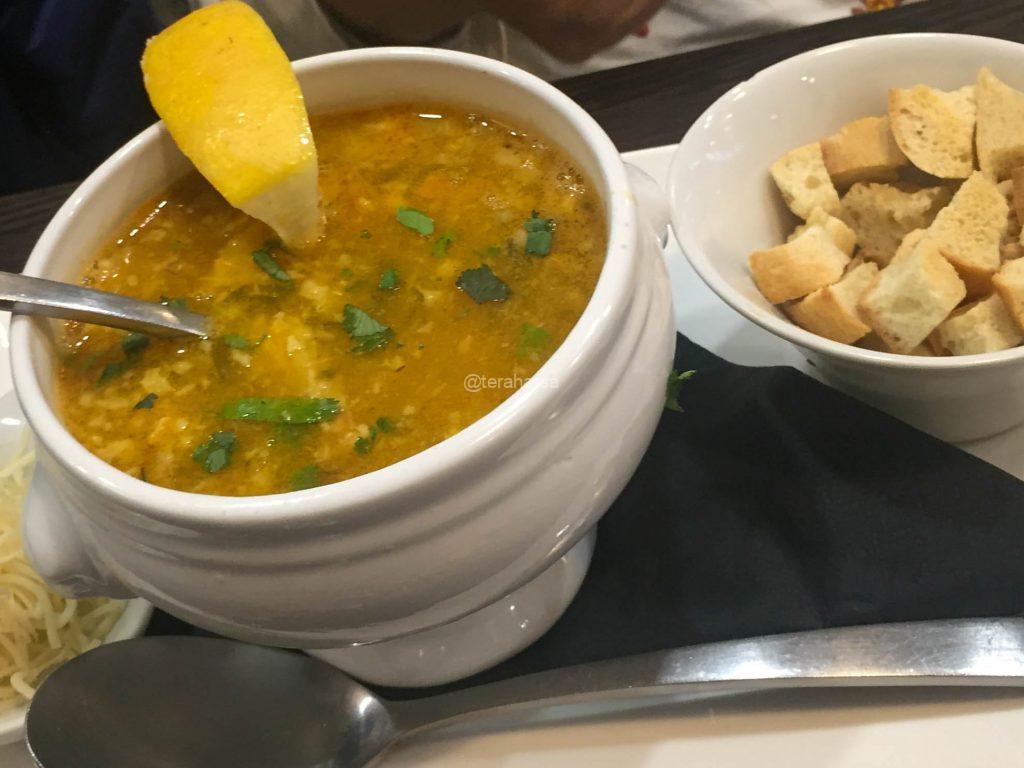 We've also tried le confit de canard, a traditional french duck confit and la soupe de poison, a herby fish soup that came with croutons and grated cheese. The duck lives up to its name, it was crispy on the outside yet very tender and juicy on the inside. It was also rich in flavour. The soup was also a favourite of mine, it was flavourful and fresh. Both are surely my top two recommendations if you ever visit this restaurant.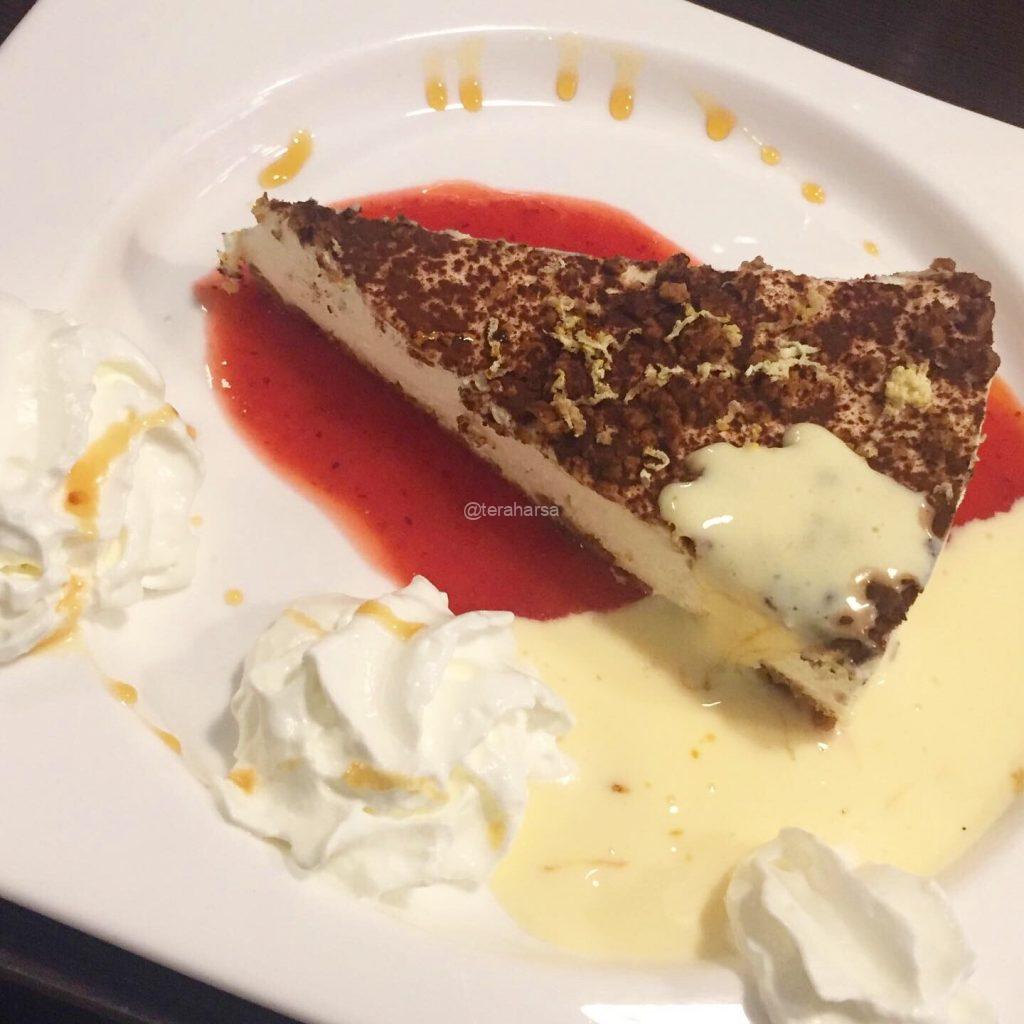 They didn't have a specific menu for desserts, instead, they had a glass fridge displaying them near the counter. So, you can order based on what they have that day. For dessert, we've tried their tiramisu and strawberry cheesecake. Both were nice, I preferred the tiramisu over the cheesecake. The cheesecake was a bit too sweet for me.
Le Jumeyrah
Address: 101 rue Saint Maur, 75011 Paris
Notes: Halal certified, no alcohol drinks available
Le Jumeryah was the second French restaurant we've tried in Paris. It was located a bit far from our neighbourhood, but we read great reviews about it online, so we decided to give it a try. Again, we were so pleased that we ended up going back with a group of friends!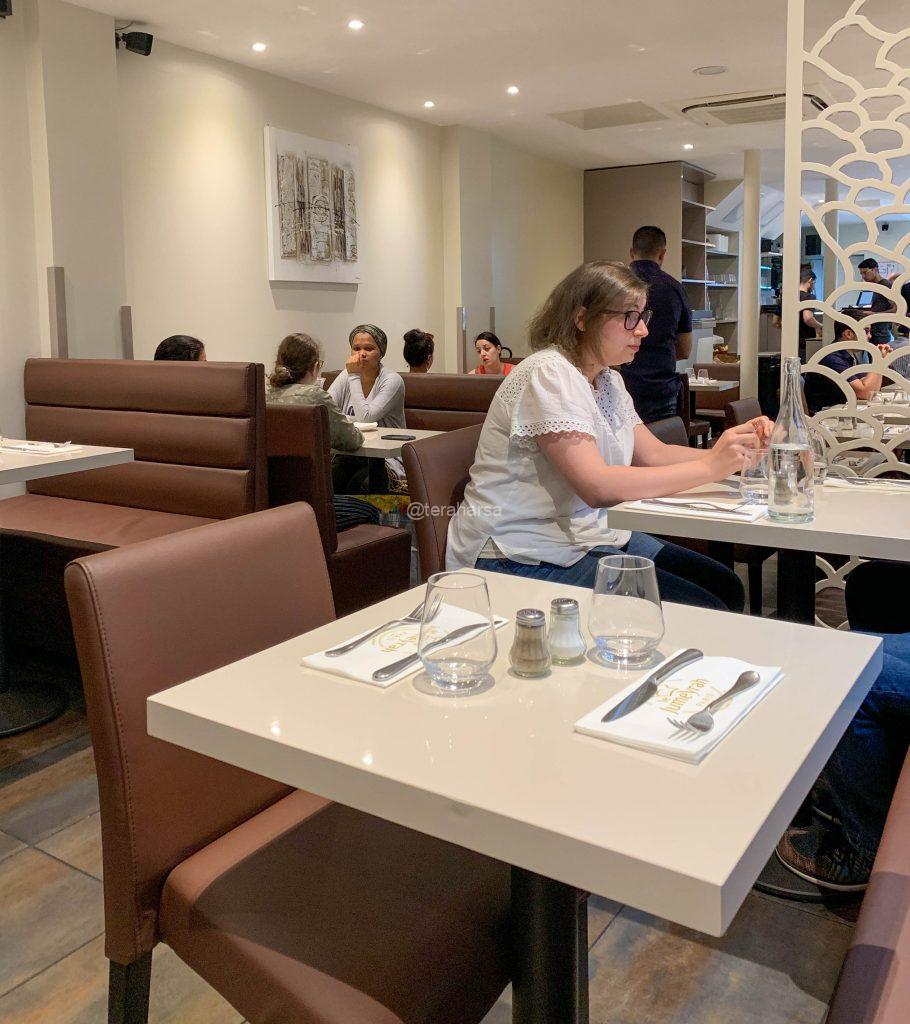 The restaurant was also located on a quiet street, a 7-10 minutes walk from the nearest metro station, and there was conveniently a mosque just around the corner. The restaurant had a small shop front but turns out the inside goes way to the back. It was a bit more spacious than Le Petit Gourmet, but also filled up as quick during peak hours, so reservations are advised. They had a simple minimalist decor, dominant with warm neutral colours, leaving your focus to their delish food. They had this inviting and cosy atmosphere to their interior which felt pleasantly family-friendly. So, it was no surprise when we saw that they also offer a pretty good children menu to accommodate little visitors. The staff were nice and attentive, they spoke English quite well and the service was also swift.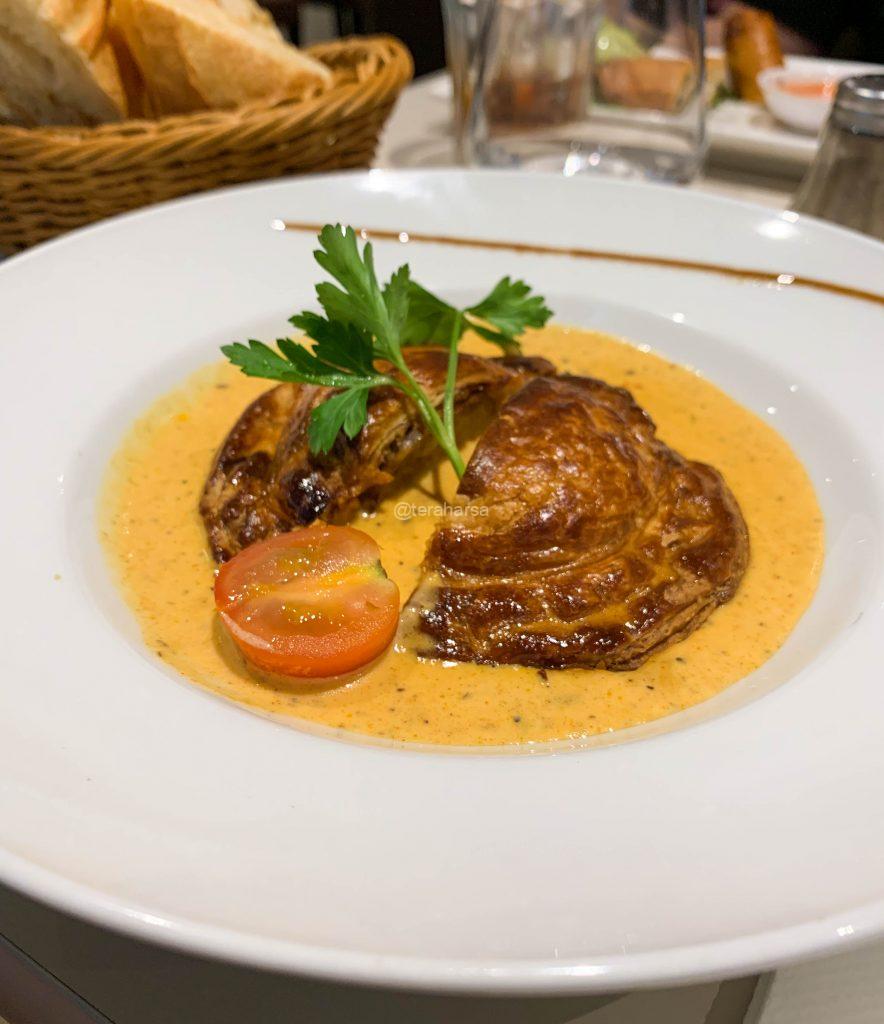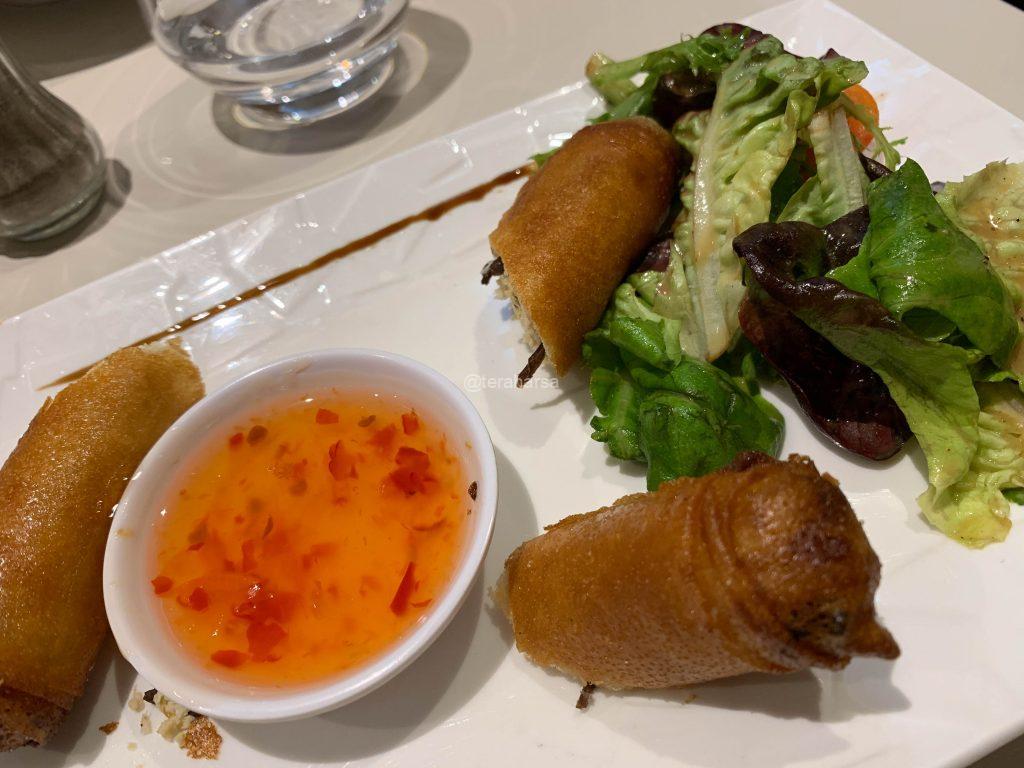 Le Jumeyrah had a pretty comprehensive menu, everything looked so good. The first time we were there we were feeling a bit hungry, so we opted to go for two Menu Gourmand : Entrée, plat et dessert. For the entrée we tried the chausson de volatile, chicken wrapped in pastry (similar concept to chausson de pomme, the apple-filled pastry you would find at a boulangerie) with a yummy sauce that was to die for! The sauce was so smooth and rich, and the pastry was crispy on the outside yet the chicken filling inside was not dry at all. I think it was easily the best entrée I've ever tried! We also ordered the nems croustillants du chef for entrée, which were crispy chicken spring rolls with spicy chilli sauce. They were quite nice, normal tasty spring rolls.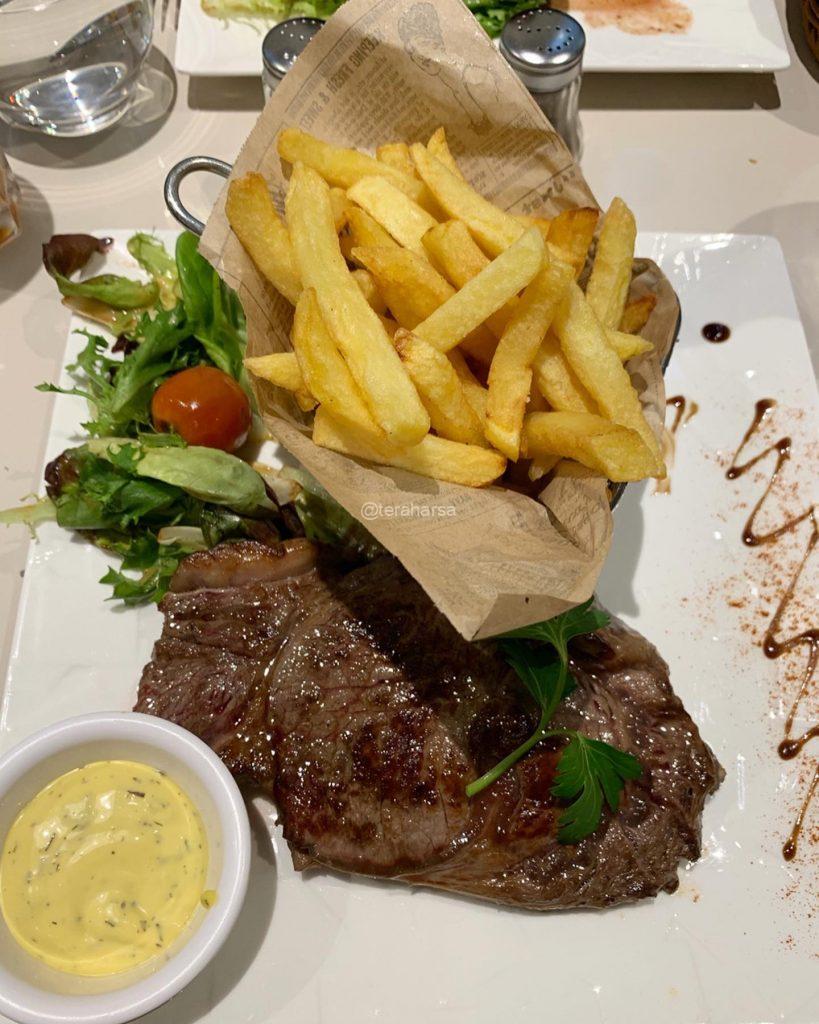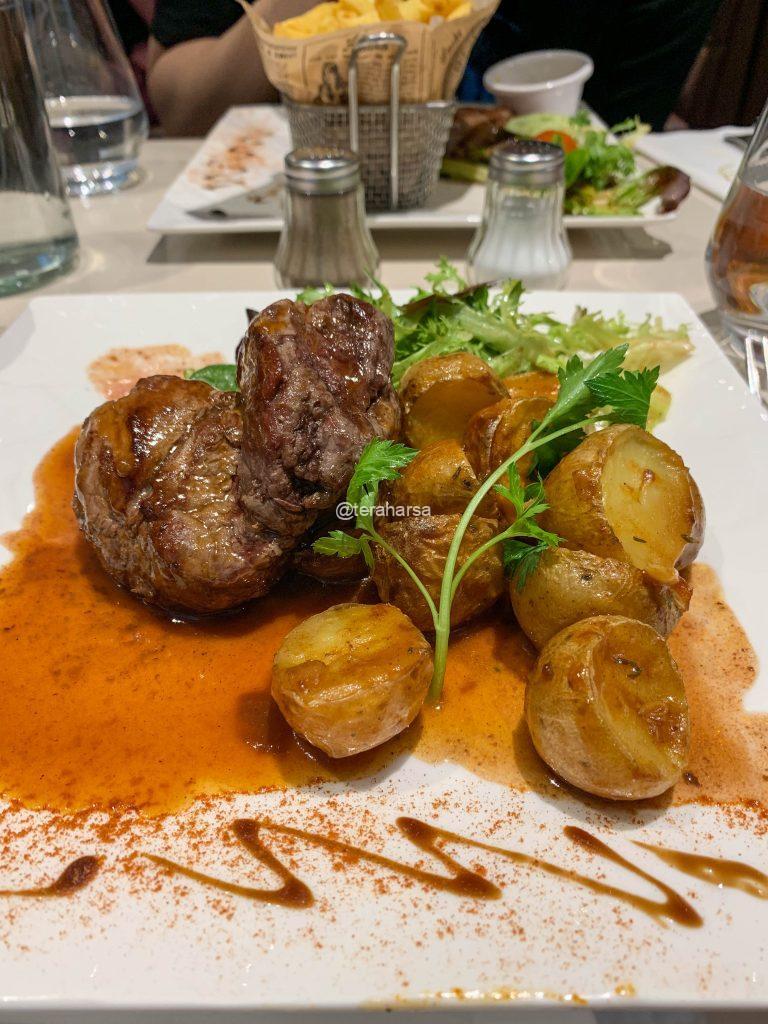 For our plat, we ordered the filet de boeuf à la plancha, which was the most tender tenderloin steak everrr paired with herby grilled potatoes, and the entrecôte grillée, a mouth-watering grilled rib steak with homemade fries, salad and tangy pepper sauce. The cook on both steaks was just perfect, according to our order and preference, and both steaks were so juicy and flavourful. As you can probably tell, we enjoyed every bite!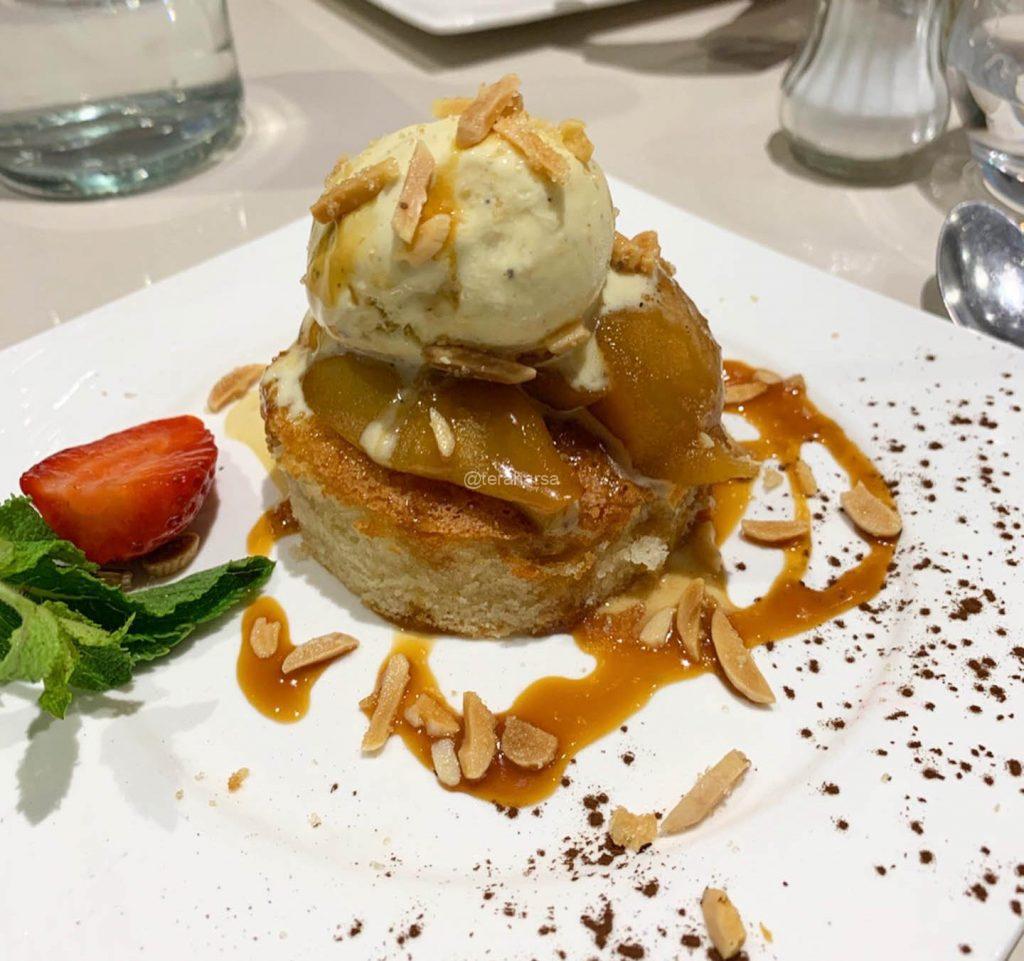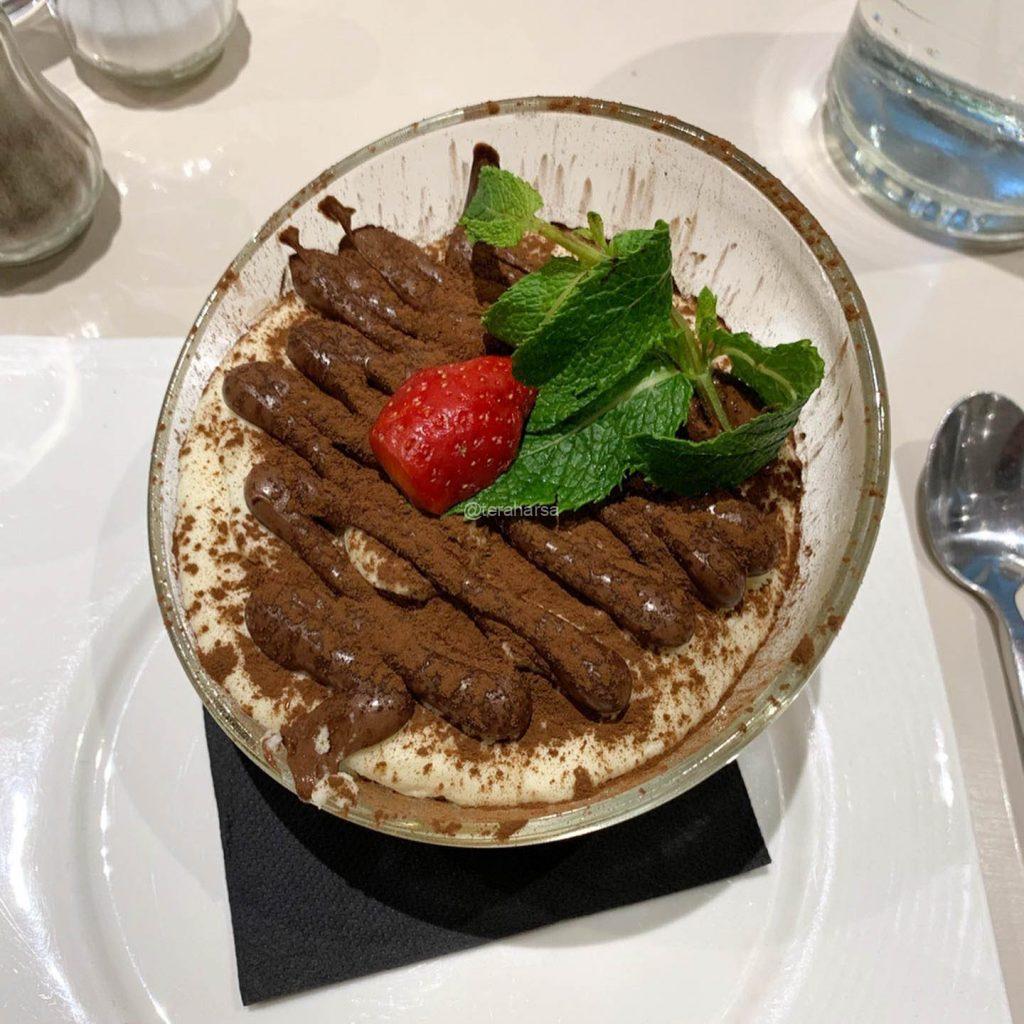 Here comes the best part, the dessert! We tried financier aux pommes confites, a small almond cake topped with caramelized apples (I am a sucker for anything caramelized especially apples and bananas!) and a scoop of vanilla ice cream, and tiramisu aux 3 saveurs, which literally means 3 flavoured tiramisu. The warm cake and cold ice cream combo of the financier was just splendid, and the apples complemented the cake perfectly. But our favourite was definitely the tiramisu! Just like the name described, this large-sized tiramisu (it was surely larger than the average tiramisu I've seen and ate) had three layers, the flawless combination of coffee, speculoos, and Nutella just dances beautifully in your mouth. Even writing about it makes my mouth water! Not to mention their mint tea was also fantastic.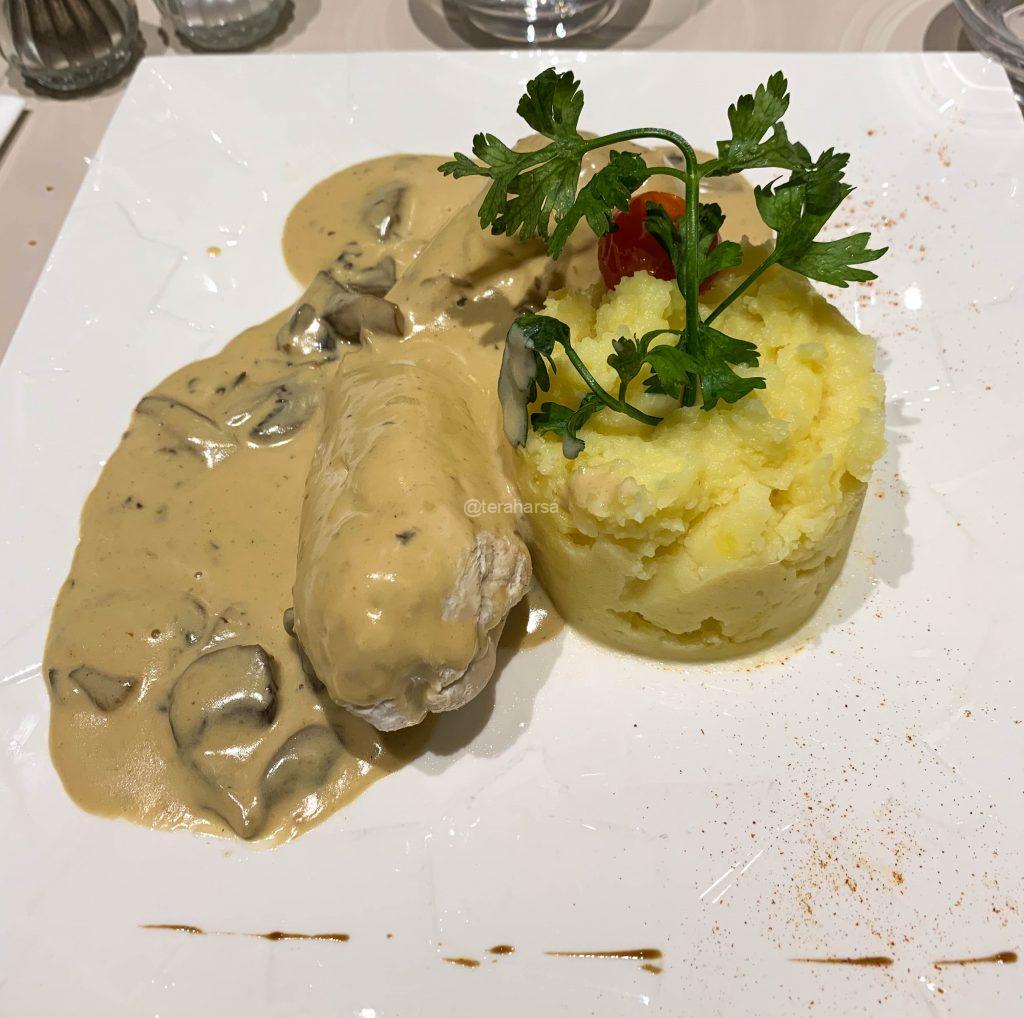 The other time we were there, we weren't as starving so we shared the entrée and dessert. I truly apologize because I honestly forgot we got for our entrèe. For plat, we tried their cheeseburger XL with homemade fries and suprême de poulet farci aux champignon, which was a mushroom-filled chicken breast dish with homemade mash and sauce. They weren't lying when they said the burger was XL size, it was humongous, my husband said it tasted pretty good too, especially the meat. However, I was kind of let down by the chicken. It was somewhat dry and bland for my taste. The homemade mash was good though, it was rich, smooth and creamy. The dessert this time also fell short, where we tried the moelleux chocolat intense. It was described similar to a molten chocolate lava cake in the menu, complete with a scoop of vanilla ice cream. However, I think the cake was a bit overcooked as the outside looked dry and nothing oozed out from the centre. The taste was actually ok, but just not as expected.
So, our second time wasn't as spectacular as our first, maybe it just wasn't our day, however, we would still recommend to try out this place though! We would undoubtedly come back ourselves to try more of their menu.
L'echappee Belle
Address: 7 Rue Boulle 75011, Paris
Notes: Halal certified, no alcohol drinks available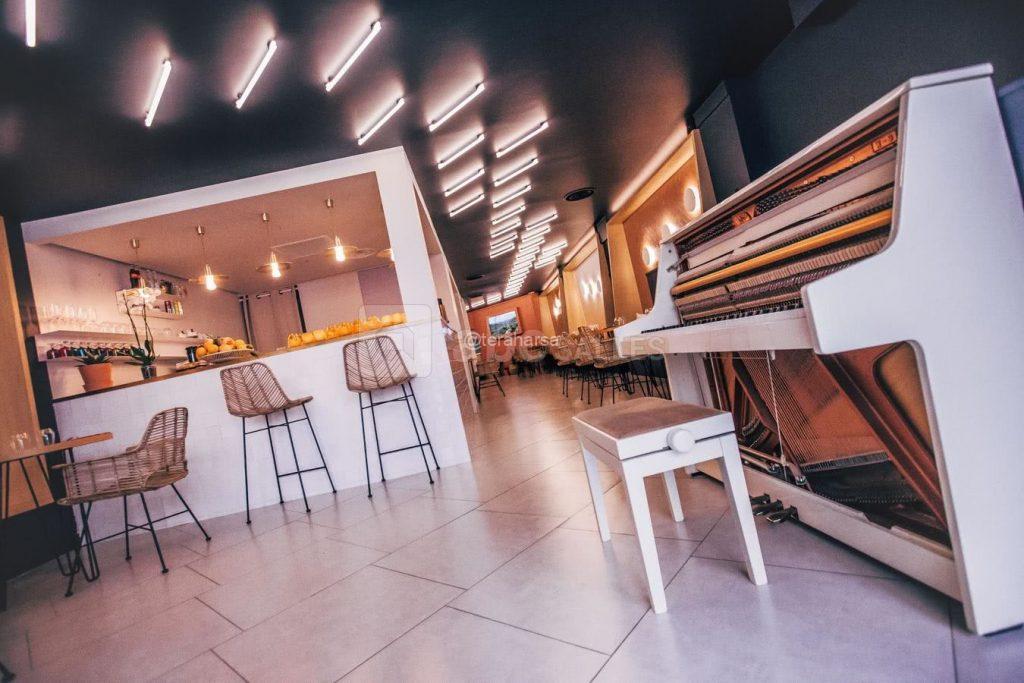 We went to L'echappee Belle for dinner on the day we moved out of our apartment, which we spent the whole day cleaning the heck out, a few days before we moved back to Singapore. That same afternoon we did the inspection, gave back our keys, and dragged our huge luggage to a hotel and was so ready to get a proper meal to close that hectic day.
L'echappee Belle was our third French restaurant, which didn't exclusively offer french cuisine but also other dishes influenced by food around the world. I've been eyeing them for quite some time, first of all, because of its interior design (I studied architecture, so pretty much buildings, interior design and good aesthetics are my weak spot).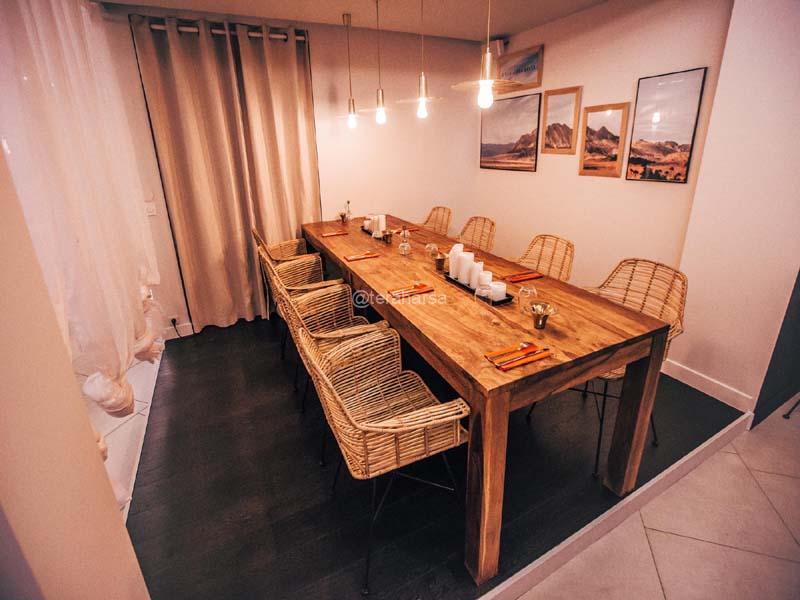 From all the restaurants mentioned in this post, L'echappee Belle simply had the coolest and hippest interior design and decor. When we first walked in the restaurant, I noticed this earthy modern boho theme going on with art deco accents, which looked stylish and chic. Everything worked well together from their comfy rattan chairs to the funky light fixtures against the ceramic wall tiles.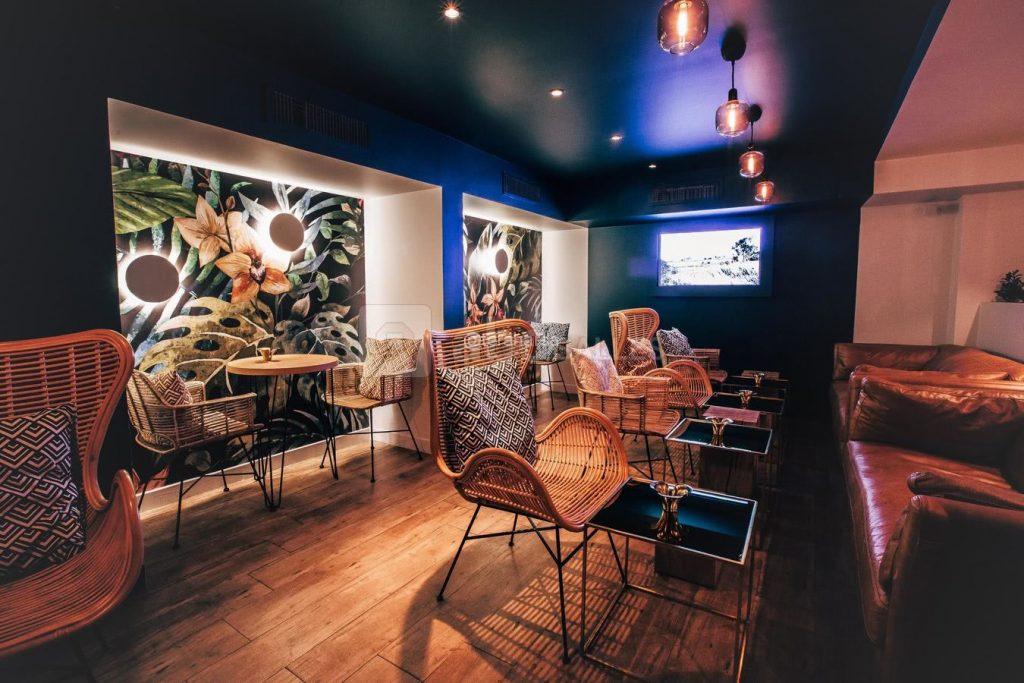 We only saw this on their website, but as you go in deeper to the restaurant, they have an underground "secret garden", a high-end tea room, where the mood changes into a more tropical vibe, dominant with rich colours and vibrant tropical wallpaper. Aesthetics aside, this restaurant caught my eye because of their concept of using not only halal products but also organic and wholesome ingredients.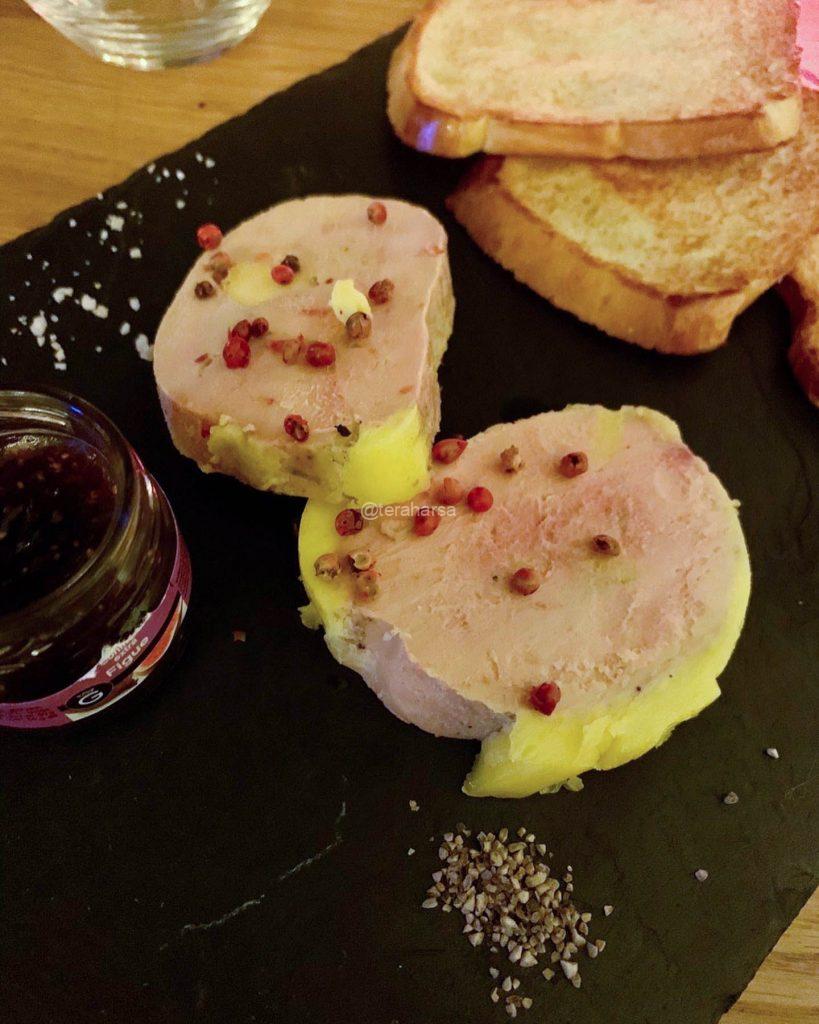 Let's dive into the actual food experience. The staff were kind and helpful, the service was also great. They had a good selection of French cuisine fused by other international-inspired dishes, but unfortunately, they don't offer a menu set, so we had to buy the dishes à la carte. We kept our order in the French theme though, first by sharing a foie gras dish that came with a tasty fig jam and brioche toast. By far it was the most delicious jam we've ever tasted which had the perfect balance of sweet and tangy. It tied the whole dish together nicely.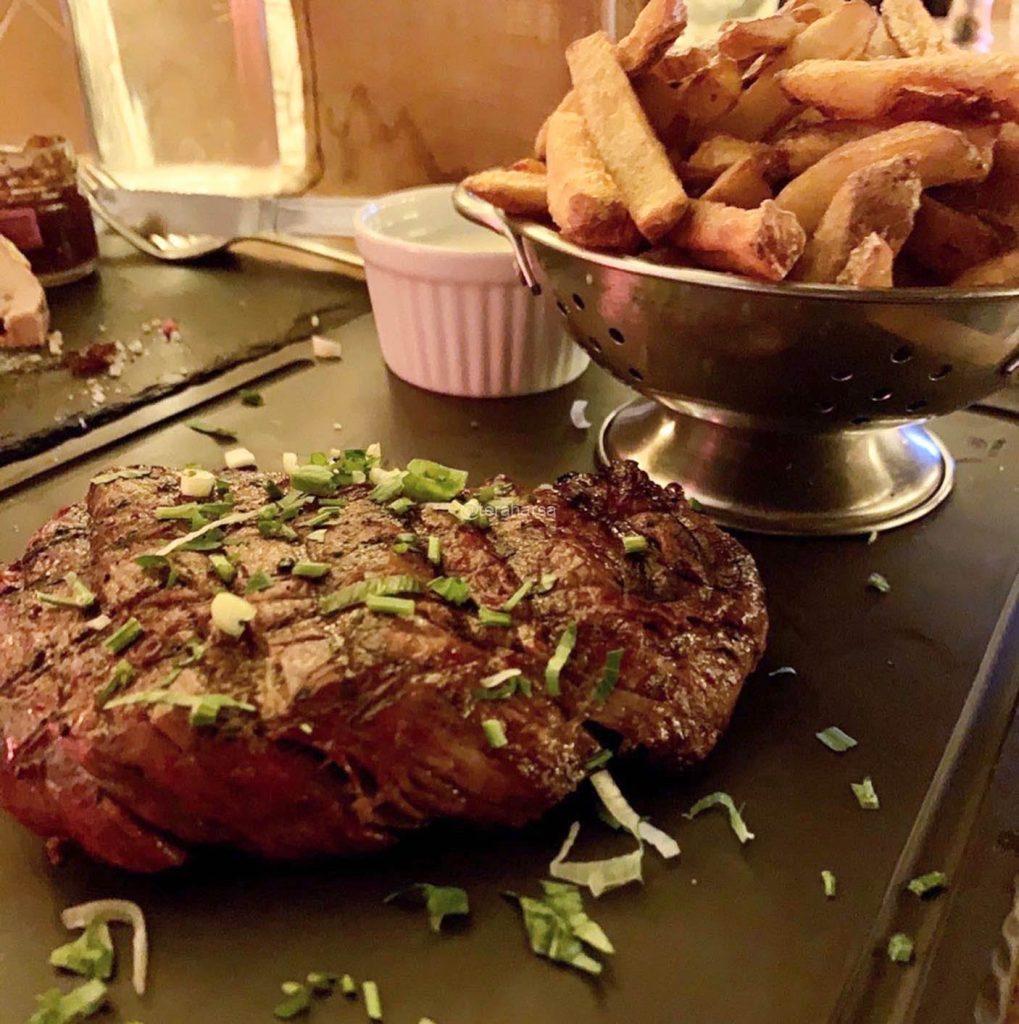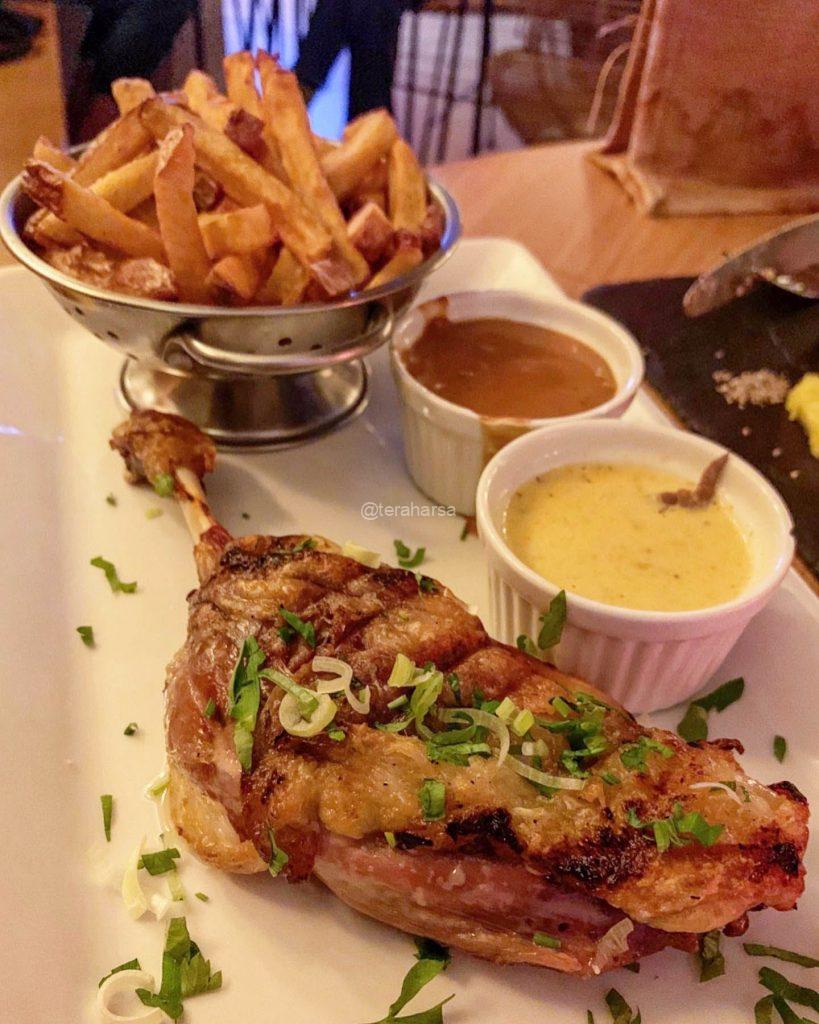 We ordered their filet de bœuf and cuisse de canard confite for our plat. Their grill menu came with a selection of sides and homemade sauces for us to choose from. We chose homemade fries and mushroom sauce for the steak. The filet de bœuf was juicy, tender and perfectly cooked to our preference, and the fries were herby and rich of flavour. However, for me, the highlight of the evening was hands down the duck confit! Believe me when I say it was the juiciest and most tender duck dish I ever tried in Paris! It had that crispy skin on the outside and every bite was just full of flavour.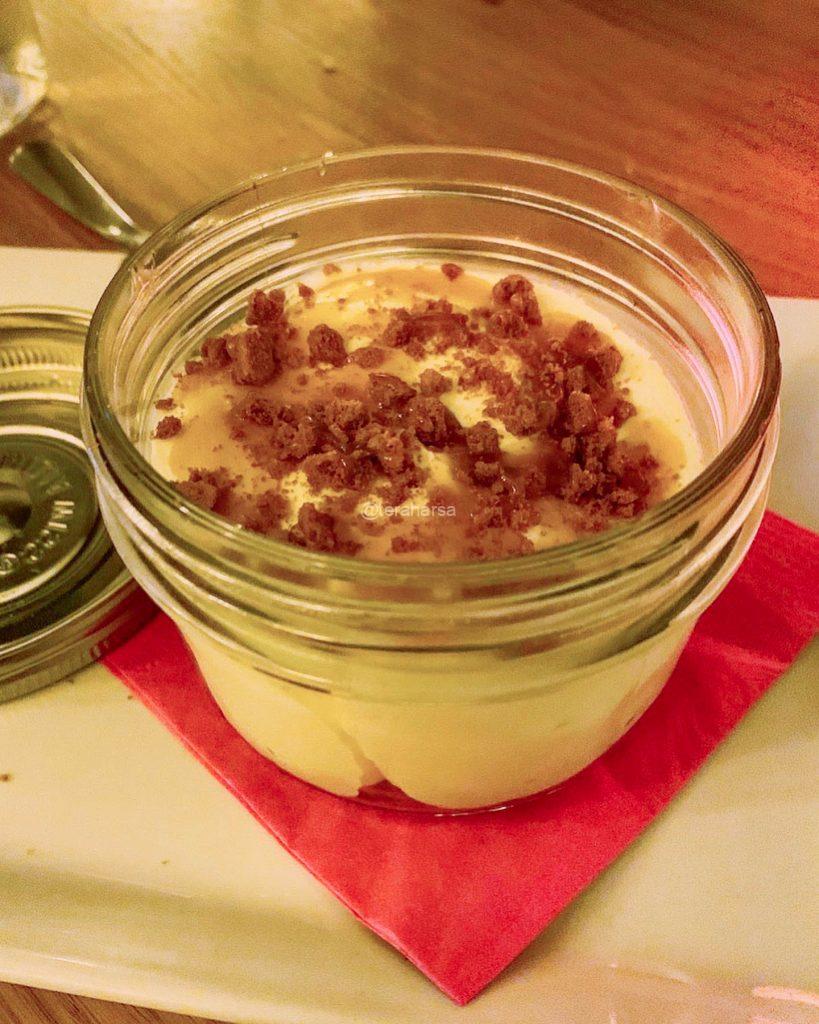 For dessert, we tried the caramel and speculoos tiramisu. It was good, yet Le Jumeyrah still has my vote for their amazing tiramisu! Overall, we had a great time dining at L'echappee Belle, and would definitely recommend this restaurant for, as their name suggests, a great escape!
Le Confidentiel
Address: 6 Rue Robert Estienne 75008 Paris
Notes: Halal certified, no alcohol drinks available
www.restaurantleconfidentiel.fr
Le Confidentiel was our final goodbye to authentic French cuisine in Paris, where we literally dined in on our last night in the city before we moved back to Singapore. Our experience in our last week in the city was interrupted by public transportation strikes, resulting in unreliable public transportation from metros not operating, chaos bus's schedules to freakin' high uber rates! It was very hard to get around. It was upsetting that I had to cancel most of my last-minute visits and shopping (husband and bank account are happy though). But we still wanted to have a nice last meal, so we went to the nearest halal French restaurant from our hotel.
From all of the previous restaurant mentioned above, Le Confidentiel has the most strategic location, touristic wise. Located just steps away from The Paris golden triangle (Avenue Montaigne, George V, and Champs Elysees) and of course the Arc de Triomphe, it's a great option to treat yourself for lunch or dinner after a long shopping spree or touristy activities.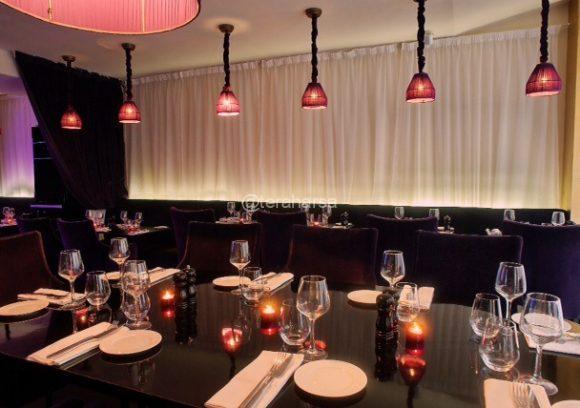 It was extremely hard to get an Uber, so we got there pretty late, around 10 pm. The restaurant at first glance looked like a chic and fancy lounge, complete with velvet chairs and dimmed coloured lighting. It had two restaurant spaces side by side, which we guessed one is the main dining area, and maybe the other was for special events or large reservations. We were quite surprised that the restaurant main area was fully packed at that hour, or maybe not, it was Friday night after all. It's bound to be packed everywhere until midnight I suppose. We were then seated at the other dining area, which had the same loungey vibe.
They had an interesting menu of fusion French gourmet. Their food seems to be inspired by other cuisines as well, such as Asian and Italian. They also have an excellent selection of drinks. The menu-set had a quite inconvenient restriction though, it was only available on Sunday-Thursday, so sadly we had to order à la carte. It was quite late so we decided to share an entrée, order two plats, skip dessert and instead, enjoy some delicious drinks. I rarely mention our drink orders in the reviews above, because we usually just order basic beverages, like ice tea, soda or only plain tap water. We're focused our budget more on the food.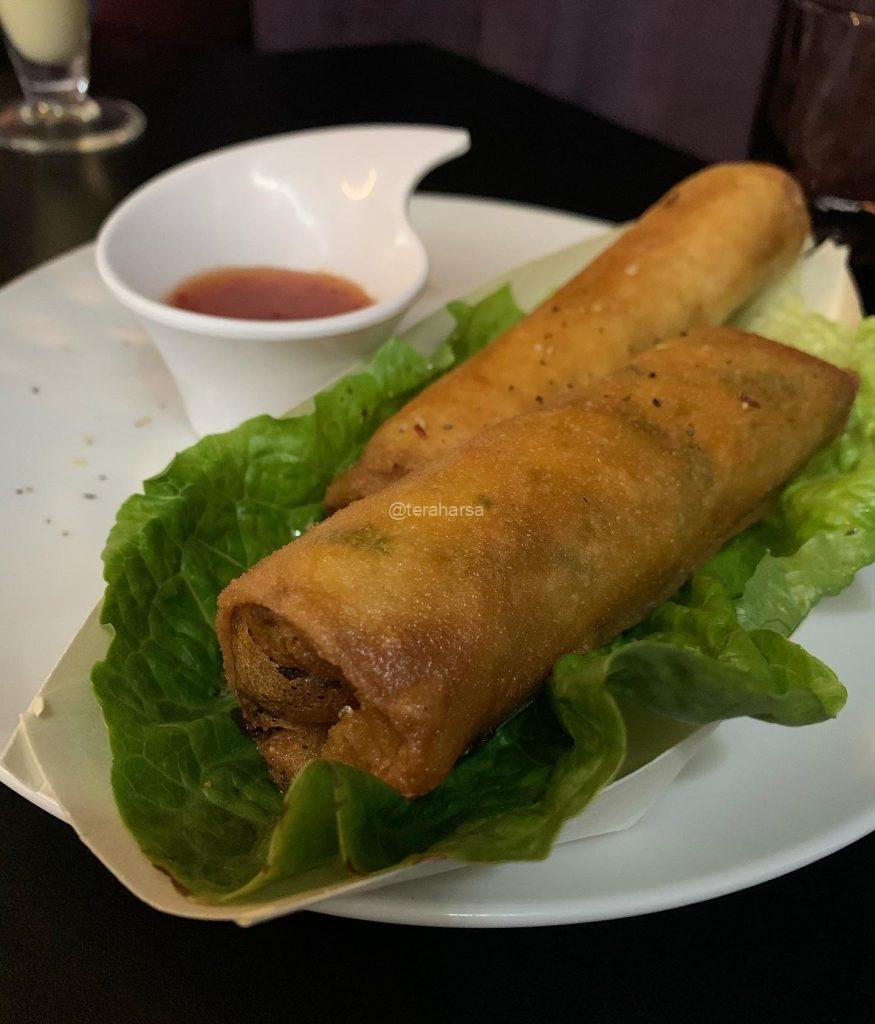 For the entrée, we shared their homemade chicken nems, which were so good! The dish was these two huge crispy fried nems with and an amazing dip. It was indeed not the average frozen nems from your local Asian supermarket! We then tried their Le fameux Poulet croustillant à l'italienne, which was a breadcrumbs-coated chicken breast stuffed with cheddar and turkey breast and on mushroom sauce and potatoes, and also their Linguine à la carbonara, which was a seasonal pasta dish, with chicken and a creamy carbonara sauce. Both were amazing and every bite was just simply delicious!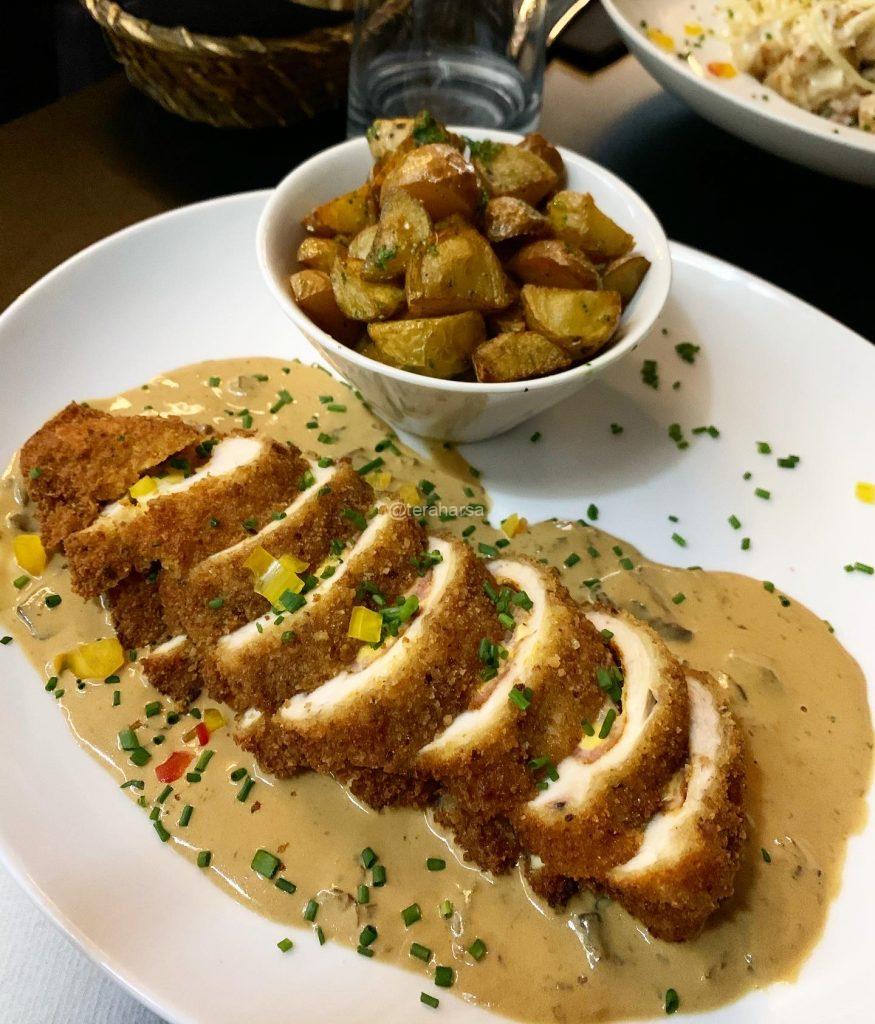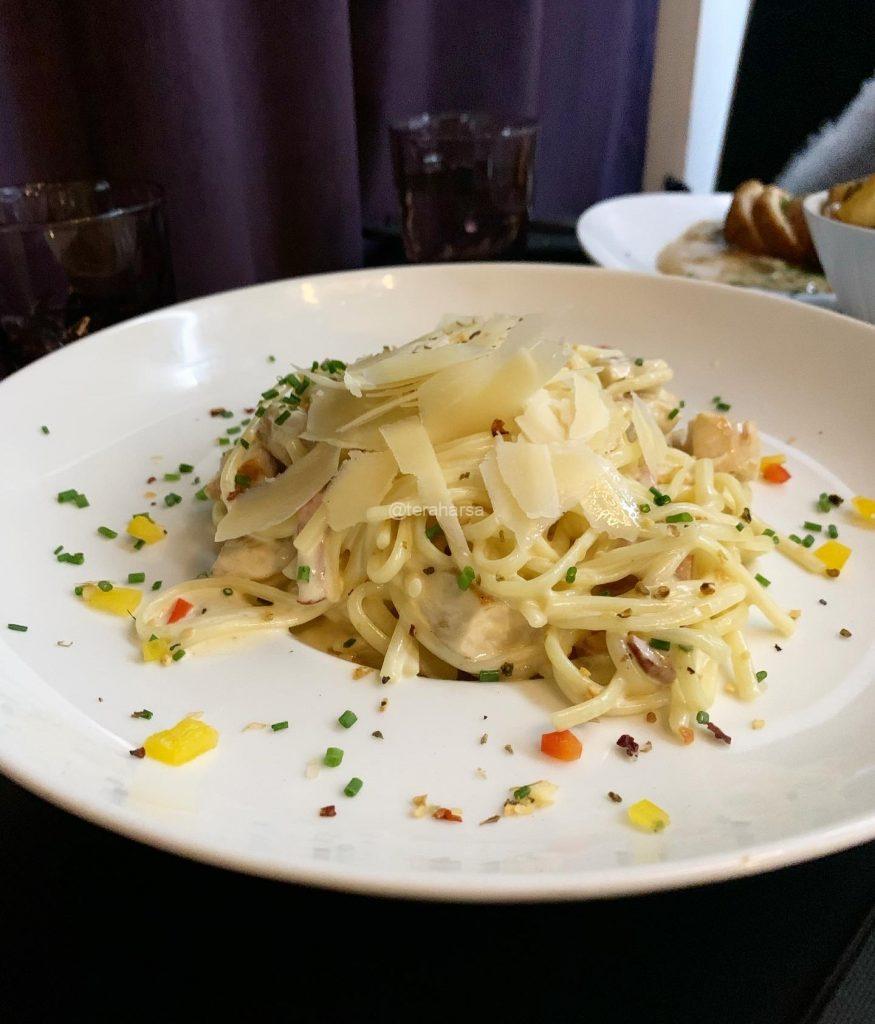 For drinks, we tried their cocktails, a virgin colada, a mix of pineapple banana and coconut, and a Honeymoon, a mix of peach, apricot, passion fruit juice with honey. My favourite was the Honeymoon, it had the perfect balance of sweet and tangy!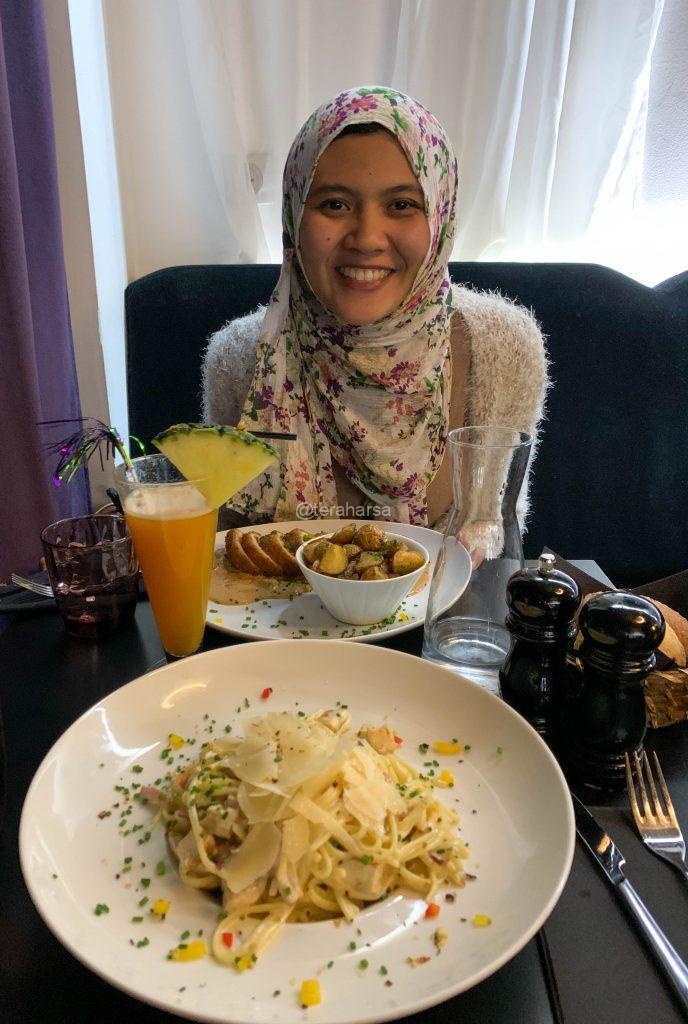 We would definitely recommend this restaurant if your out and about the Arc de Triomphe and Champs Elysees! Though a bit pricey, they have large portions, leaving you pleasantly full!
Some others we haven't tried…
I've read good reviews on a few other halal french restaurants in Paris and have even saved them on my phone. But unfortunately, we didn't get a chance to try them while we were in town (we've since moved back to Singapore and no longer live in Paris). So, here are some more halal French restaurants that you might want to try!
There you have it…my guide and reviews on halal French restaurants in Paris. Hope it can be useful for your next trip and adventures! Let me know in the comments below if you've been to any of the places mentioned above, or better yet share your favourite halal restaurant in Paris! Stay tuned for more halal food guides!
Please follow and like us: