I went to Copenhagen with Firman, my husband, in early March 2019. It was essentially a short business trip for him and became a little getaway for me (yay!), which we spent 3 and a half days there! It was our first time visiting a Scandinavian country, and we were very much looking forward to it!
Copenhagen was such a lovely city filled with beautiful architecture, cosy interiors, great food, stylish bikers, extremely clean streets and warm friendly people. We really enjoyed our time there and wished we had more time to visit other bordering countries, like Sweden and Finland. Well, there's always next time!
If you're visiting soon and are looking for things to do or halal food to eat, keep scrolling down this post, as I'm going to break down my visit which you'll hopefully find some useful tips and information on:
When to visit
Arriving and getting around
Where we stayed
What we did and missed
What we ate (Halal and halal friendly recommendations)
When to visit
Copenhagen is a great city to visit all year round, as each month and season has its own highlights, providing a wide range of options for visitors. Some would say based on the season, weather and average temperature, the best times enjoying Copenhagen would be between March and May or June to August, well it mostly depends on what you're looking for (Travel US News, 2017). If you prefer fewer crowds, quiet streets and more affordable accommodation rates, spring months from March until May offer mild enjoyable weather with flowers starting to bloom.
It was exactly like that when we visited in early March. It was still a bit chilly, with pretty strong wind (I remembered the wind was so strong I had trouble closing the restaurant door at lunch! A nice lady had to help me push it close!) and light rain from time to time thus we still needed to wear our coats and layers of clothing whilst going out and about. Nevertheless, we got lucky and had one lovely day at the end of our trip, which the sun shined bright the whole day! It was the perfect way to end our trip, we got the chance to have a lovely stroll by the river and explore other bits of the city while waiting for our flight later that evening. So, if you don't mind a little chill and wind, spring would be a lovely time to visit Denmark. Though I would advise visiting probably towards April and May when there are more flowers in full bloom and it's less chilly!
Arriving and getting around
We flew to Copenhagen Airport from CDG airport on easyJet. The flight from Paris to Copenhagen is about 1 hour and 50 minutes. We arrived pretty late in Copenhagen, but we still managed to catch a bus to the city, where luckily there was a bus stop a few steps away from our hotel. There are plenty of ways of travelling from the airport, public transports can be less expensive, yet taxis can be more convenient for some.
Public Transport
There are of course other public transportation options available from the airport, which all depart and arrive from Terminal 3. All visitors arriving by air at Copenhagen Airport will exit customs at Terminal 3, where they just need to keep on moving forward to access the metro, which departs one level up, the regular train in the basement, or the bus stop just a short walk outside the building.
Before heading out to your chosen mode of transport, make sure to buy your tickets from the vending machines available at the airport where you can either use cash or credit card. The machine is pretty straight forward and easy to navigate and understand, but if you get confused you can always ask the officer, who is usually standing nearby the machines. To travel from Copenhagen Airport to the city centre, you will need to purchase a 3-zone ticket, that is currently DKK36. This ticket is valid for onward travel on buses and trains for 90 minutes and needs no further validation before or at the end of your journey. The 90 minutes duration starts at the moment of purchase. For visitors travelling with buses, don't worry if you missed the machine, you can still purchase tickets from the bus driver. However, please note that you can only pay by cash in small notes or coins.
Travel cards and Transportation passes
There are also other cards and passes that can be used to travel from the airport. You can easily buy the following also from the vending machine:
City Pass – available in a 24-hour pass for DKK80 or a 72-hours pass for DKK200, which is valid for unlimited travel in the four central Copenhagen tariff zones.
24-Hour Ticket for DKK150 – valid for travel in zones 1 – 99 of the Greater Copenhagen region. You can check the zones here.
Another useful pass to mention is the Copenhagen Card, which covers transportation and sightseeing places in the Greater Copenhagen region. To gain this pass, you can either buy online, buy from tourist information centres or many hotels.
Parents travelling with young children don't get discouraged in using public transport. Copenhagen has an excellent public transportation system. It is very convenient, plus you can save up extra money! Discount fares and free travel are available for children as the following:
Two children under the age of 12 may accompany any paying adult for free, which means one full-fare ticket covers one adult and two children under 12.
Children aged 12-15 years pay half the adult fare, so two children may travel together on an adult ticket.
Taxis
Another alternative to travel from the airport is by taxi. It's more expensive but faster and more convenient if you're staying somewhere far from metro stations or bus stops. It takes only 20 minutes to the centre and the average cost is around DKK300. You can easily get a taxi also from Terminal 3.
Another important thing worth mentioning is that ride-sharing services, such as Uber, are illegal in Denmark and are not available for travel in Copenhagen.
Where we stayed
There are plenty of hotels or hostels to choose from in Copenhagen, depends on what kind of area you are interested in staying at. We switched neighbourhoods and accommodations once during our stay.
Vesterbro
We spent our first two nights in Vesterbro. If you're searching for a place to stay that boast an awesome nightlife scene, look no further, Vesterbro is perfect for you. This cool district, located west of the inner city, is home to a wide variety of trendy restaurants, hip music venues, and electric underground clubs. You'll find the best nightlife in the capital right here. It's also where you can find Tivoli Gardens, the famous world-renowned amusement park.
We enjoyed our stay at Wakeup Copenhagen Bernstorffsgade, a modern, contemporary yet simple hotel well located in Vesterbro, just a few steps away from Tivoli Gardens and a walking distance to other well-known attractions and museums. It is also very close to the train station and has a bus stop just in front of the hotel, thus very convenient for travel and getting around. Another neat thing about its location is it's also near to the waterfront, a lovely place to have a nice stroll or to just sit and hang out. Its awesome strategic location is not the only thing we liked about this hotel, we also appreciate the practicality of its facilities and amenities. It has a bike rental, laundry, and each room is although compact, yet well designed and had everything we needed. Not to mention its good value for money!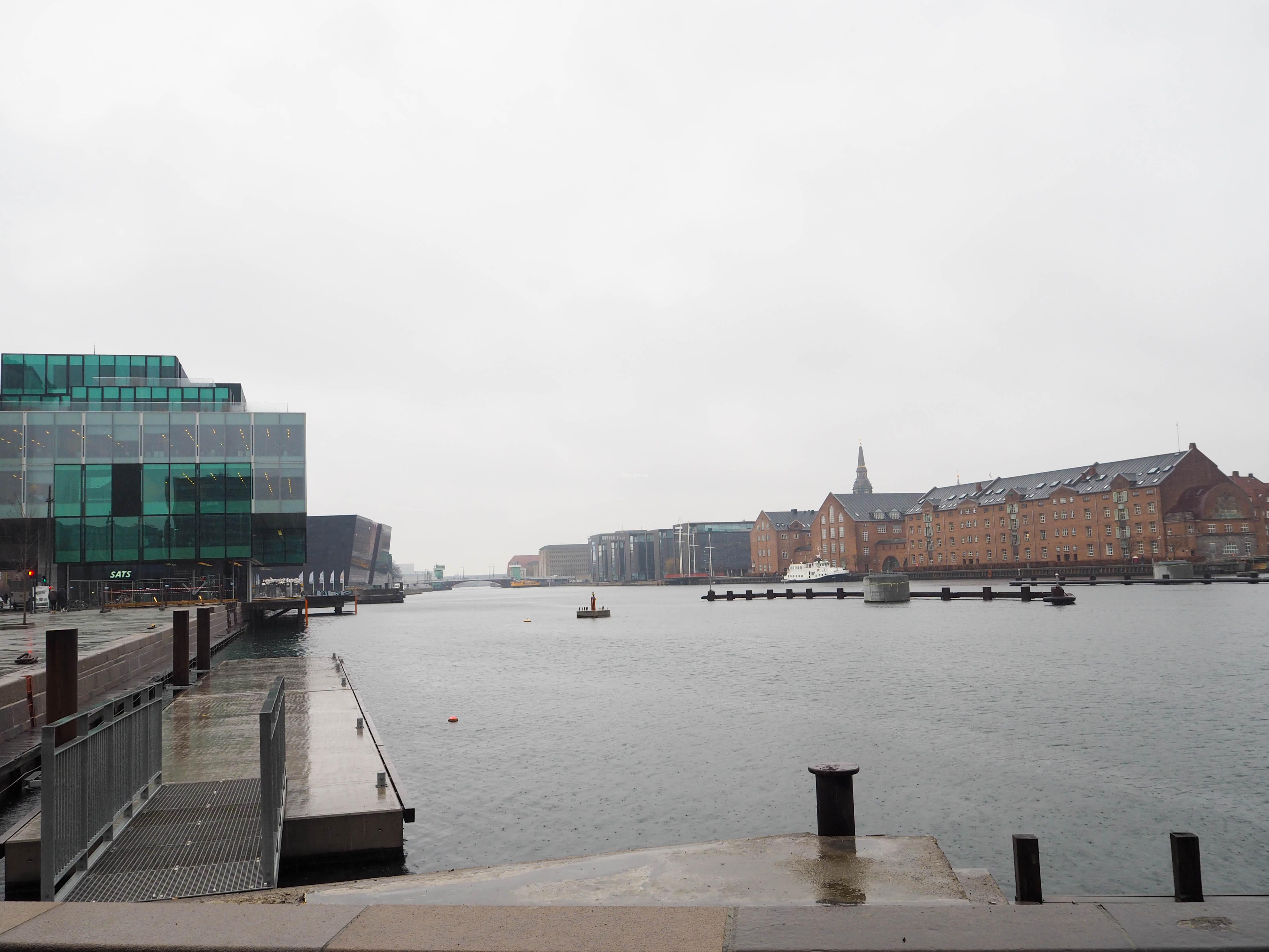 Nørrebro
The remaining nights of our stay, we chose to stay in Nørrebro. Known for its lively and vibrant neighbourhood, this district on the north of the city reflects a more diverse and multicultural vibe. It is home to wonderful restaurants, cosy cafes and independent shops and boutiques. You might say it's one of the hippest areas of the city, yet it's also where you can find budget-friendly accommodations.
We had a lovely stay at Sleep in Heaven, a hip youth hostel in the heart of Nørrebro. It has all the typical facilities of a youth hostel, including clean large showers, lockers for each bed, a luggage room, linens and towels but unfortunately missing a communal kitchen. They make it up for it by having an exceptional cosy common room and a beer garden where you can order affordable drinks and snacks. The staffs were very friendly and helpful. In the common room, you can find a handful of board games, a pool table, a bunch of sofas, nooks and tables to chill and hang out and most importantly a huge board filled with useful information on hidden gems of Nørrebro.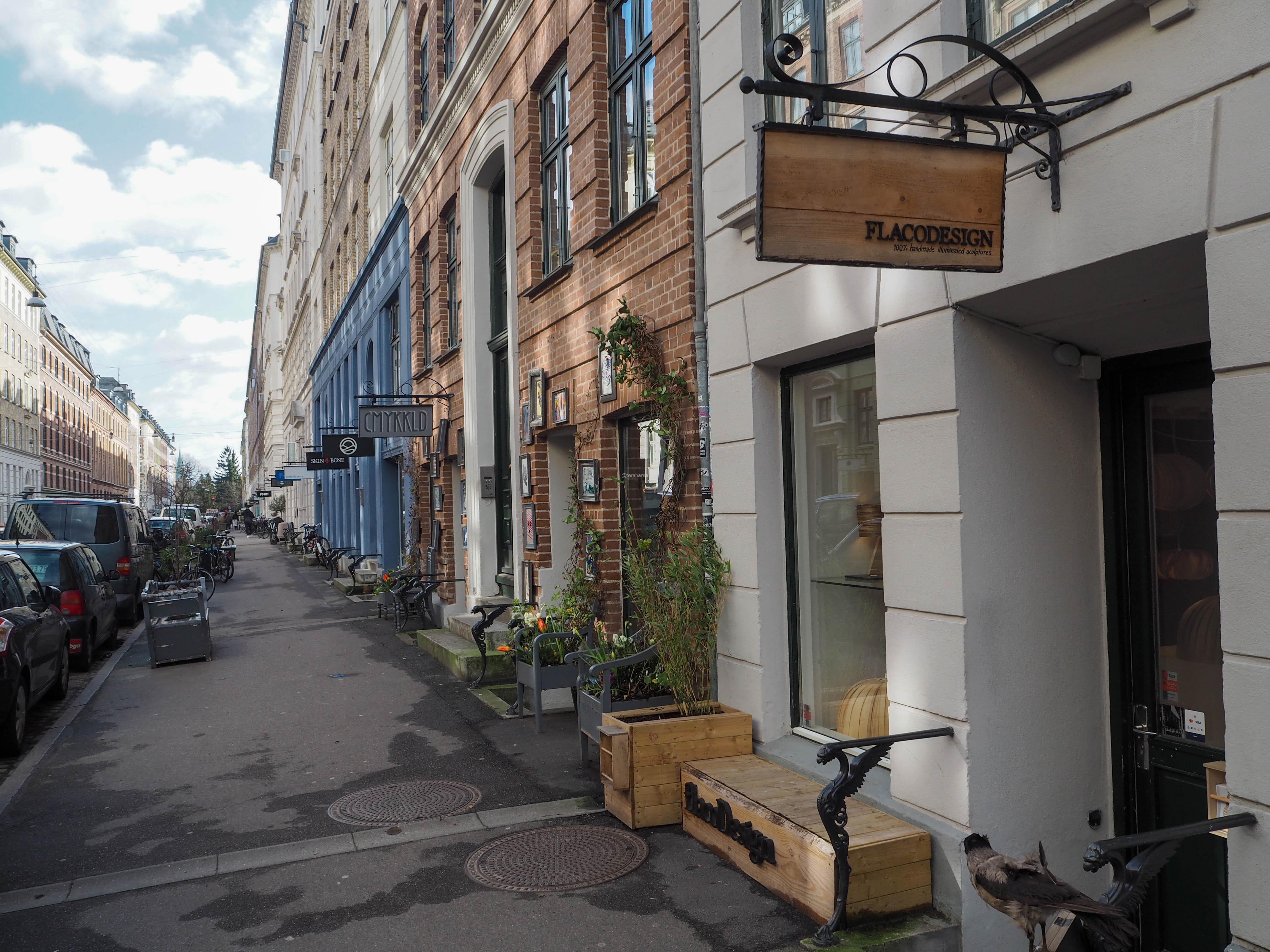 What we did
Nyhavn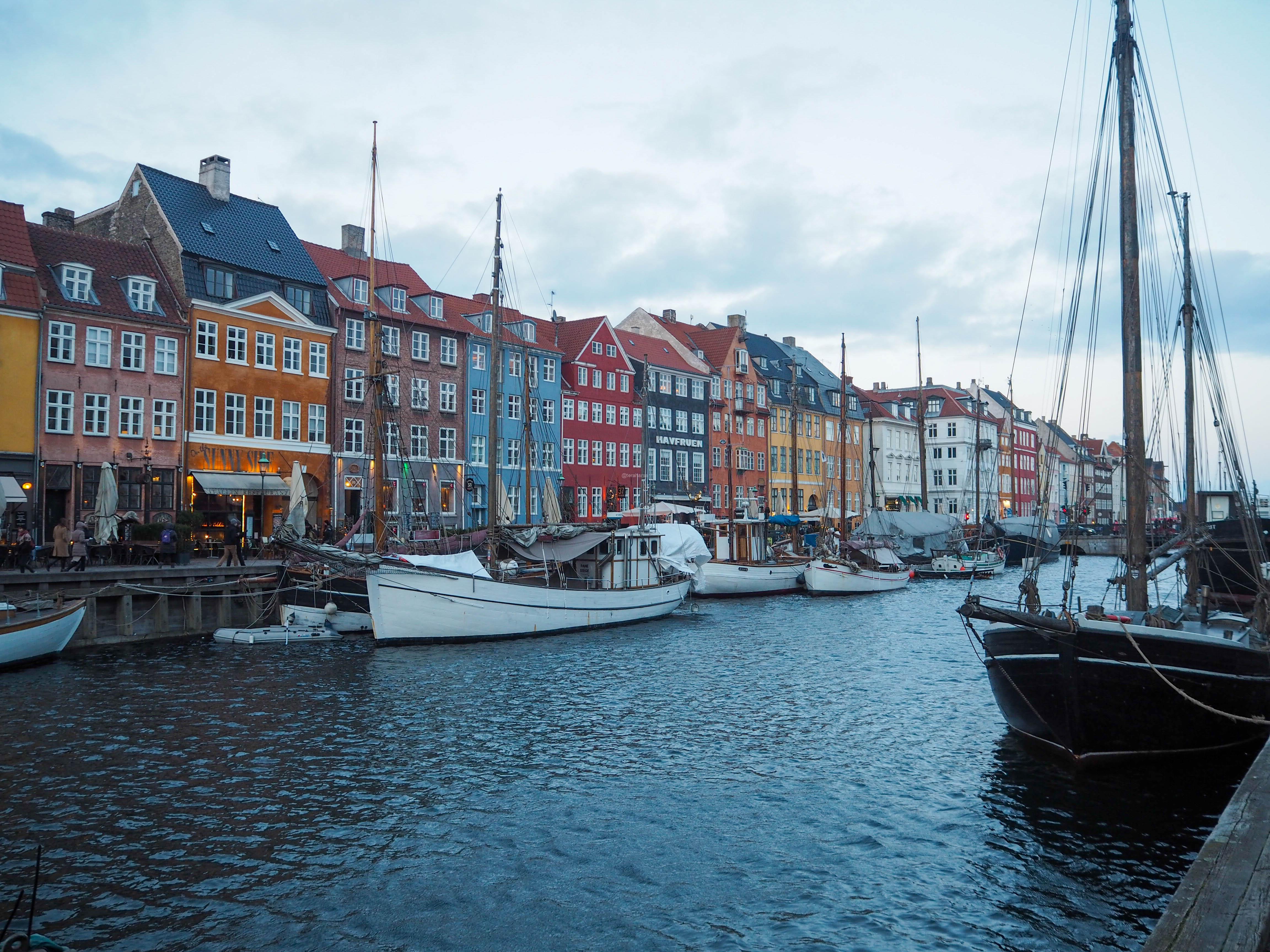 Once known as the worst part of town, brimming with drunken sailors, sleazy bars and prostitution, Nyhavn today has become one of the most famous tourist attraction in Copenhagen. This historic harbour, filled with fantastic old sailing ships and lined with vibrant colourful townhouses, is where you will find plenty of restaurants, bars, ice cream parlours and souvenir shops. Nyhavn is also where you'll find the starting point of various canal tour excursions. Definitely a must-see spot during your trip to Copenhagen!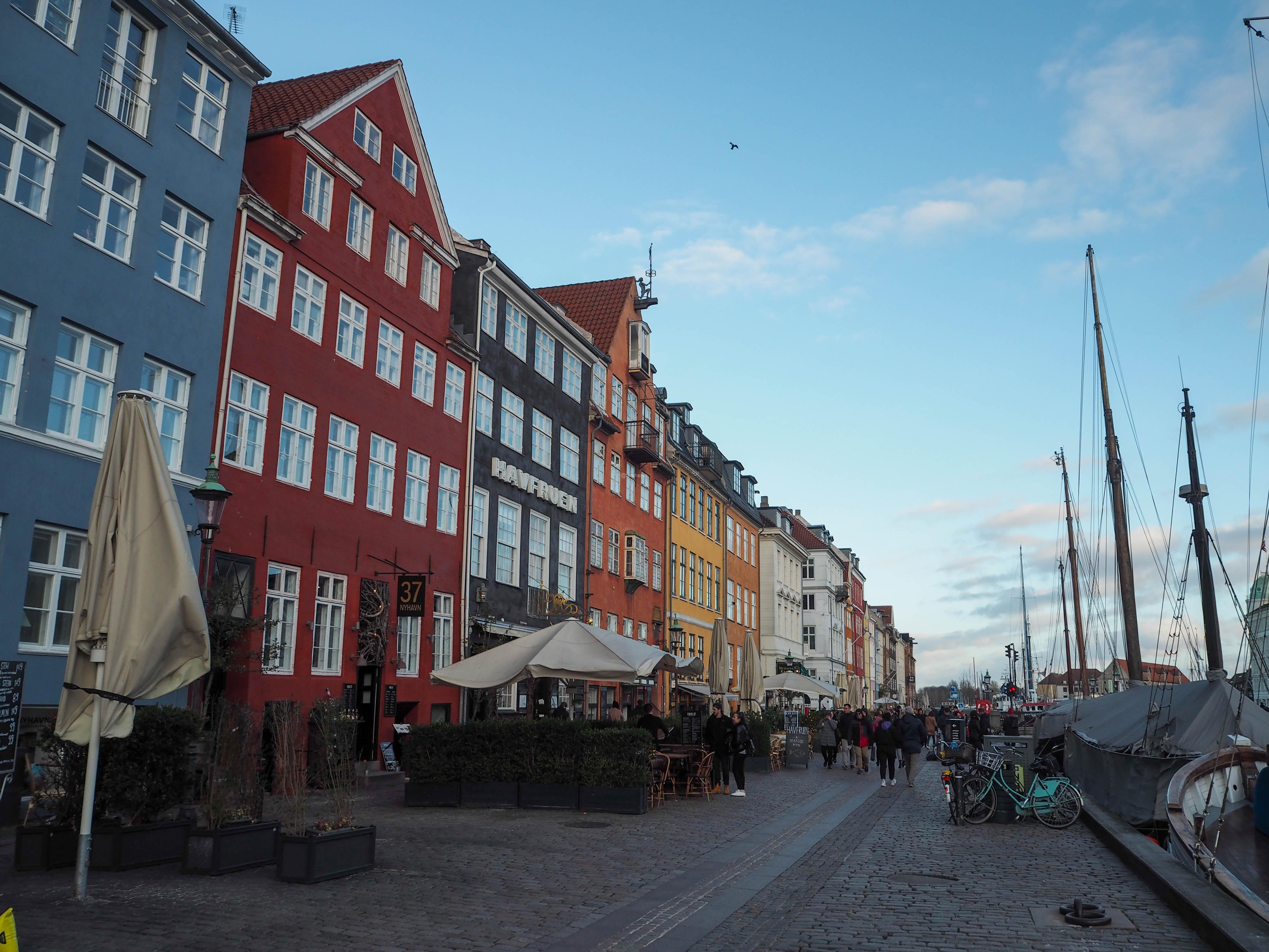 Strøget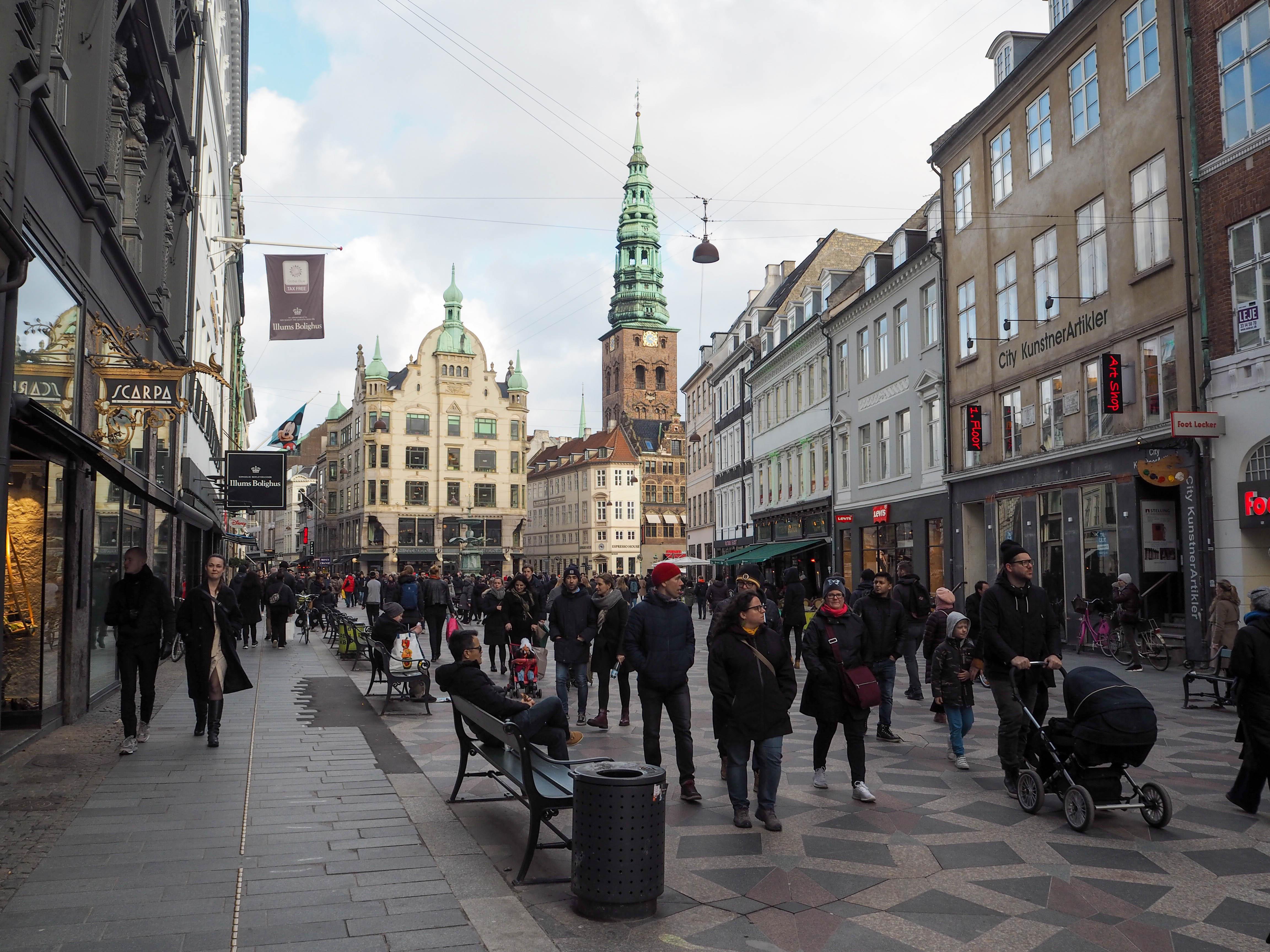 Another popular tourist attraction in Copenhagen is Strøget, one of the longest pedestrian shopping streets in Europe. Located at the centre of the old city, it is home to various shops ranging from high-profile stores to charming Danish boutiques.
Superkilen Park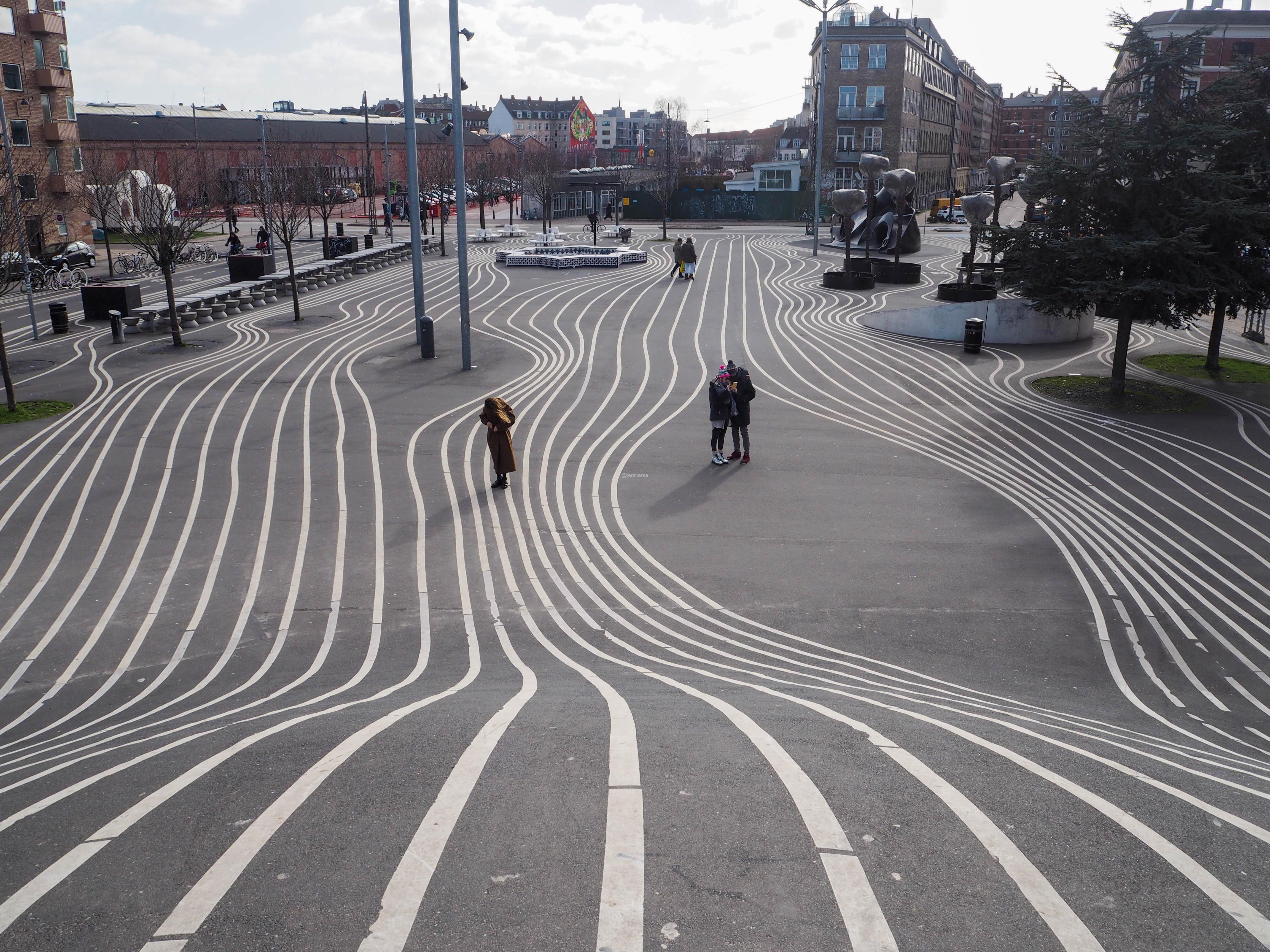 As a fan of Bjarke Ingels Group works, I've always wanted to see this park in the flesh. It isn't located near to the city centre, but fortunately, it was near our second accommodation, in the Nørrebro district. It was a part of an urban development that involved the collaboration between the artist group Superflex, Berlin-based landscape architects, Topotek1, and Danish architects, BIG-Bjarke Ingels Group. This vast outdoor public space stretches 750 metres, which includes a cycling track, basketball court, playground, and also a green open area for picnics, sports and other activities.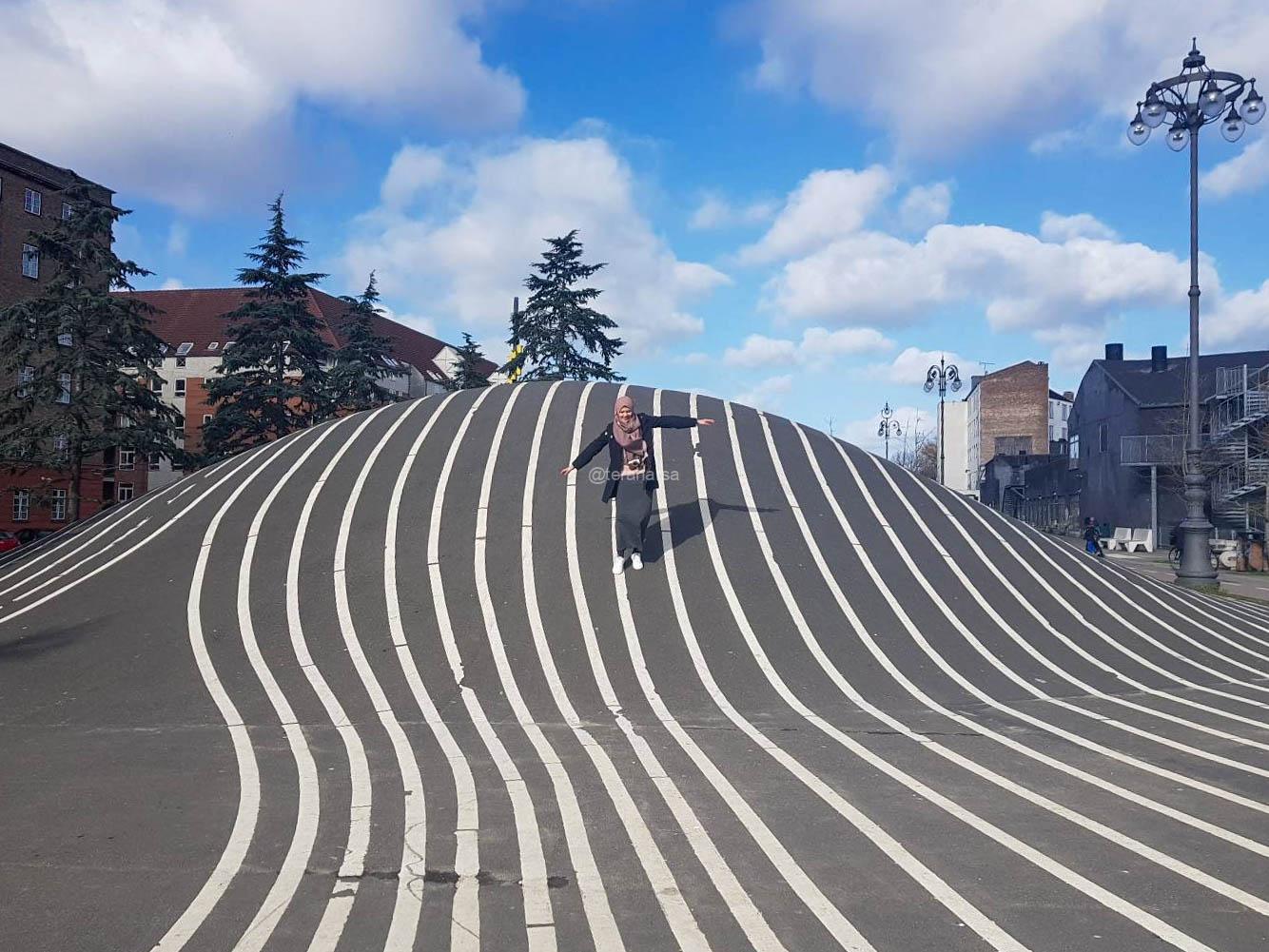 At first glance, you would see distinct themes within the park, displayed by contrasting colours. As we went further along the park, we also noticed a mix of strange peculiar objects installed within the park. Turns out, as mentioned earlier, this district is known for its diversity and multicultural people. Therefore the park was designed to exhibit its neighbourhood traits by showcasing different items originated from all over the world. Among other things, you'll spot a fountain from Morocco or a sculpture from Japan.
The Little Mermaid Statue
The Little Mermaid was one of my favourite stories growing up. We would watch the Disney movie over and over again, and I even mesmerised most of its songs. So, when I heard about the statue, I had to see it.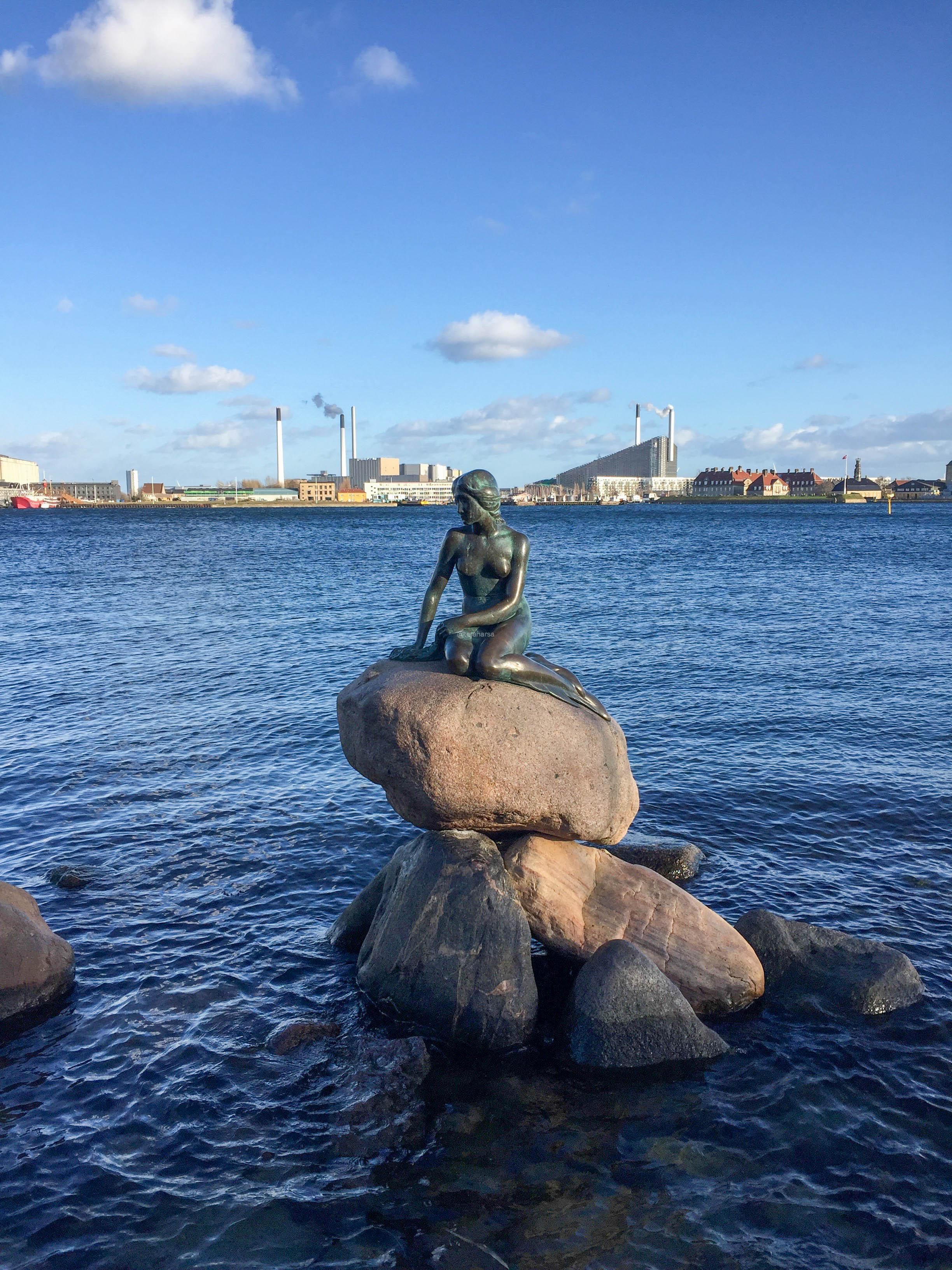 The Little Mermaid statue was in fact quite…little, literally. Though considered as a popular tourist attraction, don't be that disappointed when you get there and see that the statue is actually quite tiny and gets very crowded. However, if you're patient, you might manage to squeeze in for a quick photo without the crowd.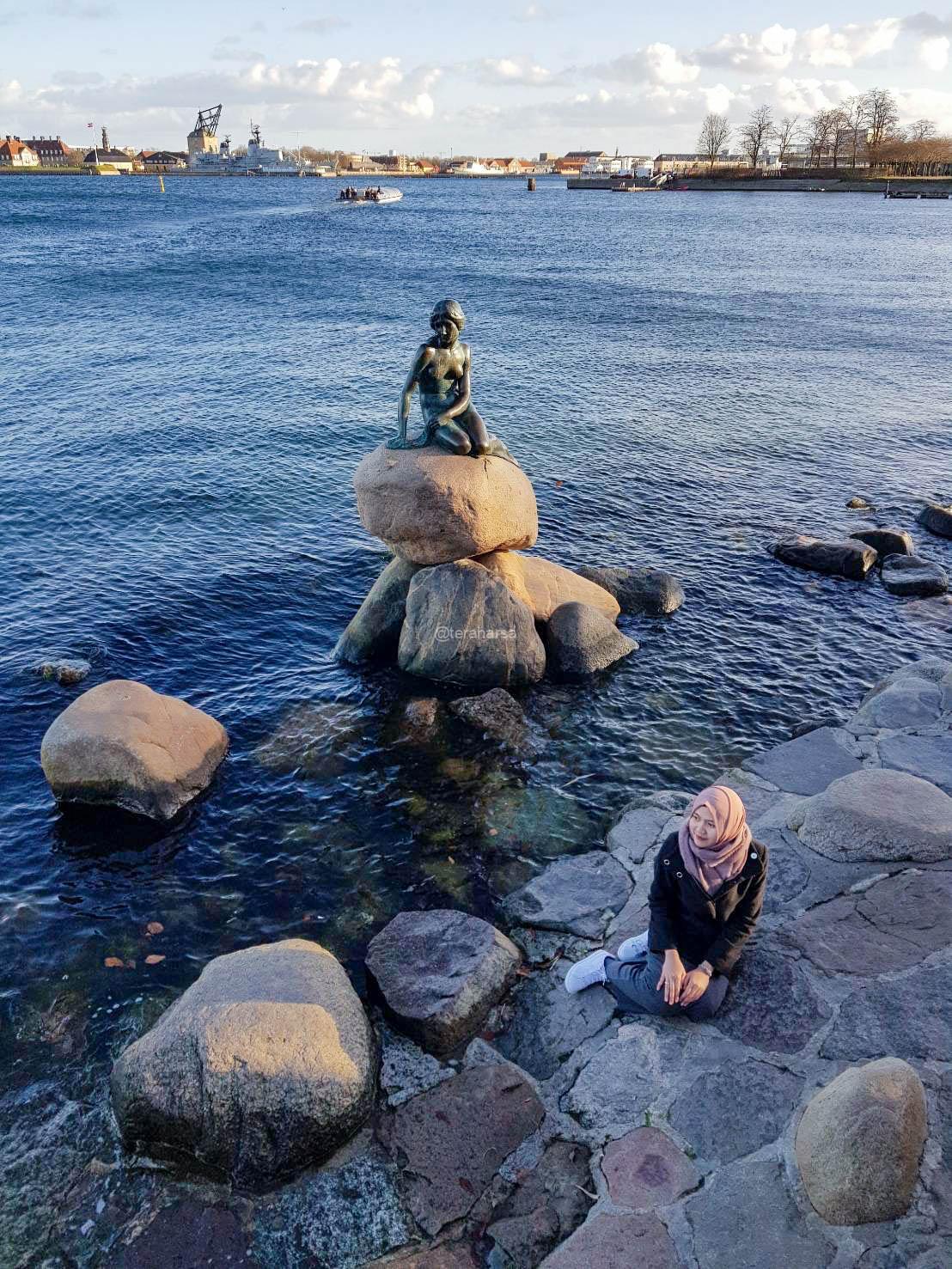 This iconic statue was inspired by Hans Christian Andersen's fairy tale, with the same title, about a young mermaid you gave up everything to be united with her crush, a young and handsome prince, on land. If you ever saw the Disney's movie version of it, the story has a happy ending. However, the statue of the mermaid, located along Langelinje Pier, isn't full of joy, on the contrary, she looks deeply sad. That's because the original story had a rather tragic ending. The Little Mermaid didn't wind up with her true love and was transformed into cold sea foam. The sculpture pictures her as she sits in human form, with legs instead of fins, and looks out over the water reminiscing her lost mermaid past.
Rundetaarn (Round Tower)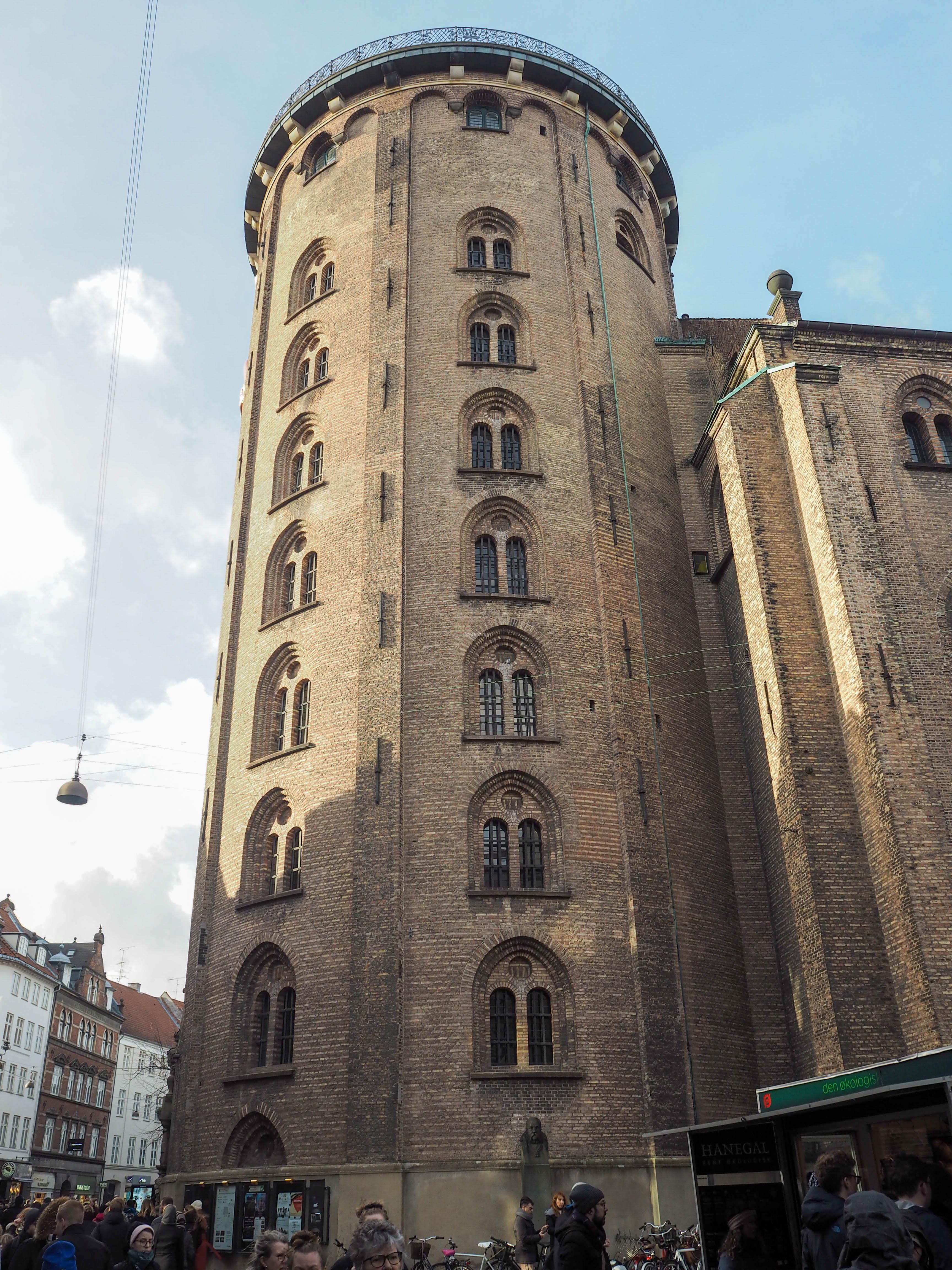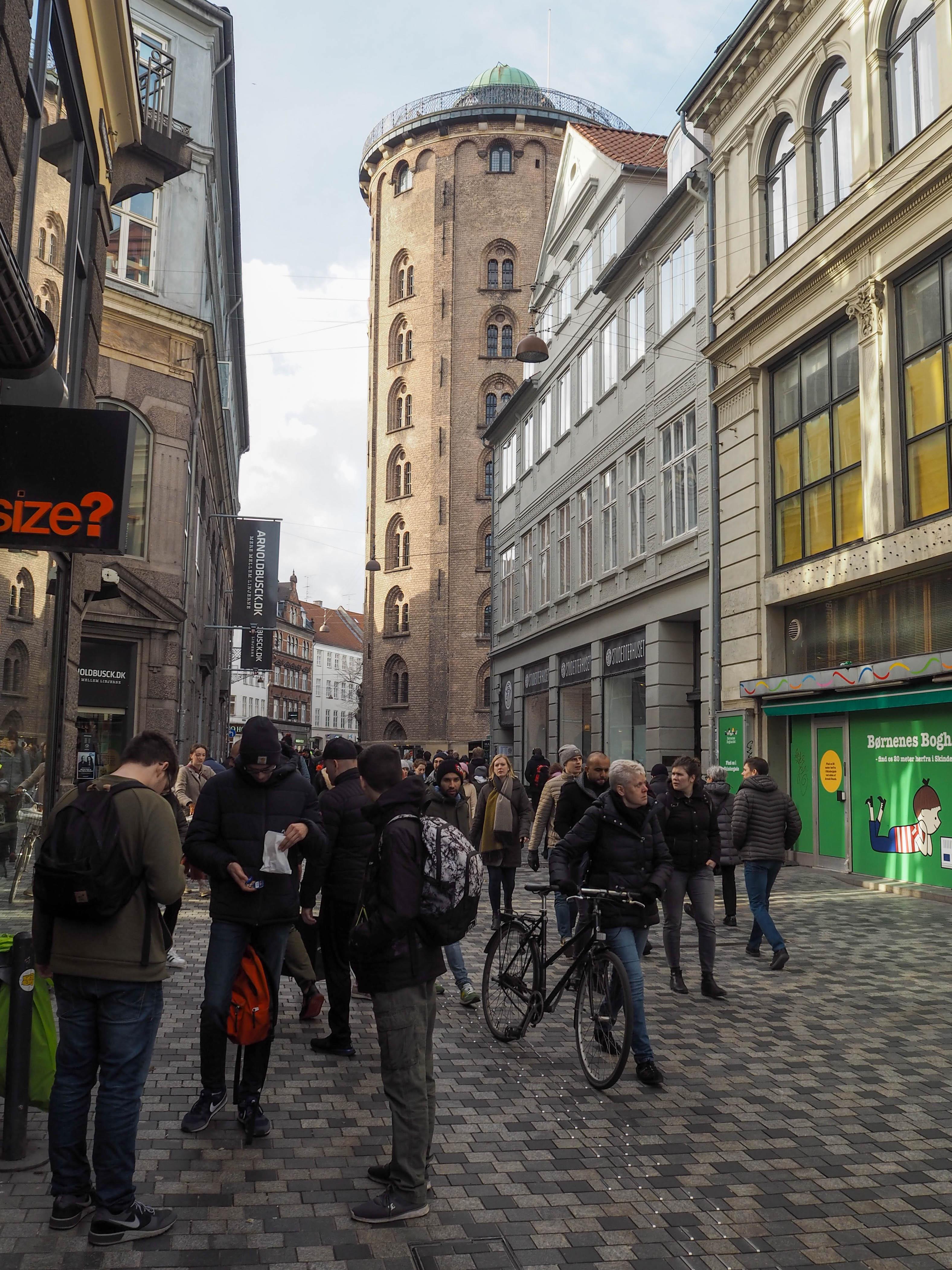 Time to climb to the top Round House: the King's old Astronomy Tower. A remarkable piece of architecture history, the tower was built wide enough so that the king could take his horse and carriage to the top because apparently he was too lazy to walk up! For only 25 DKK (adults), and 5 DKK (children over 5), you can go up and enjoy one of the best views of the city. Make sure to keep an eye out for the beautiful Astronomy dial near the top!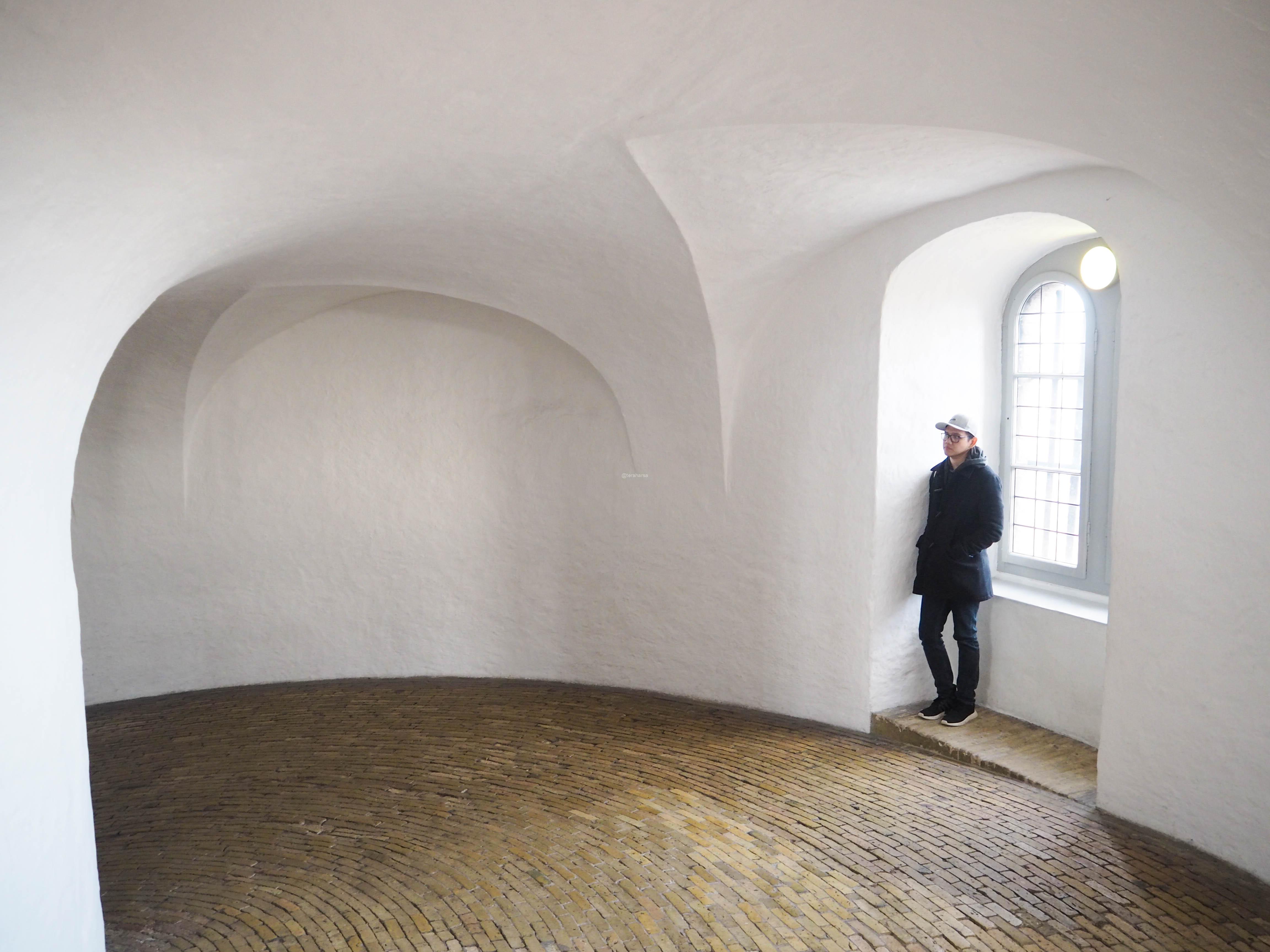 To get to the top you need to walk around 209 meters, which is actually not that bad! The ramp itself is also quite wide so you're free to climb up at your own pace without causing any inconvenience to others. It's definitely easier and more comfortable than climbing up flights of stairs. You'll reach the top without breaking a sweat!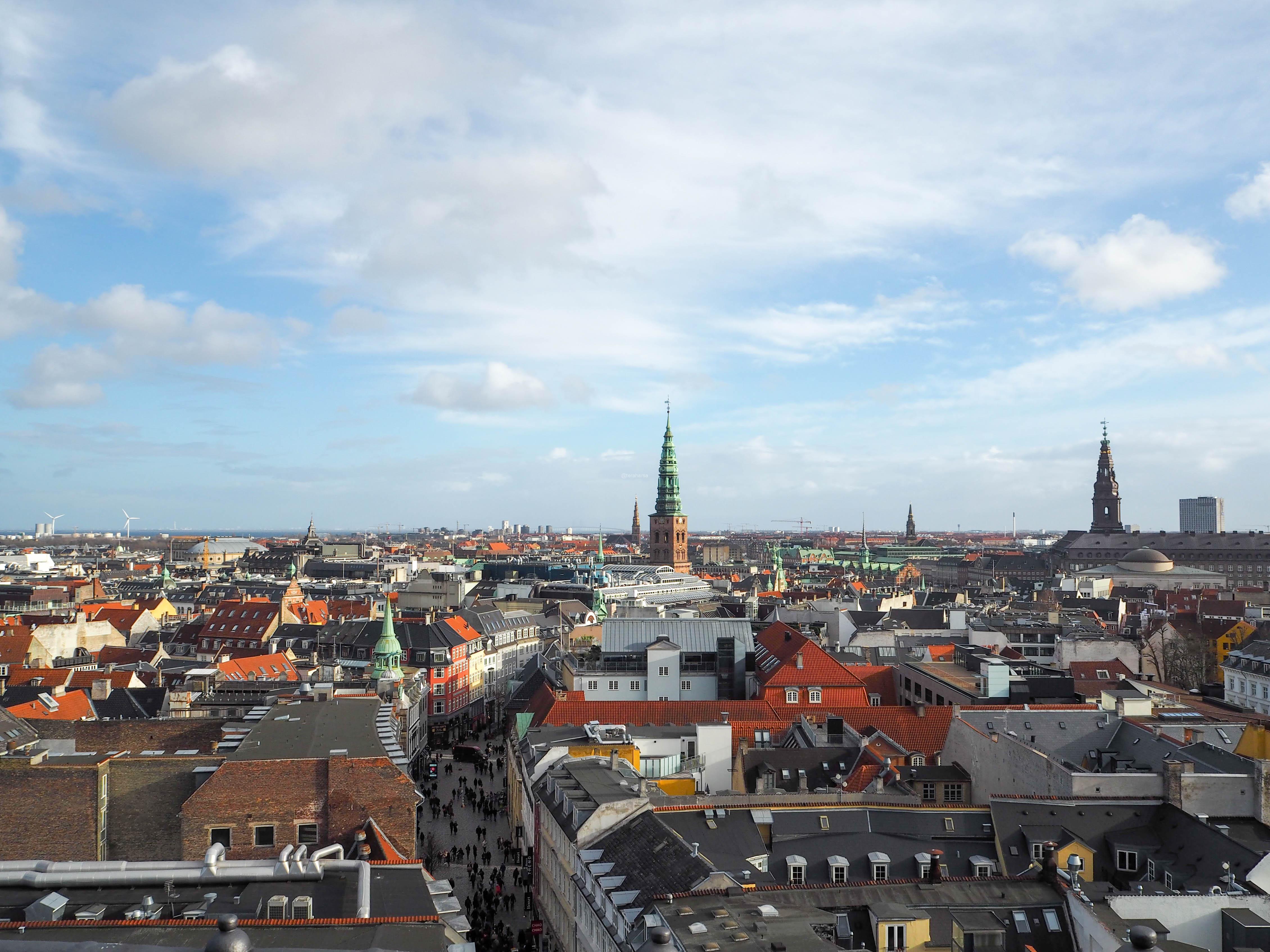 Botanical Garden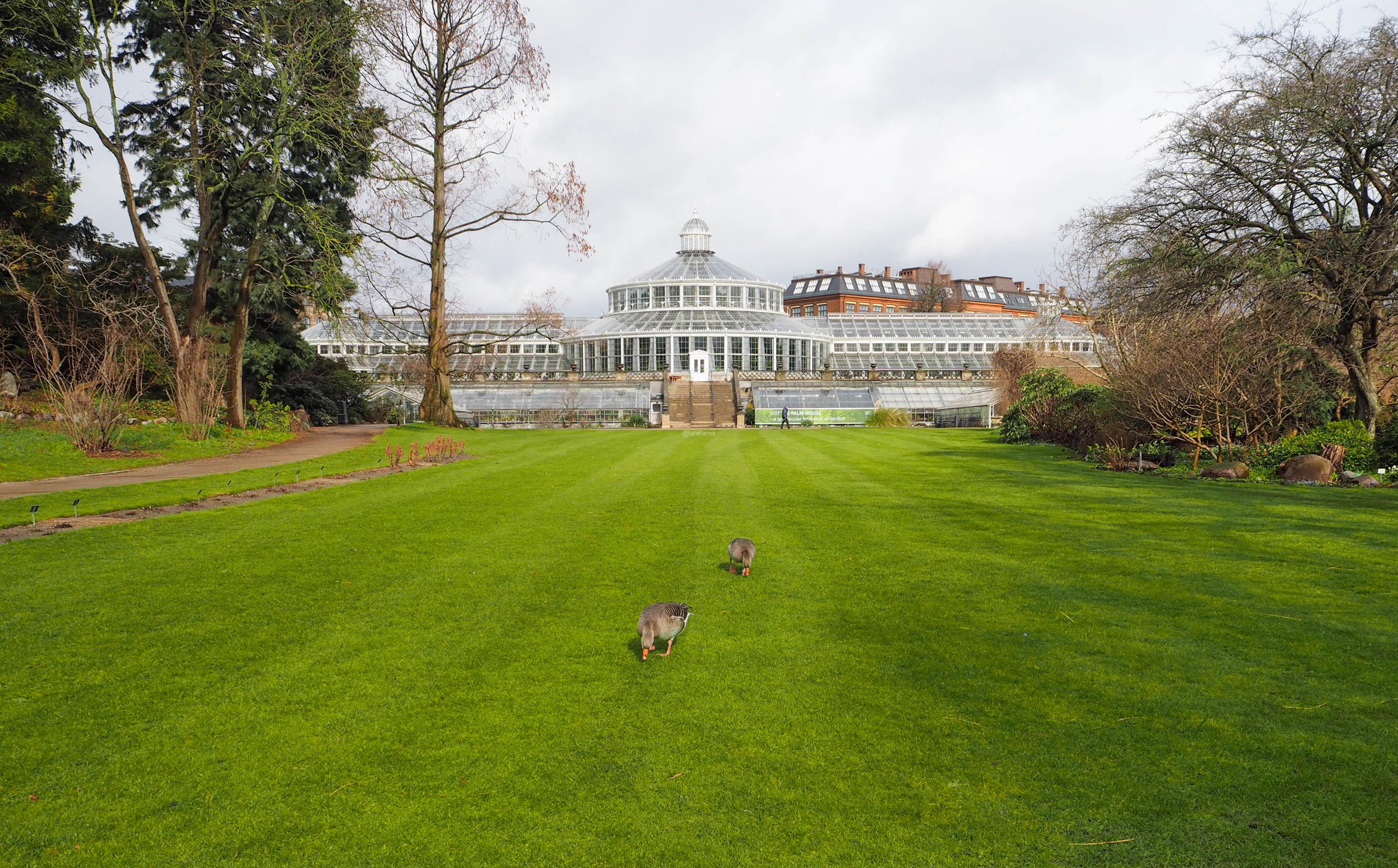 We started our third day by strolling around the Botanical Garden. Located in the middle of the hustle-bustle of the city, the garden covers over 10 hectares of rich and diverse flora and many shady trees. The garden is famous for its exceptional glass and cast-iron Palm House that was built when the Botanical Garden first opened in 1874. It's a nice place to unwind and go for a walk or even have a nice picnic. The garden is open for the public, and you can pay 60 DKK (adults) and 40DKK (children) to go wander into the Palm House and Butterfly House, the latter is open only during the summer.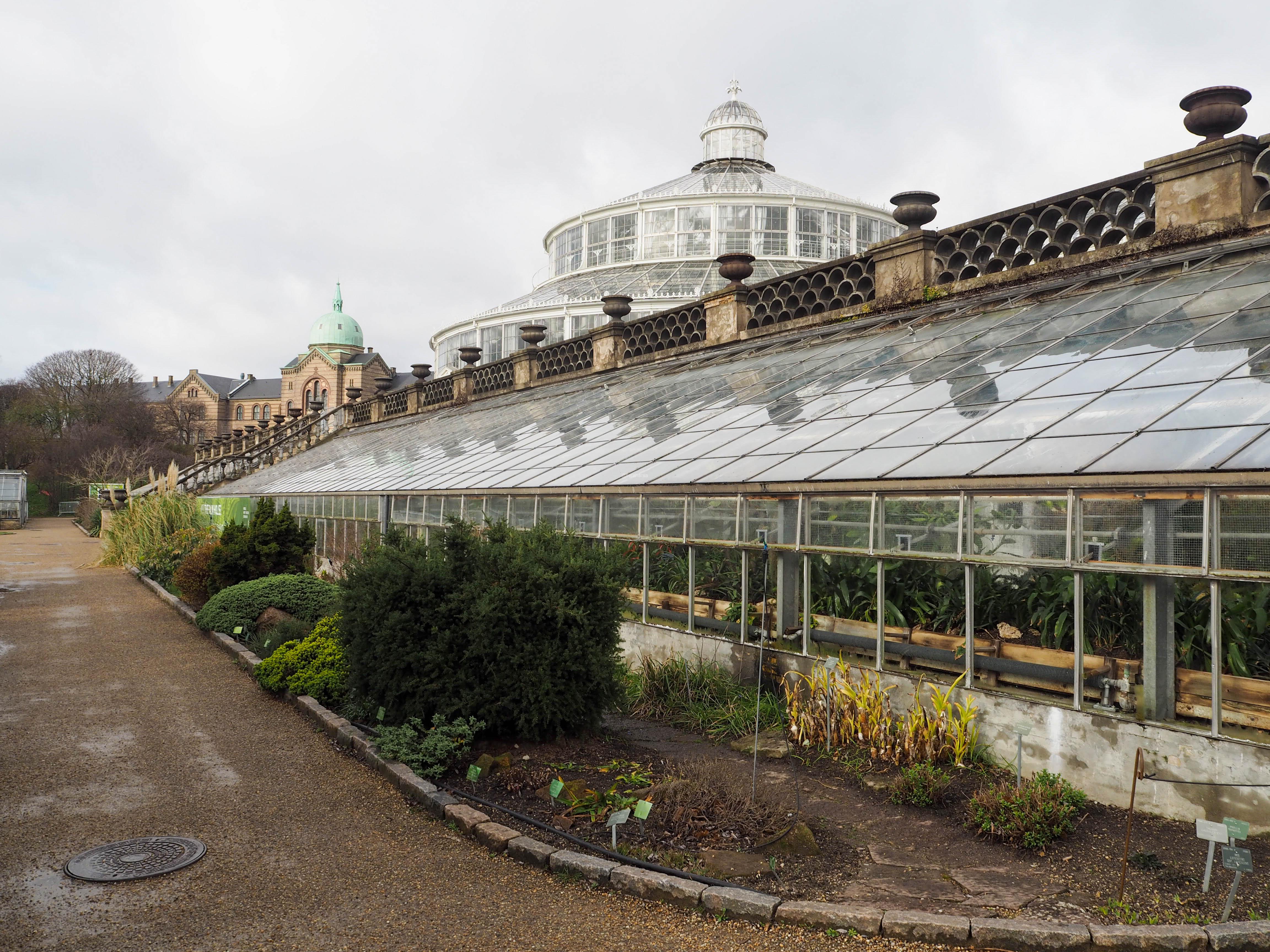 Kongens Have & Rosenborg Castle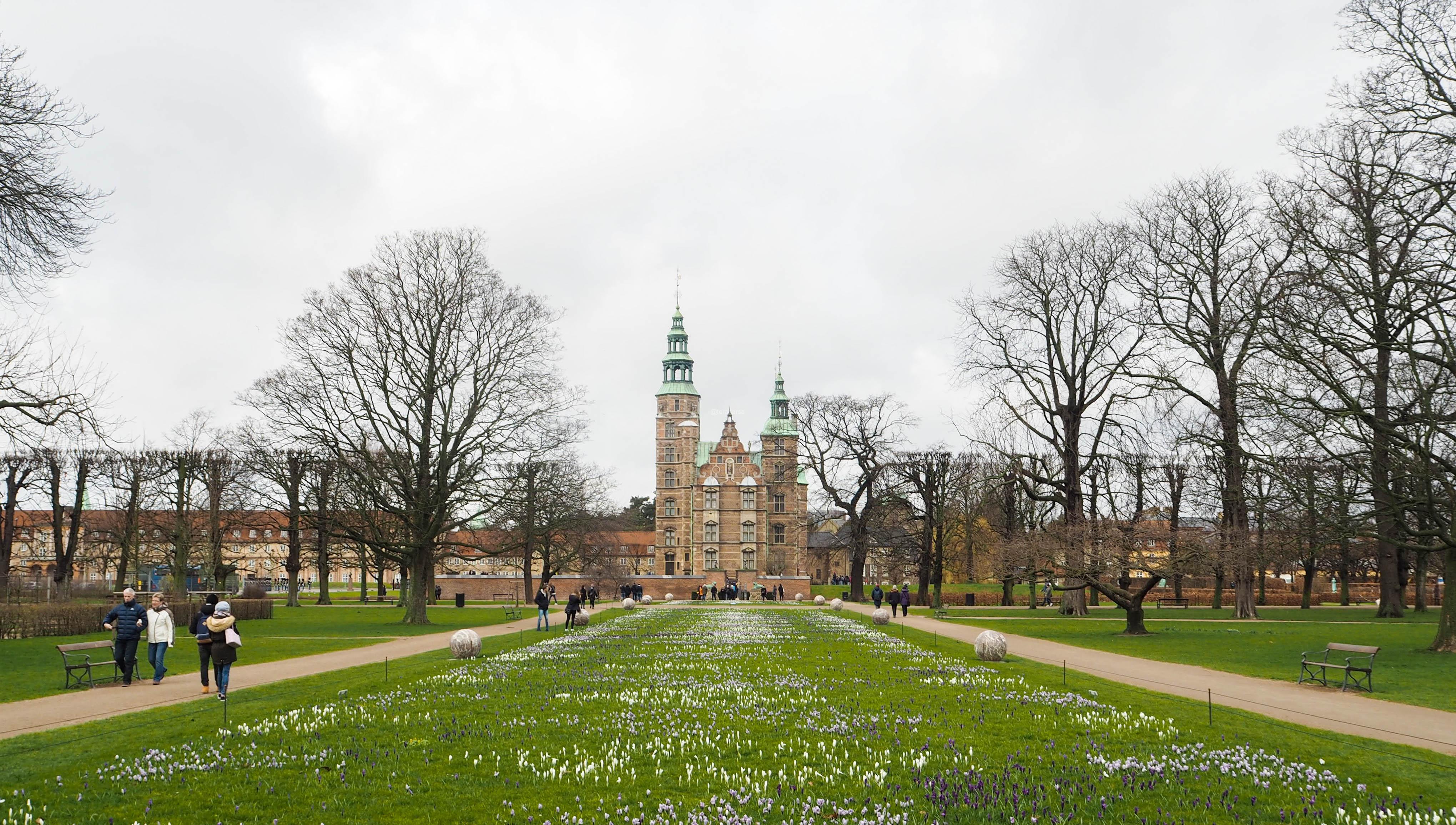 Just across the Botanical Garden, we went to Rosenborg Castle which is located in the heart of Kongens Have or also known as the King's Garden. This renaissance palace is the home to Denmark's crown jewels. The crowns of the Danish kings and queens are kept in special vaults and are embellished with table-cut stones, enamel and gold ornamentation. While the park is free for entry, you can enjoy the palace for 115 DKK (adults) and 75 DKK (students with ID). We were about to enter the museum when we saw the royal guards starting to line up near the castle. We would miss the changing of the guard if we stayed, so we decided to hurry on and continue on to Amalienborg Palace.
Amalienborg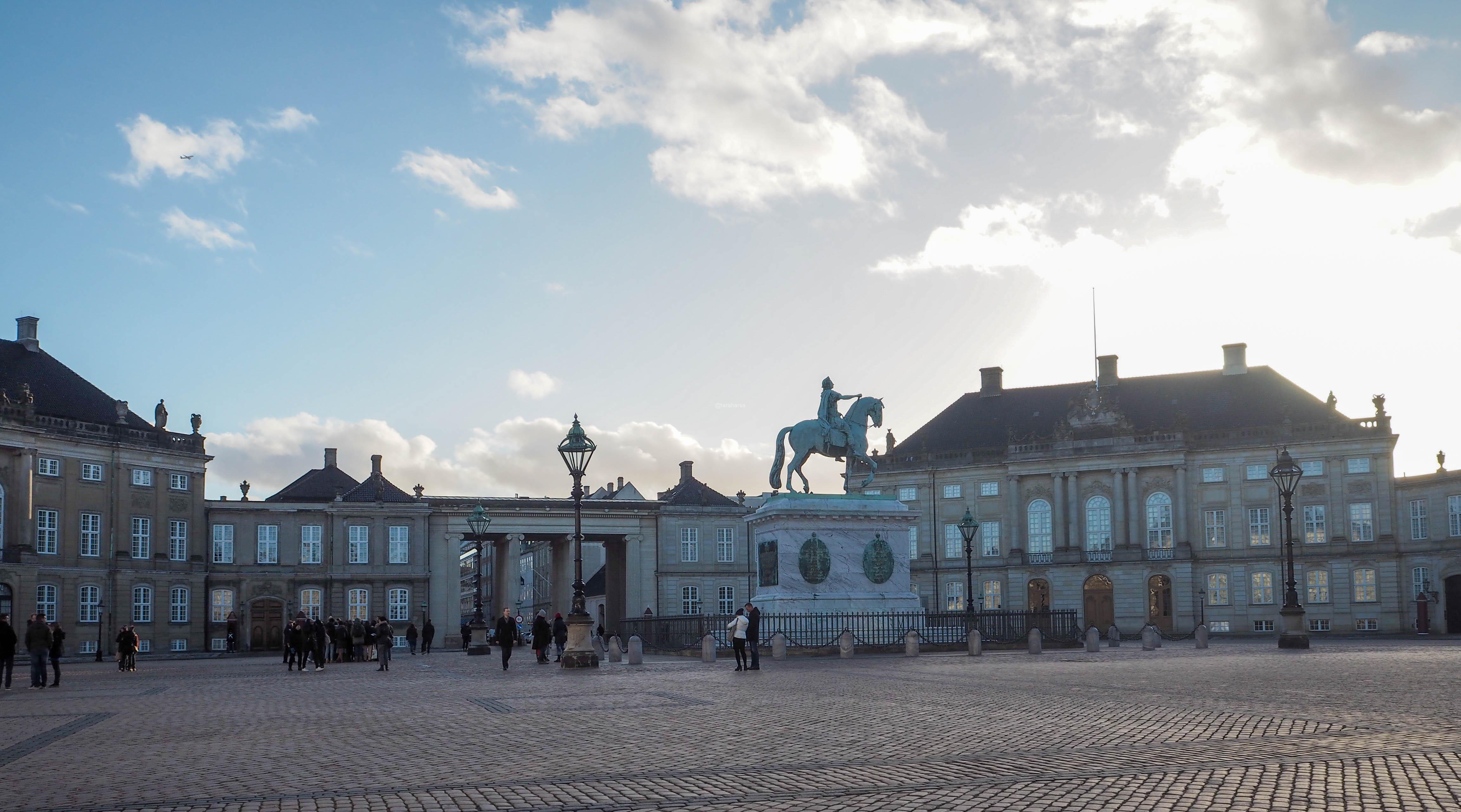 For a taste of royal history and the life of Denmark's royal family, Amalienborg Palace should be your next stop! Some parts preserved as a museum, showcasing the rich story of the world's oldest monarchy. While other parts of the building are still used as the royal's winter residence. For 105 DKK, you will get access to experience the past and present lives of the monarchy with all its tradition.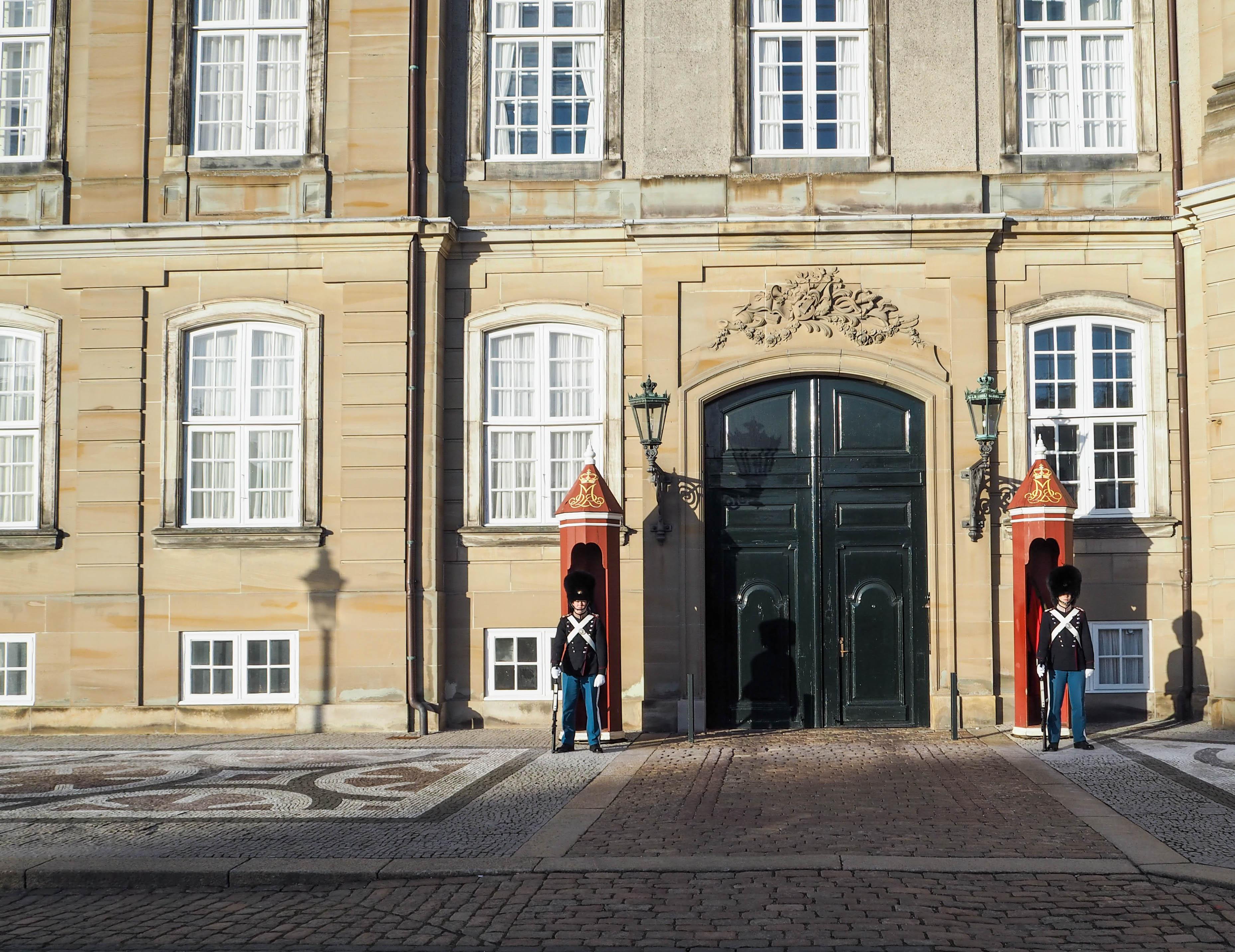 Den Kongelige Livgarde, the Royal Guard of Denmark is another thing Amalienborg Palace is known for. Another exciting thing that happens in the palace square is the changing of the guards. It is open for public and takes place at 12:00 noon every day, where you can watch the guards march from their barracks near the Rosenborg Castle through the streets of Copenhagen and end up at Amalienborg. Unfortunately, because of the time, we had to skip the museum and could only watch the changing of the guards.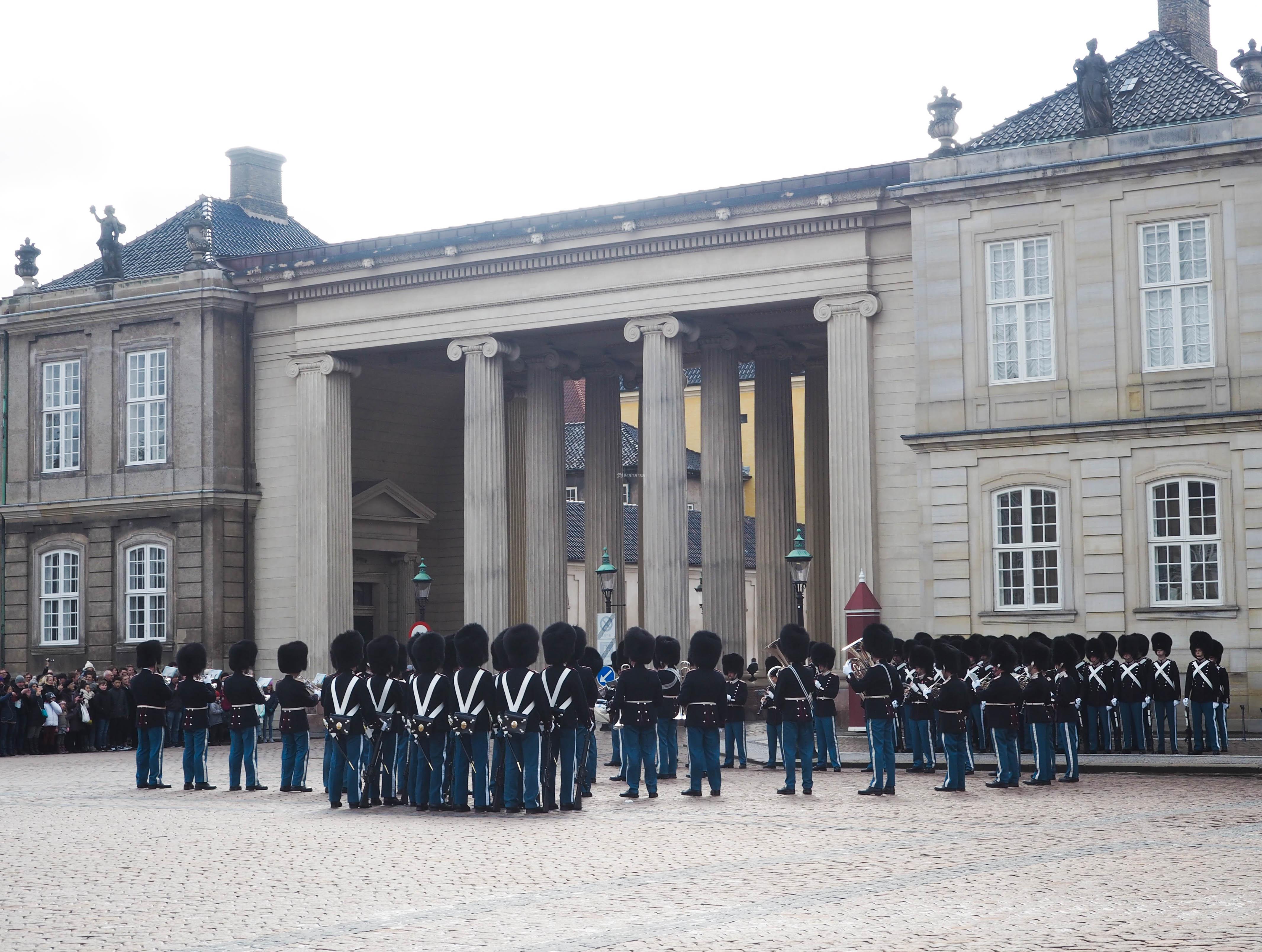 Frederik's Church
A few steps away from Amalienborg Palace is Frederik's Church or also known as The Marble Church, for its remarkable marble finishing. Having a beautiful interior, it is said that the church is a wedding magnet, where couples would line up to walk down the aisle. You can hear wedding bells chime every Friday and Saturday. We didn't see a wedding but there was a christening on the day of our visit. It does seem like a popular choice of venue for the locals.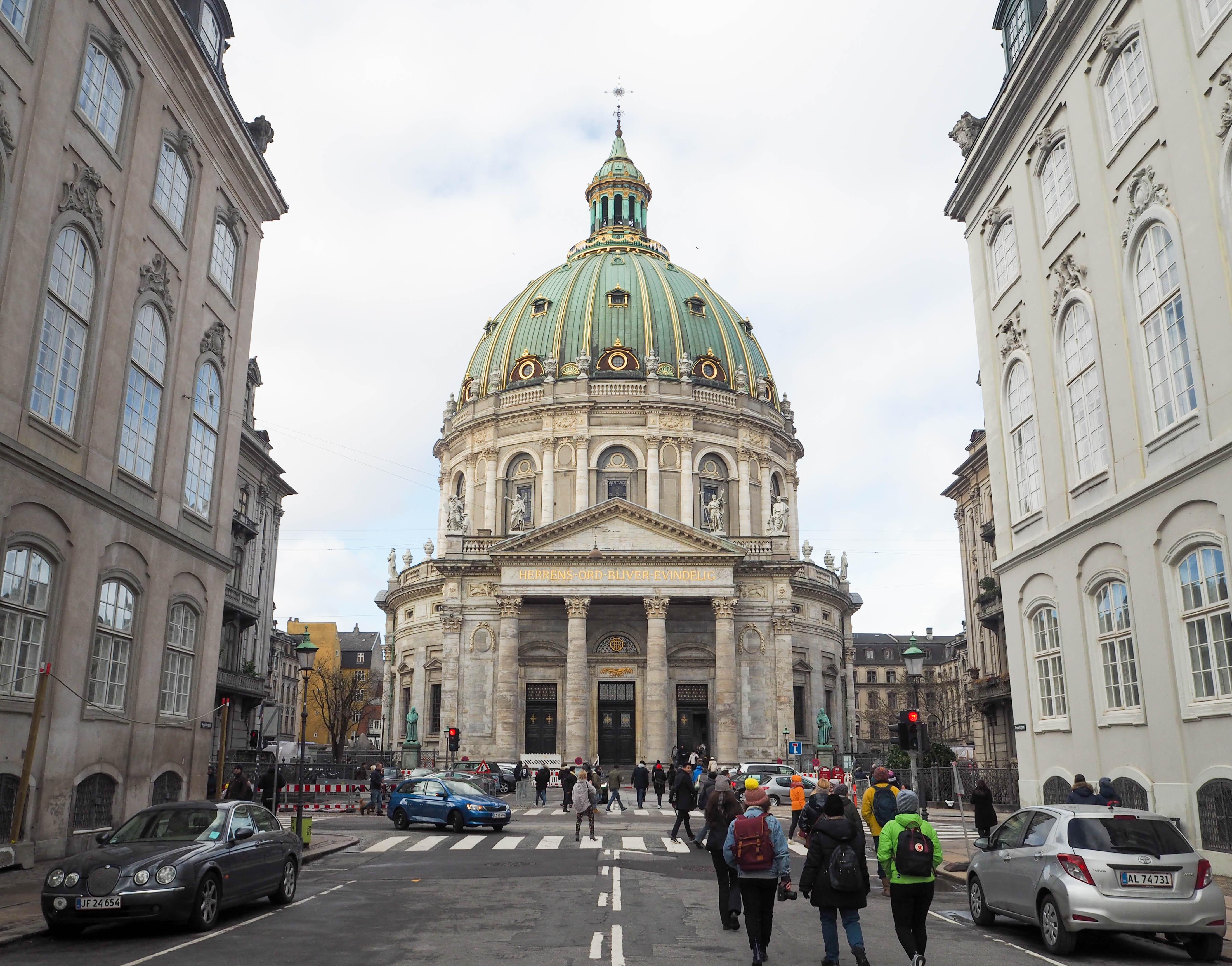 The church is free to enter, however, if you want to see a stunning view of the neighbouring palace and the rest of the city from the church's dome, you can visit at 1 pm every day and pay 35 DKK (adults) and 20 DKK (children).
Torvehallern Food Market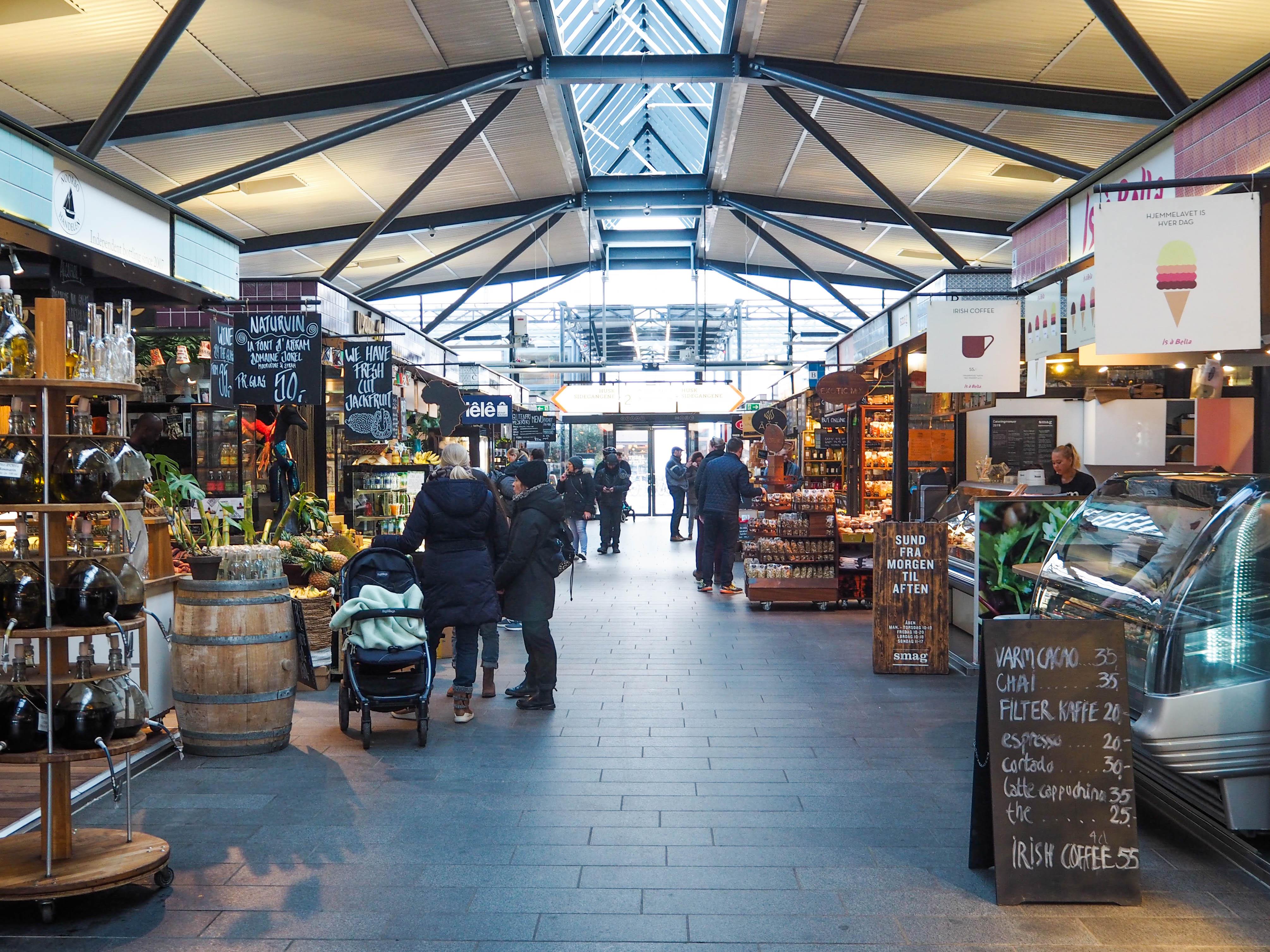 We read that you can find the best street food in Denmark in this glass market, so we were curious and thought we would give it a peep on our last day. The market is located just nearby Nørreport Station and offers more than 80 shops, selling a wide variety of ready-to-eat choices from coffee, Danish pastries to sandwiches and pizza, and also fresh products, like fruits, vegetables, fish and meat. We were still quite full from breakfast so we just browsed and looked around. But if you're interested in a quick bite, brunch or even lunch, head down to this link to see the best of what Torvehallern Food Market has to offer.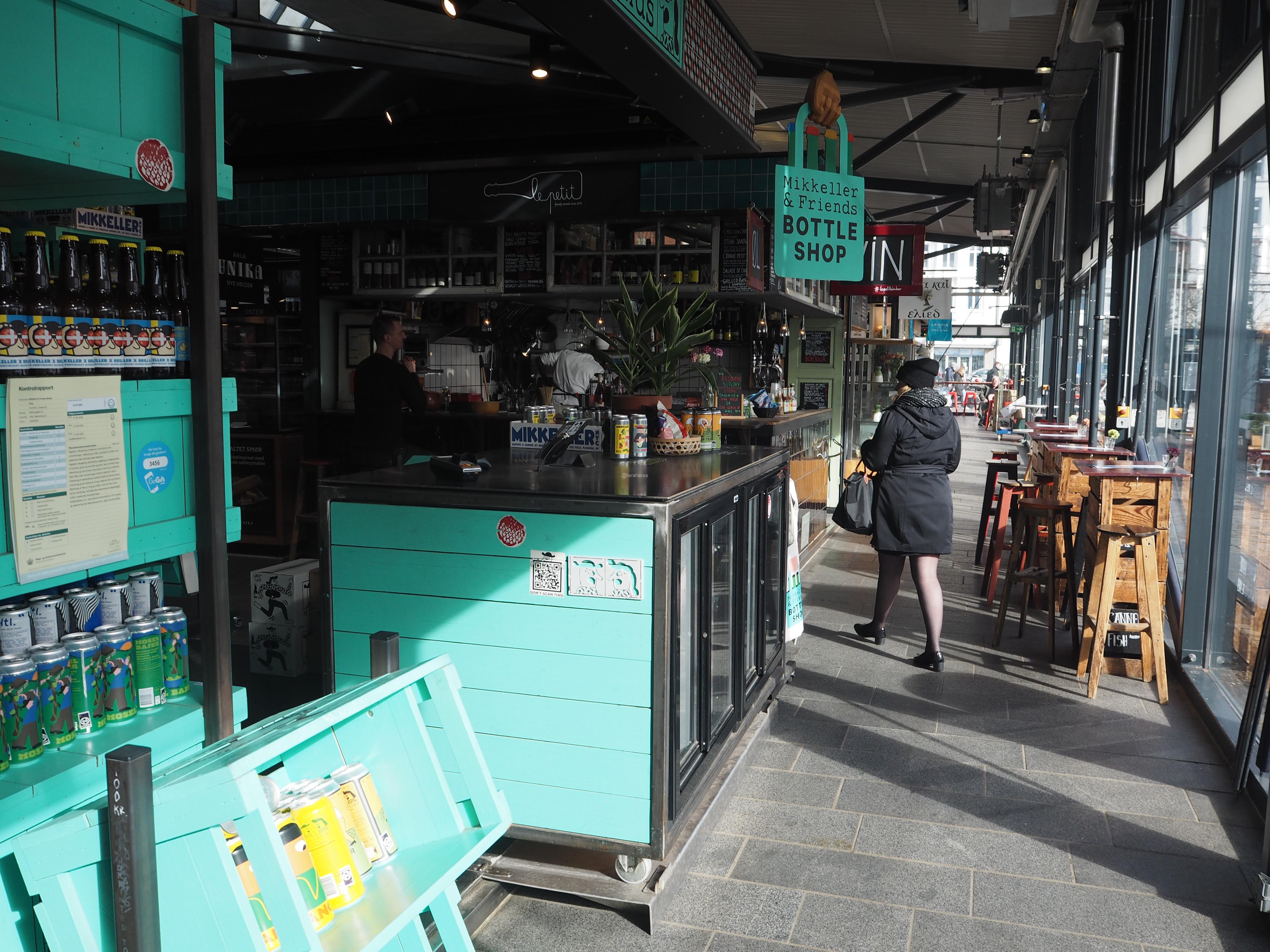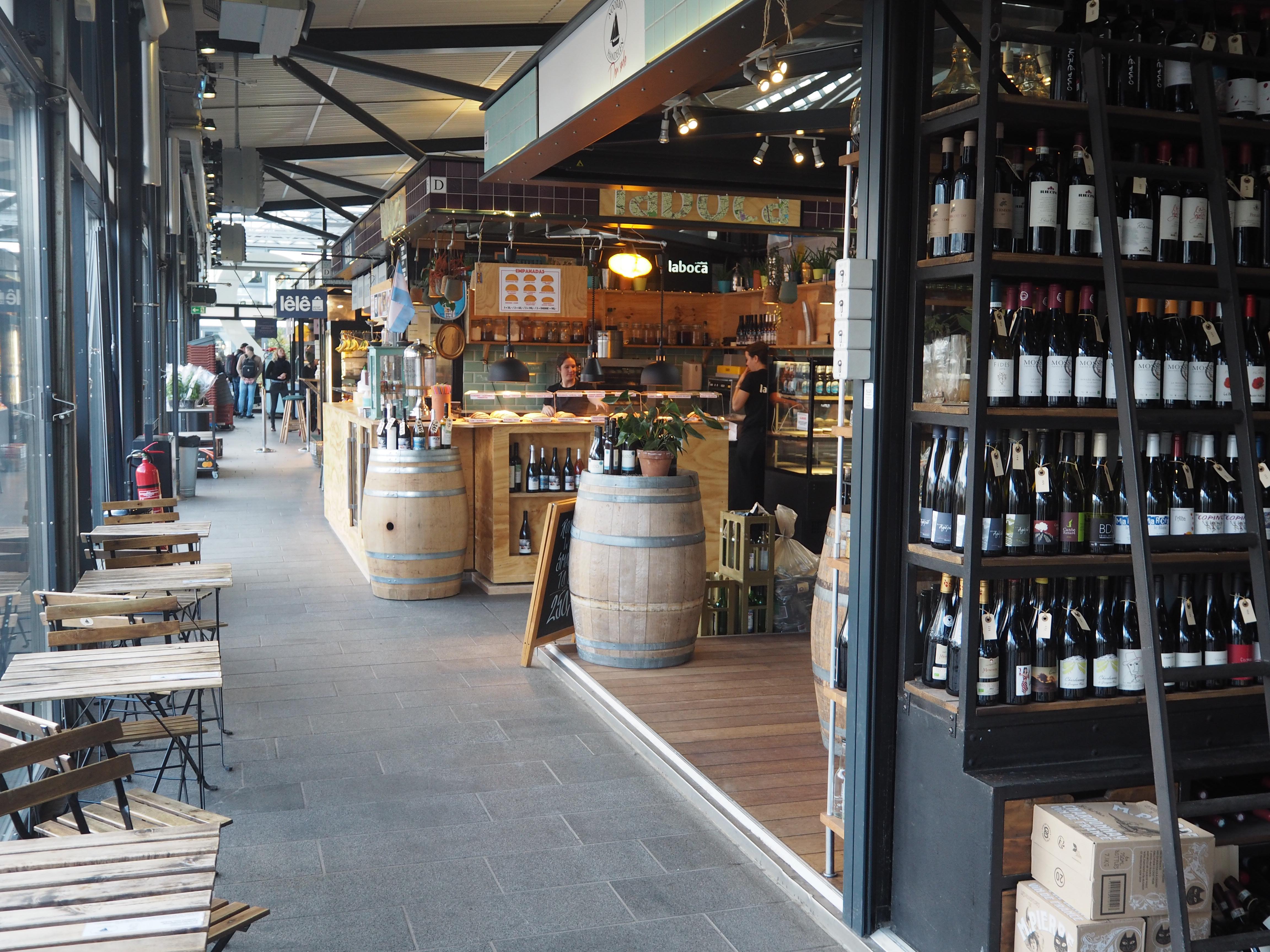 Christianshavn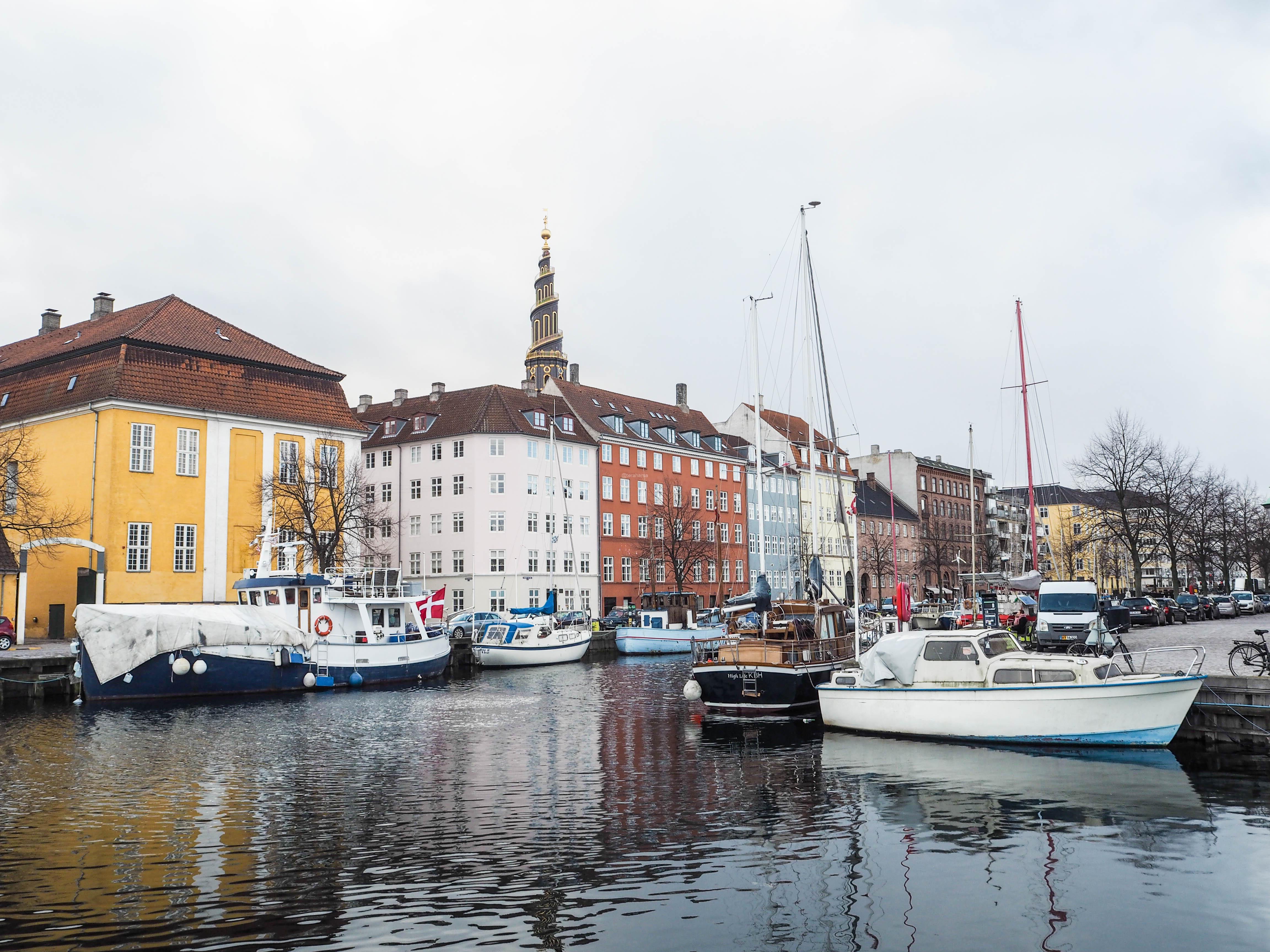 Christianshavn is a neighbourhood made out of several small artificial islands and is separated from the rest of the city centre by the Inner Harbour. You can spot this district quite easily on the map, thanks to its distinct island shape. It is famous for its hip cafe culture and canals filled with vibrant coloured houseboats. The area is primarily used for residential with several unique renovated houses popping out here and there. Other hotspots include street food, historical buildings, the Copenhagen Opera House, and of course, its notorious self- proclaimed independent state, Freetown Christiania, an alternative free-spirited community of ramshackle houses, galleries and music venues.
Freetown Christiania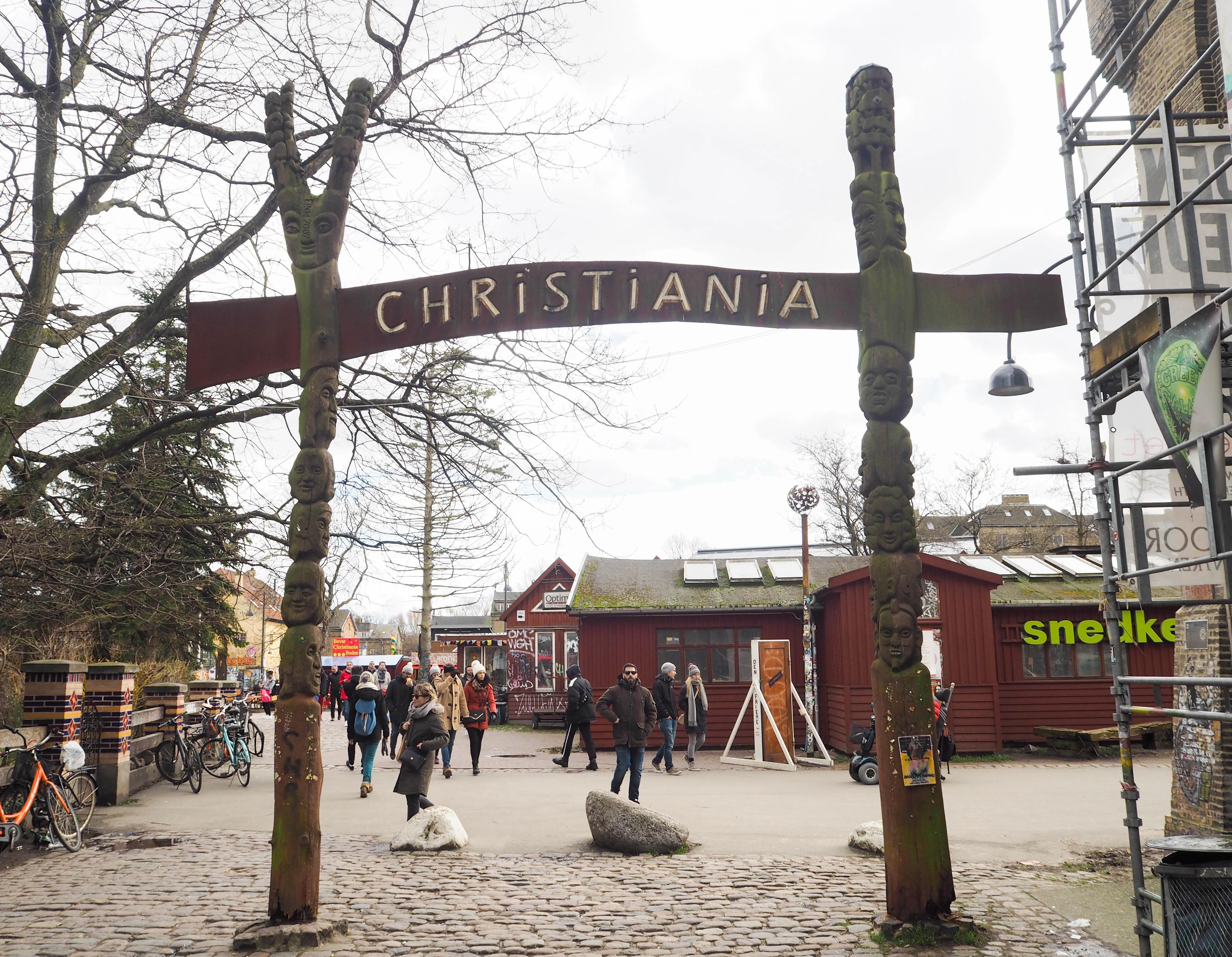 This was the last stop of our trip, before heading to the airport to catch our flight back home, and it was probably the most interesting one. The moment you step in its territory, it seems that you're not in Copenhagen anymore. The area surely gives off a different kind of vibe, starting with its vibrant colourful street art seen on almost every surface you can find. We visited around 1 in the afternoon, where most parts were quiet and peaceful, some parts were even a bit too quiet, bordering on eerie.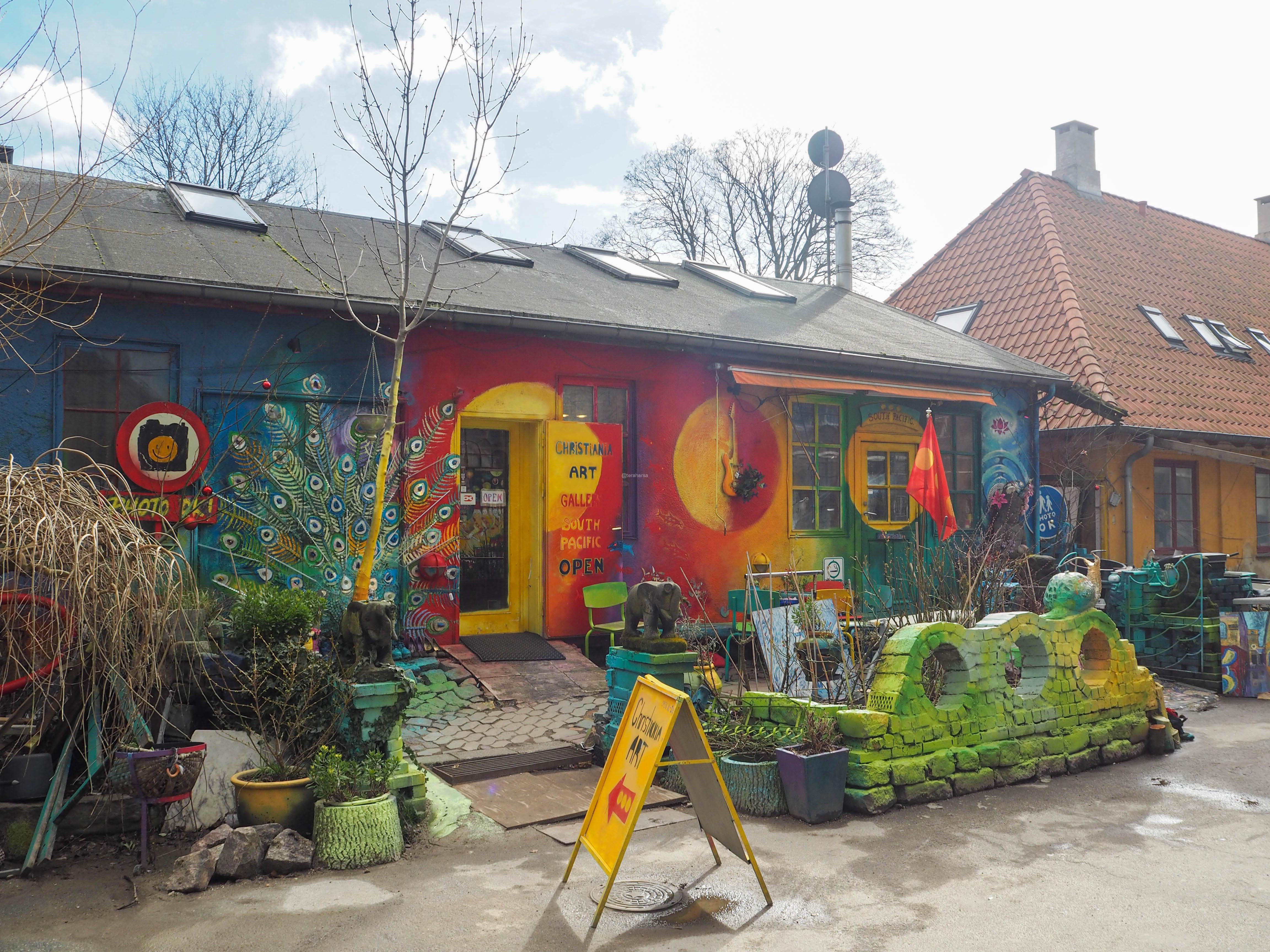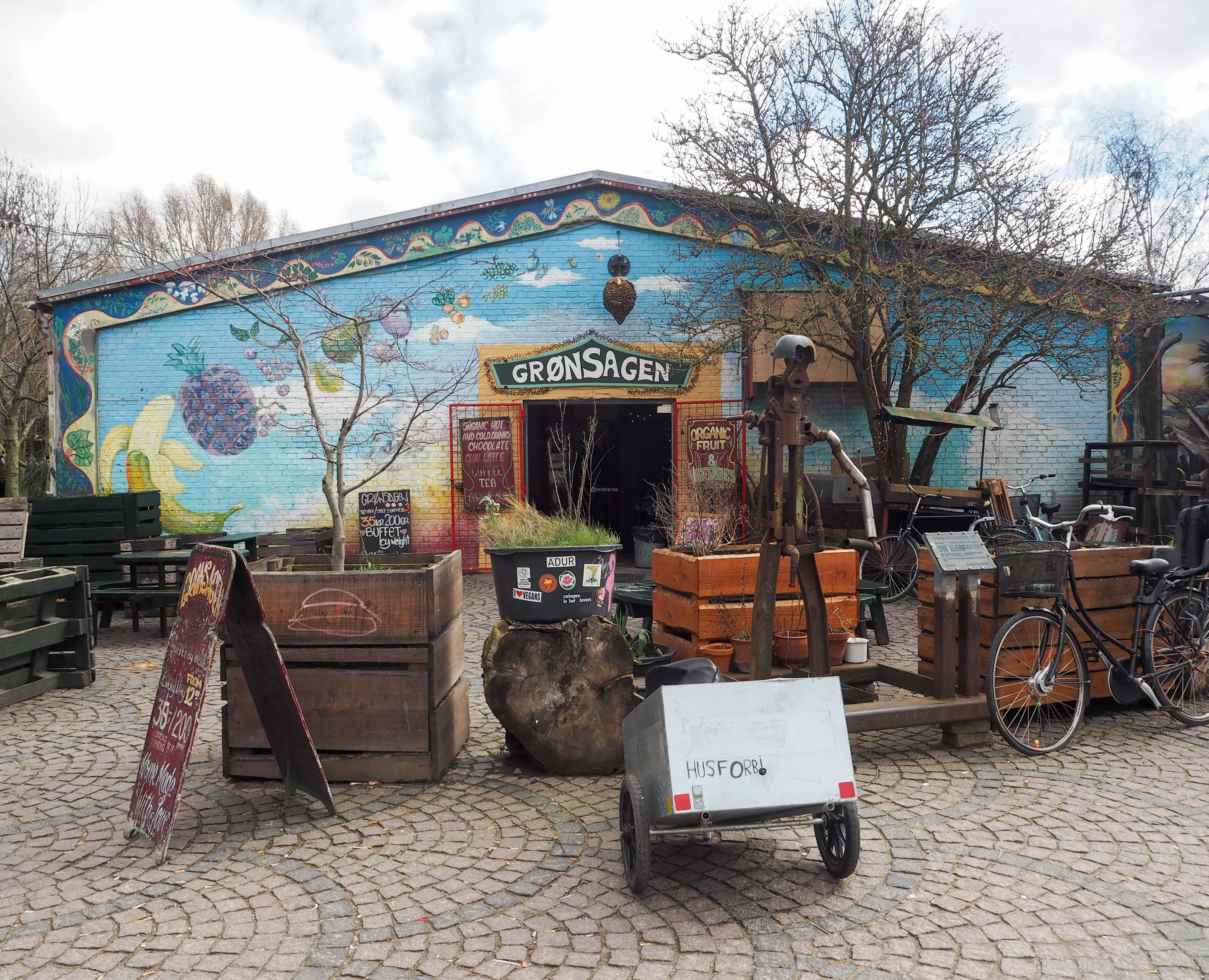 I guess the combo of muddy paths, shabby broken-down buildings, and some messages spray-painted on plywood can be a little unsettling. It gets slightly busy towards the green district area, where you see more public spaces, like music venues, galleries, and restaurants. You know you're near this area when you start to whiff a strong scent of marijuana. In this side of town, it is important to follow some of the local rules, one, in particular, is not to take photos in this area. You will see many signage indicating this restriction.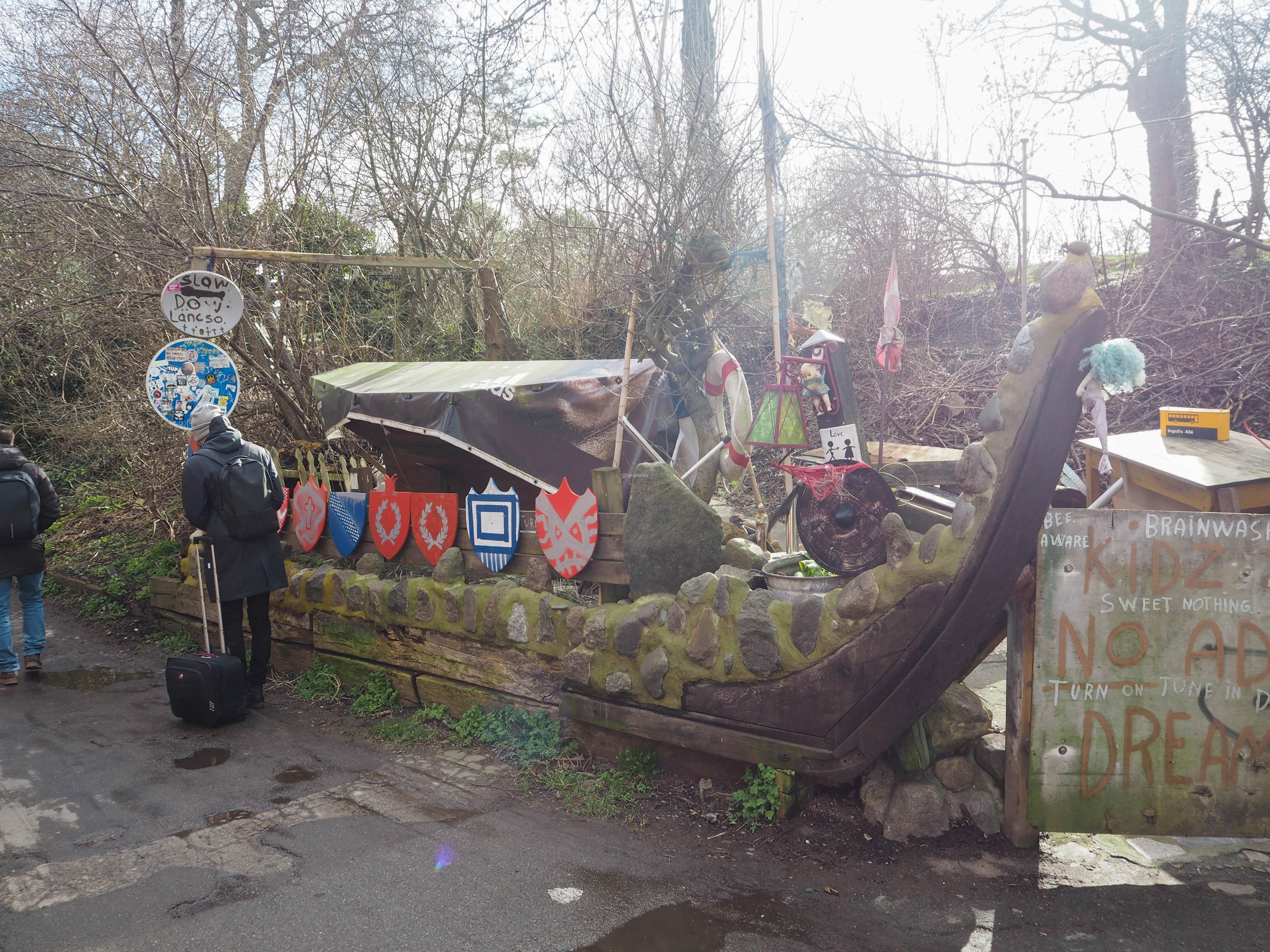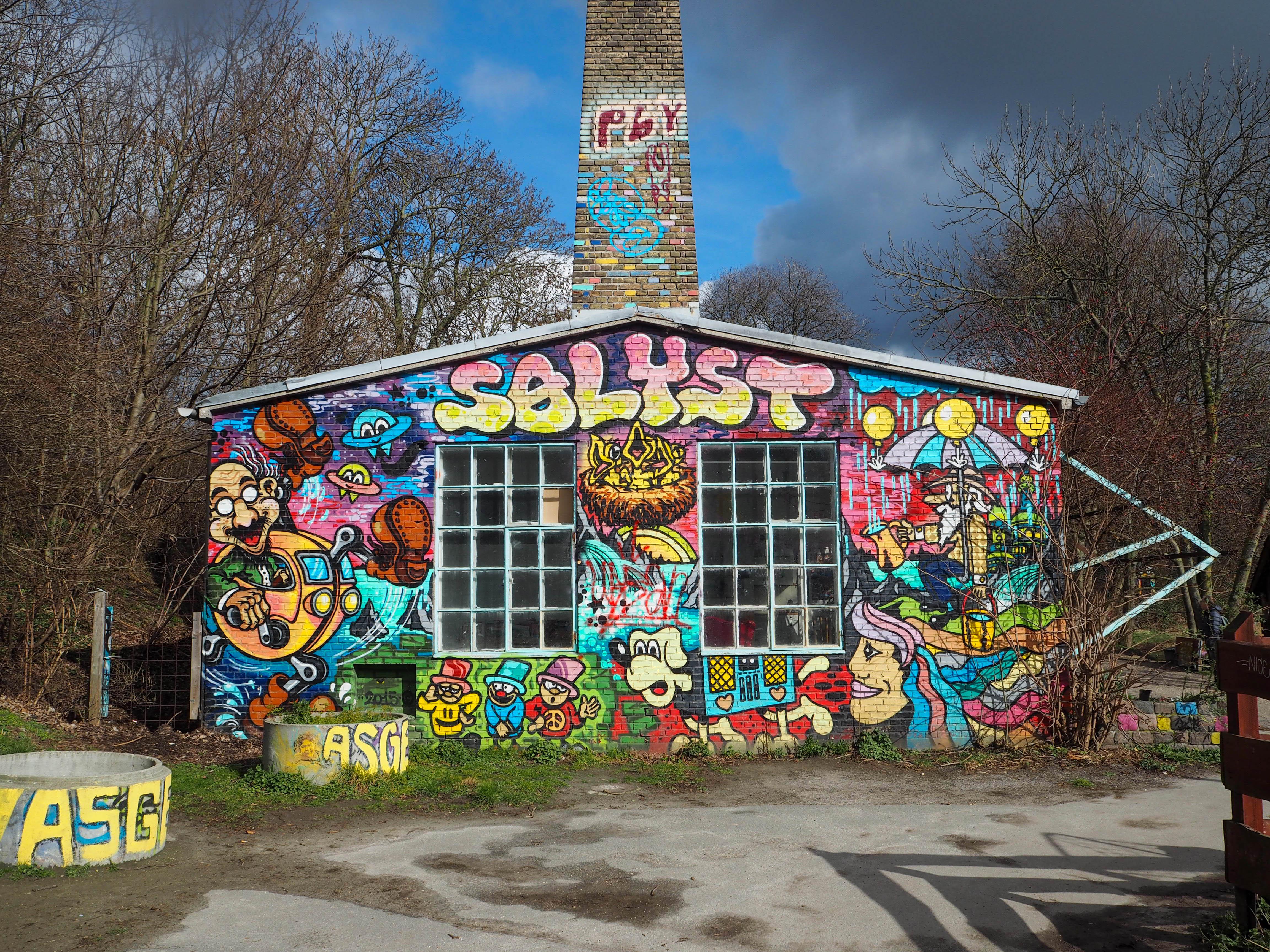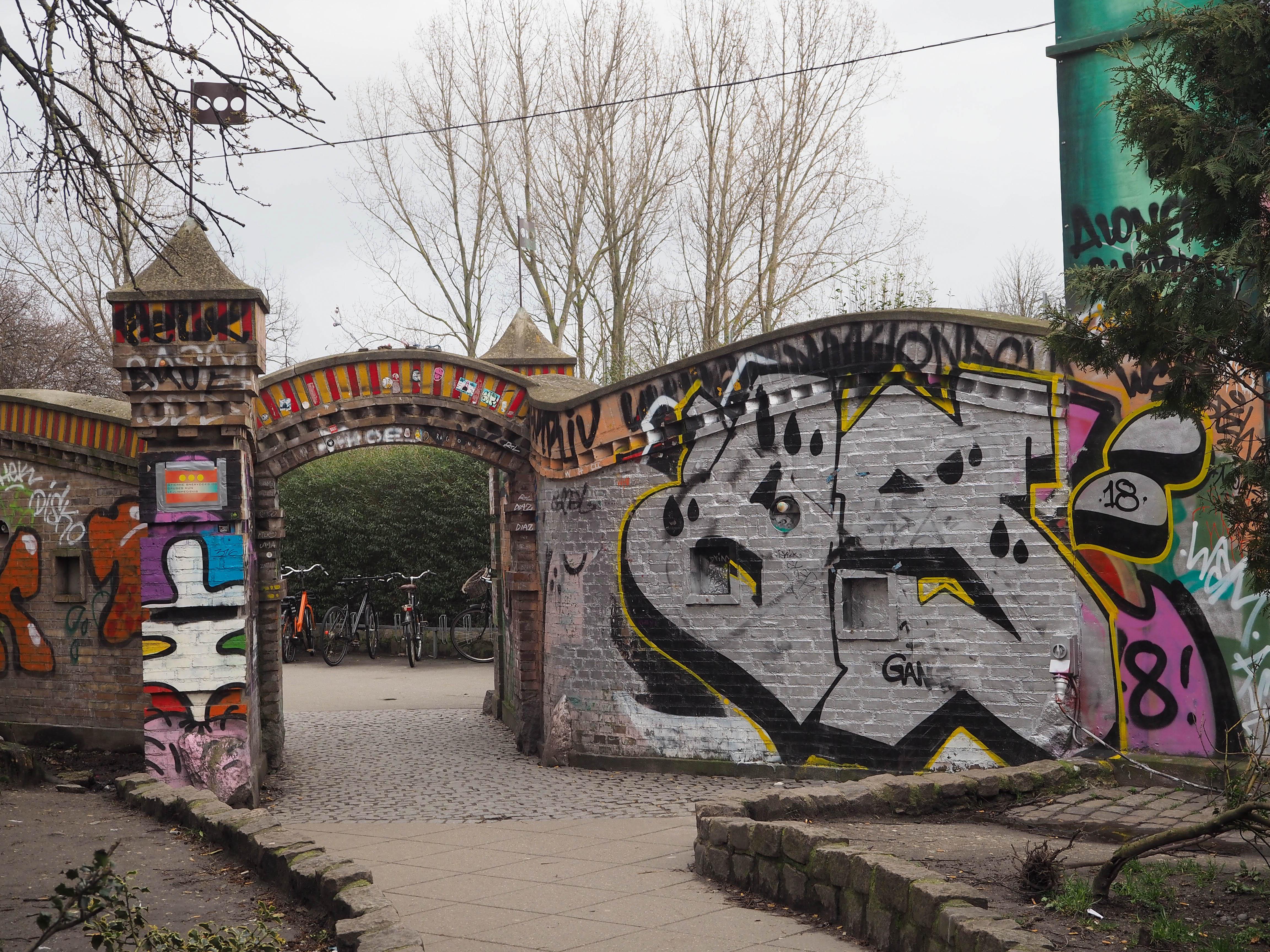 Interesting Architecture
Another thing that I love to see during my city adventures is the cities architecture. For me going out and about and strolling through streets and alleyways on foot is just so much fun. Here are some interesting buildings I found during my walks in Copenhagen!
Danish Architecture Centre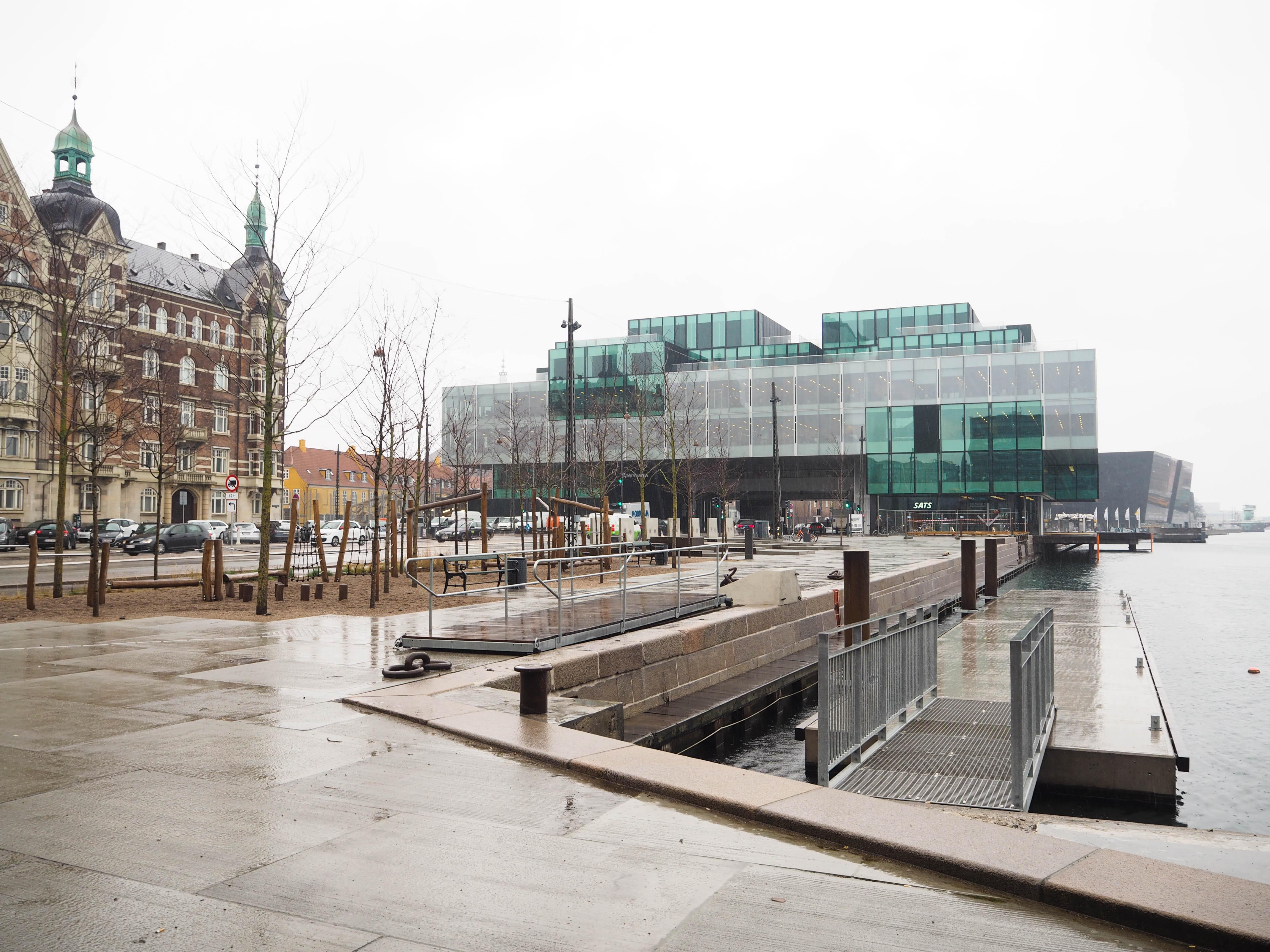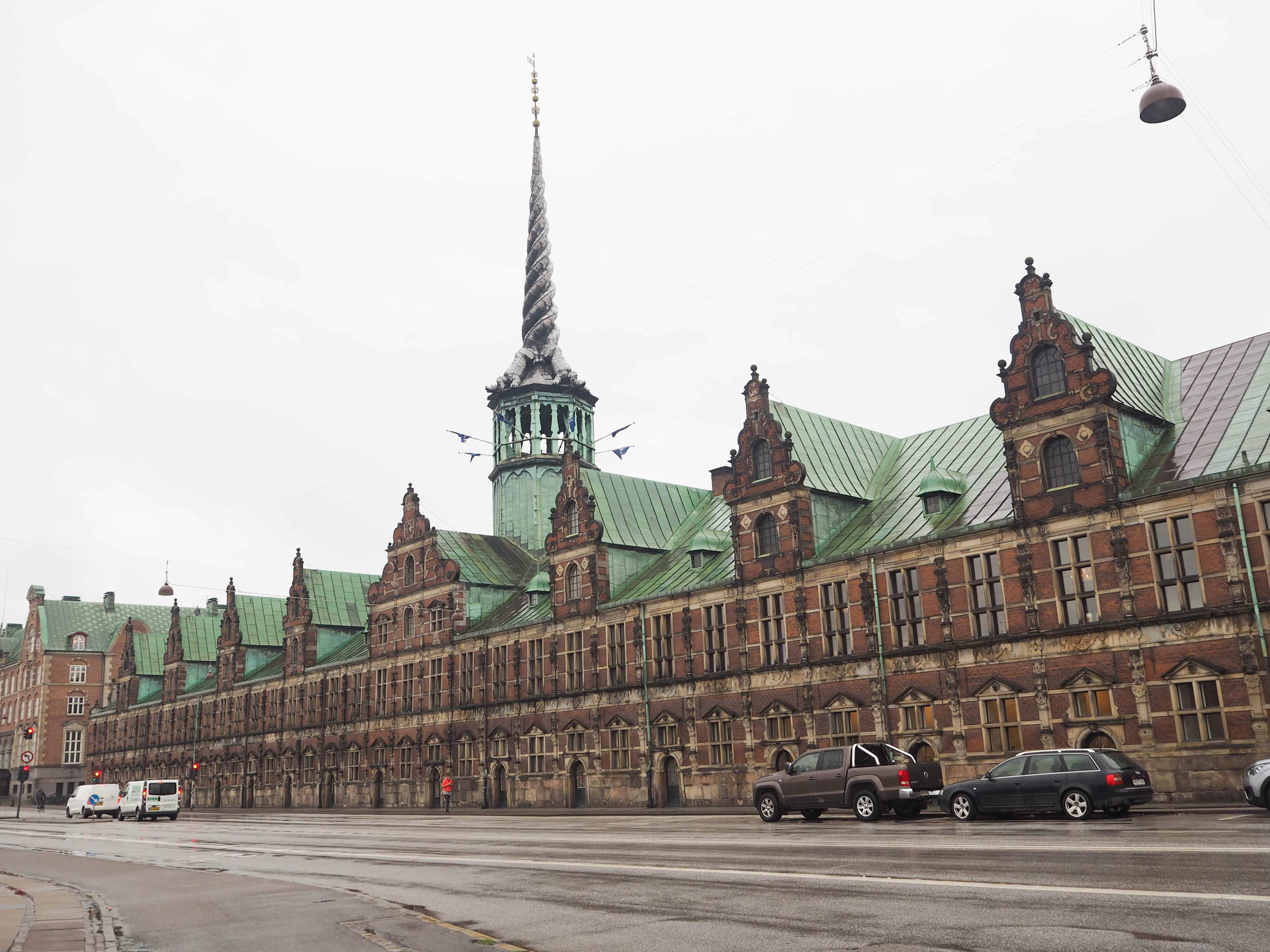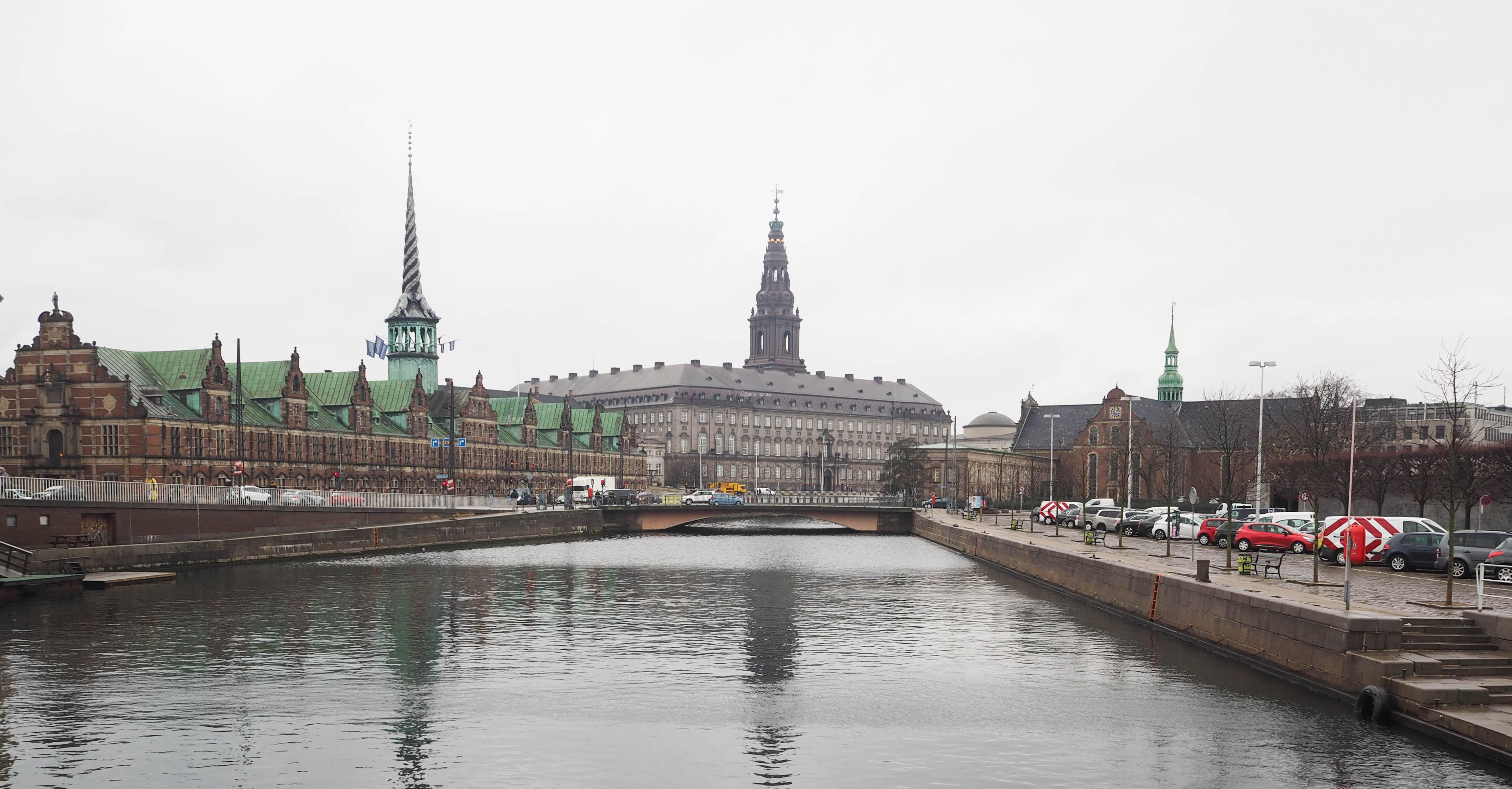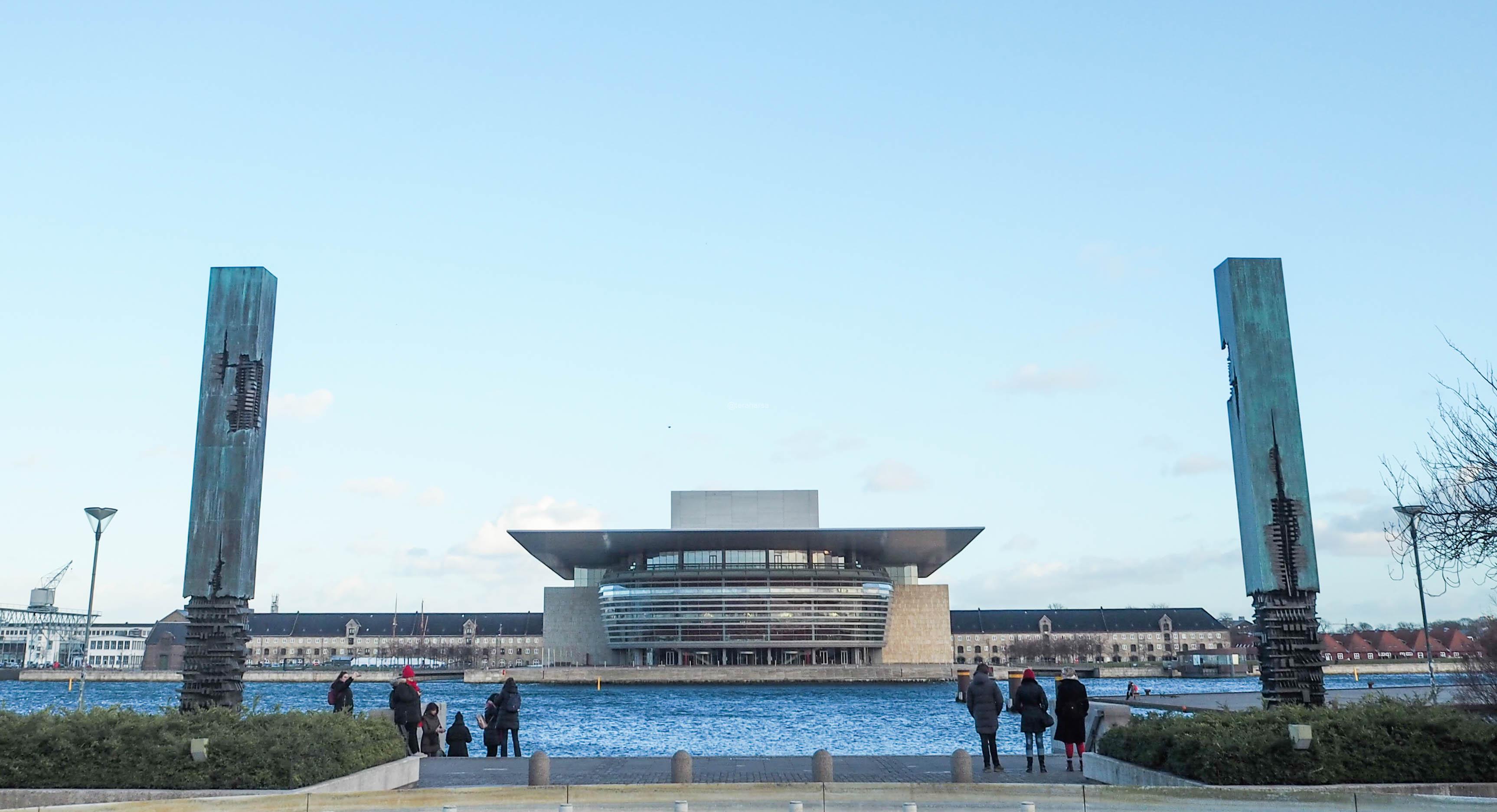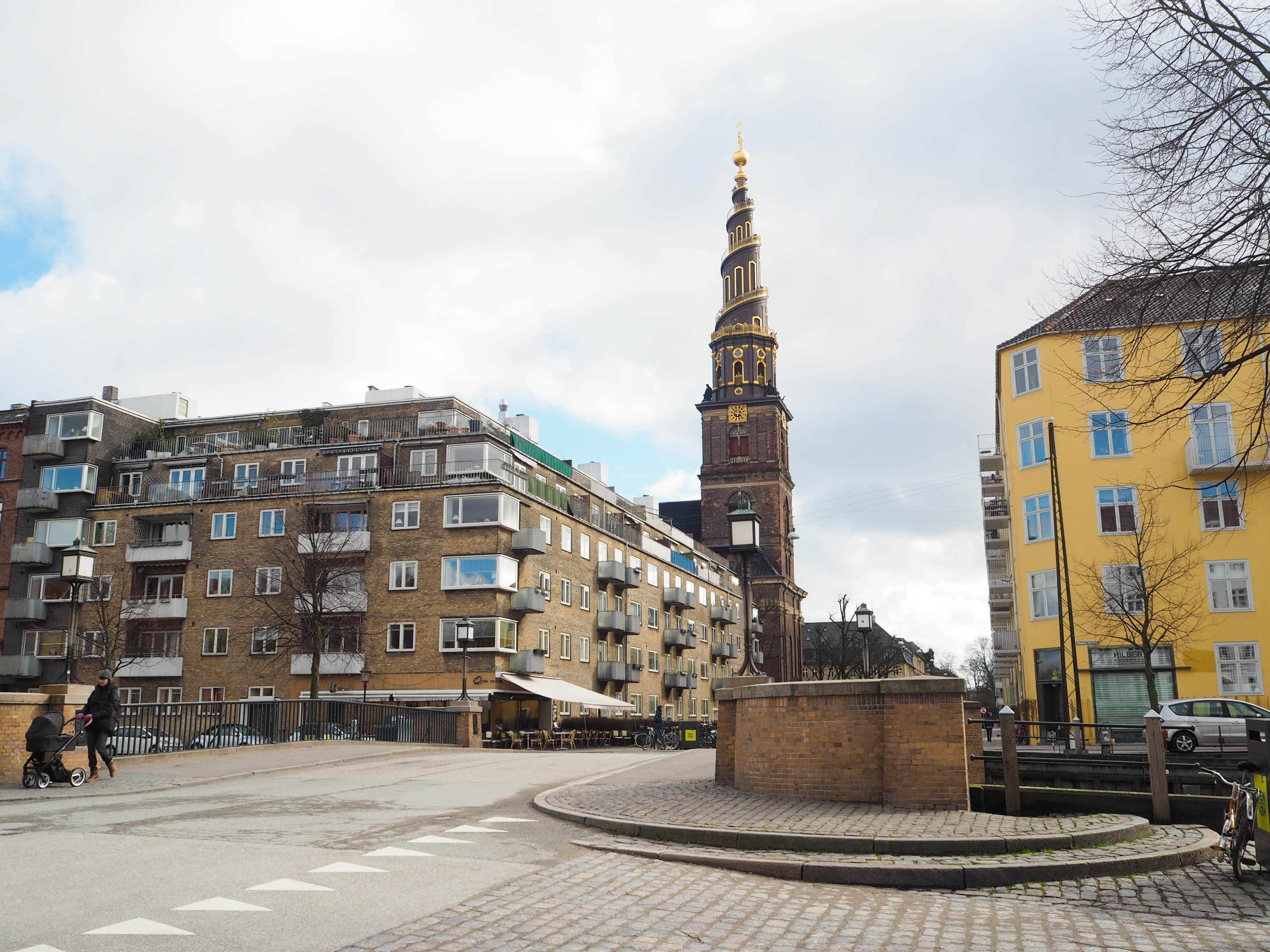 What we missed
Unfortunately, we didn't get to do all the things we wanted while visiting Copenhagen. We missed some pretty exciting activities, some due to operational hours. To get the most of the city here are some other recommended things to try, that hasn't been mentioned above.
Canal Cruise
We read great reviews about the city's canal cruise and noted it down on our to-do list. However, unfortunately, the weather wasn't in our favour on most of the days when we were in Copenhagen. It rained a lot and was too chilly for a cruise. But if it's a good day and you have plenty of time on your hands, make sure to join one of the guided tours around the harbour. It will take you through the charming canals of Copenhagen and you will get interesting insights on the history of its beautiful churches, castles, old listed houses, new architecture, and other sightings along the way.
Tivoli Gardens
Tivoli Garden is one of Europe's oldest and most famous theme park for both the young and old. It has been opened for almost two centuries, indulging visitors with its beautiful unique architecture, historic buildings, lush gardens and fun rides. At night, the park is brimming with colourful lights, creating a fairy tale land beyond the imagination. Tivoli isn't just all about its funfair rides, but also known as an important cultural venue.
Tivoli is open only seasonal throughout the year. Another unfortunate timing of our trip was the fact that Tivoli Garden was closed during all the dates we visited Copenhagen. It was such a bummer as it was on top of my wishlist of things to do in the city. And to rub salt to the wound, our first accommodation was literally only a few minutes away from the park! Mark your calendars, because Tivoli is only opened 5 periods a year:
Summer / main season from early April to late September
Halloween – from mid-October to early November
Christmas – from mid-November to 31 December
Winter – most of February
Easter – a couple of weeks around the Easter weekend
Opening hours are usually daily from 11:00 to 23:00 (up to midnight on Friday and Saturday).
Where we ate
We indulged ourselves in some of the city's best halal and halal-friendly spots, bakeries and cafes. Here are the delicious highlights of the trip!
Rajissimo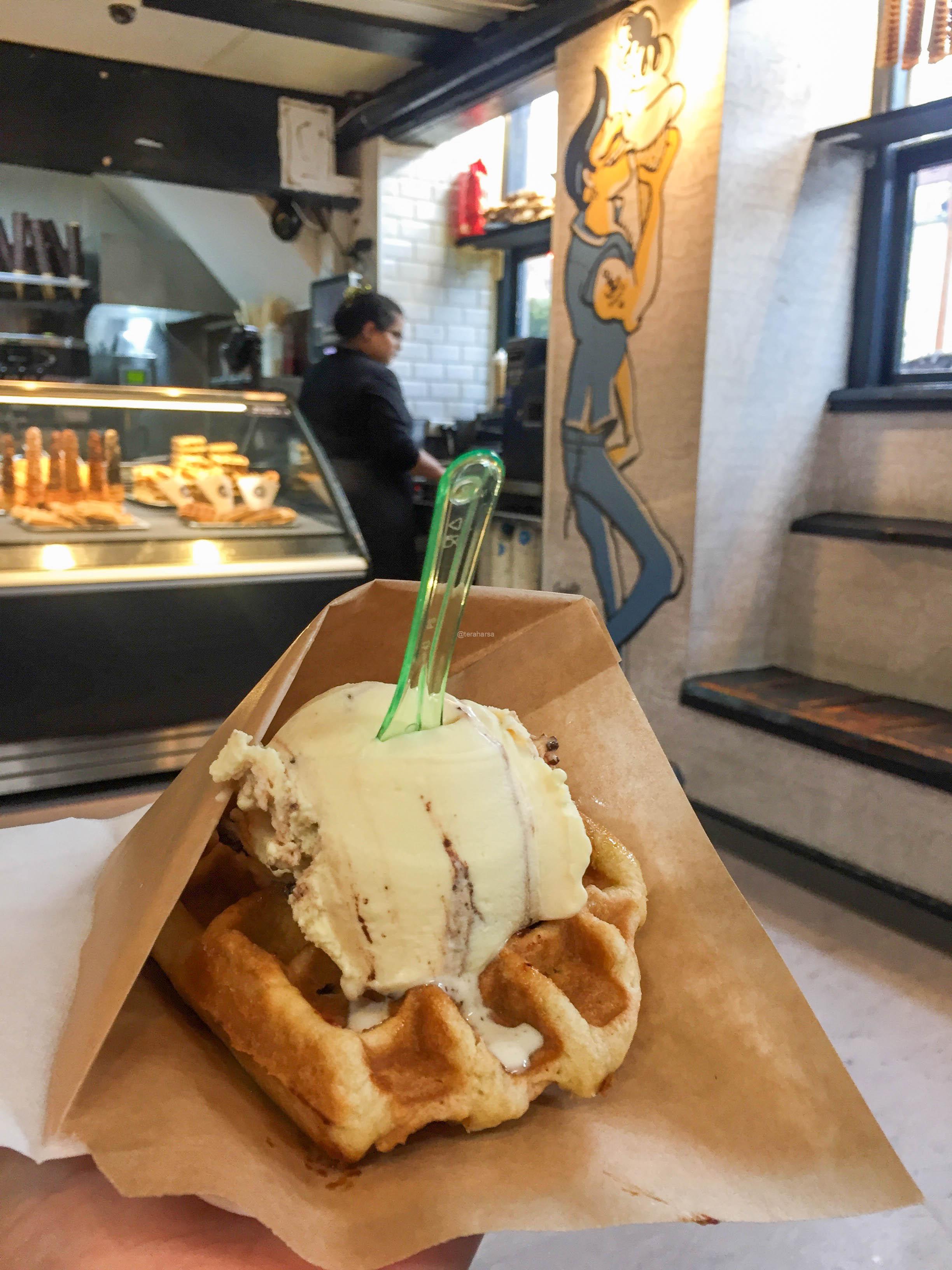 I took a break from strolling around in Nyhavn to treat myself with some freshly made waffles from Rajissimo! This cute and cosy shop offers sweet treats, including churros, waffles, chocolate-coated waffle sticks, and gelato. You can smell the yumminess from your very first step inside the shop. At first, I went there by myself (hubs was at his seminar) and got a waffle topped with cookies and cream gelato. Because it was so gooood, I decided to back the next day, this time with hubs, and got a pack of churros.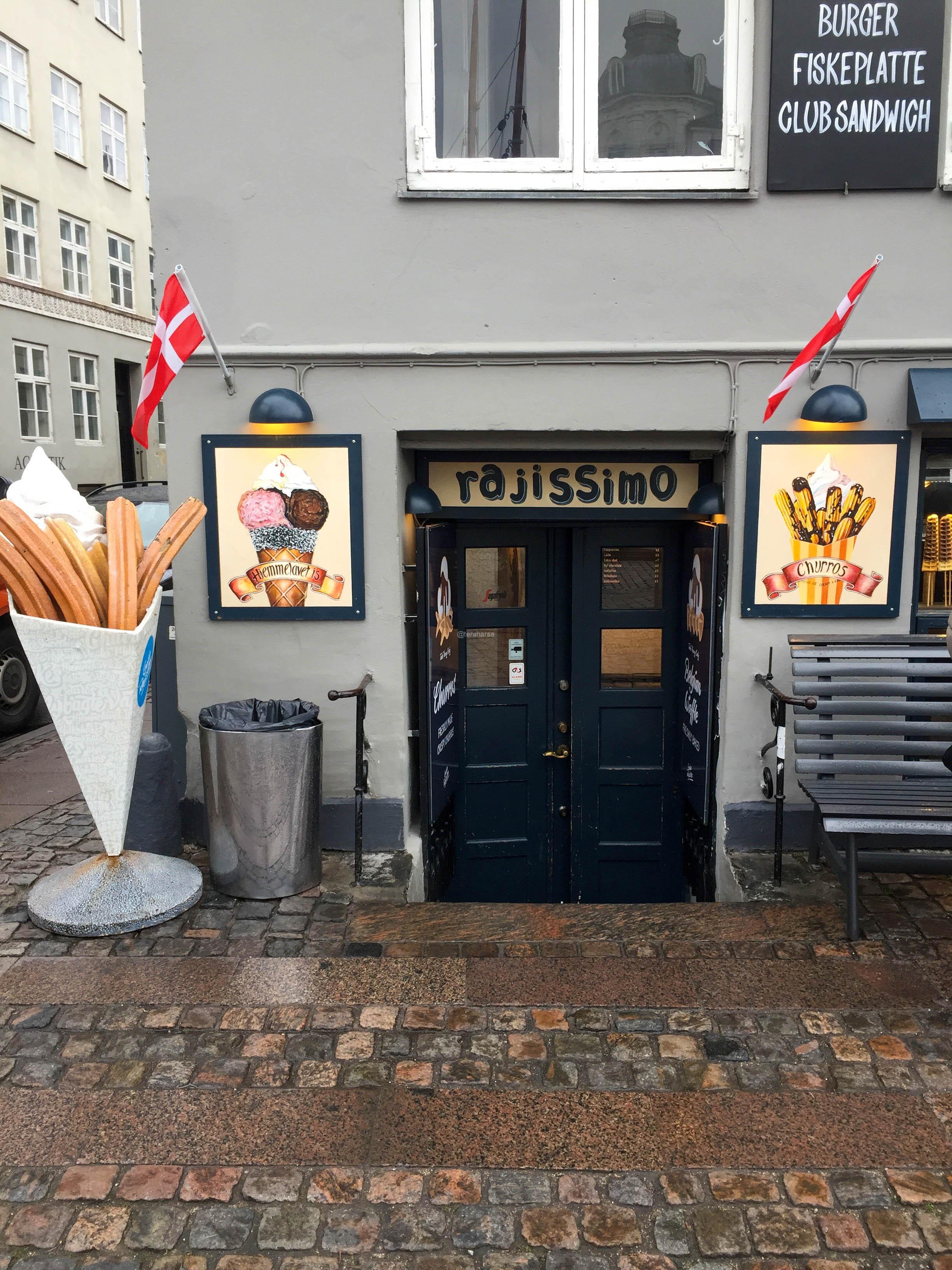 The shop has a small sitting area inside and gets full quite quickly when it's busy, but not to worry you could always enjoy your snack outside and enjoy it while enjoying Nyhavn's colourful scenery!
Note: halal-friendly ingredients used in several menus, check with staff before every purchase.
Shawarma Grill-House
We looked for a nice halal restaurant for dinner near our hotel in Vestesbro and found people raving about this Lebanese grill house on google maps. We thought we would give it a try. It was just a few minutes walk from where we were staying and perfectly located amongst other busy restaurants in the neighbourhood. We shared a mixed plate menu, and, to our surprise, it kind of blew our expectations! The restaurant was spacious and clean, and, although it was a busy night, the staff and service were great.
Note: 100% halal, no alcohol drinks available
Stefanos Pizzabar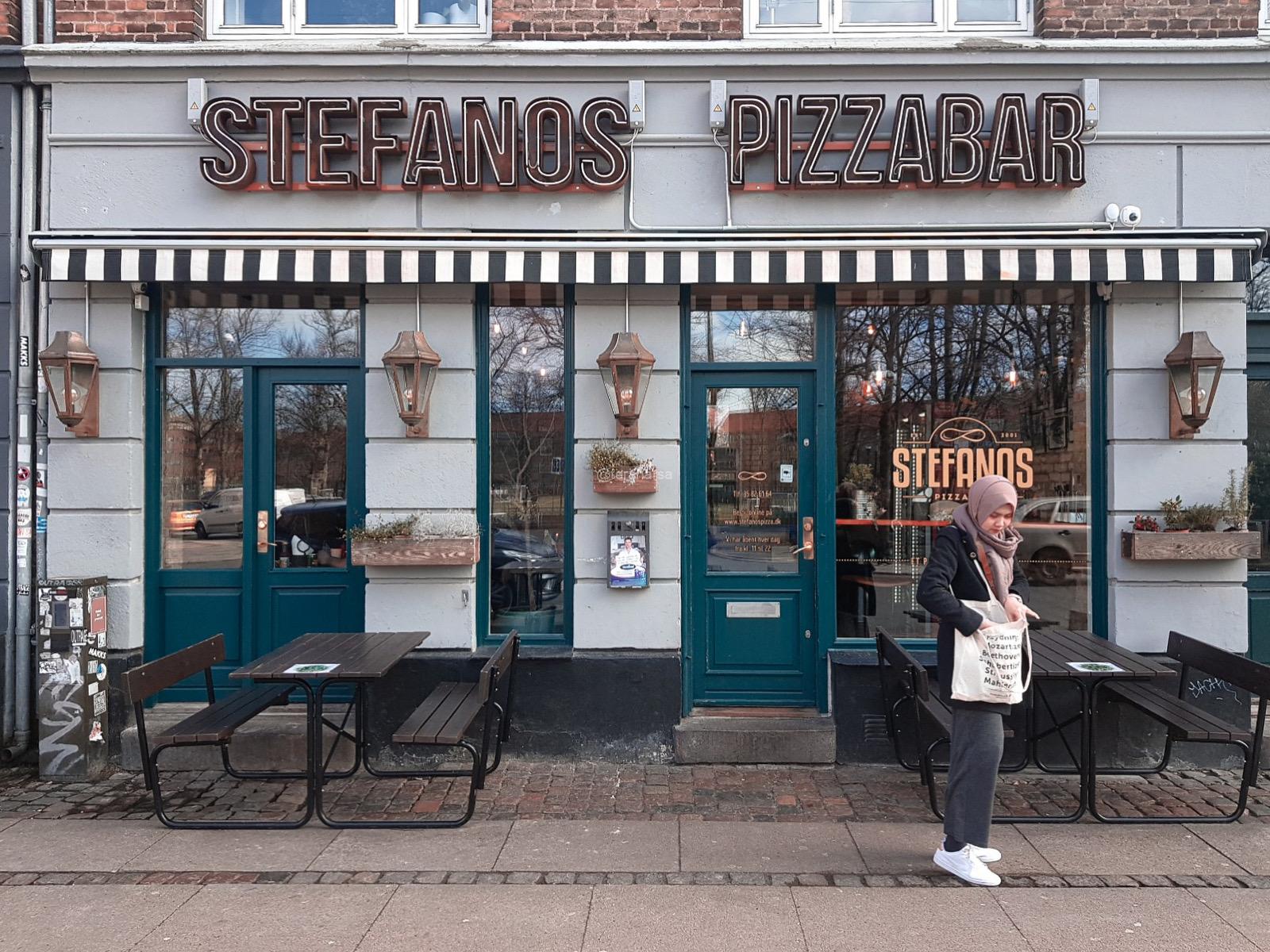 We found this gem in the heart of Nørrebro, a few minutes away from our hostel. We saw it was one of the hostel's recommendations on best places to eat within the neighbourhood. And just so happen, when we were searching online, we also stumbled upon a blog that mentioned it was one of the best halal eateries in town. It felt like destiny, so we had no reasons not to go and try it out.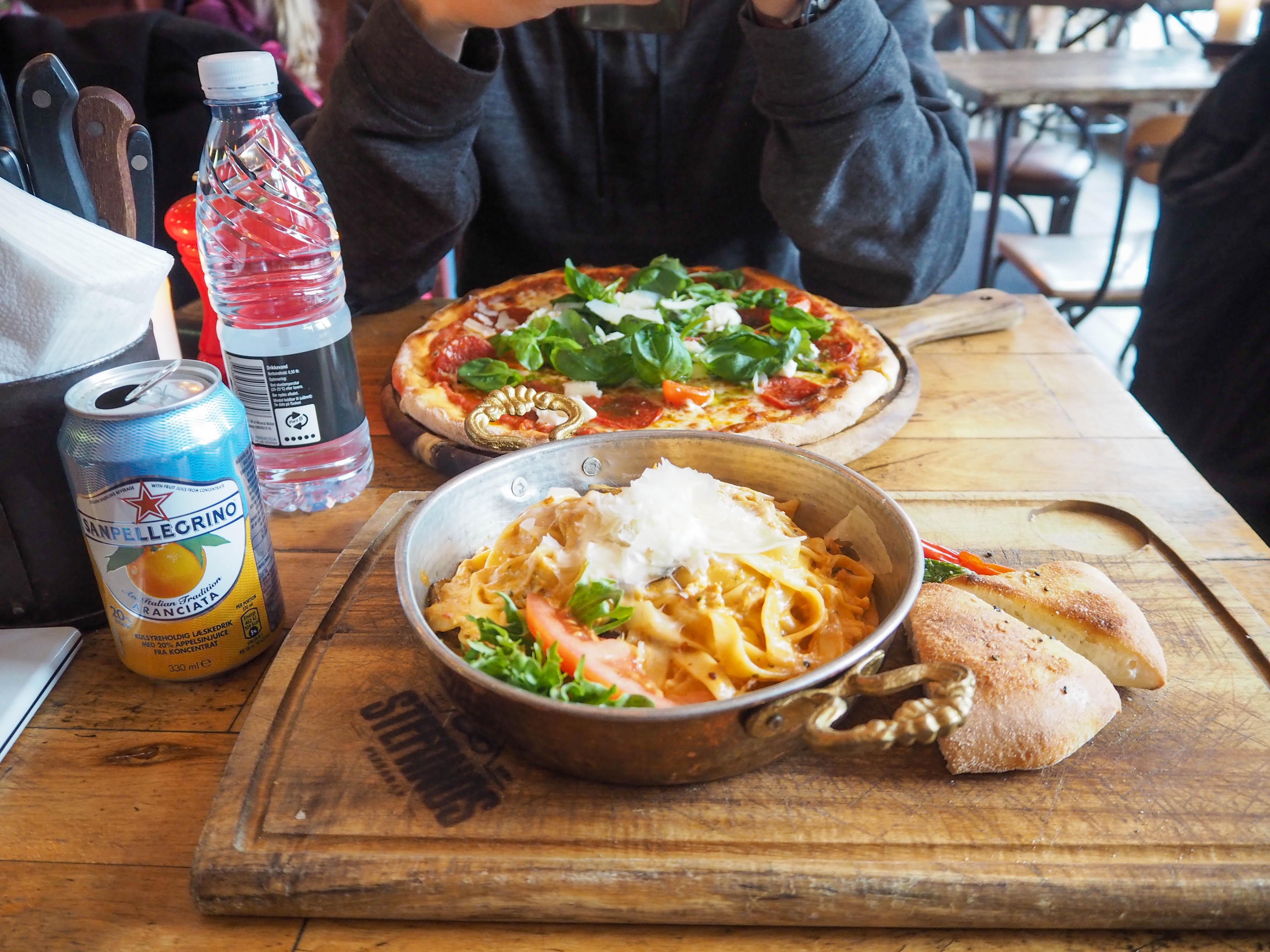 The reviews weren't lying, it was simply one of the best Italian restaurants we've tried. We asked for the staff's favourite dish on the menu, and he pointed us to the Semih Boy Pizza, a classic pizza topped with salami, cherry tomatoes, spinach, and a lot of cheese, and the Fettucine Pollo, a chicken, mushroom, and tomato cream sauce pasta. We loved the pasta and the pizza was just as tasty! We enjoyed every last bite. They also have a great vegetarian menu as well.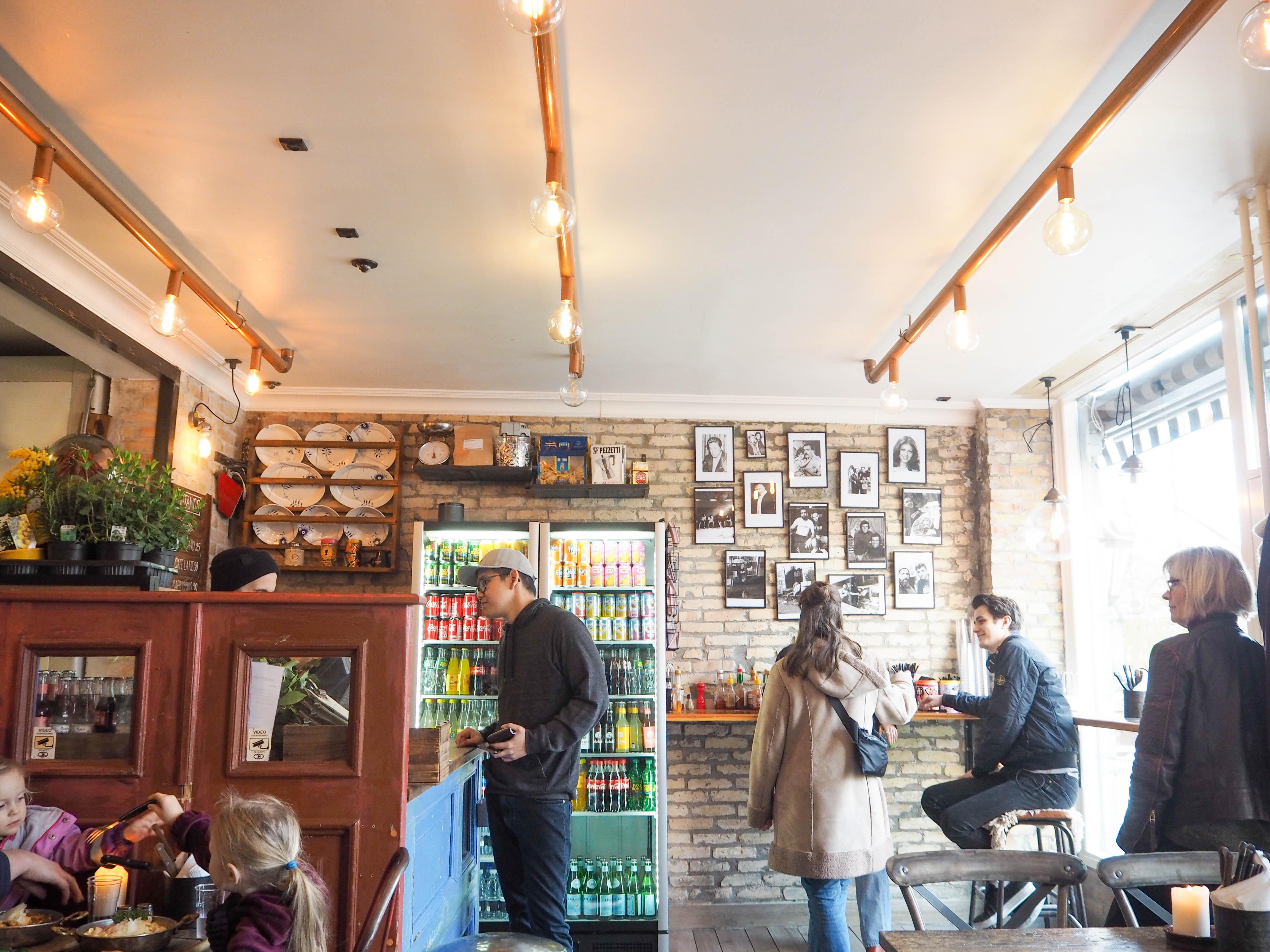 The restaurant was not too big, so it gets crowded very fast at peak hours. I personally liked the rustic industrial theme interior, it has a cool and hip vibe to it. We really had a wonderful time, and would highly recommend this place to anyone visiting Copenhagen!
Note: 100% halal, no alcohol drinks available
Jasmin Rice
We found another halal joint not too far from our hostel, this time it was Thai food! We did kind of miss Asian food, so this was a perfect fit. We ordered Pad Thai and fried rice for takeaway. The portion was huge at a reasonable price. The food was also pretty good. The only downside was they didn't accept payment by cards, or at least the ones we had, and we didn't have any cash on us either. So we had to walk up to the nearest ATM.
Note: 100% halal, no alcohol drinks available
Taste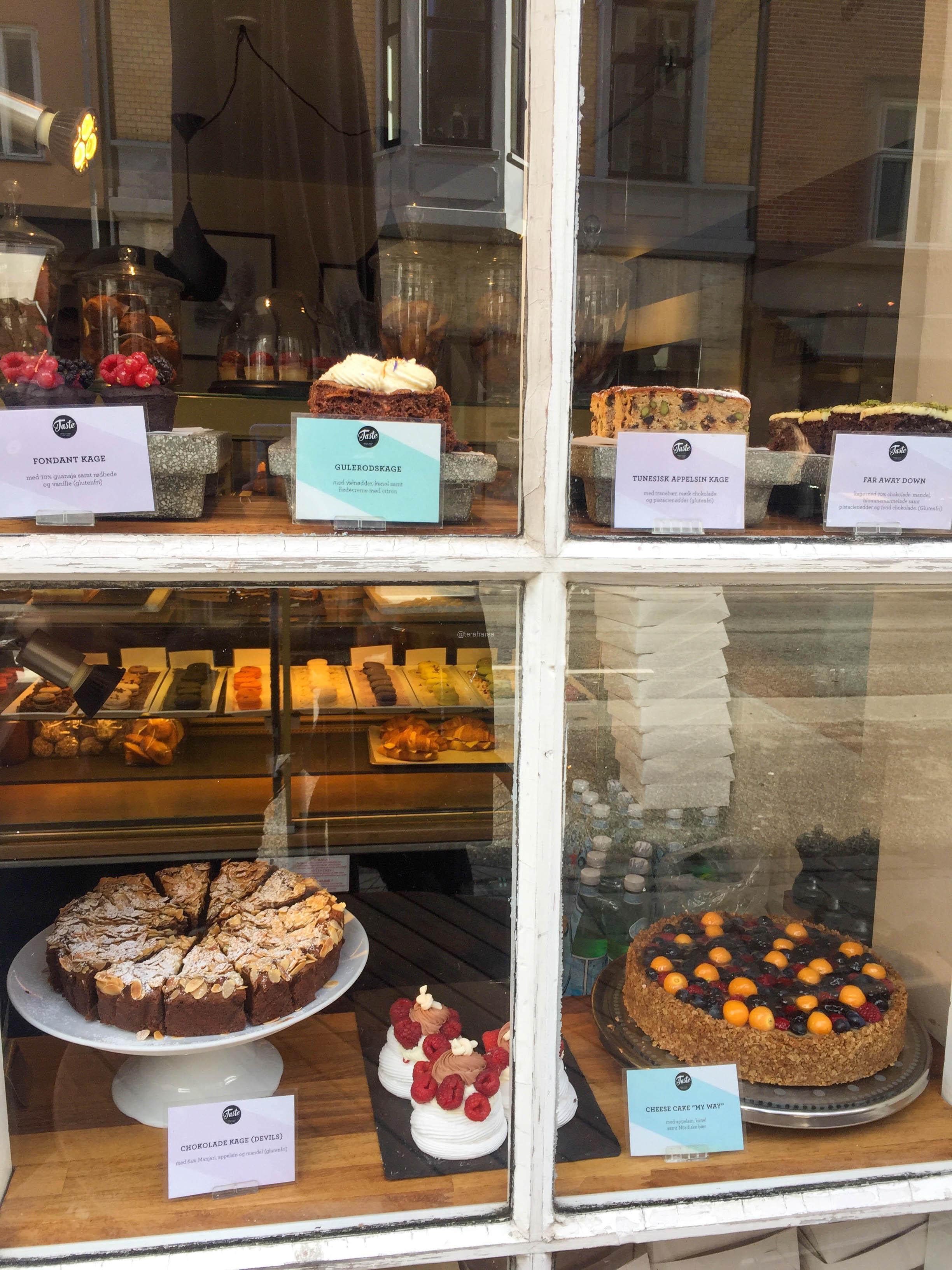 After spending our morning strolling around the botanical garden, the King's garden and walking all the way to Amalienborg, I figured we deserved a sweet break, like literally. We stumbled upon a mouthwatering window display of extensive cakes and pastries and we simply couldn't say no.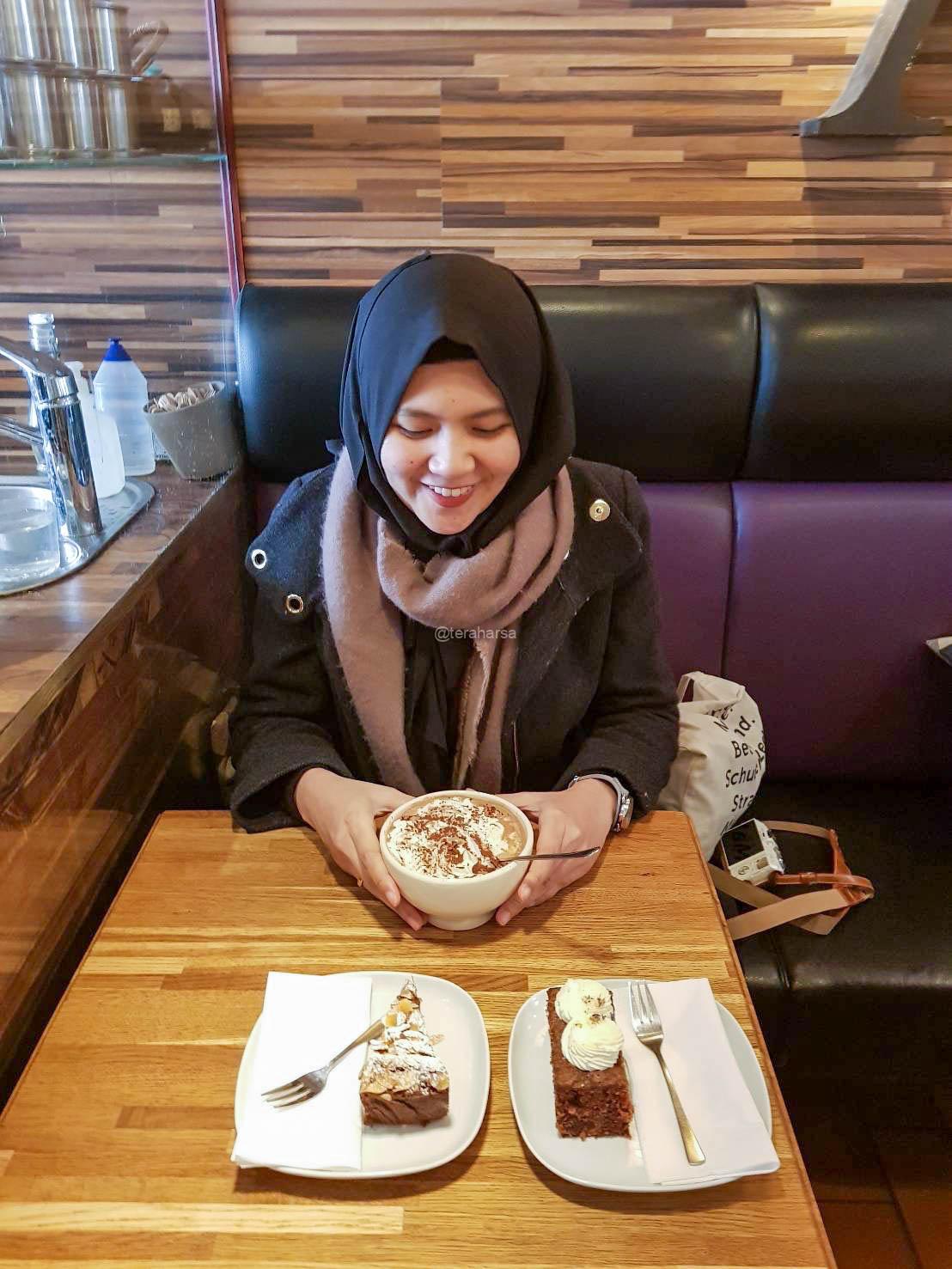 Taste is a french bistro and patisserie, offering an extensive choice of sweet and also savoury dishes. It wasn't lunchtime yet, so we decided to have a dessert break. It was honestly so hard choosing only one of their cakes. In the end, we got a slice of their chocolate cake with orange zest and almonds which was gluten-free and also a slice of carrot cake. We weren't that thirsty so we only ordered one nice hot chocolate to share. To our surprise, the hot chocolate came in this huge bowl-sized mug topped with whipped cream to the brim! Everything was so yummy, we enjoyed every bite!
The cafe was very cosy, a nice place to rewind and relax after strolling around the city.
Note: halal-friendly ingredients used in several menus, check with staff before every purchase.
Emmery's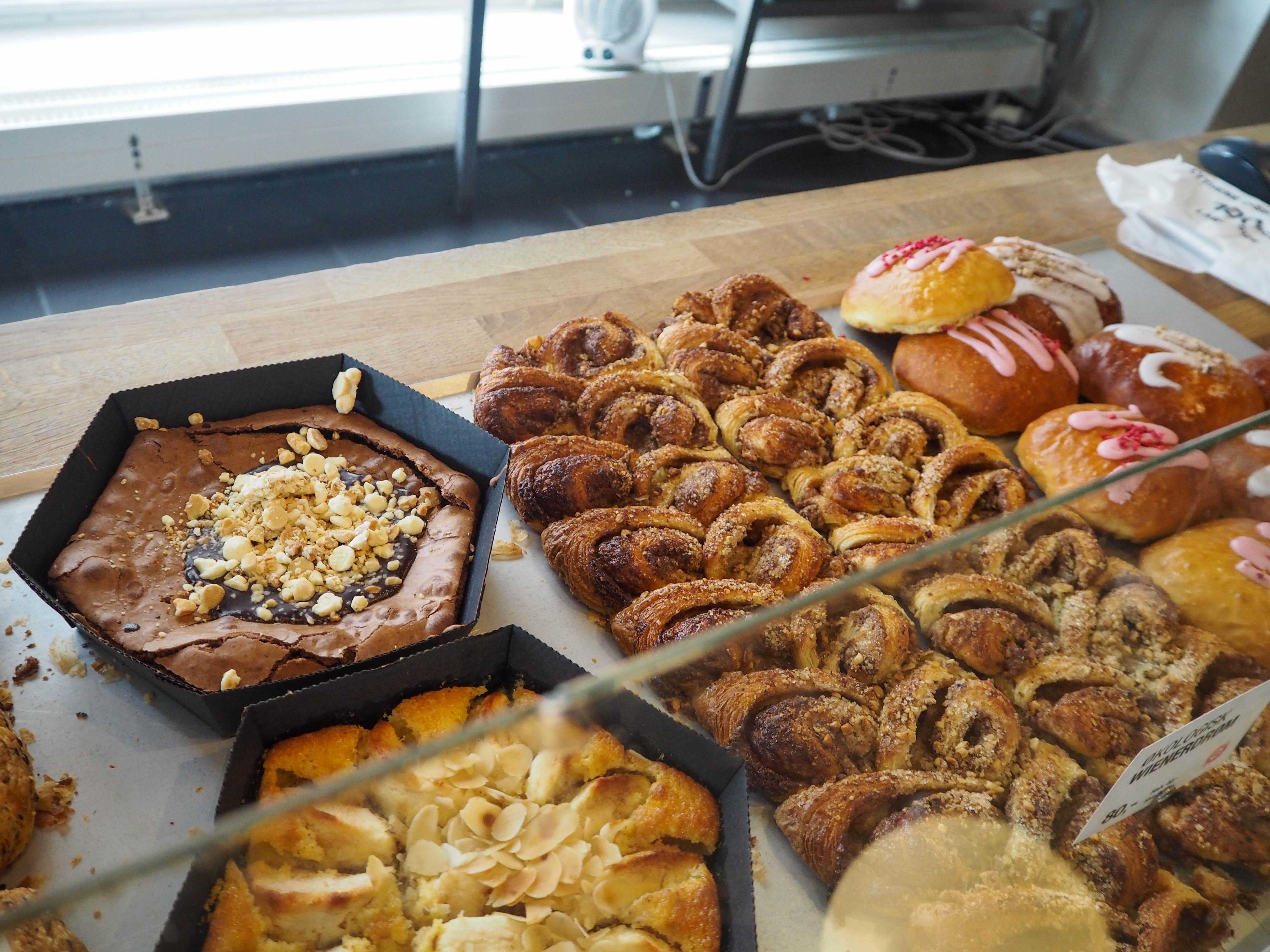 We were looking for a quick breakfast place on our way to Christiania and luckily found an Emmery's branch just on one of the streets near there. They are apparently one of Copenhagen's most famous bakery and coffee shop chain. You can find several of there shops around town. They offer a fantastic range of cakes and pastries as well as coffee and other hot and cold beverages. Their interior was modern and simple with a comfy and cosy atmosphere.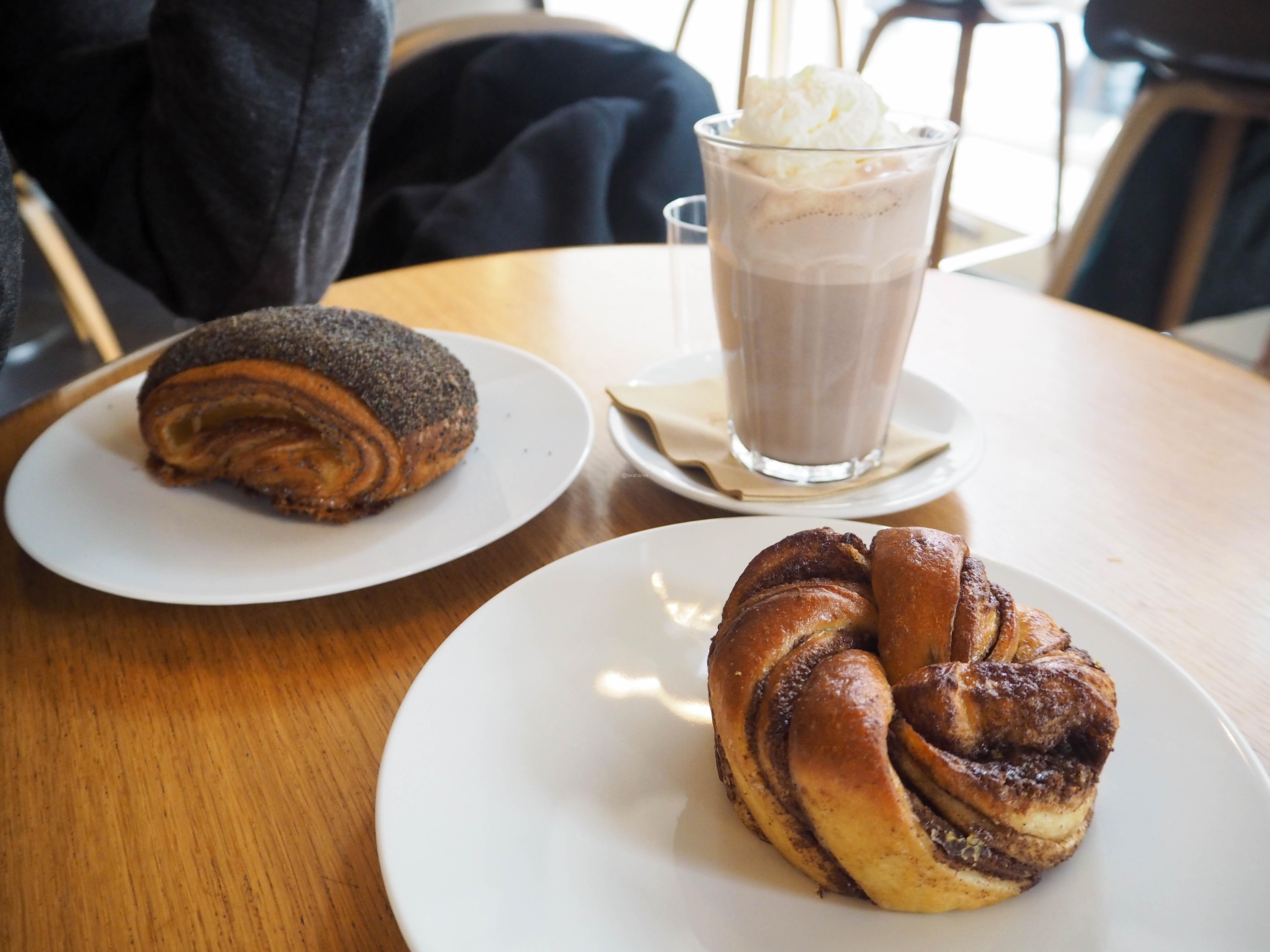 We got two pastries, a cinnamon bun and black roasted sesame bread, paired with a hot chocolate (yes, I'm a big hot chocolate fan) and an espresso. I love anything with sugar and cinnamon combo, and their cinnamon bun certainly didn't disappoint!
Note: halal-friendly ingredients used in several menus, check with staff before every purchase.
And that wraps up my ultimate Copenhagen travel guide! I hope you found it useful and stay tuned for more guides on my blog. I'm excited to share more experiences from my travels!
Please follow and like us: